Camera Review: Canon PowerShot SD600 Digital ELPH
Smaller than a deck of playing cards, yet still the real deal.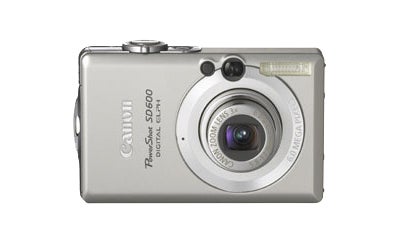 We may earn revenue from the products available on this page and participate in affiliate programs. Learn more ›
The Canon PowerShot SD600 Digital ELPH camera deals a deck of heavyweight digital photography mojo into a lightweight and pocket-sized package. Like its older brother, the PowerShot SD630 Digital ELPH model, this diminutive digicam features 6-megapixel resolution, ISO equivalent speed settings from 80 to 800, and a retractable 3x optical zoom with an equivalent 35mm focal length of 35-105mm. Its very bright and large 2.5-inch, 173,000-pixel wide viewing angle-type LCD screen offers 15 brightness adjustments, while still leaving room for a very welcome optical viewfinder.
The SD600's newly designed 6MP image sensor, used in tandem with Canon's proprietary DIGIC II image processor, helps to dramatically reduce noise for better image quality. This increased sensitivity allowed us to utilize faster shutter speeds, reducing the effects of camera shake and subject blur when we were shooting in dim light.
The SD600's exterior is constructed mainly of brushed metal. It is well-built for the most part, except for the plastic door over the battery and memory card compartment. The controls, however, are nicely located on the back of the camera within easy, ergonomic reach of your fingers, right next to the impressively high-resolution LCD screen.
Like the other cameras in the SD-series, the SD600 is essentially a point-and-shoot camera. It features few manual settings, so if you're looking for more control, go with the older siblings in the SD family. On the other hand, the camera has a slew of scene modes, including continuous shooting mode, which can keep shooting pictures at about 2 frames/second until the memory card is completely full. The movie mode is also very slick, though a 1GB file size generally fills up in about 8-10 minutes. Alas, the SD600 only comes with a 16MB card.
The one area in which the SD600 lacked in performance was its battery life. You will probably need to purchase an extra battery if you are at an event where you plan to take a significant amount of images, or to shoot movies. CIPA estimates the battery will take up to 160 photos with the LCD on when fully charged.
Otherwise, SD600's performance was well above average in most areas we tested. It revs up very quickly and focuses without much of a wait. Shutter lag was never an issue either. Low light focusing was also good thanks to the built-in AF-assist lamp. Photo quality was very good for the most part. The camera took well-exposed, colorful shots despite the overcast and rainy weather we shot in. The blues and greens even seemed to pop more. In general, most noise levels were low through ISO 200, and even for some shots taken at ISO 400. We also found the color swap and accent modes fun to experiment with.
Lightweight and feature packed, the fashionable Canon PowerShot SD600 Digital ELPH can easily slip into a pocket or purse, making it the perfect on-the-go digital camera. It offers a nice combination of features and performance in a stylish, portable package. If you are looking for an ultra-compact camera that captures great images to take with you anywhere you may roam, this is it.
What's Hot:
Great compact size with stylish metal design
Very good photo quality
Large 2.5-inch LCD is easily viewable in low light
Optical viewfinder
Very good movie and continuous shooting modes
What's Not:
Short battery life
Plastic cover over memory card/battery compartment
Key Specs
Digital Zoom: 4x
Optical Zoom: 3x
Lens Aperture: f/2.8 (W) – f/4.9 (T)
Exposure Sensitivity: AUTO, ISO 80/100/200/400/800 equivalent
Battery Life: CIPA estimate of 160 shots with Lithium battery with LCD monitor on
Dimensions (WxHxD): 3.39 x 2.11 x 0.85 inches
Weight: 4.94 ounces
Street: $349.99
What's in the Box: PowerShot SD600 camera, Lithium battery pack NB-4L, battery charger CB-2LV, SD memory card SDC-16MB, wrist strap WS-600, Digital Camera Solution CD-ROM, USB interface cable IFC-400PCU, AV cable AVC-DC300, 130-page printed user guide.
The Canon SD600 even makes this jumpy PopPhoto.com staffer appear sharp
in overcast light.