Camera Review: Canon PowerShot A700
Now featuring more features!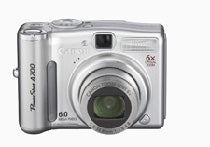 We may earn revenue from the products available on this page and participate in affiliate programs. Learn more ›
Behold the new flagship of the Canon PowerShot A-Series: The PowerShot A700. This model incorporates all of the features included on the mid-level A540, plus much more.
New features in the A700 include 6-megapixel resolution along with a retractable 6x 35-210mm optical zoom. It also incorporates over 20 shooting modes from fully automatic completely manual to fit any photographic situation. In addition, the A700 is compatible with optional wide angle and telephoto lens converters, as well as a close-up lens and a wireless flash unit.
ISO equivalent speed ratings ranging from 80 to 800 with noticeably far less noise at ISO 400 than previous PowerShot models. The camera also features a huge 2.5-inch, 115k-pixel LCD color monitor, making it easier than ever to review captured images and navigate the limited in-camera image editing and retouching features.
The A700 is a just a tad bigger than the A540, but it can still fit in a large pocket. From an ergonmic point of view, it feels very comfortable in your hands. Like most models in the A-series, the controls are well placed throughout the body, all within the reach by either your thumb or index finger.
A full 6x optical zoom lens (35mm equivalent: 35-210mm) delivers sharp, bright results that get the most out of every pixel. In a first and major coup for a 6x optical zoom digital compact camera of this class, the PowerShot A700 features a real-image optical viewfinder, allowing quick framing and precise manual focusing without having to view the LCD.
The A700 also provides users the option of changing lenses: Optional wide (0.7x) and telephoto (1.75x) converter lenses definitely extend the focal length range. As a bonus, the A700 is also compatible with optional close-up lenses for detailed macro photography.
Creative Zone modes include Aperture Priority and Shutter Speed Priority. Special Scene modes — such as Night Snapshot or Beach — assist with tricky lighting conditions. Color Accent and Color Swap modes enable dramatic color effects to be applied to both images and movies directly within the camera.
Speaking of video, the A700 records 30-frame-per-second, VGA quality movies of up to 1 GB with sound. You can also create 60-frame-per-second QVGA clips for sharp slow-motion playback. A handy compact mode enables shooting of small format clips of up to 3 minutes for easy sharing with your friends and family via email.
The A700 is about as responsive as the compacts get these days. The camera powers up very quickly and there is no 5- or 10-second wait time between shots. The overall color is sharp, saturation is very good, and it produced some great results for us. As with most cameras in the A-series, you get a lot of features for the money (Street: $349). All you need to add is a much bigger media card and some rechargeable batteries and you are ready to shoot the world around you. Well done, Canon!
What's Hot:
Full 6x optical zoom 6MP resolution
Large 2.5-inch LCD display is usable in low light
Quick startup and shot-to-shot speed
Impressive photo quality, even in relatively low light (ISO 800)
Accepts optional wide, teleconverter, and close-up lenses
Optional wireless flash available
What's Not:
Slow flash recycling
Card/slot battery cover lock hard to open
Key Specs
Maximum Shutter Speed: 15-1/2000 sec
Lens: 5.8 (W) – 34.8 (T) mm
Battery Life: CIPA estimate of 100 shots for AA Alkaline or 400 with NiMH rechargeable batteries
Dimensions: 3.72 x 2.62 x 1.71 inches
Street: $349
What's in the Box?: The 6.0-megapixel PowerShot A700 digital camera, 16MB SD card, two alkaline AA batteries, wrist strap, USB cable, A/V cable, CD-ROM featuring Canon Digital Camera Solutions, ArcSoft PhotoStudio, and drivers; basic printed manual and advanced printed manual.