Camera Field Test: Sony Cyber-shot DSC-R1
This 10-megapixel model combines the convenience of an electronic viewfinder camera with the image quality of a D-SLR.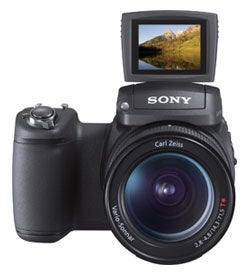 We may earn revenue from the products available on this page and participate in affiliate programs. Learn more ›
The most remarkable thing about the Sony Cyber-shot DSC-R1 is not what it does, but how it does it. Yes, this is the first consumer-level, non-SLR digital camera to offer 10 mega­pixels of resolution and an equivalent-speed range of up to ISO 3200. And both of these numbers are significant upgrades from the eight megapixels (or less) and ISO 800/1600 (or lower) of competing EVF models. Yet the real breakthrough is deep inside the DSC-R1: an image sensor that's the same size as the APS-C-sized chip used in many, if not most, digital SLRs. This is the first time such a large sensor has been used in an electronic viewfinder (EVF) camera.
This innovation involved more than just dropping a new chip into an existing camera design. At 21.5×14.4 millimeters, the R1's CMOS sensor has over five times the area of the 8.8×6.6-millimeter CCD used not just by Sony's current top Cyber-shot, the DSC-F828, but also by the latter's eight-megapixel competitors. (In fact, Sony makes the chip for most of these models.) This required a slightly bigger camera body, and, more significantly, a zoom lens with longer focal lengths to produce comparable angles of view. (To keep the lens compact, Sony chose to limit the long end of its focal-length range.) But the payoff is huge: A larger sensor with bigger pixels creates images with lower noise at a given ISO, all else being equal. This in turn sharpens detail and smooths gradations of tone.
Images from our preproduction Cyber-shot DSC-R1 had very well-contained noise up to ISO 800. At ISO 1600 noise was perfectly acceptable — less toothy, certainly, than the grain of an ISO 1600 color negative film. We got very "grainy" results at ISO 3200. But even the latter is relative: When we compared the Sony R1's pictures with those from a current eight-megapixel EVF model that uses the standard 8.8×6.6-millimeter CCD sensor, the new camera provided approximately two stops of additional usable sensitivity. The noise level of the DSC-R1 at ISO 400, for example, was comparable to the noise of the eight-megapixel EVF at ISO 100, while the R1's ISO 3200 was comparable to the eight-megapixel camera's ISO 800. ln practice, this means you can shoot handheld in much lower light levels without an EVF camera's usual trade-off in image quality.
Our photographs from the DSC-R1 were decidedly sharper and smoother in tone than those from any other EVF we've tested, largely because there was less noise to obscure fine detail. This means you can make much bigger prints with­out an attendant loss of quality. Indeed, the R1's images looked liked they were from a good D-SLR.
The Cyber-shot DSC-R1 also shares the 35mm-style 2:3 aspect ratio of digital SLRs, as opposed to the less rectangular 3:4 image shape of most digital point-and-shoots. But unlike a D-SLR — and like a digital point-and-shoot — its bright, two-inch, 134,000-pixel tilt-and-swivel LCD provides a "live" image that can be used for composition and shooting. The LCD monitor is located on top of the camera, hinged at the camera back. That arrangement is perfect for low-angle compositions; for high angles you have to tilt the screen way down, which can be awkward. You flip the screen straight up for arm's-length, digital compact-style composition, though that doesn't make for shooting as steady as having your eye to the finder. Fortunately, the camera's 235,200-pixel eye-level EVF is uncommonly clear.
One of the best things about the DSC-R1 is its fast-focusing 5X Zeiss zoom, the equivalent of 24-120mm f/2.8-4.8 on a 35mm camera. Many EVF models offer more telephoto power, but only one other (the eight-megapixel Nikon Coolpix 8400, tested in our July/August issue) goes this wide without the need for supplementary lens attachments. (As with the Nikon, you can multiply your maximum focal length with an accessory teleconverter.) The R1's lens also affords far more precise control over focus and focal length than is possible with most other EVF cameras, with a large, knurled zoom ring and a second ring for manual focusing.
The DSC-R1 is fast in other ways too. It turns on almost instantly, and shutter response is excellent, with very little delay between shots and near-silent operation. The camera body is similar in shape to a 6×4.5cm film SLR, only smaller; an oversized handgrip makes for steady holding. On top of the grip are a large, smooth-acting shutter button and a dedicated hotshoe for external flash units. All operating controls are clearly labeled and well differentiated by size and shape. In fact, after the initial setup, we seldom had to delve into menus when shooting.
Given that Sony codeveloped the first optical image stabilization (IS) with Canon, we wonder why IS isn't built into the R1. The thinking, probably, was that it wasn't needed because the lens doesn't zoom to the supertele focal lengths at which camera shake can cause the most image blur. But lots of serious photographers like to shoot handheld in low existing light, and this can mean using slow shutter speeds even at wide-angle focal lengths. While the lack of IS is mitigated by the R1's more usable high ISO settings, we'd like to have optical IS the next time around.
On the other hand, the DSC-R1 has a feature Sony calls the Advanced Gradation Control System (AGCS) that seems almost unnecessary, given the camera's inherent ability to capture a wider range of subject brightness than other EVF models can. AGCS is, in effect, an auto-contrast adjustment designed to preserve detail in both shadow and highlight areas. Even with­out the system turned on, our R1 photographs of backlit plants on a window sill had detail in every area. AGCS seemed to make little difference in this situation, in which most EVF cameras could not have maintained a full range of detail anyway.
Again, the Cyber-shot DSC-R1's larger sensor helps it beat those models, since bigger pixels capture light more efficiently. We've always maintained that supersizing, while it might be bad for the waistline, is a good idea with digicam sensors, solving lots of image capture problems. The Sony Cyber-shot DSC-R1 is proof of that.
EVF vs. D-SLR
Sony's decision to build an EVF camera with a 10-megapixel APS-C-sized sensor is a clear challenge to the digital SLR. In that spirit we undertook an apples-to-apples comparison of the Sony Cyber-shot DSC-R1 and its closest true D-SLR competitor, the eight-megapixel Canon EOS Digital Rebel XT. (The 10-megapixel Nikon D200 has since arrived — see Editor's Choice, page 32 — but it is really a different class of D-SLR.)
Although both the Sony and the Canon have CMOS sensors with similar dimensions and pixel counts, they are surprisingly different in most other ways. The Digital Rebel XT is pint-sized and featherweight compared to the large, hefty R1 — exactly contrary to expectation. With its good-sized handgrip and large, smooth shutter release, the well-constructed Sony actually felt better to us than did the XT, which is easy on the neck but tends to cramp big fingers.
The viewfinders of the two contenders are worlds apart, however. The Sony's electronic viewfinder (EVF) is an excellent specimen of its kind, and slightly bigger than the Canon's optical viewfinder — but it's no match for the latter's physical immediacy and clarity. It produced a perfect image when lighting contrast was moderate, but looked harsh in midday sun.
On the other hand, the Sony's jumbo-size external LCD screen is about twice as big as the XT's, and easily visible even in bright daylight. Being "live," it can be used for shooting as well as image review, while the Canon's screen is strictly for the latter. The Sony LCD's tilt and swivel permits all kinds of shooting angles not possible with the XT, waist level being our favorite. The R1 can also switch automatically from the LCD to the EVF as you bring the camera to your eye.
We judged the R1's shutter response to be the fastest of any EVF model we've ever used. But the camera is really capable of only one "decisive moment" at a time, since there's about a one-second delay between shots that makes the screen go blank. (Yes, we know only one moment can be decisive.) Of course, viewing through the Canon's optical finder is uninterrupted, except for the instant when the mirror is up.
In continuous mode, the Sony can shoot a three-frame burst in one second, but again, you can't see the action in progress. In contrast, the XT pops off frame after frame with precise timing and no hesitation between shots. Its JPEG burst rate — about a dozen continuous frames at 3fps — simply smoked the Sony's.
Yet the R1's AF system is the fastest we've seen in any non-SLR digicam to date, though the XT is faster still. The Sony has a decent AF tracking mode, too, limited only by the camera's hesitation between frames. Manual focus with the Sony is quite usable — and actually makes the camera faster by eliminating AF lag.
So what about image quality? We made comparison shots at five different focal lengths from 28mm to 120mm (35mm equivalents). The Sony was slightly sharper than the Rebel XT overall, whether the latter was equipped with its inexpensive EF-S 18-55mm f/3.5-5.6 II kit lens or the better-corrected EF-S 17-85mm f/4-5.6 IS. (The two Canon optics closely matched each other at f/11, but the 17-85mm performed better wide open.) The R1's built-in zoom has a wider maximum aperture (f/2.8-4.8) than either Canon lens. And although the 17-85mm's 35mm-equivalent focal-length range of 27-136mm is a closer match to the 24-120mm of the Sony's built-in zoom, it raises the price of the Rebel XT/lens combination to about $1,300, vs. $1,000 for the Sony.
Images from the Sony were just slightly grainier than those from the Canon at ISO 160 to 400, more visibly so at 800. The difference was most noticeable at ISO 1600. At ISO 3200 the R1 was very noisy, whereas the Canon images were still usable.
So does the new Cyber-shot really take the place of an entry-level digital SLR? Not exactly. It's neither as fast nor as flexible as a true D-SLR. But it does move the EVF bar way higher. — jonathan barkey
Pros: Outstanding image quality for an EVF-style camera, with low noise and wide dynamic range; equivalent- speed settings up to ISO 3200; exceptional wide-angle capability, equivalent to 24mm with a 35mm camera; excellent ergonomics
Cons: Limited telephoto power compared to high-end EVF models; no video capability; costs as much as many entry-level digital SLRs
Bottom Line: The first digital camera to successfully bridge the gap between EVF and SLR categories, it represents an image-quality breakthrough
Sony Cyber-shot DSC-R1 "grain" at ISO 1600 (100 percent)
Canon EOS Digital Rebel XT "grain" at ISO 1600 (100 percent)
Sony Cyber-shot DSC-R1 sharpness at f/11 (100 percent)
Canon EOS Digital Rebel XT sharpness at f/11 (with kit lens, 100 percent)