Best Buys: Lenses
These lenses give you so much bang for the buck, they're practically explosive.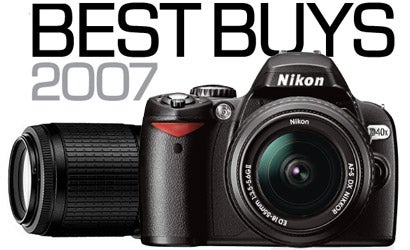 One-Eyed Jack of All Trades: Tamron 18-250mm F/3.5-6.3 Di II AF LD Aspherical
Who? Light-packers who hate switching lenses. What? Tamron 18-250mm F/3.5-6.3 Di II AF LD Aspherical. Why? Why not? If you can get an equivalent of 29-375mm from a single lens, what's not to like? Particularly since in Pop Photo Lab tests it posted Excellent SQF numbers at all four tested focal lengths — remarkable for a zoom of this range (almost 14X). While it shows Visible barrel distortion at widest angle (not uncommon), distortion is very well controlled at other focal lengths. No clunker, this lens is less than 4 inches long at its most compact and weighs slightly under a pound. Now!****$500, street, in mounts for Canon, Nikon, Pentax/Samsung, and Sony.
Working Glass Hero: Nikon 55-200mm f/4.5-5.6G ED-IF AF-S VR DX Zoom-Nikkor
Who? Members of the Nikon DSLR family seeking stability. What? Nikon 55-200mm f/4.5-5.6G ED-IF AF-S VR DX Zoom-Nikkor. Why? We initially thought the price on this lens was a misprint. Just $250 for an 80-300mm equivalent lens, with built-in image stabilization, from Nikon? Okay, we said, maybe it's a dog. But no bow-wow this: In Pop Photo Lab tests, it showed Excellent SQF at all tested focal lengths, no more than slight distortion through the focal-length range, and fast and quiet AF. Yes, maximum apertures of f/4.5-5.6 hardly make this a superspeed optic, but the Vibration Reduction tested out to an average gain in handholding of about 3 stops. The moderate size and weight of this lens have made it a favorite among the Pop Photo editors. Now!****$250, street.
Closer Encounter: Sigma 50mm f/2.8 Macro EX DG
Who? Avid travelers of the tiny world. What? Sigma 50mm f/2.8 Macro EX DG. Why? If you really want to take great close-ups, nothing beats a dedicated macro lens. Not only are they optimized for close focusing, they do it without extra paraphernalia. The Sigma Macro EX DG, designed for digital SLRs, focuses down to 1:1 (life-size). With an equivalent focal length of 75mm, 80mm, or 85mm, depending on your camera model, the lens also puts extra working room between you and your subject (which may be a skittery little creature). It's based on the older full-frame Macro EX (which proved exceptionally sharp in Pop Photo Lab tests), but has special lens coatings to suppress ghosting from digital sensors. Now!****$270, street, in mounts for Canon, Nikon, Pentax, and Sony DSLRs.
Crossover Closeout: Tokina 19-35mm f/3.5-4.5 AF
Who? Select shooters seeking a full-frame ultrawide. What? Tokina 19-35mm f/3.5-4.5 AF. Why? This full-frame ultrawide proved quite sharp in Pop Photo Lab and field tests, and kept flare and light falloff well under control. So why has it been discontinued? It may be a victim of its own goodness: With so many SLR shooters switching over to smaller-than-full-frame digital models, 19-35mm may not sound like such a big deal — although we should point out that even with a 1.5X lens factor, it works out to a respectably wide 28-52mm. And remember that you're shooting through the central sweet spot of the lens with such DSLRs, so your shots will be even sharper. And if you have both film and digital bodies in the available mounts, it's a super deal. Now!****$130, street. We found some at retailers in Pentax/Samsung and Sony mounts.
No doubt, the greatest bargain in gear today is the kit lens. Bundled with entry- to mid-level DSLRs for about $100 to $140, these exploit the smaller-than-35mm sensors of consumer cameras to provide an equivalent focal length of about 28mm to 80mm or 105mm. In our tests, all brands have proved sharp, though often they're slow (f/3.5-5.6), show distortion at the wider end, and are plasticky. The best deal is, naturally, in the kit; sold separately they cost more. So if you're buying a DSLR, buy the kit lens — you'll never regret it.
• Canon 18-55mm f/3.5-5.6 EF-S USM ($140, street)
• Nikon 18-55mm f/3.5-5.6G ED II AF-S DX ($170, street)
• Olympus 14-42mm f/3.5-5.6 Zuiko ED Zoom ($250, street)
• Pentax 18-55mm f/3.5-5.6 SMCP-DA AL ($110, street)
• Samsung 18-55mm f/3.5-5.6 Schneider D-Xenon (kit only)
• Sigma 18-50mm F3.5-5.6 DC ($110, street)
• Sony 18-70mm f/3.5-5.6 Digital ($190, street)
50 and Fabulous
Not long ago, photographers would pay $500 or more for a high-speed portrait tele. Today, you can get a 75mm or 80mm f/1.7 or f/1.8 lens for $100 or less. New. In the box. With U.S. warranty. In fact, you may already have one. These are the 50mm lenses designed as inexpensive normal lenses for full-frame 35mm SLRs. On a digital SLR with a 1.5X or 1.6X lens factor, the equivalent is 75mm or 80mm — a great focal length for portraits and candids. The wide aperture gives you a much brighter viewing image than that dim f/3.5-5.6 kit lens and enables autofocusing in lower light. And, because you use only the central sweet spot, images are very sharp. Some of these lenses have been discontinued in recent years, but so many of them were made, it's not hard to find used versions.
• Canon 50mm f/1.8 EF II ($80, street)
• Konica Minolta 50mm f/1.7, fits Sony Alpha 100 (discontinued but widely available, $100 or less)
• Nikon 50mm f/1.8D AF Nikkor ($115, street)
• Pentax 50mm f/1.7 SMCP-FA (discontinued but available used for $50 to $100)
See our Best Buys for Cameras