Adobe Photoshop CS4: Hands On
Photoshop just got simpler.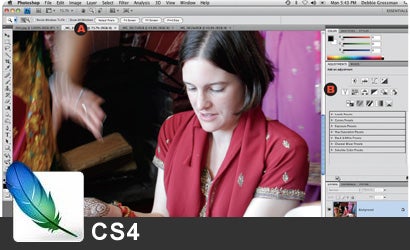 We may earn revenue from the products available on this page and participate in affiliate programs. Learn more ›
With each new version, Adobe Photoshop has always gotten more complex and slightly more difficult to use. Not anymore. Photoshop CS4 ($700, street, new; $200, upgrade) has new features and significant changes to the interface that make learning and using the software much simpler.
Until now, if you had multiple files open, you would have to flip through them using the Window menu. But with CS4's new application frame, you can open several files and quickly tab between them (A), plus manage the display of lots of files at once.
On the top toolbar of the new frame, you'll find the revamped Zoom tool. Finally making full use of your computer's graphics card, CS4 renders a file smoothly at any magnification. So no more restricting your editing to preset zoom levels such as 25% or 50%. You can also click and hold the tool over the image to zoom smoothly in or out.
The most powerful interface change: New panels for Adjustments and Masks (B), which had been stumbling blocks for many photographers. Old hands will have to get used to the redesign, but it's a huge boon to new users.
To make a new Adjustment Layer in CS4, all you have to do is choose the type you want by clicking a button or picking from a drop-down menu of presets. Photoshop automatically adds an Adjustment Layer to your Layers panel. Since you work on the adjustment in the panel, there's no longer a floating box that hides your image and keeps you from seeing the effects of your tweaks.
To show or hide areas of the changes you made on your Adjustment Layer, click on the Masks panel. From there, click Color Range to apply your adjustments to only a range of tones. Or start by brushing on your adjustments, then use Mask Edge (C) to refine the mask and ensure you affect only the area you want.
Adobe recognized that some tools people love aren't necessarily good for their pictures. For instance, we've seen rampant overuse of Saturation and the terrible yet popular Dodge and Burn tool.
Vibrance — first introduced in Camera RAW as an alternative to Saturation that added pop without overdoing it — is now in CS4 both as its own Adjustment Layer and in the Sponge tool. And revamped Dodge and Burn are no longer clunky monsters left over from ancient times — we can now recommend them.
Moreover, it wouldn't be a Photoshop upgrade without a couple of really awesome new tools that most people probably won't use often. This time, there's the new Content Based Scaling and the depth-of-field extender.
Content Based Scaling changes the aspect ratio, effectively cropping without compromising important image data. For example, the tool can tell where there's a person in your picture and leave that part alone, while squeezing background elements such as clouds and trees.
The depth-of-field extender is part of the improved panorama stitcher, which can composite an image in threedimensional space. So if you're using a macro or a wide aperture and can't get enough depth of field, shoot multiple images with different points of focus, then blend them into one deeply sharp photo.
These days Photoshop isn't just an image editor, but a set of three applications including Bridge (the powerful browser) and Camera RAW for RAW conversion — and there are lots of upgrades to those, as well. Since Camera RAW runs on the same engine as the one in Adobe's Lightroom 2, some of the innovations in that recent upgrade are present here, too. So it's now possible to do local and gradient adjustments to your photos while still in the RAW converter.
Making and printing contact sheets (or just pages with multiple images) used to require lots of waiting and processing in Photoshop, but now Bridge makes PDFs (and web galleries, as well) directly from the browser.
Other innovations: A navigation bar that shows you the exact location of the picture you're looking at. Tabs that let you switch between ways of viewing and working with your images. A carousel mode that lets you flip through a full screen view of your images and see the ones ahead and behind. And the ability to make collections of photos without moving them among folders.
In CS4, all these improvements add up to a worthwhile upgrade. Most important, this version makes the real power of Photoshop — Adjustment Layers and Masks — far more accessible to people using the program for the first time.