Adobe Photoshop CS3 Preview
Adobe's latest update, Photoshop CS3, brings together the best of three programs -- and improves on a classic.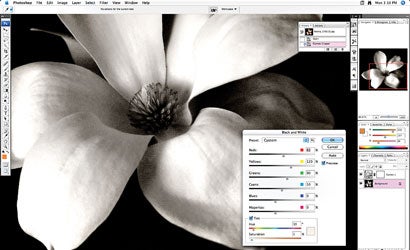 We may earn revenue from the products available on this page and participate in affiliate programs. Learn more ›
Despite competition from without (Apple's Aperture and Light-Craft's LightZone, for instance) and even from within (Adobe's own Lightroom), the grand dame of all imaging programs continues to evolve. And once again Adobe has made enough improvements in the latest incarnation of Photoshop to leave you wondering how you ever lived without them.
If you never upgraded from versions 7.0 or CS, Photoshop CS3 is definitely the one to jump on. It's the first update in years to sport significant improvements in the interface. The new edition of Bridge, which comes with it, is action-packed. And, combined with all the improvements to Camera RAW, also included, you're really getting three excellent pieces of software for the price of one.
A few other nice changes: A new Quick Selection tool, when coupled with the new Refine Edge dialogue, lets you make fast selections and preview and adjust them before you commit. The updated Curves dialogue shows you a histogram and lets you use and save presets (some cool ones come loaded with the program). And the rockin' Smart Filters let you apply your favorite filters nondestructively (think of them as the love child of filters and adjustment layers).
Click here to launch a slideshow with screenshots of the upgraded features, and the Top 5 reasons Photoshop CS3 is worth the steep price.
To ask Debbie Grossman your questions on Photoshop's new release, or for help with your nagging software problems, visit her Dear Debbie blog.