70 Top 35mm & Digital Cameras
41 star rated listings on 35mm Point-and-shoots to Digital ZLRs for 2003. What are you waiting for? Read on!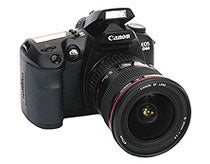 We may earn revenue from the products available on this page and participate in affiliate programs. Learn more ›
To give you a clear picture of the amazing changes taking place in cameras today, let's take a gander at the dramatic events that have occurred since last year's December 2001 equipment extravaganza. Not surprisingly, the most stable category is film-based SLRs, with only two newcomers, the sexy new Canon EOS Rebel Ti, a broad-based, entry-level model with upgraded features, and the Contax NX, a rugged, traditionally styled, moderately-priced autofocus SLR that takes Zeiss lenses. The sole new rangefinder entry is the redoubtable Leica M7, the first autoexposure member of this noble breed. Then, all hell breaks loose. Three out of five digital SLRs are new, with the benchmark reaching the 6-megapixel level at prices as low as $2,000. In the digital ZLR class (zoom-lens SLRs and EVFs), every single one of the five covered herein is brand new, most in the 4- to 5-megapixel, 4X zoom category. You think that's incredible innovation? Well hold onto your lenscaps. Every single one of the 17 digital point-and-shoots included in this section is brand new-there's not a single holdover from last year! In general, they range from 3.3 to 5 megapixels, have lower prices, more features, and wider-range zooms (e.g., the Olympus C730, a 3.3-megapixel model with 10X optical zoom). Finally, there's good old film-based point-and-shoots, still an active category with seven out of 20 new models. Film P/S cameras generally represent better values than ever. Manufacturers have called a truce in the Long Zoom Wars (and a moratorium on feature overload) to concentrate on moderately priced ($150-200 street) general-purpose types. Typically these have zooms in the 3:1 range, now often starting at the very handy 28mm focal length, and a modest but useful feature set. Examples among new Top Cameras include the Canon Sure Shot 130u, Olympus Stylus 100 Wide, and Samsung Evoca 90W. Technical innovation kudos go to the new smart-autofocusing Minolta Freedom Zoom 160, and a tip of the styling chapeau (as in retro rad) to the sleek Leica C3. Special note to Leica fans: We've deleted the worthy and robust Leica R8 from the top camera ranks to make room for the new Leica R9, which you'll find described and pictured (along with much else) in the show report on new cameras.
Before you dip into this colossal compendium of cutting-edge cameras, kindly bear in mind the following points. While our star ratings are based on a careful analysis of test data and features for each class of cameras, they are not directly comparable among categories. Suitability ratings are inherently more subjective, so please use them as a general guide. Prices listed are street prices, unless otherwise specified because we believe they are more useful to our readers, and all are for body only, except as noted. Finally, please remember that many worthy fine-performing cameras (such as special purpose, intermediate level, or limited-market models) are not included.
We do hope you enjoy poring over this prestigious passel of peerless picture-takers as much as we've enjoyed putting it together, and that it provides precisely the particulars you're looking for. As always, good hunting and happy shooting.
35mm Point-and-Shoot Cameras
Digital Point-and-Shoot Cameras
Digital ZLRs
Digital SLRs
35mm Autofocus SLRs
35mm Manual-Focus SLRs
35mm Rangefinders