10-Megapixel Compact Shootout
With digital compact cameras now passing the 10MP threshold, we decided to put the top five models to the test in order to help you determine which one may be right for you.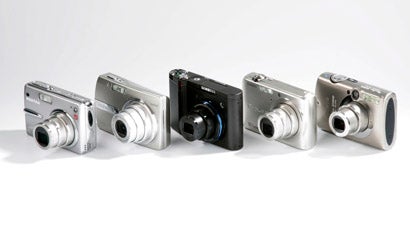 We may earn revenue from the products available on this page and participate in affiliate programs. Learn more ›
Within the past year several point-and-shoots have broken the 10-megapixel barrier, a threshold once the exclusive domain of digital SLRs and EVFs. But resolution alone does not a good camera make, so we decided to get our hands on five 10-megapixel compacts and run them through the paces in our Pop Photo Lab.
On paper these 3x zoom, 10MP cameras may look very much the same. But look a little closer, and differences in performance, features, and design make each one unique in one way or another. The Canon PowerShot SD900 Digital Elph has a Titanium skin, and an optical viewfinder, and stands upright when not in use. The Pentax Optio A20 has a sensor-based shake reduction system along with motion-sensing digital shake circuitry. The slick, black aluminum Samsung NV10 hides a pop-up flash behind its logo, and has a unique new slide and push button array for menu navigation. The Casio Exilim EX-Z1000 has tons (30+) of scene modes for helping optimize camera settings for shooting conditions, and the Olympus Stylus 1000 is weather-sealed enough to handle a downpour, although not a dunk in the pool.
Over the past month we've run each camera through a battery of lab tests and played with each camera in the field to see what they're all about. We boil down our thoughts on what's hot and what's not briefly below and give you the bottom line on each camera in 100 words or less. On the following pages, we go into more detail on each camera.
Which of these cameras, if any, is right for you? This 5-way, 10-megapixel shootout should help you decide.
The Bottom Lines:
Canon's PowerShot SD900 forgoes with the bells and whistles and is meant for the person who takes pictures, occasionally or often holding the camera to the eye while doing so, who then goes home and prints them on their computer. It is solidly built, feels good in the hands, and looks stylish, but has serious image quality issues at ISO 800 and beyond. It does have a slideshow mode and some image-quality tweaks in playback mode, but if you're looking for a multi-functioning pocket photo gallery player, this is not it.
The Casio Exilim EX-Z1000 scores big points for color accuracy and noise control in its limited but truly usable ISO range. Serious wide-angle barrel distortion is a problem for macro close-ups (such as those you might put on eBay) and the resolution numbers at the lowest ISO were the worst we saw in this 5-way shootout. On the plus side, this camera is easy to use, focuses fast, and is a good choice for shooting in good lighting. If we could combine the robust feature set of the 8 MP EXZ-850 with the better noise performance of this camera, we'd be much happier with both.
The Olympus Stylus 1000 is a tough call. The camera's weatherized body and beginner-friendly menus are big plusses. Resolution is Excellent at low ISOs, but noise becomes Unacceptable at ISO 400. Color accuracy is among the best in its class we've tested, and so is its wide-angle distortion percentage. But processing time feels like forever, especially at higher ISOs. With better noise management and a faster processor, this would be a handy all-around camera, but for now, it's too slow and too noisy for us to love. Our recommendation: hold off on this model and wait for the upgraded replacement.
For the performance you get, the Pentax Optio A20 ($300 street) is a bargain. Resolution tested Excellent at all user-selectable ISOs despite noise issues at ISO 400 and 800. The gyro-based shake reduction system should help keep this camera in its best performance zone; when other cameras compensate for low light by cranking up the ISO, this one can move the sensor to make a sharp photo. In movie mode, the DivX compression codec will help get more minutes of video on your SD card. The few negatives: no zooming during video recording, and useful commands such as exposure compensation are hard to find among the various sub-menu buttons.
Samsung's NV10 is a great looking-camera, from the hidden pop-up flash behind the Samsung logo to the innovative new interface on the back. It's not all bells and whistles and pretty looks though; the NV10 posted lab numbers on par with its competitors that wear more traditional outfits. This camera works well as a gift to your teenage nephew, but not your father-in-law.
Image Quality Comparison
The subject matter of this still-life scenario might seem a bit silly, but it was carefully chosen to include the following camera-testing elements: reflective blacks, pure, flat whites, hard and soft shadows on a mottled green background, and vibrant and muted colors in a small space. The images on the following slides were all captured in full auto mode and lit to near-daylight conditions on the testing bench. Click photo or here to launch an image quality comparison slideshow.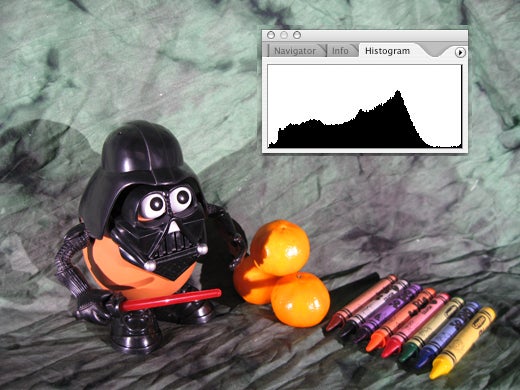 Set-to-Auto-the-Canon-Powershot-SD900-Digital-Elp
Set to Auto, the Canon Powershot SD900 Digital Elph chose 1/60 @ F/2.8 at ISO 64 No Flash to capture our still life.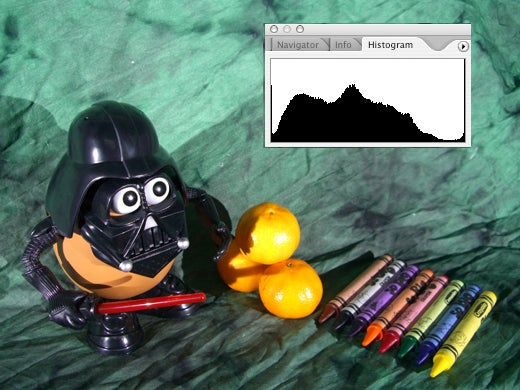 Set-to-Auto-the-Casio-Exilim-EX-Z1000-chose-1-100
Set to Auto, the Casio Exilim EX-Z1000 chose 1/100 @ f/2.8 at ISO 100 No Flash to capture Darth Tater.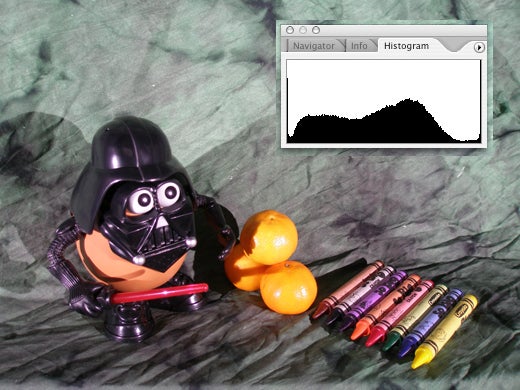 Set-to-Auto-the-Olympus-Stylus-1000-chose-1-60
Set to Auto, the Olympus Stylus 1000 chose 1/60 @ f/2.8 ISO 64 No Flash to capture our still life.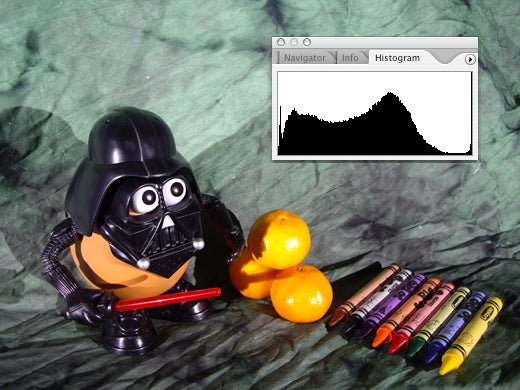 Set-to-Auto-the-Pentax-Optio-A20-chose-1-60-f-2
Set to Auto, the Pentax Optio A20 chose 1/60 @f/2.8 at ISO 100 No Flash to capture our colorful scene.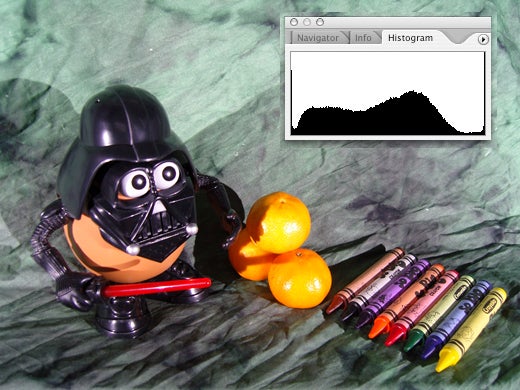 Set-to-Auto-the-Samsung-NV10-chose-1-60-f-2.8-a
Set to Auto, the Samsung NV10 chose 1/60 @ f/2.8 at ISO 100 No Flash to capture our still life.