Chrome Camera Sling Niko 3.0 bag review
Chrome's Niko 3.0 Camera Sling is a rock solid way to carry a day's worth of gear.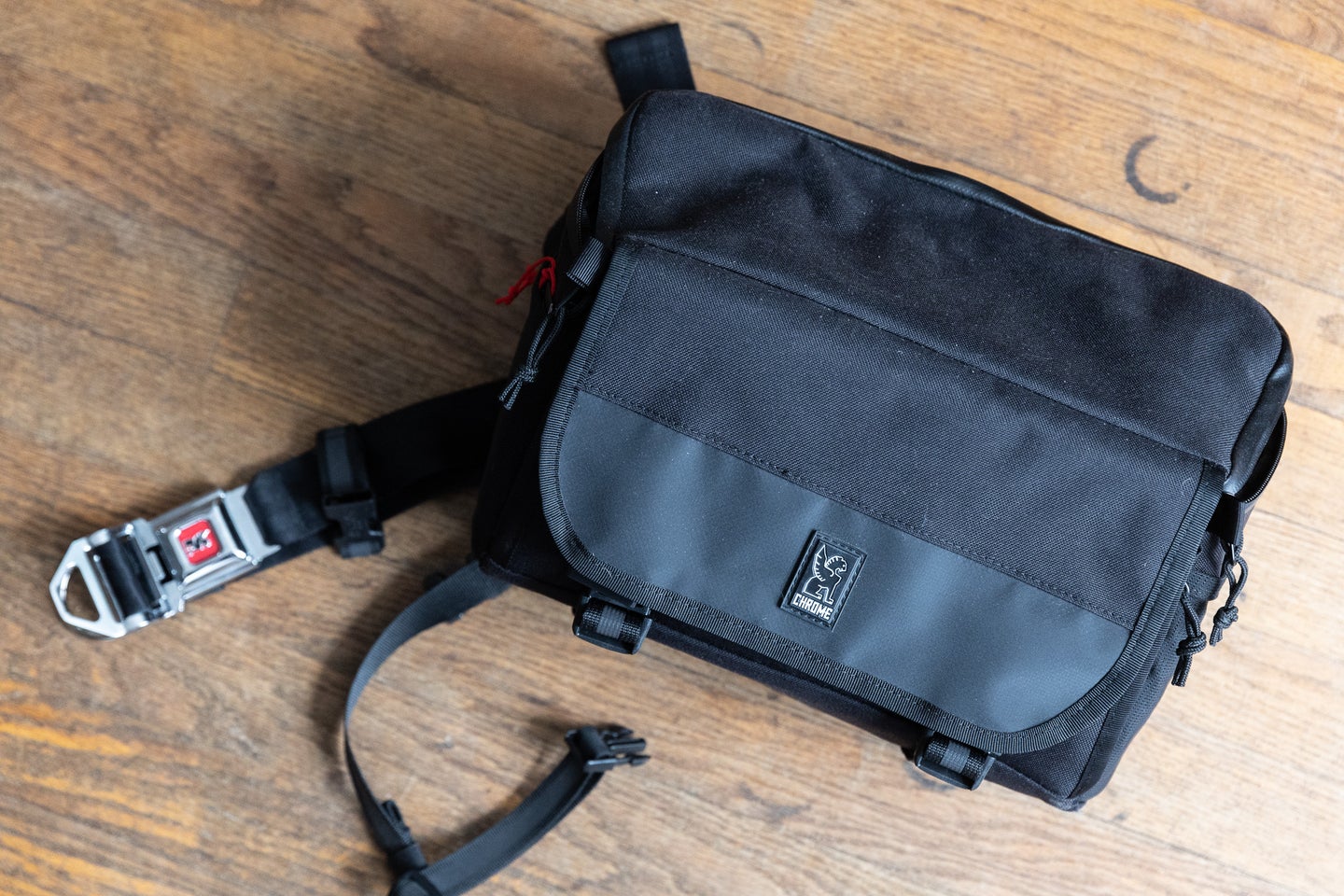 We may earn revenue from the products available on this page and participate in affiliate programs. Learn more ›
My first outing with the Chrome Niko Camera Sling 3.0 involved a hike. My friend told me it would be an "easy hike" with "a little elevation," but then she showed up dressed like an REI mannequin had come to life. I had many regrets over the next three sweaty, wheezing hours, but my camera bag choice wasn't one of them. While this compact camera sling was designed to stay put while riding a bike or traversing city streets, I found that I enjoyed using it just about everywhere. And while it's not the most practical or technical bag available, it has become one of my go-to options when I want to keep things simple and stealthy. 
Pros
Durable Nylon shell offers excellent weather protection
Stays locked in place during activities
Ample padding in the camera compartment
Holds a useful amount of camera gear for a day out
We love the aesthetics
Cons
Zippered pockets aren't quick to access
Chrome's seat belt buckle on the strap may worry some wearers
Straps and fit
As the name suggests, this is primarily a cross-body bag meant to be worn with the main strap over one shoulder. A smaller secondary strap clips under your arm to lock the bag in place during walking or bike riding. It took me ten minutes or so to really dial in the strap length to match my body. After that, however, I found this to be one of the best-fitting and most secure sling bags I've ever used. Cyclists have loved Chrome bags for decades because of their ability to stay put during hectic movements, and the Niko 3.0 is no exception. 
None of the compartments are reachable with the secondary strap in place except for maybe the closest mesh pocket. You'll have to unclip it and slide the bag around to your front. This isn't an issue if you're not constantly switching lenses or moving the camera in and out of the bag. 
The main strap includes Chrome's trademark seat belt buckle clip. Pushing the button on the clip releases the strap so it's easy to put on and take off. An accidental press of the button without the secondary strap clipped in could send the whole bag falling to the ground. I've used this bag dozens of times since I got it, and this hasn't been an issue, but I have thought about zip-tying the clip shut because I never use it and don't want to accidentally drop everything.
If you're not in the mood to wear the Niko Camera Sling 3.0 as a shoulder bag, it can also function as a waist pack. I thought the relatively large size would make it feel ridiculous when worn like that, but it turned out a lot more practical than I expected. I could see using this as a waist pack in addition to a backpack on a gear-intensive shooting job. Just make sure it's cinched tight so it doesn't slide down as you walk.
Main compartment
The Niko 3.0 Camera Sling offers nine liters of capacity with modular velcro dividers. It looks small from the outside, but I managed to comfortably carry my Hasselblad 500c/m, a Nikon F3 with a 50mm lens attached, and two extra Nikon F-mount film lenses very comfortably. 
When it comes to carrying digital gear, I fit my Canon R5 with a 50mm f/1.2 and an EF 24-70mm f/2.8L II. Don't plan on cramming a 70-200mm lens or other large zooms in here unless they're the newer, more compact versions. 
The modular dividers attach very firmly via Velcro. It makes rearranging the pieces a bit tricky. Trying to put the dividers in without letting the Velcro touch the sides feels like an oversized game of Operation. Once they're arranged, though, they stay firmly in place. 
I prefer brightly-colored interiors because they make it easier to see small pieces inside the bag, but the light gray lining works here and fits the bag's aesthetic nicely. 
Secondary pockets
The left and right sides of this sling bag both sport stretchy mesh pockets big enough to fit a couple of extra camera batteries or a few rolls of film. They don't zip or even Velcro shut, so I wouldn't store anything too expensive or irreplaceable in there, but I never had any issue with batteries (or other accessories) flying out of them. 
The back of the pack has a full-length zippered compartment, which is more secure. Whatever you put in that pocket will sit up against your body when you're wearing the bag, so it's best suited for storing flat objects. I crammed it full of a lens cloth, a gray card, and even a couple of rolls of film. 
Two clips hold down a flap in the front. Unclipping them grants access to a fold-down pocket with a zippered opening. It's secure thanks to its zippered closure, but it's not quickly accessible thanks to the clips. This compartment also offers several smaller stretchy pockets ideal for holding memory cards or other small items. 
While I generally like the layout of this bag, it's not ideal if you're trying to carry a lot of extra accessories with you. Don't expect to have room for tons of snacks or other non-photography-related items either, unless you want to stick them in the main camera compartment. That may be a deal breaker for some, but I like how purpose-driven everything feels because of the design choices. 
What we liked about the Chrome Niko 3.0 Camera Sling
Chrome truly made a great-fitting camera bag with the Niko 3.0. The main strap is extra-long, which allows it to accommodate more body types and also fine-tune its positioning. The bag sits across the back and locks into place with the secondary strap. The weight distribution is excellent, and it stays rock solid during activities. All of that makes it as comfortable as any sling I've ever used. The D-rings and buckles also make the adjustment process very simple and allow for very precise adjustments.
Camera gear receives excellent protection inside the main compartment thanks to ample padding. It won't carry a ton of gear, but it's very adept at toting a few film cameras or a single full-frame mirrorless camera with an extra lens. If that sounds like your typical load out, then it will fit your needs nicely. 
This bag isn't overloaded with extra pockets, so it's easy to keep track of your accessories, and it keeps things more secure. There's no easily accessible outer pocket to attract sticky fingers. The nylon exterior also excels at fending off weather and resisting damage. I've scraped it against just about every surface you can encounter in the real world, and it doesn't look worse for wear. In fact, it has gotten even better looking as it ages. 
What we didn't like about the Chrome Niko 3.0 Camera Sling
Chrome includes its trademark seatbelt clip on most of its bags, including this one. And while I appreciate how easy it makes the putting on and taking off processes, I still worry a little that I'm going to press the button by accident and drop everything to the ground. 
I would also have liked zippered closures instead of the elastic bands on the mesh side pockets purely for a bit of extra security. And since the secondary strap is so essential for the best fit, I would have preferred a metal clip instead of a plastic one. 
Who should buy the Chrome Niko 3.0 Camera Sling?
At $150, this isn't a cheap sling, but I fully expect it to last a very long time. Chrome bags have a reputation for longevity, and this one looks and feels fantastic after months of use. That initial hike may have beat me up, but the bag was totally fine. 
It doesn't hold a ton of gear, and it's not loaded with pockets, but that's the point. If you're looking for a super-durable, extremely comfortable, aesthetically pleasing sling that doesn't advertise the fact that it's packed with expensive camera gear, then this is a great option. Just make you don't accidentally hit that release button.