We may earn revenue from the products available on this page and participate in affiliate programs. Learn more ›
Published Jan 23, 2023 5:23 PM
If you're not using a surge protector to keep your expensive electronics safe from the next lightning strike or electric company grid switch, then you're tempting fate. A power surge can damage a computer's motherboard, fry an external hard drive, or turn your charging camera into a very expensive paperweight. That's why protecting them is crucial.
Unfortunately, many devices that bill themselves as surge protectors offer little to no protection at all. Because of this, understanding how these devices shield your valuable electronics from potentially damaging power surges is key to making a good purchase. Read on to learn about the features you should look for when shopping for the best surge protector, and check out our top picks.
How we selected the best surge protectors
Like most Americans, I own a small arsenal of electronics, all susceptible to damage from power surges. To protect these investments, I have surge protectors throughout my home, ensuring my electronic devices aren't impacted should my home experience a power surge.
I applied my own experiences using these gadgets in reviewing more than 20 surge protectors for my list of the top models. In making my selections, I considered the amount of protection each offers. A surge protector should also be an effective power strip, so I leaned toward those with numerous outlets and a variety of plug types. Finally, I selected options made by companies that back their products with warranties that provide coverage for the devices plugged into them.
The best surge protectors: Reviews & recommendations
Summary: With a surge rating of more than 4,300 joules and equipment protection of up to $300,000, this surge protector is the best option for protecting one's electronics. APC
Why it made the cut: We couldn't find a surge protector with a higher surge rating that offered this many outlets.
Specs
Outlets: 10 + 2 USB
Surge rating: 4,320 joules
Equipment protection: up to $300,000
Cord length: 6 feet
Pros
A whopping 4,320 joules of protection
10 outlets and two USB ports provide ample space for devices
Backed by APC's $300,000 equipment protection
Built-in failsafe cuts off power if the surge protector ceases to provide protection
Cons
You'd be hard-pressed to find more comprehensive protection than with APC's surge protector, which can absorb surges of up to 4,320 joules before failing. APC also stands firmly behind its product with its lifetime equipment protection warranty that covers damage up to $300,000. That's one of the highest levels of protection we could find. It also comes with a fail-safe mode that cuts off power if any of the surge protector's internal parts become worn or damaged and can no longer provide protection.
APC's device makes for an effective powerstrip, too. It's equipped with 10 plugs, including four with enough spacing to support larger plugs without covering other outlets. In addition to standard three-prong outlets, two USB connectors are handy for charging smart devices.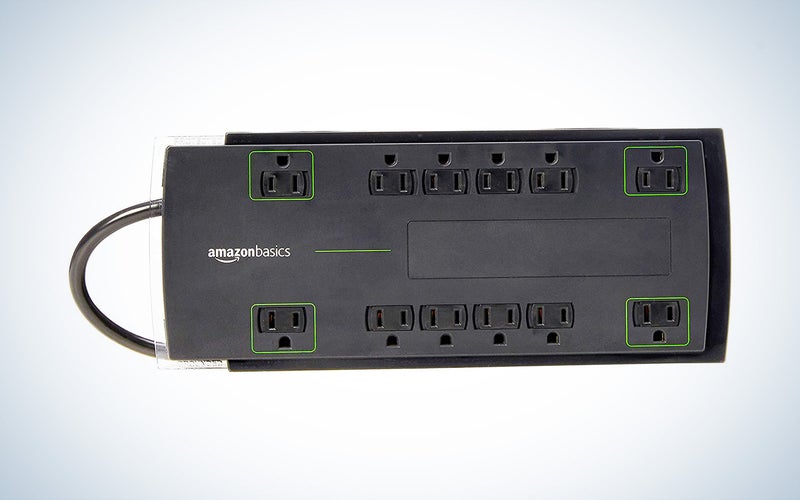 Why it made the cut: AmazonBasics' surge protector offers a similar level of protection as other high-end models at a lower price.
Specs
Outlets: 12
Surge rating: 4,320 joules
Equipment protection: $0
Cord length: 8 feet 
Pros
A high level of protection at an affordable price
Offers 12 outlets, including four spaced-out outlets
15-amp circuit breaker cuts off power at the surge protector
Cons
Does not insure equipment connected to it
Not as ruggedly built as other surge protectors
Although there are cheaper surge protectors on the market, most don't offer the protection and capacity this model from AmazonBasics offers at a better price. Its 4,320-joule rating puts it on par with some of the top surge protectors on the market. However, it's important to note that Amazon does not offer equipment protection as other manufacturers do.
The AmazonBasics device boasts 12 outlets, including four spaced-out outlets for oversized plugs. The unit's power switch doubles as a 15Amp resettable breaker, adding yet another feature for combatting power surges.
Bright green LED lights are reassuring, letting you know your devices are protected. However, the bright green beacon can be annoying at night for those using this power strip in the bedroom. Though the AmazonBasics power strip is large at more than a foot long and 5 inches wide, its svelte profile of just 1.3 inches allows it to fit in narrow crevices behind a desk or entertainment center or keep a low profile on a desk.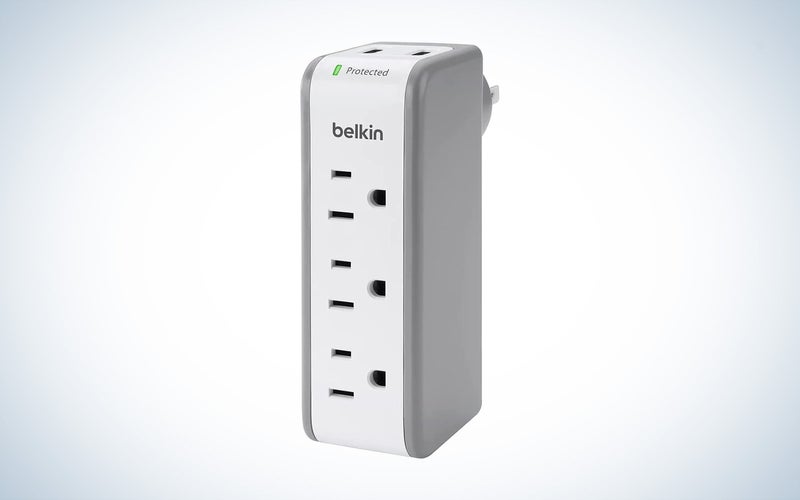 Why it made the cut: Of all the compact surge protectors on the market, this one offered the best surge protection of any we could find while still being small enough for travel. It's ideal for business trips or remote workdays at the local coffee shop.
Specs
Outlets: 3 + 2 USB
Surge rating: 918 joules
Equipment protection: $75,000 
Cord length: N/A
Pros
Compact size makes it ideal for travel
Offers three outlets plus 2 USB connections
No cumbersome cord to work with
Cons
Comparatively low level of surge protection
At just 7-by-5-by-2 inches, this Belkin device is small enough for travel. And, while it doesn't have the high surge ratings of a full-sized surge protector, its 918-joule rating is better than most compact options. Notably, it stands behind that rating with equipment protection coverage of up to $75,000. 
The Belkin Wall Mount Surge Protector plugs into a wall and offers three three-prong outlets and two USB outlets, more than enough to handle most people's mobile workstations. And tts design allows it to hug the wall with no extra wires. It features a long body that can swivel, allowing you to position it horizontally or vertically to meet your needs. A small light emits an LED glow when the surge protector is plugged in, letting you know it's protecting your devices.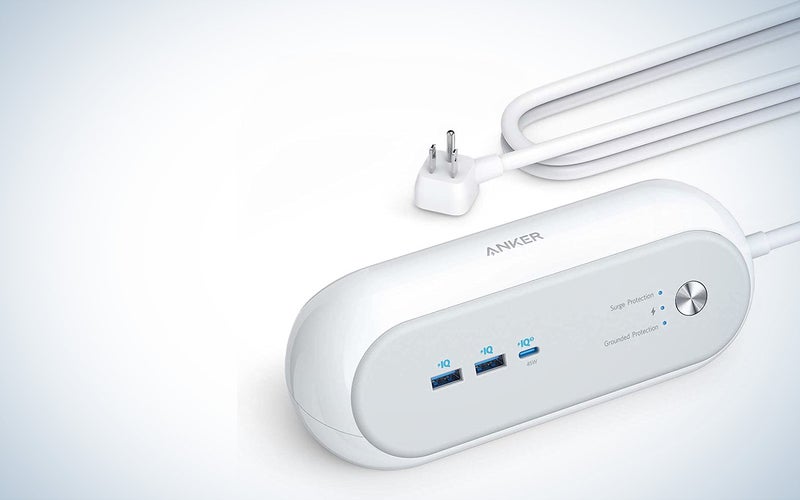 Why it made the cut: The streamlined look of this desktop model is ideal for those looking to protect smart devices or a laptop.
Specs
Outlets: 3 + 2 USB and 1 USB C
Surge rating: 300 joules + 15-amp circuit breaker
Equipment protection: $50,000
Cord length: 6 feet
Pros
Streamlined look and dual-sided design make it ideal for desktops
Includes a USB-C connection for high speed charging and laptops
Weighted base keeps it firmly in place
Cons
Expensive for a device that only offers 300 joules of surge protection
The standard surge protector that sits on the floor under the desk or wedged behind the entertainment center isn't ideal for smartphones, tablets, and laptops that get plugged and unplugged regularly. And while you can put one of those bulky surge protectors on a desk, such a setup won't do if aesthetics are important to you.
This streamlined model from Anker is a great alternative. It consists of two sides. On its front are two USB ports for smartphones and a 45-watt USB-C port that can power a laptop or fast charge a smartphone. On the unit's back are three widely spaced three-prong power outlets.
The Anker Desktop Charging Station sits upright instead of flat, allowing you to plug in smartphones and laptops without bending the cord at a 90-degree angle. It also features a weighted bottom with non-slip pads that hold it firmly to the desktop even when plugging and unplugging cords. A power switch on the face of the surge protector conveniently allows you to turn it on and off, and LED lights indicate when the power is on, and the devices are protected.
Though the Desktop Charging Station's surge protection is nothing to brag about at a modest 300 joules, it is enough to provide moderate protection. Plus, Anker equipped it with a built-in 15-circuit breaker for added protection. Unfortunately, it is one of the more expensive surge protectors on the market, coming in at a higher price than less aesthetically pleasing options that offer better protection.
Why it made the cut: Thanks to its ethernet outlet, coaxial cable connections, and numerous outlets, this surge protector is well-outfitted for entertainment centers.
Specs
Outlets: 11, plus ethernet, coaxial cable, and phone
Surge rating: 3,020 joules
Equipment protection: $100,000
Cord length: 8 feet
Pros
Ethernet and coaxial cable connections are ideal for entertainment center setup
LED indicators allow the user to monitor protection status
Ample capacity to support numerous devices
Cons
Not quite as much protection as what other surge protectors offer
To truly protect your entertainment center from power surges, you need to have a set of surge-arresting jacks that can accommodate all types of connections. The APC Surge Protector includes coaxial cable jacks for protecting TVs with satellite or cable TV connections and an ethernet jack for TVs and gaming consoles with a wired connection to a router. In addition to those specialty connections, it comes equipped with 11 three-prong outlets, providing ample capacity for entertainment centers with TVs, gaming consoles, and other devices with AC plugs.
While the surge protector's inclusion of two RJ-11 phone jacks may have you wondering if the tech on this surge protector is up to snuff, rest assured it is. The APC surge protector offers 3,020 joules of protection and backs that with $100,000 worth of coverage.
This model also has useful light indicators that tell you when the surge protector is providing protection, experiencing an overload, or detecting a wiring fault. While it is large at a foot long and nearly 5 inches wide, its 1.6-inch profile allows it to fit into that tight crevice between the wall and the entertainment center. And it features a rotating cable and a 90-degree plug to fit in tight spaces even better.
Things to consider when buying a surge protector
Surge protection
A surge protector's main purpose is to protect your electronics from power surges. That function is what separates these devices from a basic power strip. These units accomplish this by using Metal Oxide Varistors (MOVs), an electrical component that absorbs excess energy and sends it to a ground wire. The MOVs in a surge protector determine the number of joules it can absorb before failure. The more joules, the greater the amount of surge protection. 
Some electronics, such as an alarm clock, blender, or basic lamp, only require a surge protector that can absorb up to 1,000 joules for adequate protection. However, more complicated electronics, such as gaming consoles, flat-screen TVs, and computers, require more comprehensive protection of 2,000 joules and above.
Outlets
Surge protectors vary in the number and type of outlets they offer. Smaller models may only have three or four three-prong outlets, while some larger units offer up to 12. Surge protectors can also have USB outlets for charging smart devices and connections for coaxial cable and ethernet lines. Plan ahead before purchasing a surge protector by first determining the number and type of outlets you'll need to handle your setup. 
Warranty
An excellent indication of a surge protector's quality is its warranty. Some manufacturers are willing to put their money where their mouth is by covering the cost of damage to devices connected to their surge protectors. This coverage ranges from $75,000 to $300,000.
Fail-safe mode
Eventually, the MOVs in a surge protector degrade and cease to function. When this happens, it can leave your valuable electronics vulnerable while giving you the false impression that they are protected. A good surge protector will have a fail-safe mode that cuts power to your devices when the device ceases to provide adequate protection.
FAQs
Q: How do I choose a good surge protector? 
When selecting a surge protector, look at the surge rating. Choose one with a rating of at least 300 joules. For protecting sensitive or expensive equipment, such as a computer or flat-screen TV, look for an option with a rating of at least 1,000 joules. Finally, make sure the surge protector has enough outlets to support all the components you need to protect. 
Q: What is the difference between a surge protector and a power strip?
A power strip allows you to plug multiple devices into a single wall outlet by splitting that outlet into multiple outlets. A surge protector performs the same function as a power strip but also includes MOVs that can absorb excess power, protecting your devices from power surges.  
Q: What is the most powerful surge protector? 
The APC Surge Protector Power Strip, which can absorb up to 4,320 joules, is the most powerful surge protector on the market. This high surge rating makes it ideal for protecting expensive, sensitive electronics that are irreplaceable, such as a computer that holds important photos or data.
Q: How much does a surge protector cost?
The price of surge protectors varies depending on how many outlets or ports they provide, how much protection they offer, as well as warranty and other features. You can find options from as little as $10 up to $70.
Final thoughts on the best surge protectors
When selecting a surge protector, it's crucial to consider the level of protection it offers as well as its capacity. Many devices that claim to be surge protectors offer so little protection that they're little more than power strips. When shopping for a surge protector, pay careful attention to its surge rating and look for manufacturers willing to provide monetary coverage for the devices you connect to it.