We may earn revenue from the products available on this page and participate in affiliate programs. Learn more ›
Updated Jan 18, 2023 12:00 PM
With Apple AirPrint, printers can accept jobs from any compatible device without having to worry about installing software or drivers. Because of the Airprint's enduring popularity, it's possible to find printers of all sorts that are Airprint enabled. 
Airprint printers make connectivity easier than ever, while still delivering all of the best features you look for in a modern printer. Some high-speed models deliver nearly forty printed pages a minute. Others excel at meticulously colored photo-prints. Some even can still fax things if that's something you have to do from time to time. Whether you're after a slick photo printer for your home-office design-studio, an office sized workhorse, or an economical supertank, these are the best AirPrint printers. 
Things to consider when shopping for an AirPrint printer
Maybe it's your first time buying a printer, maybe you're upgrading the office now that more employees are coming back from work-from-home. Either way, when you're shopping for a great AirPrint printer, you can still find most of the features you'd have looked for in a printer from the past. Before you buy, consider the features you need.
Speed
Modern printers can spit out pages with surprisingly quickness. However, while the average speed of printers has certainly come up since the days of Office Space, the fastest will still generally command premium price points. That's especially when that extra-speed accompanies other premium features. Manufacturers indicate speed in PPM (pages per minute). Some fast laser printers will deliver speeds of around 40 PPM, while the best inkjet photo printers might top-out around 4 PPM or less. Generally printers that deliver the greatest detail and color-quality move significantly slower. Consider the speed you need, and how that speed stacks against the cost required to get there, as well as the potential sacrifice of investing in a road-runner of a printer. 
Print quality
Among printers, image quality varies from passable to impeccable. Top-quality inkjet photo printers can deliver superior quality prints with high color-realism, contrast, and precision. However, the top end of photo quality will always require a few sacrifices. The nicest photo printers don't print as close to the same speeds achieved by volume-focused laser printers. They're also expensive to buy and keep filled with ink. Consider whether photo print quality is important to you before you make a final selection.
Some will care little for photo print quality and instead opt for the crisp text quality achieved with laser printers. While a monochrome laser printer will never be able to compete with a dedicated inkjet photo-printer in terms of photo-quality, it may do a superior job on text (especially in volume). Consider your print goals when you consider whether a printer's image quality is right for you. 
Cost among printers
One of the most important things to remember when you're shopping for a printer is that a printer's cost up-front is only a part of its total cost. Inkjet printers usually have a low upfront cost in comparison to laser printers. However, printer ink is one of the most expensive liquids on the planet. The toner powder used in laser printers is considerably cheaper. Toner also lasts far longer than ink does and won't dry up between infrequent print jobs. This makes laser printers far more economical over the long term (when you print a lot), even if their upfront cost is higher. Supertank printers on the other hand represent a more affordable approach to ink printing, providing refillable ink-wells that can usually be refilled with generic inks. That's a welcomed departure from the expensive brand-name inks that come in engineered plastic-cartridges which are par-for-the-course with most inkjet printers. 
Features, features, features
Scanners, copy functions, and faxing are a few of the common features on the best AirPrint printers. One device can handle an array of annoying tasks. Scanners are a huge help as well, and many great AirPrint printers feature scanners that scan at 600 DPI (dots per inch) or more. While scanner and printer combo can make copies, an easy copy function saves lots of time. Consider which features you need before you buy.
How we picked the best AirPrint printers
Methodology
We researched a wide selection of printers for this article, reading up on the product lines of the leading printer manufacturers, and examining numerous products from their listings. We then took a look at the best of each lineup and compared them to each other. As we dove into the specs on each printer we looked for a few important criteria, which we used to help us break them down, rank them, and to eventually categorize them into the categories we deemed most widely pertinent: 
PPM (prints per minute) and overall printing speed is always an important factor in what makes a printer great. While an inkjet printer designed for high-res photo printing will never keep up with a volume focused office laser printer, you should find a printer that matches your specific needs. Volume focused printers might deliver forty prints per minute, while photo-quality printers might deliver two. 
Build is important, and we took a look at each printer's size and build quality. Sometimes a protruding control screen on an otherwise compact body can make a printer untenable for a specific office layout. We noted such design follies, as well as such things as exemplary build quality, extra large tanks, easy maintenance, and more.
Budget is crucial when choosing any product. Because of this, we aggregated approximate cost per-print for all the printers we featured. We factored this into our picks alongside each printer's initial cost. Generally speaking the cost of a print is highest on a premium color inkjet, middle on a supertank, and less on a laser printer. If you print very little, the upfront cost could be more important, however if you print in high volume the cost per print will matter quite a lot. 
Print quality can include several different factors. Some photo-printers excel at color photo-prints. A monochrome laser-printer on the other hand might excel at crisp text. We noted the print quality of every printer we featured.
Features also contribute to the overall quality, and we factored and noted such features as scan-quality, copier, and the presence or absence of a fax function. 
The best AirPrint printers: Reviews & Recommendations
Why it made the cut: This portable printer offers solid inkjet photo quality, with respectable print speeds, a portable size, good connectivity, a scanner, multiple print sizes, and more, 
Specs: 
Type: Inkjet
Size: 14.3 x 7.32 x 2.7 inches
Approx PPM: Up to 10 black, up to 7 color (slower on battery)
Features: Print, scan, copy 
Pros:
Speedy inkjet prints
Good photo quality
External battery has good life approx 90 minutes
600 DPI sheet-feed scan
Cons:
The HP OfficeJet 250 All-in-One offers features you'd expect from a desktop device in a portable package. This battery-powered portable AirPrint printer offers much of the functionality you expect from a top quality printer into the fold in a mobile 14.3 x 7.32 x 2.7 inch frame. Despite its compact size, it still manages to fit in a 600 DPI sheet-feed scanner / copier combo. 
The OfficeJet 250 spits out B&W prints at 10 prints a minute, and 7 color prints in the same time frame. It runs slower on battery, but still hits a respectable 9 PPM printing black and white. Excellent photo-printing skills deliver high quality results commensurate with what you'd expect from an inkjet at this price point, making it a great AirPrint photo booth printer.
At 50 pages total volume, the printer has the feed volume you'll need to take advantage of its speed. Guides help you adjust paper size, which can handle a respectable size range, between 3.5 inch cards, to 8.5 x 14 inch legal size. The printer's also not just AirPrint, the HP Smart App ensures this printer is also easy to use for Windows and Android.
Why it made the cut: With scan, fax, and copy built right in, an affordable price, decent speed, and a sizable amount of ink shipped with the package, this budget AirPrint printer provides real savings.
Specs: 
Type: Inkjet
Size: 17.1 x 14.2 x 7.1 inches
Approx PPM: Up to 20 black, up to 19 color
Features: Print, scan, copy, fax 
Pros:
Fast PPM for inkjet price-point
Ships with a significant amount of ink
Fax and scan built in
Prints duplex
Cons:
Ink refill costs aren't the cheapest up front, though they last longer
Brother does budget well with the MFC-J4335DW INKvestment. While it's not the cheapest AirPrint printer on the market, this reasonably priced all-in-one inkjet ships with a significant well of ink that Brother likes to claim will last most users a full year. How long it will last in practice will of course vary based on your needs, but it should amount to about 1000 prints. Ink refills are expensive upfront, but their deeper than average wells ensure they last for a long time.
For an inkjet the INKvestment does a good job with speed. It spits out about 20 pages per minute for both black and color ink, and can print duplex. Its paper handling is decent (though less than expansive), and is capable of prints as small as 3.5 x 5 inch photo paper, to legal. Sadly, the printer lacks photo quality. Photos printed on it are grainy, making this a poor choice for pro photographers.
All in all the INKvestment is a great budget option. While its photo quality is poor, its speed and features make up for this. The inclusion of a fax function and quality hinged-scanner that's capable of dealing with books sweetens the deal. It's a good buy for those who want features for an overall low investment.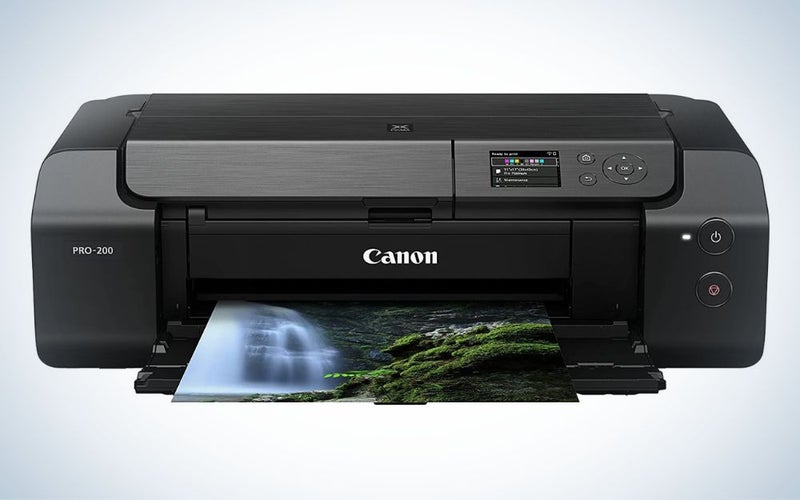 Why It Made The Cut: Printing borderless photo prints with an 8-color dye based system in about a minute and a half, this wifi-AirPrint printer is an investment in image quality.
Specs: 
Type: Inkjet
Size: 25.2 x 15 x 7.9 inches (closed, trays extend(
Approx PPM: A3 size prints in 90 seconds
Features: File prep software
Pros:
8-color dye system yields higher color gamut
Borderless print compatible
Prints on multiple paper types including glossy and fine art from top feed and rear manual
Canon's included layout app helps you set up more complex print jobs
Cons:
No scan or fax
Expensive inks can sometimes be hard to find
Expensive and somewhat slow for regular prints
Giving itself wholly to photo-prints, the Canon PIXMA PRO-200 sets its focus on image quality. Using an 8-dye color system, this canon AirPrint printer delivers rich prints with higher than average color-gamut and realism.
While the PIXMA doesn't have a scanner or fax machine built in, it makes up for this with dedicated photo features. Using the included Canon layout app, the printer offers highly adjustable controls, and can even print borderless. Thanks to a top feed and a rear manual feed, the system processes multiple paper grades, from glossy to fine art, and handles sizes up to 19 x 39 inches on manual.
The PIXMA PRO-200 doesn't aim for versatility; adopters will have to make some sacrifices. Its print speed aims for quality rather than brevity, and serves up standard print sizes in about a minute and a half with borders. Its cost will also require some commitment. This is no entry-level printer, and it only gets pricier with time as the 8-ink cartridges will all require periodic replacement. Also, it should be noted that Canon went through a shortage of replacement ink-cartridges for the PIXMA PRO series in 2021 (blamed on the pandemic). This issue has gone away, but it bears consideration for anyone investing in the line. Replacement inks can be found here. All in all, it's a great printer for photographers or digital artists who want impeccable control over their prints.
Why It Made The Cut: This all-in-one system pumps out a respectable 25 pages a minute, prints duplex, features a 50 page automatic feeder, and more.
Specs: 
Type: Laser
Size: 16.1 x 19 x 16.1 inches
Approx PPM: 25
Features: Scan, copy, fax
Pros:
High res scanner
Decent speed with large auto feeder tray and duplex printing
Cons:
No duplex scan or fax
Somewhat pricey
The Brother MFC-L3750CDW is accessible and capable enough to handle all office tasks. This true all-in-one laser printer comes with a powerful high-res scanner (19200 dpi), a capable fax machine, and the print function a modern office needs. It's also very easy to set up and connect. 
The machine handles relatively high-volume printing well, with an auto feeder that holds fifty sheets, and a total input paper-capacity of 250. It churns out a respectable 25 prints a minute in black and white or color, and prints duplex automatically.
The machine does have a couple faults. Duplex scanning and faxing would be a nice feature in a machine at this price point. Brother's toner is also quite pricey, and equipping this machine with off-brand toner can be prohibitively difficult, as the machine likes to automatically reject it.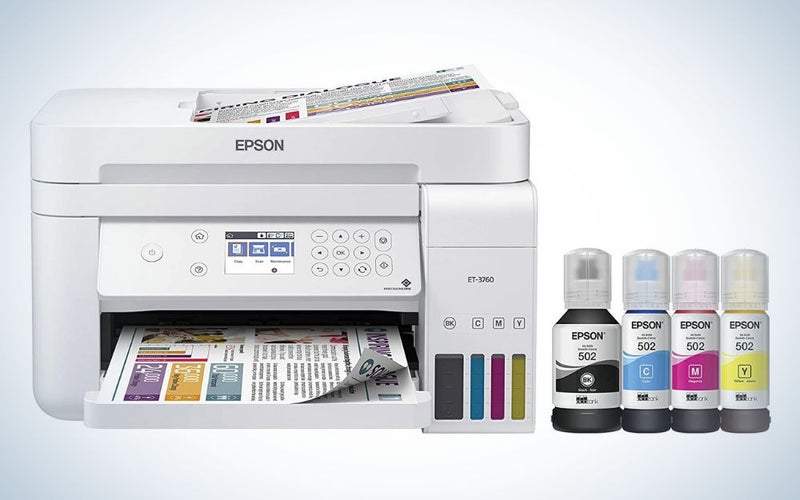 Why It Made The Cut: Affordable and versatile, this supertank printer is capable of dazzling prints, and allows you to do away with expensive ink cartridges.
Specs: 
Type: Inkjet
Size: 14.8 x 13.7 x 9.1 inches
Approx PPM: 15 black, 8 color
Features: Scan, Copy
Pros:
Refill with cheaper bottled inks rather than expensive cartridges
Nice photo print quality
Reduces cartridge waste
Cons:
No fax
Not as fast as some, and less good at volume than many office size printers
For many, supertank printers are a breath of fresh air in the world of expensive printer inks and toners, and the Epson EcoTank ET-3760 does supertank printing extremely well. This AirPrint-enabled printer will save you hundreds. Equipped with large refillable ink tanks, the EcoTank will cost you less per-print, and reduce cartridge waste — all without sacrificing print quality.
The EcoTank doesn't skimp on functionality. It features a high-res scanner that hits up to 9600 dpi interpolated. The printer's print speed isn't a racetrack star, but it's nothing to sniff at either, delivering 15 black & white or 8 color pages a minute, which should be more than enough for smaller offices. This is facilitated by a 30 sheet auto feeder.
The printer does have a few limitations however. Its max paper size is 8.5 x 47.2 inches, and its paper requirements are relatively strict (mostly Epson name brand basics), meaning it's not capable of truly-deep custom print jobs. Still with an impressive amount of ink included in the package (Epson claims two years, but this will vary), decent quality prints for text and photos, easy connectivity, and some of the most affordable ink refills out there, this is a truly capable printer.
FAQs
Q: How do I know if my printer is AirPrint compatible?
Most printer manufacturers supply detailed sheets of specifications for their printers. Look up your model of printer on the manufacturers website and find the specs section, it should tell you whether the printer is AirPrint compatible. Additionally most printers come with detailed instruction manuals. You could also simply try connecting, check that your printer and device are on the correct network and navigate to the share menu on your device, you should find an option to AirPrint.
Q: How to print from iPhone to Canon printer without AirPrint?
If your Canon printer doesn't have AirPrint, look for the correct app in the app store. Canon's PRINT inkjet/SELPHY is a good place to start. 
Q: How do I enable AirPrint on my printer?
If your printer is AirPrint enabled, AirPrint should be available when your printer is connected to the internet. If you're having trouble, ensure that your wireless networks are configured properly, then consult your owner's manual.
Q: How do you set up AirPrint on a brother printer?
Before you print, ensure that your Brother printer is connected to the internet, then add your printer to your Apple device. Once it's added, AirPrint should be available.
Q: What is the difference between AirPrint and wireless printers?
Airprint printers are wireless printers that are compatible with Apple's Airprint protocol, which allows you to use the printer without downloading printer specific drivers. 
Q: Does my Canon printer support AirPrint?
Many Canon printers do support AirPrint, whether yours does will be notated in the printer's manual and in the printer specific spec sheet on the Canon website. Canon offers 36 current printer models that all support AirPrint. Consult the Canon website for printer specific info.
Q: What printers are compatible with AirPrint?
Lots of printers are compatible with AirPrint. These printers are from leading brands like Epson, Brother, and Canon, etc. Read our list of the best Airprint printers of 2023 to find the best AirPrint printer for you.
Q: Do all printers have Airprint?
Many printers have AirPrint, but not all do. AirPrint was released in 2010, so printers that are older than that will not have AirPrint. It took some time before Airprint was widely adopted. Today, there's a wide selection of AirPrint printers. 
Q: Can I make my wired printer AirPrint?
With certain printer models you may be able to rig a wireless adapter such as the BrosTrend AC1200 to your printer's ethernet jack, enabling it to connect wirelessly to your Apple device. Still, this may require another app beyond AirPrint, as well as a driver installation, as wired printers won't be primed for driverless use with AirPrint. 
Final Thoughts
AirPrint printers offer all of the features and tech-functions of modern day printers with a simplified connection process. The best AirPrint printers have other great features, such as high speed printing, exceptional photo fidelity, super-tank ink loading, excellent scanners, and fax functionality built right in. If you're looking for a state of the art photo printer for borderless art prints, the Canon PIXMA PRO-200 is an excellent AirPrint photo printer for the discerning digital artist. For a great office-grade laser printer with AirPrint the Brother MFC-L3750CDW is worth consideration, with its 25 ppm duplex print speeds and crisp color treatment. The Epson EcoTank ET-3760 on the other hand is our personal favorite, with its refillable ink tanks that will save you money and cut down on printer cartridge waste. Finally, the HP OfficeJet 250 All-in-One is our pick for the best overall, and is a great choice if you're looking for a mobile printer with AirPrint.