Lens Test: Pentax-D FA 100mm f/2.8 WR Macro
Sturdy and superb close-up glass.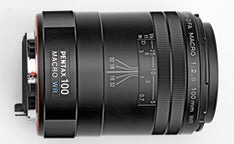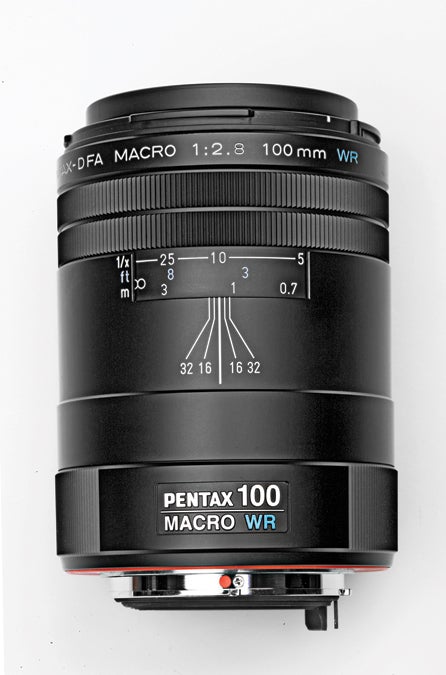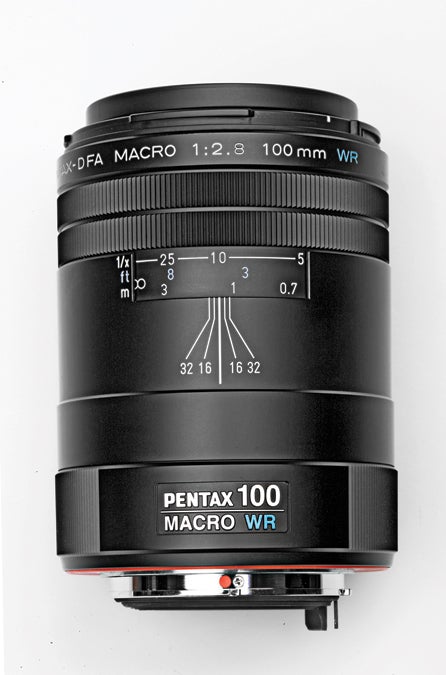 Lens Test: Pentax-D FA 100mm f/2.8 WR Macro
The knurled metal just above the lensmount helps when attaching the lens to, or taking it off, the camera body.
With a sleek, retro style, Pentax's latest version of its 100mm f/2.8 macro looks much different from earlier iterations. The $700 (street) lens, joining the WR (weather-resistant) line, now has a metal body instead of reinforced polycarbonate, and a metal manual-focusing ring, along with weathersealing. Perfect for nature and travel photographers who are hard on their glass.
The front element sports the Pentax SP coating to help repel water, dust, and grease, and the aperture blades are rounded— helping to produce smoother out-of-focus areas and better bokeh. The lenshood even has a weather–resistant lining, the same material found inside the Pentax 645 lenshoods.
The knurled, double-ring focusing collar is well-damped and easily grippable. But the autofocus motor is whiny—it could have benefited from Pentax's Supersonic Drive Motor for smoother and quieter AF. It has large blue and white numbers on the focusing scale and a small depth-of-field scale.
While this lens, like other WR lenses, was specifically made for use on Pentax's weather-resistant cameras—the K-7 and the K20D—it can be used on all Pentax cameras.
SQF results held on to an Excellent rating all the way to 16×20—better than the Canon 100mm f/2.8 IS, which only held this rating to 11×14. Our DxO 3.2 tests found practically no distortion, nor light falloff, in the normal and macro focusing ranges. Both distortion and vignetting were superb optical performances, nearly perfect. The maximum magnification was larger than lifesize, very similar to the Canon's, as was the closest focus.
It was a pleasure using this lens: It balanced nicely on many different Pentax cameras, even when extended another two inches into the macro focusing range. And it was also pretty light despite its all-metal construction. Autofocus was quick, but we found ourselves more often in manual focus, since this was smooth as silk.
With its excellent handling and its magnificent optics, this macro lens was made even stronger with the addition of its water-resistant features. Most Pentax users will be snatching it off the shelves.
Test Results
Distortion: 0.02% (Imperceptible) pincushion
Macro Distortion: 0.02% (Imperceptible) pincushion
Light Falloff: None
Macro Light Falloff: None
Close-Focusing Distance: 11.87 inches
Maximum Magnification Ratio: 1:0.94