Lens Test: Nikon 50mm f/1.4G Nikkor AF-S
*The newest version of Nikon's storied prime is a fast and rugged workhorse for everyday use.*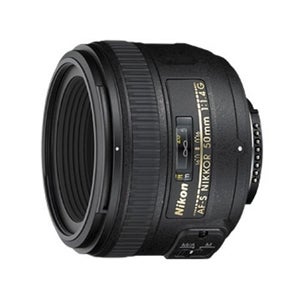 We may earn revenue from the products available on this page and participate in affiliate programs. Learn more ›
The newest version of Nikon's storied 50mm f/1.4 boasts a redesigned optical formula for more effective flare prevention. A 75mm equivalent on Nikon smaller-sensor DX bodies, this $500 (street) full-framer also has a circular-bladed aperture for smoother defocusing.
HANDS ON
Solid and ruggedly built, this handsome lens has an amply sized manual-focusing ring that turns smoothly and evenly, yet stiffly. (You can use it even in AF mode.) Its broader, nonrotating barrel takes 58mm filters (up from 52mm on the previous model). It's also slightly longer and slightly heavier-likely due to the SWM AF motor, which focuses almost soundlessly.
IN THE LAB
Its superior sharpness and contrast produced Excellent SQF numbers on our optical bench. DxO Analyzer 3.0.1 tests found barrel distortion in the high end of Slight (0.25%)-typical at such speeds-with light falloff gone from the corners by f/2.8 (also par for this course). The biggest difference between this new lens and its ancestors: Its maximum magnification of 1:5.89 at 16.87 inches is the highest of any 50mm we've tested in recent years.
CONCLUSIONS
Great for low-light and action shots, as well as scenes with strongly defocused areas, this 50mm makes a nice half-length portrait lens on DX Nikons. Its compact size suits it both to travel and everyday use, and its bright finder image is a pleasure. Is it worth $220 more than its predecessor? Depends on how much its ruggedness, silent AF, higher magnification, and other improvements mean to you.
SPECIFICATIONS
50mm (51.68mm tested), f/1.4 (f/1.47 tested), 8 elements in 7 groups. Focusing turns 180 degrees clockwise.

Diagonal view angle: 46 degrees.

Weight: 0.64 lb.

Filter size: 58mm.

Mounts: Nikon AF.

Included: Lenshood, softcase.

Street price: $500.