I, Photographer: Poet Portraitist
Nancy Crampton has immortalized generations of literary lions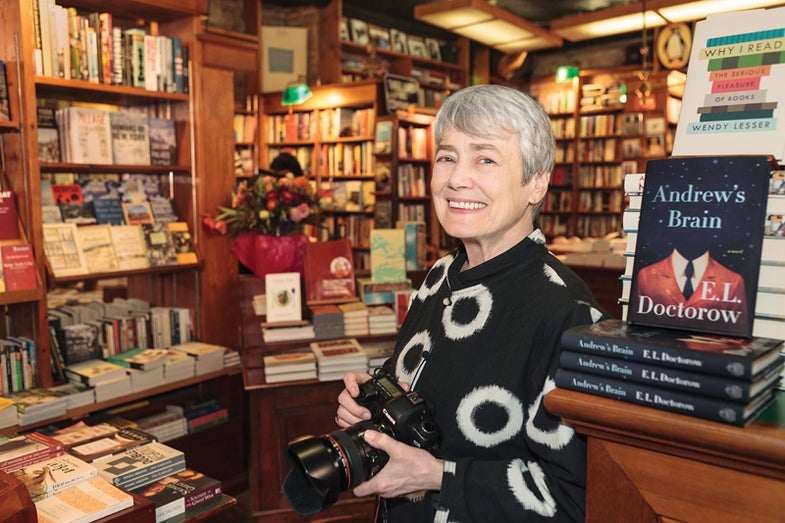 Who was the first writer you ever photographed?
The first time was in 1971 at a reading that Allen Ginsberg was giving at New York University. I was prepared to take a picture with my Leica and someone passed me a note saying, "I am a German journalist and my camera is broken. Please meet me at the break." I started working with him regularly: He would give breezy interviews with all sorts of people in the arts and I would take my picture, and we would file the story together. But I consider my first literary portrait to be the picture that I took of the poet W.H. Auden in 1972 at his home on St. Marks Place.
You've shot New York's 92nd Street Y poetry reading series for 25 years. What intrigues you about this job?
I took up photography when I went on a wildlife safari in East Africa. But literature was my first love, so it just felt very natural to me. I never imagined when I started out that it would lead me back to literature. At 92Y, I have had the opportunity to photograph hundreds of writers. I try to make the most of limited time backstage to get a good portrait.
Is there an author whom you shoot frequently?
I became Philip Roth's official photographer and photographed him from his 40th birthday party in 1973 to his 80th last year in Newark. I'm always trying to get the definitive shot of him.
What's your technique for getting an authentic moment?
I try to be as open as possible. I am not inclined to impose an idea of some sort. I like to see what I can discover. It is exciting to work on location, which usually means at the person's home, especially if I can use available light, because there are so many possibilities.
What equipment do you use?
I was very late in coming to digital for my portraits. I finally switched five years ago from my Leicas to the Canon EOS 5D Mark II. My standard lens is the 24–105mm f/4L Canon EF zoom. I have always used a 105mm as my standard headshot lens because I like being close to my subjects. One thing about shooting digital is that I can show people photographs during the session. At first I wondered if that would make them too self-conscious, but they really like participating in the process.
Do you have a favorite portrait that you have taken?
No, I am awestruck by all the writers I photograph. When you are photographing someone, they seem beautiful to you.
What of your own authorship?
One thing about my profession is that a writer might spend years doing a book and a photographer spends an hour or two taking a portrait, so I have found the need to pull my work together. I did a book several years ago, and I have a traveling exhibition. Last year I sold my first stamp to the U.S. Postal Service, a photo of Joseph Brodsky
James Baldwin
© Nancy Crampton
Joseph Brodsky
© Nancy Crampton
Truman Capote
© Nancy Crampton
John Cheever
© Nancy Crampton
Ralph Ellison
© Nancy Crampton
Joseph Heller
© Nancy Crampton
Jhumpa Lahiri
© Nancy Crampton
Peter Matthiessen
© Nancy Crampton
George Plimpton
© Nancy Crampton
Philip Roth
© Nancy Crampton
Maurice Sendak
© Nancy Crampton
Anne Sexton
© Nancy Crampton
Susan Sontag
© Nancy Crampton
Alice Walker
© Nancy Crampton