The Future of Photography: A Look at the Latest Trends in Camera Technology
What's in store? High-resolution images, smaller and smarter gear, and instantaneous wireless image transfer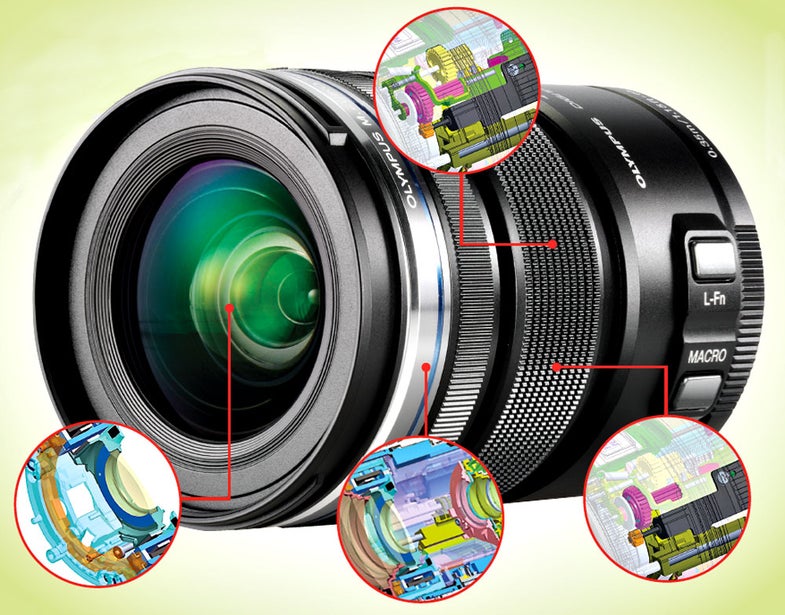 We may earn revenue from the products available on this page and participate in affiliate programs. Learn more ›
With so many new cameras and lenses launched recently, now is the best time to take a look at how the latest technology will likely play out in the coming year. We see three trends reshaping photography in the near future: Lenses evolving to accommodate the needs of video capture, sensors emerging in new sizes and designs, and Wi-Fi connectivity being built into more cameras.
Remaking the Lens:
Taking their cues from camcorders, lens makers have begun to add silent electronic zooms for video, while retaining the manual zoom controls stills shooters are used to. And lighter, smaller, more versatile optics are proliferating.

With the new kit lens for the inaugural body of its new OM-D line of Micro Four Thirds cameras, Olympus has created a do-it-all 12–50mm (24–100mm equivalent) that lets you switch between electronic and manual zoom and focusing, and can operate as a macro lens with 1:1.33 reproduction. It even has weather sealing.
While the fundamental laws of optics will not change, there is a lot more to a camera lens than just the glass elements—especially with zooms. Both electronics and mechanics play a key role in performance. With the advent of contrast-based autofocus in interchangeable-lens compacts, lenses for these systems have developed more robust communications with camera bodies.
Plus, new designs, such as the Olympus 12–50mm f/3.5–6.3 EZ M.Zuiko Digital ED kit lens for the OM-D line, let you switch between manual and electronically controlled zooming and AF. "You're able to uncouple the zoom motor from the mechanics that move the elements, and operate it manually," says Rich Pelkowski, an Olympus product manager for DSLRs, Pens, and the OM. "Then you can seamlessly switch back for three-speed electronic zooming that's great for movies. There's no more mechanical linkage with the body, so your imagination can run wild as to how you control the lens."
Take the button on the new 12–50mm lens that converts it to macro mode. While it won't afford life-sized 1:1 magnification, it's a great feature to include in a kit lens for users who might step up to an ILC from a true compact and miss the close-focusing capabilities of those small cameras.
Samsung has put its lenses on a diet. "In our case," says Jay Kelbley, senior marketing manager, imaging division, "since it's a new lensmount and our optics are designed for APS-C from the ground up, we have an advantage in terms of weight, which translates to faster AF, and lenses can be sharper since they're designed to focus down to a smaller pixel pitch. Our 85mm f/1.4 is 40 percent lighter than anyone else's."
Such improvements don't come cheap. Mark Weir, Sony Digital Imaging's senior technology manager, notes, "Some of the materials, such as the rare earth that's used to make certain elements in the more advanced lenses, are going up in price significantly."
While we may not enjoy an era of falling prices, we will see smaller—if not lighter—lenses. Darin Pepple, senior product manager for imaging at Panasonic, says, "For us, the challenge is to make better use of aspheric lens elements. When you look at our 14–42mm X-series power zoom lens, it has four aspherical elements, compared to two in the standard version of that lens. Making the optics smaller and still making them sharp means using more aspherical elements."
Sally Smith Clemens, Olympus product manager, notes, "When we include our dual aspherical elements, which employ aspherical surfaces on both sides of a lens, we can reduce even more size and weight than when we use regular aspherical elements."
The next frontier: Video. Electronic control like that offered by the new Olympus lens translates into seamless and silent zooming handled through the camera, not mechanically on the lens barrel.
You can expect to see such features move swiftly into lenses made for DSLRs. "Going forward there will definitely be more optimization for cinema," says Chuck Westfall, Canon's technical information advisor for professional engineering and solutions. "Personally, it seems that a lot of the things that people have come to take for granted in the camcorder world that haven't existed in SLRs will have to port over at some point."
Sensor Shake-Ups:
New sensor designs and formats, as well as improvements in manufacturing, promise higher resolution and less noise, with little tradeoff in terms of cost.

In an effort to boost resolving power, Fujifilm designed its new X-Pro 1 camera body to have no low-pass filter in front of the sensor. Instead, it modified the color filter array to minimize moiré in images.
Less noise, faster data readout, more resolving power. That's the buzz on next-generation sensors.
As usual, size matters. The larger the imaging sensor, the greater chance of a defect, driving up their cost to manufacture. But larger sensors can accommodate physically larger pixels that capture more light and typically produce less noise than their smaller counterparts. Those qualities make a huge difference to photographers.
Sensor makers' need to balance cost and quality has led to lots of experimentation and a burst of innovation. New models include the nearly APS-C-sized sensor in the Canon PowerShot G1 X and Fujifilm's X-Trans sensor with its unique color filter array in the new X-Pro 1 (illustrated above).
Fujifilm is trying to add resolution by scrapping the low-pass filter most digital cameras have in front of the sensor, where it works as an anti-aliasing filter to fight moiré effects. The X-Trans uses a color filter array that is said to mimic the grain in film, which forms a random pattern. Fujifilm believes this will cut moiré while eliminating a layer of glass for a sharper image.
Fujifilm is not alone in removing the low-pass filter—Nikon's D800 can be purchased without one. And new software has also begun to account for moiré: Both Adobe Lightroom 4 and Nikon Capture NX 2 will include a tool to reduce it.
Thanks to advances in manufacturing, better-performing sensors have begun to appear in more and more compacts—even point-and-shoots. "It's remarkable that backside-illuminated (BSI)sensors have found their way to the consumer market," says Eric Fossum, professor of engineering at Dartmouth's Thayer School of Engineering and the primary inventor of the CMOS sensors found in most of today's cameras.
"To make them, you have to sandwich a second wafer on top of a normally processed wafer, then grind the first wafer down to just a few microns thick and make it perfectly smooth. The chance of something going wrong at some step is pretty high. When you mate those two wafers together, if you get a single particle of dust trapped between them, you lose at least one sensor." The payoff? Larger pixels in the same amount of space—for both higher resolution and less noise. As manufacturing capabilities advance further, we expect to see larger and larger BSI sensors.
Pixel counts will keep rising, too. Tetsuya Yamamoto, operating officer and general manager of development headquarters of Nikon's imaging company, says, "We still have to improve the technology, so we still think it is helpful to raise the pixel count. We also have to develop for dynamic range, but as we learn how to make pixels smaller, we also learn how to deal with other issues to consistently deliver excellent image quality. There must be a balance between resolution and noise, but we will still see higher pixel counts."
Wireless Connectivity:
Slowly more and more manufacturers are adding smartphone-connectivity to cameras, especially in the compact market.

"Wireless is really becoming more of a factor this year in the point-and-shoots," says Canon's Chuck Westfall. "The key is making it easy and friendly for people to share their images." Camera manufacturers have realized that smart phones can be their gateway. Using peer-to-peer Wi-Fi connections between the camera and a smart device, such as an iPhone or Android phone, you can move images from the camera to the phone and then on to social media sites or elsewhere. Apps, such as Canon's CameraWindow for iPhone, make the process easier.
Even before Kodak released the EasyShare One in 2005, moving photos wirelessly was a big goal. Since then, manufacturers have struggled in vain to get cameras connected to Internet hotspots.
So what's next? Connecting wirelessly to cell phones. This way you can capture a picture that puts a cell phone image to shame, and then seamlessly send it to the phone for upload to the Internet. And the possibilities for communication between the camera and cell phone or digital tablet are vast.
"We've built an app paradigm," says Samsung's Jay Kelbley. "With our remote viewfinder app, your smart device can be used to remotely control your camera while using the smart device as the finder to frame your images. Our mobile-link app lets you browse content on your camera, bring those images into your smart device, and upload them to Facebook or back them up on a cloud-based service like Samsung's AllShare."
Says Sony's Mark Weir, "Lever-aging the upload capability of the cell phone is what makes it all work. We all hope that the bridge will free cameras to be cameras, and phones to be phones. So far, neither have been both at the same time very well." Sony cameras use smart devices to send images and video to its PlayMemories service, as well as to social sites such as Facebook, Flickr, and YouTube.
Panasonic has a proprietary service, too. "We've created a free Android and iPhone app called Lumix Link," says Darin Pepple. "It makes the connection easy, can send images to your phone or tablet, and can also send it to Lumix Club, where you can set up social network defaults so that, after you upload to your phone, Lumix Club takes over and you don't have to update each social network individually."
Our lives continue to become ever more Web-connected. And in that process cameras will find their rightful place in the ecosystem of electronics that we use to help define our existence. They can become a sort of universal language. As more and more people use images to communicate on an everyday level, who knows how our world will change?