Introducing 'PopFollows:' Our favorite Instagram accounts to follow right now
Looking to add some photographic inspiration to your Instagram feed? Check out these 12 hype-worthy accounts.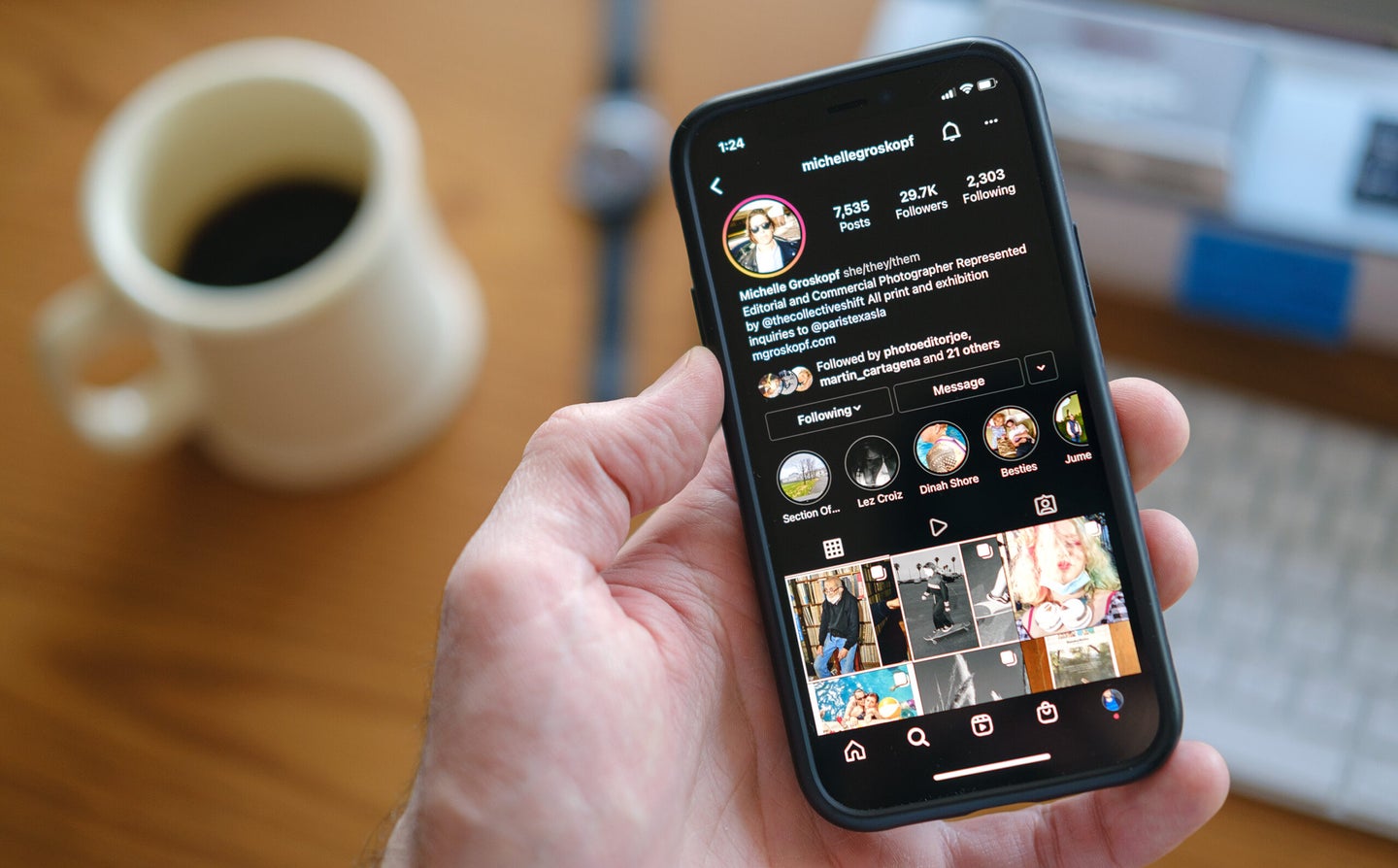 We love showcasing the work of others on PopPhoto. We also love looking at photographs in the wild, whether it be on social platforms or in real life. For in-person inspiration, you can always check out our monthly list of awesome photo exhibitions.  But for some virtual inspiration, we wanted to share a list of photography-focused Instagram accounts we're currently digging—the first of many.
This one features a mix of photographers both seasoned and up-and-coming, including street shooters, underwater snappers, portrait pros, rock and rollers, and more. But it's not purely reserved for singular photographer accounts. We've also included celebrated photo organizations, like the Aperture Foundation, as well as off-beat photo publications including Hamburger Eyes and gear blogs like Tokyo Camera Style. 
Of course, we're only scratching the surface of awe-inspiring photography on Instagram. And we're always on the hunt for more! So to get on our radar and be considered for future lists, tag @PopPhotoMag and use the hashtag #PopFollows on a future post.
Michelle Groskopf, @michellegroskopf
View on Instagram
Michelle Groskopf is a street and commercial photographer based in Los Angeles, California. Her work often features vivid-colored street portraits of ordinary strangers and famous celebrities—all captured using bright, off-camera flash. Groskopf has a particularly keen eye for documenting youth culture and is equally skilled at finding and capturing fascinating detail shots of ordinary objects in the wild. Her images are playful, direct, and honest. Trained as a street photographer in New York City, Groskopf brings a fresh vibe to the commercial photography realm.
Martin Broen, @m.broen
View on Instagram
Martin Broen is a talented underwater photographer who we recently became aware of while reporting on the 2021 Ocean Photography Awards. Of all the winning shots from the contest, it was Broen's work that left us the most mesmerized. His Instagram feed is filled with eery underwater scenes showing silhouetted divers exploring the depths with nothing more than a flashlight or headlamp to light their way. Broen seems especially fond of exploring underwater caves, which sounds absolutely terrifying, but the resulting images are clearly worth his efforts.
Chrystofer Davis, @dolo_foto
View on Instagram
Chrystofer Davis is a fine art photographer and educator born, raised, and working in Newark, New Jersey. His Instagram feed is primarily filled with beautiful black-and-white portraits of the city's residents, captured both digitally and on film. Davis has an eye for finding photogenic subjects and a knack for capturing genuine smiles. His is the type of feed that makes me want to grab my camera and go chat and mingle with strangers in my own community.
Hamburger Eyes, @hamburger_eyes
View on Instagram
Hamburger Eyes is a reader-submitted black-and-white street photography zine, founded in 2001, and based out of the Bay area. The publication showcases the work of both well-known and up-and-coming photographers. Featured images tend to be candid in their nature and bizarre in their subject matter, with a mix of analog and digital shots showcased. These are photographs that define what it means to capture a decisive moment and often present more questions than answers. So if you dig street photography, and have a penchant for the strange, Hamburger Eyes is for you.
Alex Prager, @alexprager
View on Instagram
Alex Prager is a fine art photographer and filmmaker based in Los Angeles, California, best known for her color photographs that evoke the feeling of 1960s Hollywood. Prager works with actors and models and employs film-like lighting to execute scenes that look like they could've been pulled directly from a classic silver screen flick. Her images often combine subtle humor, with outrageous circumstances. You'll find photographs showing car crashes, house fires, and people falling randomly from the sky. But it's all staged and moreover, delightfully morbid.
Tokyo Camera Style, @tokyocamerastyle
View on Instagram
Tokyo Camera Style started out as a blog in 2008, dedicated to showcasing analog enthusiasts and their cameras in the streets of Tokyo, Japan. The blog is still active, and its most-exciting camera finds tend to make their way to the TCS Instagram feed. So if you're a film camera nerd (or aspire to be one), this is the account to follow. You'll find a mix of rare, expensive, and outright ordinary cameras, all lovingly worn-down and clutched in the hands of their owners.
Women Who Drone, @womenwhodrone
View on Instagram
Women Who Drone is a collaborative account showcasing the very best drone images captured by female photographers. The feed is filled with breathtaking shots of both natural and human-made wonders. But what's even cooler than the images, is the organization behind the account. WWD not only supports female drone pilots, by showcasing their photographs and videos, but also works to educate and provide career opportunities, all in the name of closing the gender gap in the drone industry. So whether you're looking to be inspired by some bird's eye views, or simply want to support an awesome cause (or both), this is a rad account to follow.
Aperture Foundation, @aperturefnd
View on Instagram
If you're not familiar with the Aperture Foundation, allow us to introduce you: Founded in the 1950s by some fairly heady names in photography, including Dorothea Lange and Ansel Adams, Aperture is a nonprofit art institution dedicated to advancing photography in the world, through a mix of publishing, exhibitions, and contests. With close to half a million followers, the account showcases some seriously impressive work from both big names and up-and-comers. Photographs vary widely in their subject matter and style. But they all share one commonality: expertise in their execution and delivery.
Sacha Lecca, @sachalecca
View on Instagram
I love rock and roll photography and there's no music photographer's work I find more inspiring than Sacha Lecca's. A photo editor at Rolling Stone magazine, Lecca often finds himself front and center at many of New York City's most raucous concerts. He has a talent for perfectly capturing both moments of high energy as well as rare instances of calm. And while his feed features a mix of black-and-white and color shots, it's the monochrome ones that really do it for me. There's a seriously gritty authenticity to them that translates perfectly to the subject matter. So if you're looking to improve your own music photography, you'll find some great inspiration on this account.
Alex Webb/Rebecca Norris Webb, @webb_norriswebb
View on Instagram
The joint photography account of husband and wife duo Alex and Rebecca Norris Webb is definitely worth a follow if you enjoy street and travel photography. Alex Webb is a longtime member of the Magnum Photography collective, and a world-renowned street shooter. Rebecca Norris Webb is also a celebrated photographer and poet. Together, the two fill their feed with work dating back to the start of both their careers. You'll find a colorful mix of candid images depicting human life across the globe, from border crossing to beach scenes, cotton candy stands to car trips. Of all the street photography-focused accounts on Instagram, this one sits at the top of my must-follow list.
Jonas Dyhr Rask, @jonas.rask
View on Instagram
Jonas Dyhr Rask is a Denmark-based street photographer producing unbelievable dreamy, colorful images. A doctor by trade, Rask claims photography is just something he does in his spare time, which makes his Instagram feed all the more impressive! A master of photographing in low light (presumably because he works during the daylight hours), his shots almost always include silhouetted subjects moving gracefully through scenes with vibrant eye-catching color palettes. Rask's work should be an inspiration to all nine-to-fivers and proof that you don't need to have a career in photography to produce brilliant photographs.
CineStill Film, @cinestillfilm
View on Instagram
CineStill Film is a small Los Angeles, California-based brand that manufactures and sells limited edition film, including several cut directly from motion picture stock. Despite being in the business of selling products, their Instagram feed is one of my favorite analog-only accounts out there. It features daily user-submitted shots, all captured on CineStill Film. And provides the perfect analog diversion, to a mostly-digital platform. You'll find a delightful mix of imagery and photographic genres, captured both in black-and-white and in color, all using the old-school stuff.