Gallery: The Best New Cameras and Photography Gear From WPPI 2016
Lots of great new gear making its debut here in Las Vegas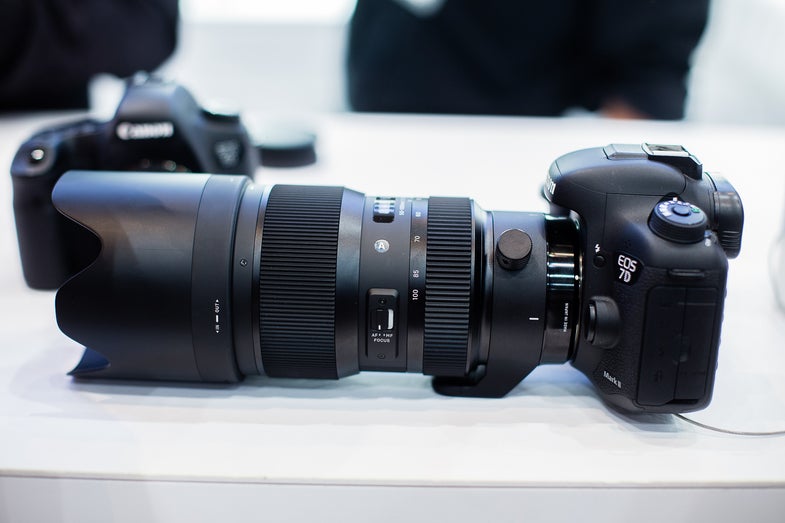 We may earn revenue from the products available on this page and participate in affiliate programs. Learn more ›
A beauty dish can be an exceptionally useful lighting modifier, but carrying around a bulky metal one is tricky. Profoto designed its new beauty dish to collapse and pack flat, making it easy to fit into a gear bag. Unlike other collapsible beauty dishes, there are no chunky support beams to muddy up the catch lights it creates in a subject's eyes. . Since it works with the OCF mounting system, it can obviously be used with Profoto lights, but it can also be adapted to work with a typical speed light.
Check out the announcement post for more info
It seems like leather is starting to make a comeback in the camera bag world and now Think Tank is making a version of its extremely popular Retrospective bags with a swanky leather addition to the outer flap. The bag is functionally the same, but the new leather panel feels extremely soft and will probably only look better as it wears and ages. It's not as indiscreet as its trademark black bags, but it's certainly a lot more fashion-forward.
Picking a big camera bag can be tricky for a wedding photographer because you want something spacious and extremely durable, but you don't want something that looks like it belongs on the hiking trails rather than at a reception. The G32 bag from Tamrac is impressively handsome, plus it can hold a serious amount of gear, including an 800mm lens if that's what you need. The front flap has a clever butterfly design that allows the main compartment to open in two separate pieces, so you don't have to flop the entire panel open just to get what you need.
I know Barber Shop isn't exactly a new brand, but they're based abroad and I haven't had much experience with their products before the show. This week, however, I had a couple minutes to really dig into their product line and I'm really impressed with the style and the build quality, including their camera straps. Sure, the bags are pretty expensive, but if you're looking for something that's more high-class than high-tech, it's worth checking out.
It seems like a very smart move for Tamron to make the 85mm portrait lens the next addition to its SP series of high-end primes. This was our first time holding the new lens and it feels very much like the other SP glass. It's still relatively compact, extremely quiet, and seemed sharp just from some very top-level impressions. It doesn't focus as close as the wider SP primes, but it's priced rather aggressively and, if it performs up to its promises, could be a real contender in that short telephoto range.
While we weren't able to get our hands on Sony's upcoming radio-based flash triggering system, there was a prototype setup on the show floor for us to ogle. Once the system is available in the wild, it will be able to control up to 15 flashes over a range of 30 meters. And, because it's built from the ground up for the Sony system, it will be fully compatible with things like high-speed sync and TTL metering.
I have a hit-or-miss relationship with lens adapters, but after just a few minutes with Sigma's new Sony E-mount lens adapter, it seemed extremely reliable and impressively quick. Depending on which version you buy, the adapter will let you use either Canon EF (the modern autofocus lenses) or Sigma-mount glass on any Sony mirrorless ILC, including the a7 line. You get full functionality, including autofocus and exposure data from the lens. It seems like it could be a very valuable tool for someone looking to switch systems or even use both in tandem.
The fastest telephoto zoom lens made its big debut here at WPPI 2016, giving us our first chance to lay hands on it. As you might expect, the lens is pretty heavy, but the design feels very well thought out. The integrated tripod collar keeps a low profile so it won't get caught on things like cords and straps if you don't take it off. The zoom is smooth and comfortable, and that fast aperture really is something at this focal length. Even on the little LCD screens of the test cameras on the show floor, it's very obvious just how good F/1.8 is at separating a subject from its background.
Like the Sony wireless system, this is another new toy we weren't able to bust out from behind the glass and play with just yet. However, it was interesting to see the new Sigma SD Quattro in person. The design doesn't look quite as outlandish as I had originally anticipated, though it is a pretty chunky little camera. We're very curious to give this Foveon-sensor model a try once it materializes on the camera market.
The other late addition to the Tamron booth is the new version of its classic 90mm macro. On first impression, I was extremely impressed with the feel of the Vibration Compensation, which many of you know is incredibly useful (and in my case totally necessary) when shooting up close. It's a rather handsome looking lens, too, and it's starting to feel like the Tamron SP series is really coming together even though it has been in existence for less than a year.
I'm not terribly plugged in to the infant photography scene, so I wasn't aware that baby crowns were a thing before coming to the show. The Daisy Baby makes these adorable little crowns that come in packaging adorned with a perfectly schmaltzy poem about saving the crown once you've finished using it as an infant photo prop so it can be used in baby's bridal bouquet however many years down the road. Perfect.
While Canon's new flagship DSLR was actually announced well before WPPI 2016, this was really the first time many people were able to actually get their hands on it. There are lots of new upgrades in the 1D X Mark II, including improved low-light performance and even faster image capture, topping out at 16 fps. One of the most interesting things about the Mark II is that it's a pro-level camera with a touchscreen display, which feels a bit foreign but also like an overall positive.
Printing was one of the big themes here at WPPI 2016 and Canon is totally on board. It introduced four new large-scale, high-volume printers to continue the line started last year. The PRO-2000 and PRO-4000 both use the same ink system as the PRO-1000, but offer much larger prints. The PRO-4000S and PRO-6000S use fewer ink cartridges, but make even bigger prints. The output looks pretty fantastic to the naked eye and, watching them print, it's obvious that the single-piece metal construction makes these machines sturdier and less wiggly during the ink application process.
One of the hardest-to-miss objects on the show floor is this massive collapsible circle that's meant to make drones feel more at home when operating in the field. The pad itself folds up like a circular reflector but springs out into a thick, sturdy landing surface that drones can use as home base. By covering the ground, it prevents the rotors from kicking up dust and dirt, which can cause internal problems with the delicate mechanisms and muck up your camera lens. It also has the cardinal directions printed on it to help orient the drone when you're flying it.
This isn't the first trade show at which I had seen LumeCube, but it's the first time I've been able to actually stop and check out the product. These tiny, cube-shaped lights use powerful LEDs to throw a surprising amount of light that can be tweaked and adjusted via built-in Bluetooth and a dedicated app. You can control a whole gang of them at once (it officially supports up to five at a time, but it's apparently very possible to push it well into the double digits if you don't mind a little Bluetooth lag), even turning down individual lights within the group. Battery life is a bit limited, but something so small and tweakable could come in very handy for wedding photographers who want to put lights in odd spots during a tricky lighting scenario like a first dance.
At a more tech-based trade show, you'd expect to see a ton of new drone and action camera gear, but there's much less of that here. We did, however, get our first chance to check out the new Ricoh action camera in person. The form factor is pretty similar to the model that came before it, but it really is a good reminder of how useful having a built-in screen on an action camera really is. It's not the most discreet design, but it could be a cool little camera for putting together a wedding time-lapse or even a first-person wedding experience video if one of the guests is willing to wear it.
Sigma isn't the only booth with zoom lenses that check in under the typical f/2.8 aperture barrier. Tokina's new super-wide zoom lens keeps a maximum aperture of f/2 throughout its zoom range. It's built for APS-C lenses (as you might expect), so it's not as bulky as you might think despite that fast aperture. Stopping at 20mm, you have to be really committed to wide angle shots, but this seems like it could be a great option for shooters who typically work a lot in tight spaces.
WPPI is a photographic trade show meant specifically for wedding and portrait photographers. We have been out here for the 2016 show and got the chance to see a whole array of new products that appeal to any type of shooter. Here's a rundown of some of the best new stuff we saw on the show floor.