Fujifilm's Medium Format GFX 50S Digital Camera: First Impressions And Frequently-Asked Questions
Questions answered about one of the most anticipated new cameras in years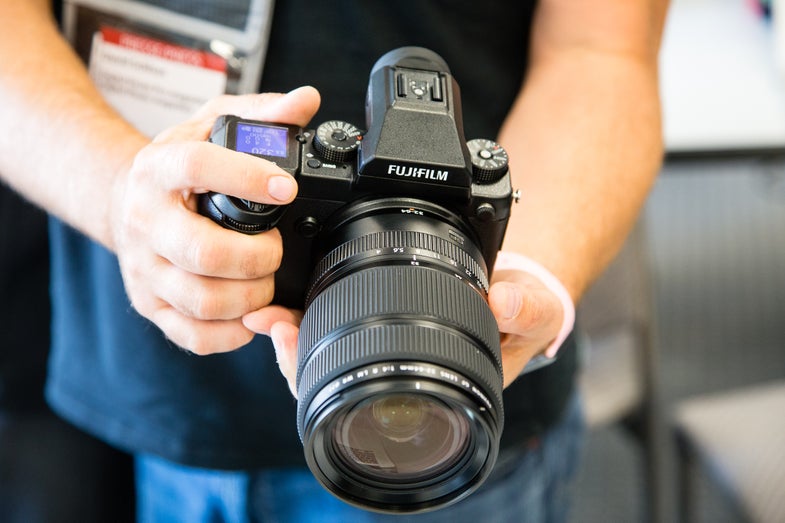 We may earn revenue from the products available on this page and participate in affiliate programs. Learn more ›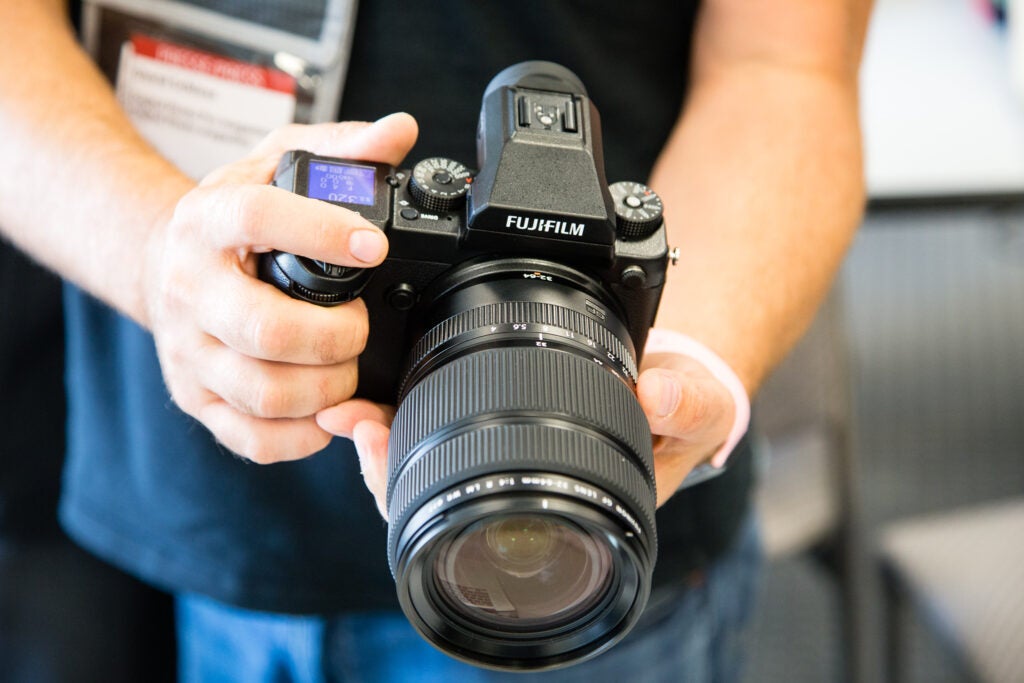 *There was a ton of new gear to see out at Photokina 2016 last week, but no announcement generated more hype than Fujifilm's announcement of the GFX-series medium format camera system. I actually got some hands-on time with the new camera (the bodies were prototypes in various states of readiness), and have received quite a few questions about it since then, so I'm going to lay out the answers and my first impressions here. *
What is it?
The GFX-series cameras are Fujifilm's on-ramp into the world of medium format digital cameras. The company has a long relationship with medium format cameras, including many rangefinder-style medium format film bodies that are still very well-regarded by analog shooters.
What will the first camera be and when will it actually start shipping?
The first camera is called the GFX 50S and it will be available starting in "early 2017," so if you were planning on asking Santa for one, you're out of luck, no matter how good you have been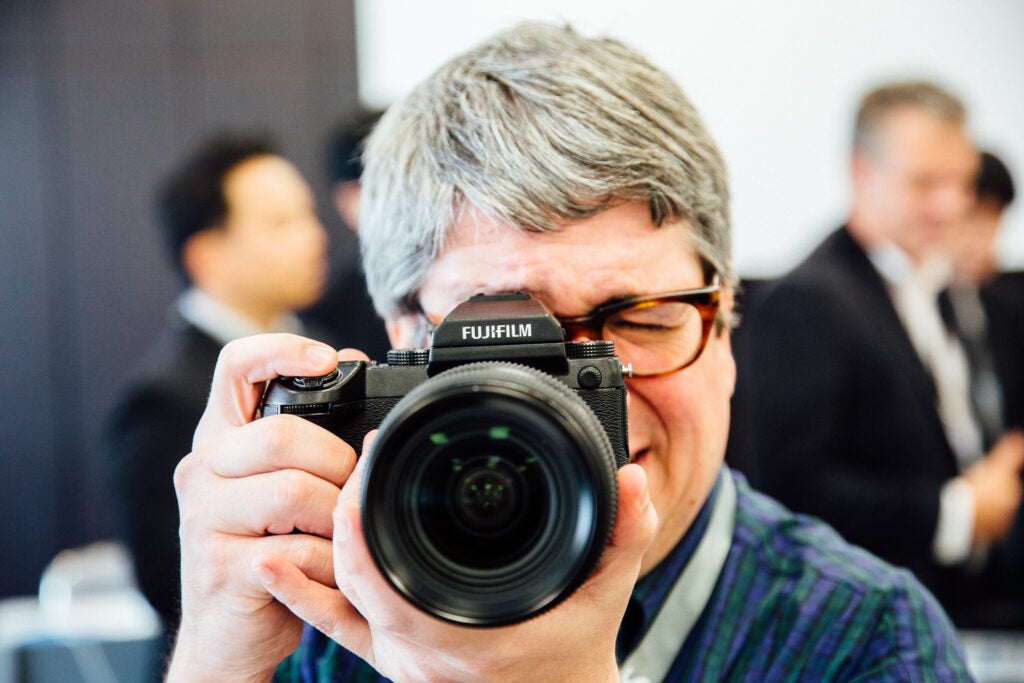 What exactly is the deal with this medium format sensor? Is it just the same Sony sensor everyone else is using?
No, according to Fujifilm, this is a much different sensor than you'll find in other medium format digital cameras. It's a 51.4-megapixel sensor that measures 43.8 x 32.9mm. That means it's larger than a full-frame 35mm sensor, but smaller than the sensors you'll find in other medium format backs like those from Phase One.
Is it mirrorless?
Yes, the G50S will be a mirrorless camera. One of the main reasons offered by Fujifilm for going mirrorless is the degradation caused by "mirror slap." The executives were very specific to state that they found mirror slap to have a measurable negative impact on overall image sharpness.
The camera also has a very short flange distance, which means the elements in the lenses can come closer to the sensor and give the lens designers more freedom in terms of optical design.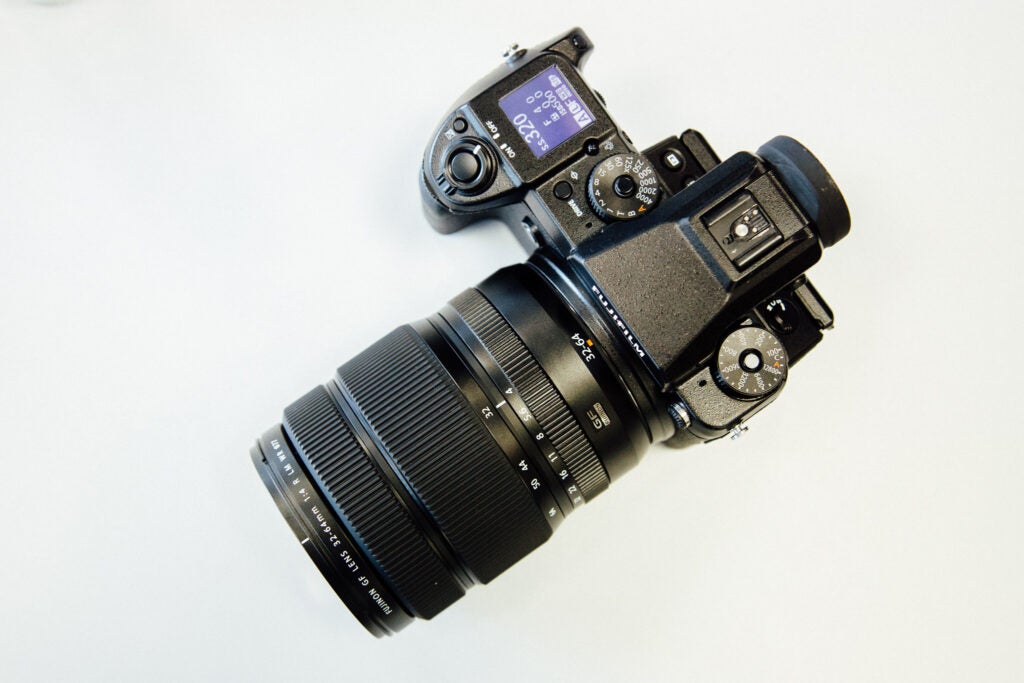 Is it autofocus?
Yes, the G50S will have autofocus, but it's important to note that it doesn't have any phase detection pixels built into the sensor like you might expect. That's a very common setup for other cameras, even those in the Fujfilm lineup, but it's not the case here. Focus didn't feel sluggish on the bodies we tried, but you also shouldn't expect this to be able to keep up in fast action situations. That's just not what it's for. I wouldn't be surprised to see phase detection AF pixels on the sensor in future versions, though.
What kind of lenses can be used with it?
The GFX system will use Fujifilm's G mount lenses, which means if you were hoping you could just slap some X-series lenses on it, you're out of luck (the image circle likely wouldn't be big enough to cover the whole sensor anyway). Because of the short flange distance, however, adapting other medium format lenses should (in theory) be rather simple. Fujifilm has said they're "still considering" the idea of adapters and lens compatibility at this time.
How many lenses will there be for it and when can we get them?
There will be six lenses in the GF series before the end of 2017, which is actually refreshingly aggressive. The first lens is a standard prime, the GF 63mm F/2.8 WR, which will ship with the camera body. Because of the larger sensor, it will give roughly the same field of view as a 50mm lens on a full-frame DSLR body.
The second lens is a wide-angle standard zoom lens, the GF 32-64mm F/4 LM WR, which will act like a 25-51mm lens on a full-frame body.
The third lens is a 120mm F/4 Macro R LM OIS WR, which will act like a 95mm macro lens on a full-frame body.
The following three lenses will be released before the end of 2017 and are as follows:
GF 110mm F/2 R LM WR (87mm full-frame equivalent field of view)
GF 23mm F/4 LM WR (18mm full-frame equivalent field of view)
GF 45mm F2.8 R WR (35mm full-frame equivalent field of view)
It hurts a little that there won't be a dedicated portrait-specific lens at launch since this camera will be clearly aimed at portrait, studio, and wedding photographers, but it's nice to know that it's coming.
What's the deal with the focal plane shutter?
Many medium format cameras use leaf shutter, but the GFX series does not. Fujfilm says this allows them to get to a maximum shutter speed of 1/4000th of a second and also leave open the camera's option in terms of lens compatibility. If you're familiar with medium format and have been using other systems, this might feel like a considerable change, but if you're coming from a full-frame camera, this won't feel odd at all.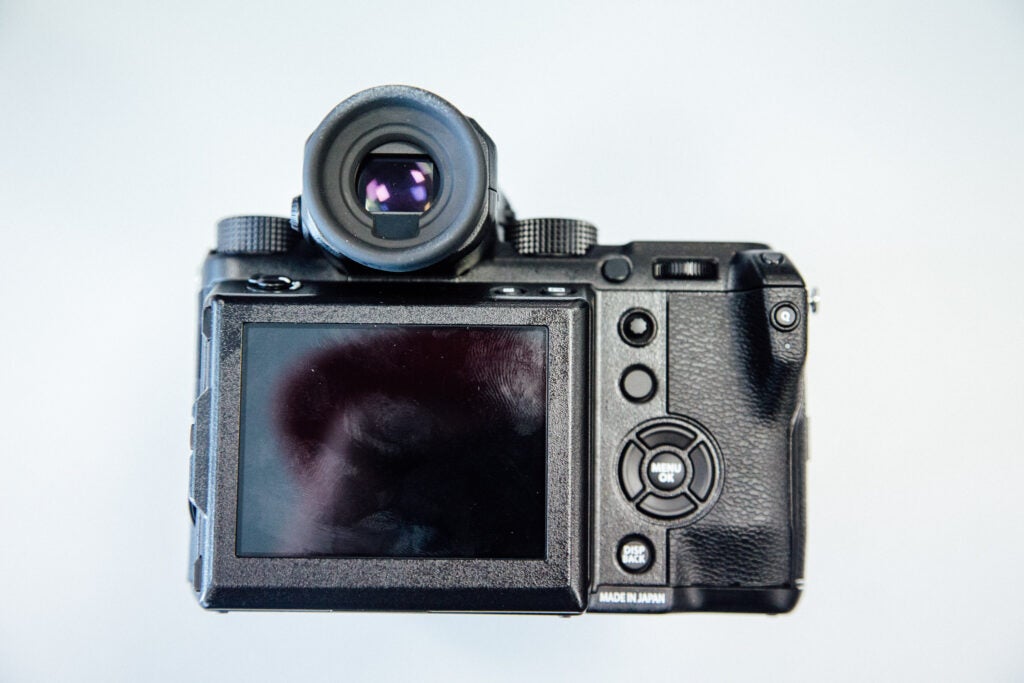 What's the deal with the viewfinder?
The camera body itself doesn't actually have an integrated viewfinder, so you'll have to use the accessory EVF that's actually included in the box. It's an eye-level finder with lots of resolution. There's also an optional viewfinder that rotates, in case you prefer to compose while looking down instead of straight ahead. It's not a true waist-level experience, but it's nice to have the option.
Is it weather-sealed?
Yes, the body will be weather-sealed on par with the high-end X-series cameras. It's meant to be a very high-end system that can be portable.
So, how does it feel?
Picking up the camera feels very eerily similar to holding a full-frame DSLR. It was slightly bigger than the Canon EOS 6D I had with me, and actually a little lighter than the EOS 5D Mark III we were using to shoot video.
With the 63mm lens mounted to the front, it felt substantial, but not huge. That's part of the advantage of a sensor that's smaller than some of the other medium format options out there, and that short flange distance.
The battery grip adds some considerable heft to the camera, but it still felt balanced. The prototype grip did feel rather odd, however, because it actually tapers off near where your pinky would rest, rather than creating any kind of flange or grip for holding onto it. It doesn't make the camera harder to hold, but it also doesn't give the same kind of stability offered by a pro DSLR like the EOS 1D X Mark II or the Nikon D5.
How is the layout?
The bigger camera means lots of room for buttons and tactile controls, which I loved about it. Everything is within reach and there's even an aperture ring system on the lens in case you prefer to adjust your exposure using that method. It very much feels like a pro camera.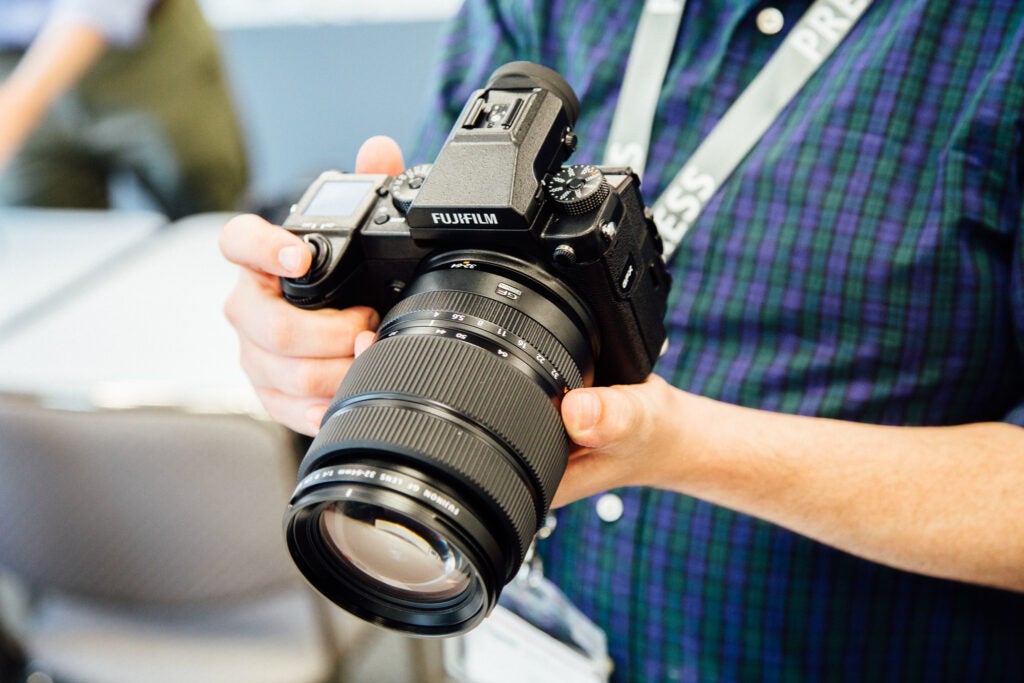 OK, so how much is this thing going to cost?
This is by far the most common question that we got, and the answer may be a bit disappointing. We don't have official pricing on the GFX 50S just yet. The only information Fujifilm has provided so far is that they're trying to keep it "well under" $10,000 with an included lens.
What that means is totally unknown, but feel free to set a number in your mind now and then be thrilled/disappointed when the real number comes out.
Who is this thing for?
As a portrait photographer, it sounds great. I love the big resolution and the big sensor. I like the feel of it and all the options offered by high-end mirrorless.
We'll have to see just how good the lenses and color reproduction are to know whether it's an awesome landscape photography machine or not.
With its contrast-based AF system, it's not built for sports shooters, and may not even be my first choice for the coverage portion of wedding shoots.
If the image quality is as good as they say it is and the price stays low, it could be a great option for studio shooters.
**Is it really going to be that much better than full-frame DSLRs? **
Only time will tell that, really. I have seen some people online claiming that this will be revolutionary, while others think the images will be indistinguishable from a regular DSLR in most cases. We won't know that until we have a finished, working unit in our hands.
How does this compare to its competition? In fact, what the heck is this camera's competition?
The closest real competitor this system will have in terms of form factor will be the impressive Hasselblad X1D. However, it seems that the Fujifilm will have the edge in both price and versatility if only because Hasselblad doesn't seem to think that zoom lenses are feasible for the X1D system at any point down the road. Hasselblad has also only announced two new lenses so far.
The other opponent is the Pentax 645Z which will likely be very similarly-priced. It has an advantage in terms of lenses, but will likely have a disadvantage in terms of size. The 645Z does, however, have a mirror box, which means it has access to a dedicated autofocus sensor, which is certainly a relevant difference.
So, what's the conclusion?
Ultimately, I really do think this new system is something to get excited about. Sure, there are some quibbles I have with it, but we're only in the first generation, and Fujifilm's track record with the X-series cameras gives a lot of confidence in the company's ability to move a line of cameras forward in a way that makes sense and actually adds features photographers want.
The price will likely have a rather huge impact on how it's ultimately received by the public. Bringing it to market at a price that can compete with the flagship DSLRs from Canon and Nikon would likely make a considerable difference in the market. After all, it doesn't make all that much sense for someone who only shoots portraits or landscapes to shell out big money for a top-end DSLR full of functions meant for covering the Olympics.
We look forward to bringing you a full-on test and report as soon as we get our hands on a retail model.