Fujifilm Implements Film Price Increases and Discontinues Some Products
Some of our favorites are soon to be no more
Fujifilm has just released another announcement about price increases, this time stating a 20% price increase for specific items in their film line. In addition to the price hikes, the brand has also announced a list of film products that will be discontinued at varying dates. Some of the films on this list are Fuji favorites, so these price hikes are bad news for those of us still passionate about shooting with film.
These products are set for a 20% price increase beginning October, 2015:

These products will be discontinued at the specified times: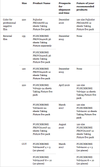 For film enthusiasts, now might be the time to stock up on your favorite rolls before they disappear forever.