First Impressions: Sony's Super-Fast RX100 V Compact Camera
We shot a lot of photos in a short amount of time with Sony's new flagship compact camera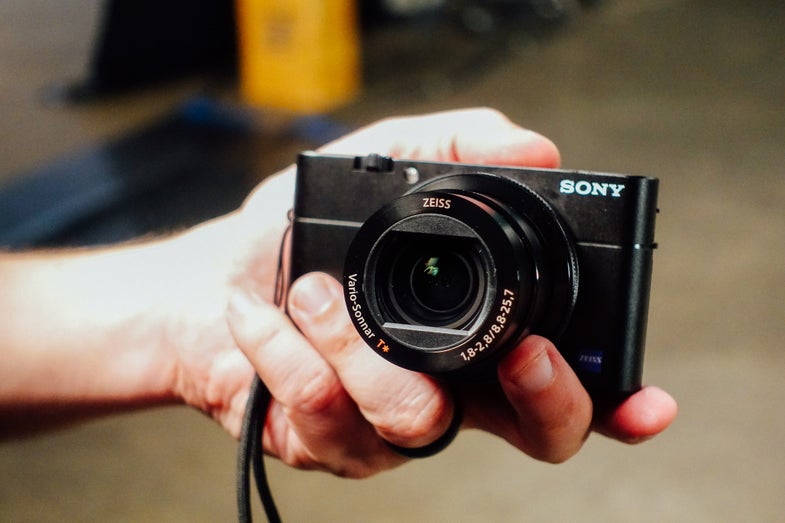 We may earn revenue from the products available on this page and participate in affiliate programs. Learn more ›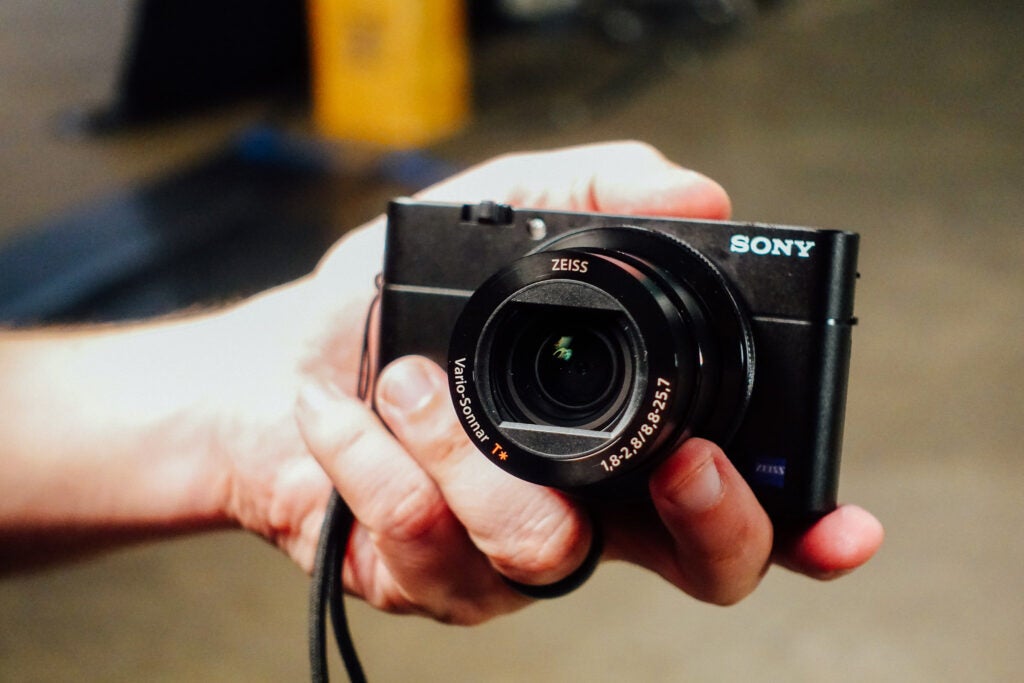 Sony released two new cameras this week and sent a clear message: speed is important. We got to spend some quality time shooting with the new RX100 V advanced compact camera at an event in NYC last night and see just how impressive that fast new AF and 24 fps burst mode can be.
In terms of design, the RX100 V is pretty much what you'd expect if you're at all familiar with the previous RX100 models. It still fits easily into a pocket, has an articulating screen that can rotate all the way around to the front of the camera, and still fits rather easily into a pocket. However, it's also still pretty much devoid of any kind of grip, so you have to be careful about holding it, especially if you have big, clumsy hands like I do.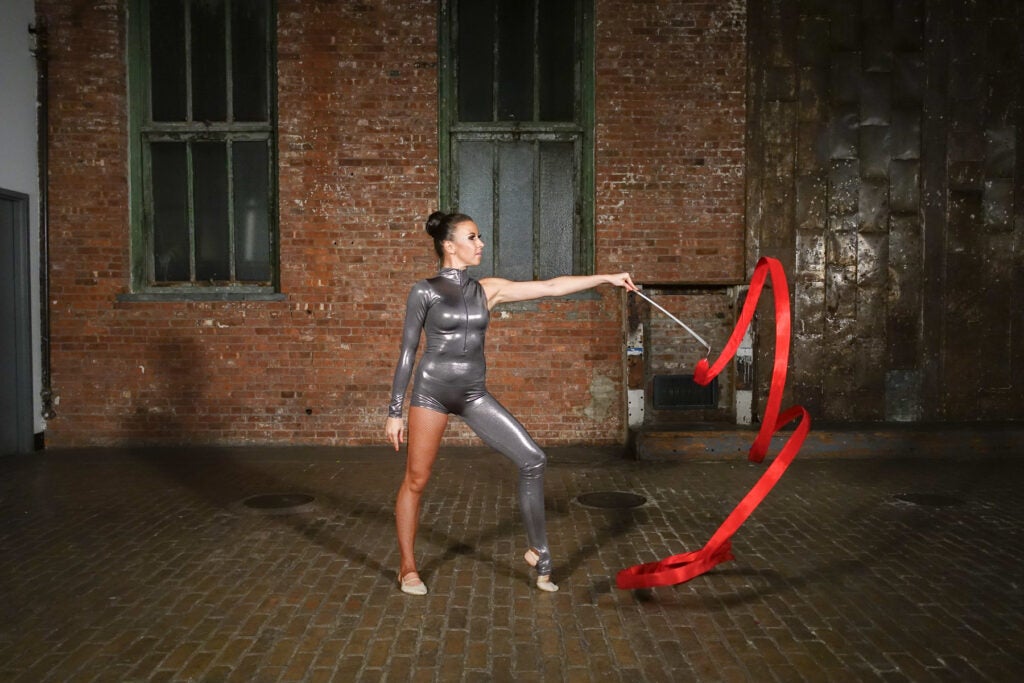 When I first picked up the camera, it was already set to high-speed burst mode shooting Fine JPEGS, so when I pushed the shutter button, it started firing away. You don't really comprehend just how fast 24 fps really is until you hear the shutter clicking away, making a noise that senior tech editor, Phil Ryan very aptly described as sounding "like an old film projector." Once you stop shooting, a small progress bar and countdown appears in the top left of the camera's screen to let you know how many images need to be transferred from the buffer to the card before the camera is ready to go again.
Thanks to the new autofocus system, it actually keeps tracking the objects in the frame when it's shooting at that ludicrous speed. During focusing, however, it seemed very curious that the camera isn't equipped with a touchscreen. Sure, there are already a ton of features crammed into this very small camera and the facial detection is very useful for keeping people sharp, but there were several times where I very much just wanted to jab the screen and tell it where to focus.
Sample Video Footage: Sony RX100 V
by popphoto
Overall, the focus feels very snappy and the tracking abilities seem rather reliable. It's mesmerizing to watch the little green boxes move around the screen when shooting fast action. The main space was relatively well-lit, but even when I took it into the shadows, it didn't really go hunting for focus.
One of the most underrated features on the RX100 V is the super slow-motion video that can go as slow as 960 fps. That's extreme slow-motion and allows you to capture some very interesting things. Of course, there are some drawbacks, like the sheer amount of light you need to make it look good. But, it's one of the features I enjoyed using the most because it provides something smartphone cameras—and even other dedicated cameras—don't currently provide.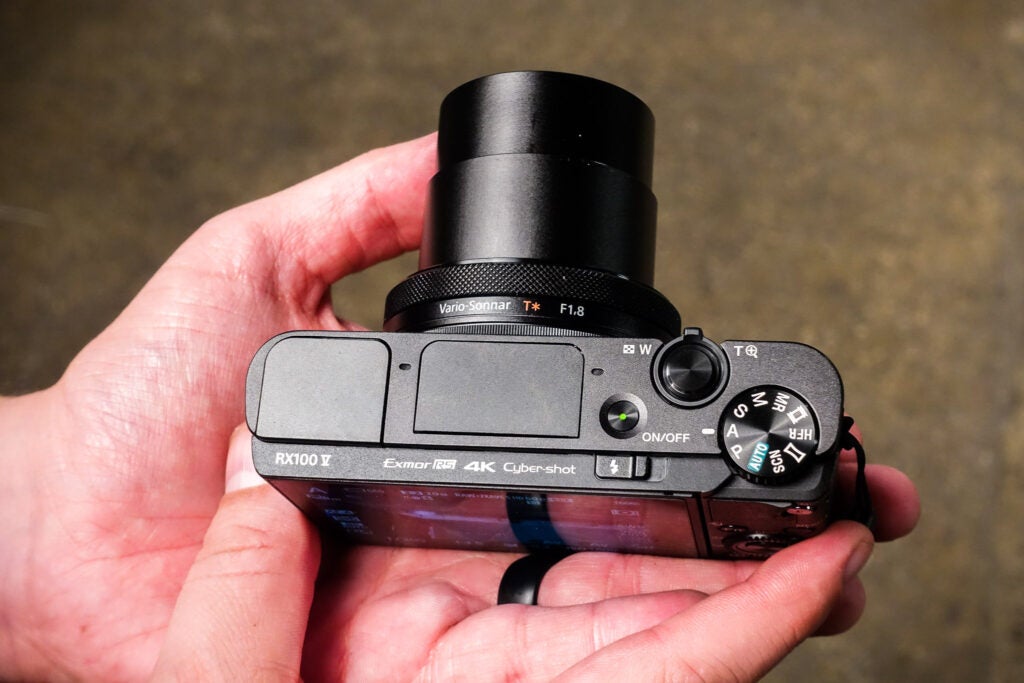 The super-slow-motion (official called High Frame Rate mode) works a lot like the fancy Phantom cameras you see on big movie productions. Once you lock in your settings by putting the camera in stand-by, you can then press the record button and it will capture frames until the buffer is full. Then, the images are written to the card. The nice part, however, is that it actually plays back the video while the images are being written and gives you a progress bar so you have a clear idea of when you can shoot again.
The initial image quality looks good, which is to be expected, since its predecessor already performed well in our tests. When trying to keep shutter speeds fast, the camera was regularly pushed up into the ISO 6400 range, and while zooming into 100% shows some clear noise and loss of detail, the images were certainly still usable. The relatively fast lens (it has a maximum aperture range of f/1.8-2.8) also helps to keep the ISO down.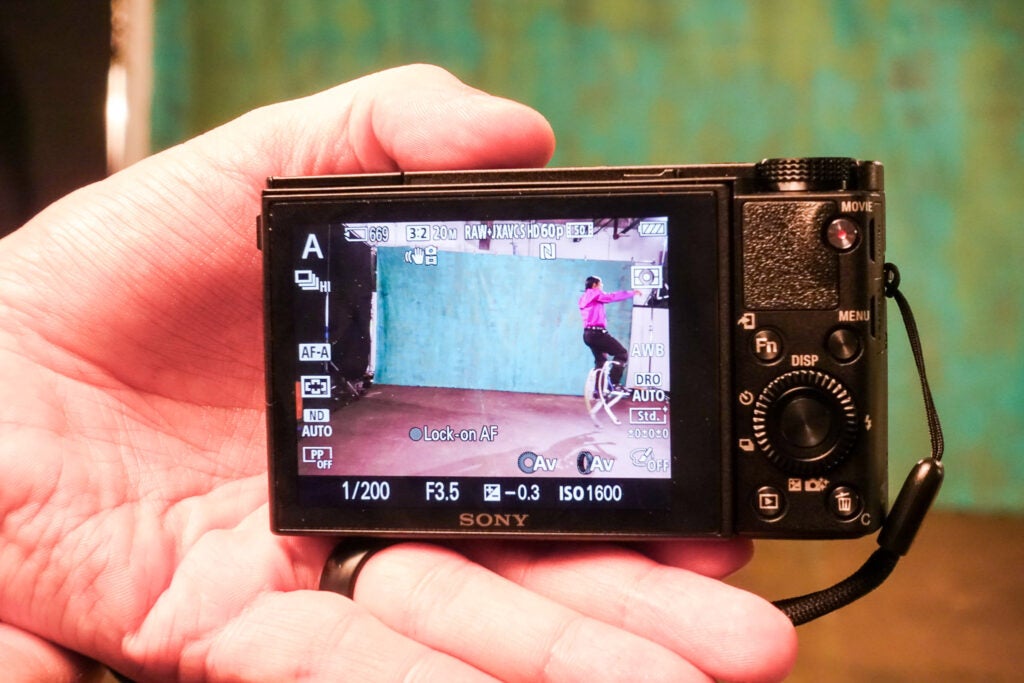 In the studio lighting we were using, I found that I actually got better results out of the camera if I used the exposure compensation to underexpose by about a stop in a lot of circumstances. It will be interesting to see if that's a continued theme as we do our full test.
Ultimately, the RX100 V feels like an extremely powerful little camera. The increased framerate is nice for fast action, and the beefed-up video features are nice, but the overall speed boost in terms of operation really does make a difference. There's still some lag to be found, like when you switch exposure modes, for instance, but the time between taking the camera out of your pocket and actually shooting the photo you want to shoot feels encouraging.
We will be doing a full review of the RX100 V in the coming weeks, so keep an eye out for our field tests and our lab results.