Don Gutoski's Image of Two Foxes Wins Wildlife Photographer of the Year Prize
A graphic depiction tells a fascinating, sad story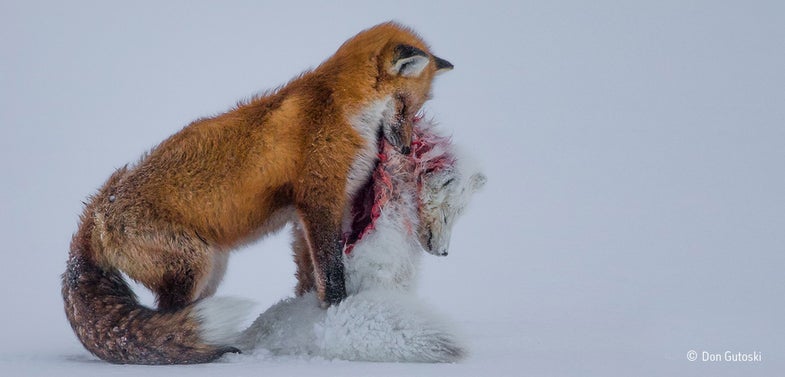 When we post nature images here on PopPhoto.com, they're typically pretty lighthearted, but the recent winner of the 2015 Wildlife Photographer of the Year contest is a very different story.
The contest is put on by the BBC in conjunction with the National History Museum and received more than 40,000 entries in 2015. In the end, it was Don Gutoski's image of a red fox holding the carcass of a defeated arctic fox in its mouth. The photo was taken in Wapsuk National Park in Cape Churchill, Manitoba, Canada.
At first glance, the photo almost looks like a painting. It's a very surreal scene with a stark white backdrop, which is what sold the judges on the photo itself. One of the jury members, National Geographic's Kathy Moran explained the decision.
"What might simply be a straightforward interaction between predator and prey struck the jury as a stark example of climate change, with red foxes encroaching on Arctic fox territory. The bottom line is, this image works on multiple levels. It is graphic, it captures behaviour and it is one of the strongest single storytelling photographs I have seen."

The Junior wildlife photography prize wen to Ondrej Pelánek from the Czech Republic who capture of birds called ruffs on the Varanger Peninsula in Norway.