Behind the Photo: Dustin Snipes's Portrait of a Sumo Champion
Getting on your subject's eye-level can make the shot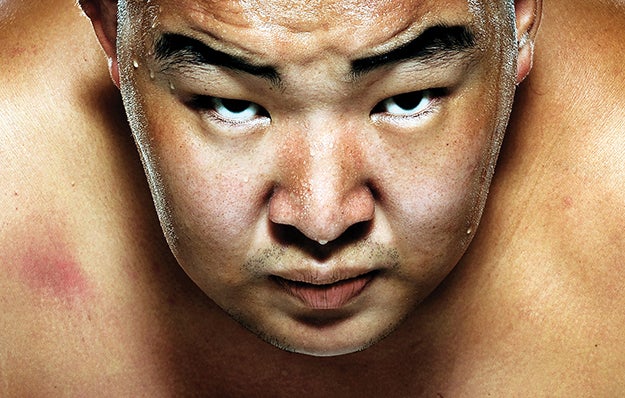 This is not the expression you want to see if you encounter a big guy in a dark alley, especially this big guy: He's four-time sumo world champion Byambajav Ulambayar (known as "Byamba"). This facial expression appeared just minutes before Byamba won the U.S. Sumo Open in 2010. "The emotion in the photograph was charged with the intensity of just having come out of the competition," recalls Los Angeles sports and portrait photographer Dustin Snipes.
The opportunity came about because Snipes had an interest in sumo wrestling. He contacted the director of the U.S. Sumo Open years earlier to find out how to get credentials to photograph the event and wound up being invited back.
This portrait was Snipes' first time photographing Byamba, so he didn't know that although the Mongolian-born and Japanese-trained athlete "looks serious," he "actually likes to joke around a lot." (Since this portrait was made, they've worked together several times.) In a way, that unfamiliarity worked in Snipes' favor. Speaking through an interpreter, he tried to quickly build rapport by connecting with Byamba's energy; the photographer adapted his working demeanor to suit the wrestler's state of mind.
"You need your subject to know that you are capable of making a great photo. So showing any type of doubt or not looking like you are prepared doesn't help when you're trying to get them to open up," Snipes says. "Confidence is key, so when you direct them to do something outside of their comfort zone, they'll be on board with your plan."
In Byamba's case, Snipes figured the sumo squat would be the best starting point. He showed Byamba what he wanted him to do, and through the interpreter he coached the wrestler on a few motions.
It was a small set: 9-foot white seamless with strip softboxes on each side. Snipes suspended a medium octabank overhead for dramatic contrast. He had only a few minutes to work, so he shot full-body first with his Nikon D700 and 24–70mm f/2.8G Nikkor lens. When Byamba lowered his icy gaze at the camera, this pro knew to zoom in for the tight shot. Click and done.