The Internet Helps Hunt Down Couple in a Viral Wedding Photo
A digital photo frame was the cause behind this viral image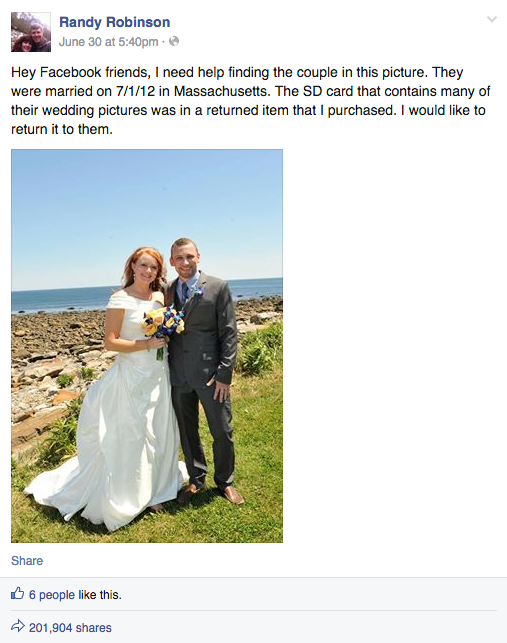 The road to a photo going viral is an interesting one, and in this case it began with a digital photo frame.
A man named Randy Robinson of Alabama purchased said frame at his local discount store, Dirt Cheap, and found that it was already filled with a couple's wedding photos.
When he found this he became concerned that the couple must be grieving over their lost images, and so he attempted contacting the catering company and limo brand that he saw in the photos. When that didn't work, he took to Facebook.
He posted a shot of the bride and groom that instantly drew massive attention, racking up nearly 200,000 shares.
Meanwhile, Kristi and Bill Wilson were vacationing without cell service, unaware that their wedding photo had gone viral on Facebook within the week.
When they returned to a barrage of messages, they came forward to announce that they were the couple from the wedding photos Robinson found. It turns out the couple got married in 2012, and loaded up a digital photo frame with their wedding photos. The frame didn't work properly, and was returned. It made it's way through the resale chain, and eventually ended up with Robinson.
The couple found it heartwarming that so many people had rallied to make sure the pictures were returned, and Robinson is adjusting to his newfound Facebook fame.