Your Best Shot: The Rules
Find out all you need to know about the monthly photo contest.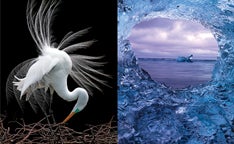 Your Best Shot Frequently Asked Questions (FAQ)
Q: How do I enter?
A: Send digital images — JPEG files of up to 1MB — to YourBestShot@bonniercorp.com.
Q: How many photographs can I enter each month?
A: You may submit up to 5 digital images each month.
Q: Do you only accept "straight" photos, or can I manipulate my images?
A: Either is fine but be sure to tell us what you did. We expect you to make your photos look as good as you can through ordinary techniques such as cropping, color correction, and contrast adjustments. If you're submitting a composite image, please inform us when you send it. But if you're more into photo illustration, check out our annual Digital Wizard contest instead.
Q: How exactly should I name my files?
A: Please use your name as your file name, and if you're making submitting multiple files, number them consecutively. So if your name is Paul Jones and you're sending three photos, name your files pauljones1.jpg, pauljones2.jpg, and pauljones3.jpg.
Q: What kinds of photos win?
A: Our editors love all kinds of photography, so take a look at our web galleries of Your Best Shot winners and finalists. We want to see the best you have to offer. But we don't publish nudes, so keep it clean.
Q: Are there any special file requirements?
A: Yes, if accepted for publication, a 3MP or higher (9MB file size, uncompressed) image will be required. The bigger the better. Click here for more instructions. Also, you can help us keep track of your submission by naming your files after yourself (see the next question).
Q: Can I send slides or prints?
A: No. You can only e-mail digital images.
Q: Will you acknowledge receipt of my entry?
A: Sorry, but with the large volume of entries, that is not possible.
Q: What can I win?
A: If your photo is selected for First Place you will receive $300; $200 for Second Place; $100 for Third Place; and $50 for Honorable Mention. And your photo will be published in Popular Photography magazine and may be showcased in a gallery on the Pop Photo website.
Q: Are there any other chances to be selected?
A: Yes! Your photo could be selected for The Fix, a feature that shows how to make good pictures even better. In that case, you will receive $100. If we run a small version of your photo in the magazine — in a camera's LCD screen, for instance — we'll give you a photo credit but no payment. Also, some runner-up photos may be showcased on the Pop Photo website. There is no prize money for that.
Q: What information should I send with the photos?
A: Your name, address, phone number, and e-mail address. Also, any technical information you can supply about the photo — camera, lens, settings, film, software, and printer. Submitting a composite? Tell us! If you win and we need more material, we will contact you.
Q: Is there anything else I should know?
A: Yes! It's all in the "Official Rules."
The Your Best Shot Contest (the "Contest") is sponsored by Popular Photography Magazine, a publication of Bonnier Corporation ("Sponsor").
ONE (1) FIRST-PLACE AWARD: $300
ONE (1) SECOND-PLACE AWARD: $200
ONE (1) THIRD-PLACE: $100
All federal, state and local laws and regulations apply; void where prohibited.
ELIGIBILITY: The Contest is open only to individuals. Employees of Bonnier Corporation and its parent companies, subsidiaries or agents, their immediate families (defined as parents, children, siblings, spouse and grandparents), and those domiciled with any of the foregoing are not eligible.
TO ENTER: Submit digital photographs: 50-75KB recommended, 1000KB maximum, JPEG format only; if accepted for publication, an image file size of at least 9MB (uncompressed) will be required. Each file should be named with your full name. Multiple entries should be named with your full name followed by consecutive numbers. E-mail your submission to YourBestShot@bonniercorp.com. Include your address, phone number, and e-mail, plus any pertinent technical information (camera, lens, exposure, film, filters, software). All information provided by entrant must be complete, true and correct. All submitted entries become the property of Sponsor and will not be acknowledged or returned; Sponsor is not responsible for lost, late, inaccurate, incomplete, damaged, illegible, or misdirected entries. All entries may be published on the Popular Photography web site, whether selected for a prize or not, or may be chosen for The Fix. Nothing in these Contest rules obligate Sponsor to publish or otherwise use any photo submitted in connection with the Contest. Each entry must be submitted on an individual basis (i.e., no team, joint, or corporate entries) and all components of the entry must be the original creation of the submitting participant. Only non-commercial work may be submitted. Entries may not contain profanity, nudity, pornographic images, violent images, anti-competition messages, illegal material, or material that violates the rights of third parties. Entries may not include confidential information, trade secrets, trademarks or copyrighted material belonging to any person or entity other than the participant absent a suitable license or permission agreement (proof of which is required). Entries containing any forbidden matter or material otherwise deemed by Organizer to be inappropriate will be disqualified. Online entries will be deemed submitted by the authorized account holder of the e-mail address submitted at time of entry. Five entries per person per month; entries in excess of that will be disqualified.
JUDGING: A panel of judges consisting of Popular Photography editors will select the winning entry based equally upon the criteria of skill, originality, and relevance. By entering, you agree to be bound by these Official Rules, and that the decisions of the judges are final and binding in all respects. Judging will be completed by the 15th of each month, and potential winners will be notified by the 20th of each month. Sponsor reserves the right not to select any winning submissions based upon the quantity or content of submissions. Potential winners will be required to sign and return a sworn Affidavit of Eligibility and Liability and Publicity Release. If required documentation is not returned within seven (7) business days of notification, or if notification is returned as undeliverable, any prize will be forfeited and an alternate winner will be selected.
PRIZE AWARDS: Prizes will be awarded within sixty (60) days after winner verification. No prize substitution or transfer is permitted, except that Sponsor reserves the right to substitute a prize of equal or greater value for any reason. All taxes and any other incidental expenses on Prizes are the sole responsibility of each winner.
GENERAL RULES & LIMITATIONS: By entering, you represent that: (i) your entry is your own original work; and (ii) you own or have the rights to convey any and all right and title in any material submitted as part of your entry into the Contest. By entering, you grant to Sponsor a non-exclusive, worldwide, royalty-free license to edit, publish, promote, republish at any time in the future and otherwise use your submission, along with your name and likeness, in any and all media for any purpose, without further permission, notice or compensation (except where prohibited by law). By participating in the Contest, you agree to release Sponsor and its parent companies, affiliates, subsidiaries, employees, directors, officers, and agents from any and all liability, claims or actions of any kind whatsoever for injuries, damages or losses to persons and property which may be sustained in connection with the receipt, ownership, possession, use, or misuse of any prize. Sponsor is not responsible for technical, hardware or software failures, or other errors or problems which may occur in connection with the Contest, whether computer, network, technical, mechanical, typographical, printing, human or otherwise, including, without limitation, errors or problems which may occur in connection with the administration of the Contest, the processing or judging of entries, the announcement of the prizes, in any Contest-related materials, or that may limit prize fulfillment or a participant's ability to enter the Contest. Sponsor reserves the right to amend these official rules and to permanently disqualify from the Contest any person it believes has intentionally violated these official rules.
PRIVACY: By entering, you agree that the information you provide may be sent to promotional partners of the Sponsor(s). You may be contacted by the Sponsor(s) and/or promotional partners with future promotional offers. Information provided by you to participate in this Contest is subject to the privacy policies of the Sponsor(s).