How To: Photograph Places of Prayer and Worship
Spiritual venues offer a unique, colorful and often historical setting to shoot in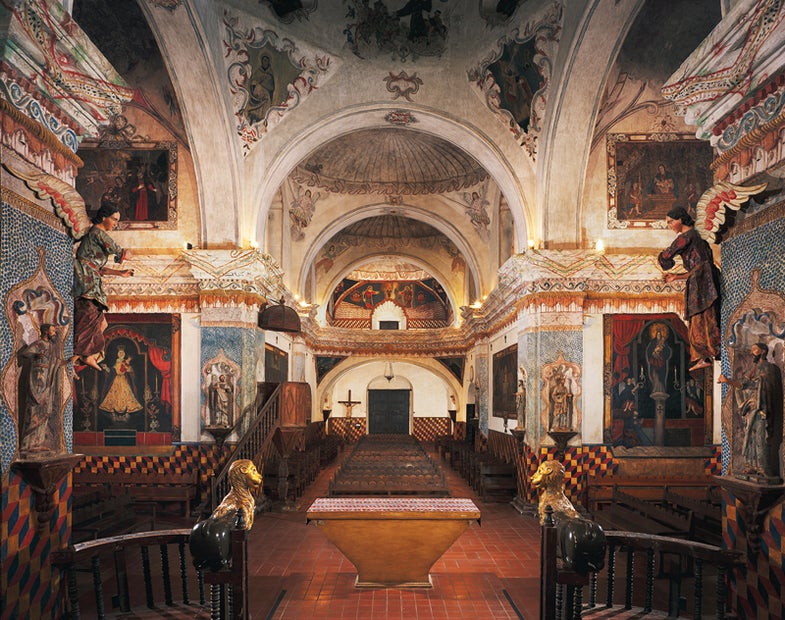 I am not the world's most religious person, but wherever I travel I make an extra effort to visit places of worship. What draws me to them is partly their history and sense of elaborate mystery, but also their sheer photogenic charm. From the adobe mission churches of the Southwest to the sweet white steeples of New England, these spiritual gathering places make a terrific travel subject.
Interiors, like that of Arizona's historic San Xavier del Bac mission church (above), overflow with detail and color, but are often dark and a total no-flash, and often no-tripod zone. Crank up your ISO and steady the camera on the back of a pew for sharp pictures. I've shot ancient icons at ISO 1600. Stained glass is good on bright days —just frame tightly and use matrix metering.
Church exteriors don't require permission or special access. The downside is that you must contend with cluttered surroundings, ugly power lines, street signs, and more. Work around this by finding an interesting foreground device to hide the muddle (framing a Vermont steeple with a maple limb, for instance) or clean it up later in software.
Shooting tall churches with a wide lens from close in causes a keystoning effect—the building appears to be falling backward. You can solve this with a tilt/shift lens, but a cheaper fix is to move back and use a normal lens (i.e., a 50mm on a full-frame DSLR) from a distance that lets you shoot without tipping your camera upward to capture the whole building. Then crop later. Cathedrals are rife with ornamentation—use a long zoom to capture the wild faces of gargoyles.
Where To Go: A Picture and a Prayer
Start with a Google image search for "churches" or "missions" for the towns you're visiting, and scan Flickr groups. Here are a handful of great religious venues.
Arizona: San Xavier del Bac Mission (the "white dove of the desert"). Historically important mission built between 1783 and1797 by the Tohono O'odham tribe. (www.sanxaviermission.org)
California: Crystal Cathedral, 12141 Lewis Street, Garden Grove. Spectacular modern steel and glass cathedral. (www.crystalcathedral.org; for photo tips, go here)
New Hampshire: St. Paul's Episcopal Church, 113 Main Street, Lancaster. one of the most photographed churches in New England—simple and perfect. (stpaulslancaster.org/index.htm)
New Mexico: San Gregorio de Abo, near Mountainair. Mission ruins dating to the early 1600s. (newmexico.darkisle.com/abo/abo.html)
New York: Cathedral of St. John the Divine, 1047 Amsterdam Avenue, New York City. Widely regarded as the largest cathedral in the world, a Gothic fantasia. (www.stjohndivine.org)
Rhode Island: Touro Synagogue, 85 Touro Street, Newport. The oldest synagogue in America. Public tours for a fee.(www.tourosynagogue.org)