CES 2016: Canon's New Compact Cameras, Camcorders, and Printer
An array of new products from Canon here at CES 2016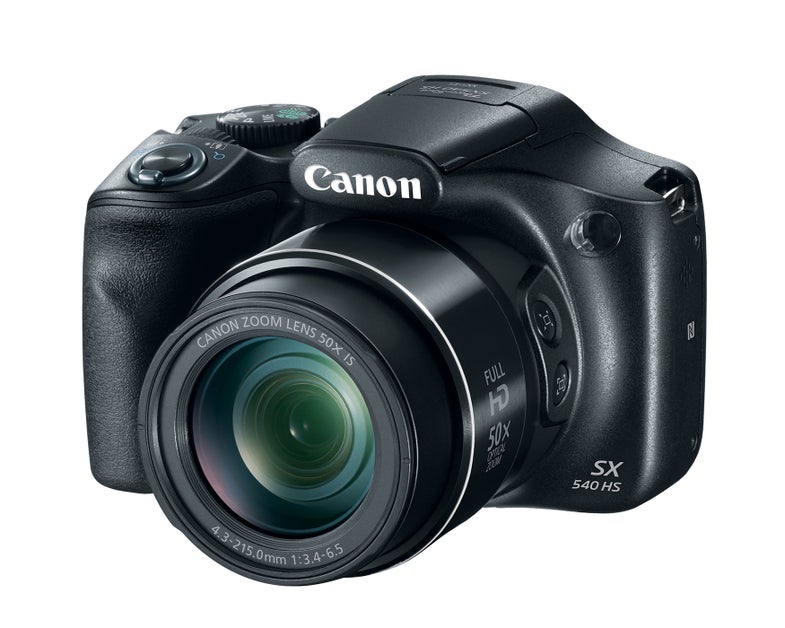 We may earn revenue from the products available on this page and participate in affiliate programs. Learn more ›
Canon has announced two superzooms, three compact cameras, and four camcorders at the CES tradeshow in Las Vegas. In addition to those image capture devices, Canon announced a new Selphy dye sub printer and support for Apple's AirPrint wireless printing in eight of its existing all-in-one printers, as well as this new printer.

The new PowerShot superzooms include the 20.3MP SX540 HS that sports a 50x optically-stabilized zoom lens covering an equivalent focal length range of 24-1200mm, can record video at up to 1920×1080 60p, and uses Canon's latest Digic 6 processor. The camera's Story Highlights function can create a compilation of images and movies, complete with transition effects and music, in the camera. There's a button for Wi-Fi to make it easier to transfer images to your phone. The SX540 HS should hit stores in March with a price of $400.

Checking in with a 42x optically-stabilized zoom equivalent of 24-1008mm, the 20MP SX420 IS also has a dedicated Wi-Fi button, uses Canon's older Digic 4+ processor, and captures video at up to 720p. It will be available in February for about $300.

The 20.2MP Elph 360HS is the fanciest of the new compacts with a 12x optically-stabilized zoom lens, a dedicated Wi-Fi button, video capture up to 1080p, and a Digic 4+ processor. It includes the aforementioned Story Highlights function and is expected to hit stores in February with a price of $210. The Elph 190 IS steps down to a 10x optically-stabilized zoom, a 20MP CCD sensor, 720p video capture, and a dedicated Wi-Fi button. The 190 IS should hit stores in February and cost about $160. Rounding out the new compacts is the Elph 180 with a 20MP CCD sensor, 8x optical zoom lens without stabilization, and 720p video capture. It is expected to cost $120 when it becomes available in February.

Of the new camcorders, the Vixia HF G40 is the most exciting. Deemed a little brother to the pro-level XA35 and XA30 camcorders announced last year, the G40 allows full manual control and sports a 20x optical zoom lens with Canon's 5-axis Intelligent Optical Image Stabilization, a 3.5-inch OLED touchscreen, as well as an EVF. Rings for focus, zoom, and iris control provide a higher level interface than you find on typical camcorders and features such as zebra stripes, color bars, and test tones should make advanced videographers feel more at home. Unlike the XA models, the G40 doesn't let you add a top handle for mounting XLR mics and doesn't have an SDI port, but the newly developed 1/2.84-inch sensor promises lower noise than in the G30. Recording tops out at 1080p 60fps, and dual SD card slots let you record to two cards at once, or relay to the second card when the first has filled. Expected to hit stores in February, the G40 will cost $1,300.
For less intense video capture, Canon has the Vixia HF R72, HF R70, and HF R700. All three have 57x optically-stabilized zoom lenses, 3.28MP CMOS sensors, Digic DV4 image processors, and 3-inch LCD touchscreens. Capture tops out at 1080p 60fps in either AVCHD or MP4 format. The three vary only in how much built-in memory they have. The R72 includes a 32GB internal flash drive, while the R70 has a 16GB flash drive. The R700 has no built-in memory. All three of the camcorders include dual SD slots for simultaneous or relay recording. Available in February, the HF R72, HF R70, and HF R700 will cost $450, $400, and $300, respectively.

In an update to the company's line of portable 4×6 dye-sub printers, the new CP1200 can print up to 54 images per charge when powered by an optional battery. That's a pretty good increase over the 36 images you could get from its predecessor's battery. A Wi-Fi button helps make the process of pairing it with a cell phone quicker. In addition to Wi-Fi, you can connect to a computer through USB, or print straight from a USB drive or an SD card. The CP1200 is expected to hit stores soon for $106.
Support for Apple's AirPrint wireless printing is built in to the new Selphy and is also now available for eight of the company's existing printers. To see which Canon printers are now compatible with AirPrint, check out the fill list at www.usa.canon.com/airprint