Canon's 400mm F2.8 and 600mm F4 super-telephoto lenses just got a lot lighter
Both of these new lenses weigh just over 6 pounds.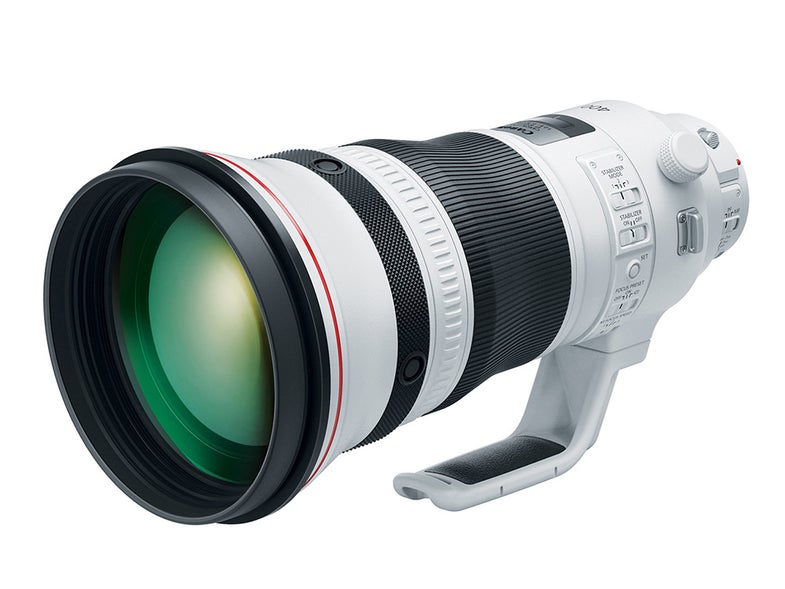 We may earn revenue from the products available on this page and participate in affiliate programs. Learn more ›
The laws of physics and the nature of light dictate that super-telephoto lenses with big apertures will always be big, heavy, and expensive. They require small tolerances across giant slabs of glass, which makes manufacturing difficult enough without trying to pack lots of performance into smaller bodies. For its latest line of pro-grade, white lenses, however, Canon has shaved some considerable heft off of its new EF 400mm F2.8L IS III USM and EF 600mm F4 IS III USM telephoto lenses.
The new 400mm F2.8L III weighs in at 6.26 pounds, a reduction of 2.2 pounds total from its predecessor. The 600mm F4L III weighs in at 6.7 pounds, which is a 1.9 reduction.
Here are some other high points from the impressive spec sheets:
Both lenses have Canon's most advanced coatings: Air Sphere Coating (ASC) and Super Spectra Coating (SSC) to cut down on ghosting and aberration, respectively.
Image stabilization jumps to 5 stops of shake reduction, up from 3.5.
Both lenses have shorter minimum focusing distances: 8.2 feet for the 600mm and 4.2 feet for the 400mm.
Both use an arrangement of 17 lens elements in 13 groups.
Heat shielding around the lenses prevents long exposure to high temperatures from deforming the elements.
Front and rear elements have a fluorine coating to repel fingerprints and dust.
The 400mm f/2.8L IS III USM will ship in December for $11,999.
The 600mm f/4L IS III USM will ship in December for $12,999.
These lenses are obviously aimed at high-end sports, news, and wildlife photographers but you'll also likely be able to rent them from various rental houses if you're just looking to try them out. Still, you should expect it to cost a few hundred dollars for a couple days.
And while these lenses aren't exactly small, the sizes and weights have come down considerably since the first versions. Even when you're shooting on a monopod—which you likely will be with lenses like this—that extra heft can make a difference when you're shooting all day or trying to run along the sidelines of a sports game.