Camera Test: Olympus Pen-F
The Pen-F reminds us to enjoy photography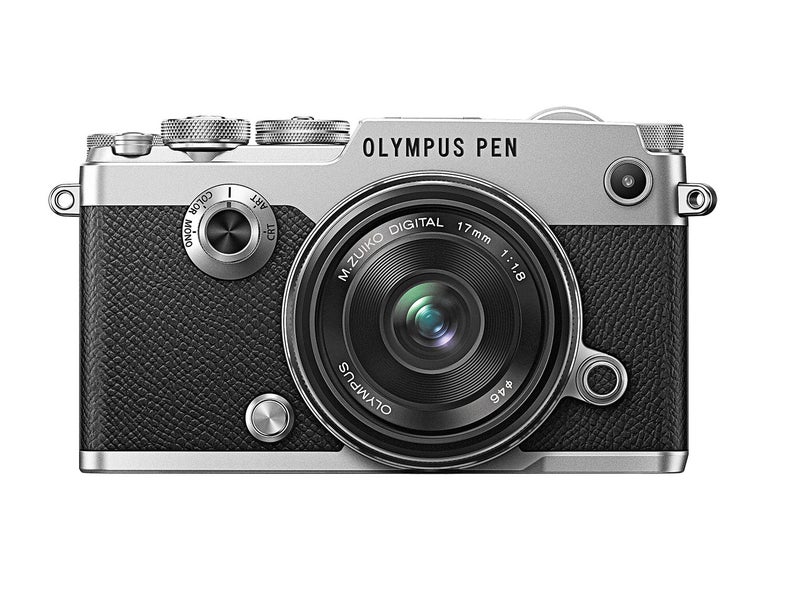 We may earn revenue from the products available on this page and participate in affiliate programs. Learn more ›
More than 50 years ago, we ran a review of a new Olympus, the Pen-F. It was the world's first half-frame 35mm body, capturing images that were about half the width of a horizontal 35mm frame and thus yielding vertical photos without having to rotate the camera. So, when we first saw that Olympus had revived the Pen-F moniker for its latest digital interchangeable-lens compact (ILC), we wondered whether the 20.3MP Four-Thirds-sized Live MOS sensor would be rotated vertically.
Nope. But the digital Pen-F does have some tricks of its own, notably a high-resolution mode that shifts the sensor to combine eight frames into a single 80MP RAW image. And the main idea behind the two generations is the same: to make a camera that is easy and fun to use, and small enough to bring along with you wherever you go. Plus, the street price of the new Pen-F, at $1,199 (body only), isn't much more than the inflation-adjusted price of the $120 original back in 1963.
This also marks a renewal of Olympus's slim and stylish digital Pen line after a few years of entries only in its more performance-oriented OM-D series. With a retro style that harkens back to its mid-century predecessor, the new model is the first digital Pen camera to sport a built-in viewfinder. After a few days shooting with a prerelease model on an Olympus-sponsored press trip to Austin, Texas, we were eager to get a final production unit into the Popular Photography Test Lab for a full assay under controlled conditions.
In the Test Lab
Just the second Micro Four Thirds body to push its pixel count past 16MP (Panasonic's Lumix GX8 was the first), the Pen-F marks real progress for Olympus. The camera earned an Extremely High rating in overall image quality from its lowest sensitivity of ISO 80 all the way through ISO 800.
The only reason it didn't get an Excellent overall rating is because its color isn't accurate enough for this. The camera hit an average Delta E of 8.7, well above our cutoff of 8 for this test in which lower scores are better. The irony is that the Pen-F's various color modes, which like all such modes end up making color less accurate, proved one of its more engaging features.
Resolution easily reached an Excellent rating by capturing 2675 lines per picture height at ISO 80. That's about the same as the Panasonic's 2660 at its lowest sensitivity of ISO 100. At ISO 800 the Pen-F fell to 2600 lines, while the GX8 slipped down to 2550, both still enough for Excellent ratings. ISO 1600 saw the Pen-F at 2550 lines, while the GX8 dropped to 2340. We should note, though, that Panasonic seems to be more aggressive than Olympus in its noise reduction, which affects resolution. At ISO 6400, the Pen-F's resolution drops to 2225 and thereafter drops faster to 1825 at ISO 12,800, and then 1600 at the camera's top sensitivity of ISO 25,600.
In our Noise test, the Pen-F fared very well but didn't deliver images quite as clean as those from the GX8. The Olympus scored an Extremely Low rating at its lowest two ISOs with scores of 0.9 and 1.0, respectively. The Panasonic kept noise below 0.9 all the way up to ISO 800, though at the expense of resolving power.
Still, the Pen-F held noise to a Low or better rating up to ISO 800, and didn't reach Unacceptable until ISO 12,800. Given that this camera is squarely aimed at street shooters, we think that's swell. Even at the camera's top two sensitivities, noise doesn't reach super-high levels, and if you shoot (or convert your images to) black-and-white, it can come across as a generally pleasing grain.
To test the Pen-F's five-axis, sensor-shift image stabilization, we mounted an M.Zuiko ED 40–150mm f/2.8 Pro lens and racked it out to 150mm, a 300mm full-frame equivalent on the camera's Four Thirds sensor. Our shooters got an average of 4 stops of compensation for handheld shooting. So, if you'd normally shoot at 1/320 sec to get a sharp image at 300mm, you might be able to shoot with a shutter speed as slow as 1/20 sec and still get acceptable results.
In the Field
The Pen-F has a classic look that we find very appealing. The on/off switch is a round knob on the left side of the top, like a smaller version of the film rewinder on very old Leicas. In fact, most of its controls are round. According to Olympus, one reason is that when the original Pen-F was made it cost less to mill round pieces than square ones.
In homage to that history, the new Pen-F even has a round eyecup for the electronic viewfinder, the first in a digital Pen. We're not sure if it's just a quirk of early samples or the shape of the rubber on the eyecup, but on a few occasions (before we started switching it manually), the sensor that recognizes that you're holding it to your eye failed to turn on the EVF. The OLED itself looks great, though. It shows lots of detail and the lag time seems brief: The image doesn't get too jerky or choppy as you pan around.
We mainly shot with prime lenses in field use. These autofocused quite quickly, as did the zooms we used only briefly. While older zooms with large glass elements to move tended to slow down the AF, most of Olympus's Micro Four Thirds lenses employ smaller focusing groups to keep the AF pleasingly zippy. Tracking proved generally reliable and did a good job of keeping up with the camera's burst speed.
The control layout is both comfortable and intuitive. Olympus embedded the shutter release button in the front command wheel to save space and put in a socket for an inexpensive screw-in cable release. Whether another nod to street shooters or to the original Pen-F, it makes for an easy way to trigger longer exposures as well as the High Res Shot mode.
This shoots eight frames as the image stabilization mechanism moves the sensor and combines them into one image to increase the resolution in the resulting file. You can make 80MP images from RAW files this way, but you should use a tripod and shoot a stationary subject. If you want a JPG from High Res mode, you'll get a 50MP file.
A small exposure compensation dial on the right side of the camera top lets you adjust up to +/–3 EV or you can use one of the command wheels to reach up to +/– 5 EV. If you stick with the exposure comp dial, you gain the option of assigning something else to the command wheel, such as highlight and shadow detail in custom color and monochrome modes.
You select these using the dial on the front of the body, which evokes the shutter-speed dial on the original Pen-F. Choose from Art Filters, Color Creator, Color Profile Control, and Monochrome Profile Control. Each of these has three different options. For instance, Infrared Simulation, under the Monochrome Profiles, does a nice job of giving the IR look, with greens turning brighter and clear skies darker, as with real IR capture.
While these modes might sound kitschy at first, in practice they're quite enjoyable and offer enough customization to tailor them to your taste and incorporate them into your shooting when you wish. Since the dial is very accessible, we found ourselves switching through them a lot and having a whole lot of fun. If you shoot RAW+JPG you can always go back and second-guess yourself if you think that you made the wrong decision in the moment.
If you like to mount vintage glass (via adapters) or any fully manual lenses that don't communicate with the body, you'll appreciate that the Pen-F lets you input a list of the lenses that the camera can't identify. It's a slightly laborious task to enter their names, but once you do, you can select the lens you've mounted from the list in the camera body and the name of the lens will show up in the EXIF data in your images—useful for keeping track of them later.
Video from the Pen-F looks very nice, with plenty of detail and pleasing colors. You won't find 4K capture here, but for most folks these days that's overkill. The Pen-F really feels like more of a still shooter's camera anyway.
Bottom Line
The prime competitor for the Pen-F is definitely Panasonic's GX8. Both emulate a rangefinder-like design, using EVFs for framing, sport 20MP Four Thirds sensors, and can accept the same lenses. Both did very well in our lab tests and were pleasures to use in the field.
While it's true that the Olympus fell just a tad short in color accuracy, we'd be surprised if the average shooter would be turned off by the colors in the images captured with the Pen-F. Indeed, we'd expect that photographers who enjoy experimenting with the various color modes in the camera won't be bothered at all with exacting color accuracy as measured in lab tests. Overall, the Pen-F proved a very comfortable camera to use. If you like street photography, or just want a powerful, small camera, it deserves your serious consideration.
Specifications
IMAGING: 20.3MP effective, Four Thirds-sized Live MOS sensor captures images at 5184×3888 pixels wit 12 bits/color in RAW mode
STORAGE: SD, SDHC, SDXC (UHS I, II) slot stores JPEG, ORF RAW, RAW+JPEG, MPO files
BURST RATE: Full-sized JPEGs (Fine mode), up to card capacity at 5 frames per sec; RAW (12-bit), up to 250 shots at 5 fps
AF SYSTEM: TTL contrast detection with touch-selectable focus; single shot and continuous AF with face detection and subject tracking
SHUTTER SPEEDS: Mechanical: 1/8000 to 60 sec, plus B (1/3-EV increments). Electronic: 1/16,000 to 60 sec.
METERING: 324-area TTL metering, Multi-pattern (evaluative), centerweighted, spot (size of spot not specified); EV –2 to 20 (ISO 100)
ISO RANGE: Standard: ISO 200–25,600 (in 1/3-EV increments). Expanded: ISO 80–25,600.
EVF: OLED with 2,360,000-dot resolution, 1.23X magnification
VIDEO: Records at up to 1920x1080p60 in MPEG-4AVC/H.264 MOV format; built-in stereo microphone; no mic input. Maximum clip length approximately 29 minutes.
FLASH: No built-in flash; comes with FL-LM3 accessory flash (GN 30, ISO 100, feet)
MONITOR: Articulating 3-inch LCD capacitive touchscreen with 1,037,000-dot resolution; 15-step adjustments for brightness and color temperature
OUTPUT: USB 2.0, Micro HDMI video, composite video
BATTERY: Rechargeable BLN-1 Li-ion, CIPA rating 330 shots
SIZE/WEIGHT: 4.9×2.8×1.5 inches; 0.9 lb with a card and battery
STREET PRICE: $1,199, body only
INFO: olympusamerica.com