Camera Test: Leica Q
Leica adds its Q to the classy compact conversation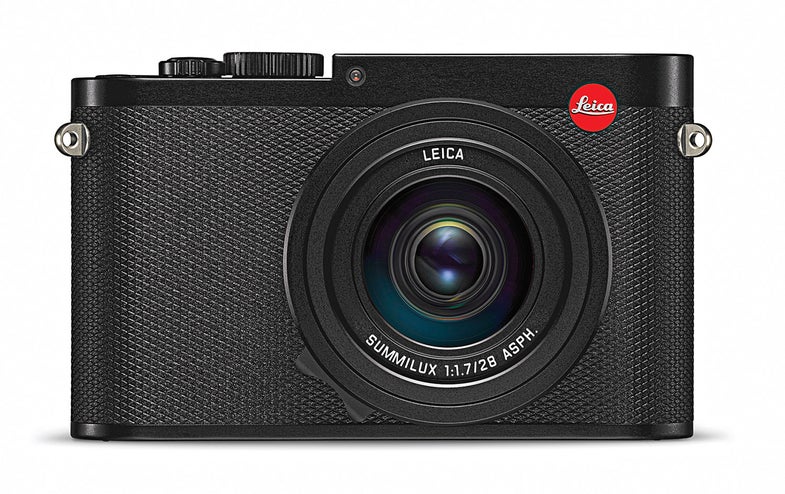 We may earn revenue from the products available on this page and participate in affiliate programs. Learn more ›

When Sony put out its original RX1 a few years ago, it felt a bit like the Japanese camera maker was sending a shot across Leica's bow. The fixed-lens camera had a feeling of luxury that seemed worthy of the famous red dot. Now, Leica has returned fire with the Q.
A full-frame 24.2MP luxury compact camera with a fixed 28mm f/1.7 lens, the Leica Q seems to be looking to entice street shooters who want a wider view than Sony's 35mm optic—or any photographer who has become accustomed to the angle of view of a smartphone. Plus, with built-in Wi-Fi, you can send images to your phone to share them with your friends immediately after shooting. Top it all off with a really nice EVF, optical image stabilization, and Leica's unique design sense, and you've got a really interesting camera.
Of course, at $4,250, street, the Q comes at a luxury price. The question for us, though, as always, is performance.
In the Test Lab
Accurate colors, well-controlled noise, and plenty of resolving power combine for an overall image quality rating of Excellent from the Leica Q's lowest sensitivity of ISO 100 through ISO 1600.
As has been the case with recent Leica cameras, the Q shoots DNG RAW files and comes with a free license for Adobe Photoshop Lightroom. We used this to process those 14-bit RAW images into 16-bit uncompressed TIFFs for our tests in the Popular Photography Test Lab. In absence of default settings from the manufacturer, to assess resolution and noise, we applied 0, 25, 50, 75, and 90 percent luminance noise reduction to each image and then looked to see the best setting for each ISO in order to balance resolving power and noise. We ended up applying 25 percent from ISO 100 through 800, 50 percent from ISO 1600 through 6400, and 75 percent from ISO 12,500 through 50,000. We're not sure why the top three sensitivities don't follow traditional ISO numbers, but, well, that's Leica.
At 24.2MP, the Leica Q trails Sony's 42.4MP RX1R II, its closest competitor, in resolving power by quite a bit, but it's very close to the original RX1 while delivering more accurate color, too. The Q served up 2820 lines per picture height in our test at ISO 100, nearly matching the original RX1's 2870 lines. The RX1R II was able to capture 3990 lines at its lowest sensitivity of ISO 50. Still, the Leica captured more than enough for an Excellent rating and did a nice job of holding its resolving power as sensitivity increased. The Q got 2680 lines at ISO 1600, dropping to 2540 lines at ISO 6400, 2475 lines at ISO 12,500, and landing at 2200 lines at the camera's top sensitivity of ISO 50,000.
Color proved extremely accurate with an average Delta E of 6.3. That puts the Q well below the cutoff for an Excellent rating in this lower-is-better test.
Adobe's RAW converter usually does a great job of suppressing noise while maintaining detail in image files—and this showed with the Leica. At the camera's lowest two sensitivities, the Q scored top honors with an Extremely Low rating. It maintained a Low or better rating up to ISO 1600 and noise didn't reach Unacceptable until its penultimate sensitivity of ISO 25,000.
In our stabilization test, our shooters average three stops of shutter speed advantage when shooting handheld. So, if you'd normally use a shutter speed of 1/30 sec, you may be able to get acceptably sharp results when shooting as slow as 1/4 sec. Keep in mind though, that swiftly moving subjects will still be subject to motion blur, since image stabilization counters the photographer's movement, not the subject's.

In the Field
The Q is very much a Leica and gives a feel similar to the M series of rangefinder classics, though with a Liquid Crystal on Silicon (LCOS) electronic viewfinder. While fans of optical finders might wince at the thought, the Q's finder shows tons of detail and doesn't become overly choppy when you pan the camera. It's one of the best EVFs we've used so far.
The body is large for a fixed-lens camera the top plate is machined from a solid block of aluminum and the rest of the body is made of rugged magnesium alloy. The lack of any real built-in grip makes for a slightly less comfortable shooting experience than you'll get with Sony's slightly smaller and lighter RX1R II even though that camera doesn't have much in the way of a grip either. An indented strip on the back of the Q gives you a nice place for your thumb to rest, at least. Plus, there are an array of accessories, including a nice accessory grip, available for the Q.
Controls mostly center around the aperture ring, shutter speed dial, and a command wheel, with a smattering of buttons and a control pad on the camera back. Put the aperture ring on A and select a shutter speed, and you're in shutter-priority mode; do the reverse for aperture-priority mode. When you're in aperture-priority mode, the command wheel gives direct access to exposure compensation. Since the shutter speed dial has only whole stops, the command wheel lets you access the 1/3 stops between when you're in shutter priority or full manual modes. In those cases you can get to exposure compensation using the Fn button, which also toggles through exposure bracketing and flash compensation, though the camera has no built-in flash.
The on/off switch also lets you switch between single and continuous drive modes. However, the switch is too easy to move and often we ended up breezing past single-shot mode and landing inadvertently on continuous. Sometimes this happened between shots, making for a jarring shooting experience at times.
We liked that the default setting for the control pad is to let you select your focus point when you're not using it to move through menus. Direct access to focus point selection is becoming more and more common and is always convenient.
Since the Q is a full-frame camera with a fixed lens, it's natural that close focusing can become an issue. Even with its wide-angle optic, the Q can only focus as close as 11.8 inches in its standard mode. But, just behind the aperture ring is another ring that lets you enter Macro mode, where you can focus as close as 6.7 inches. Watch out: If you leave the camera in Macro mode, you won't be able to put the lens cap on the camera. That's because it is a screw-on lens cap, and Macro mode pushes the front of the lens forward enough to prevent the threads in the cap from engaging those on the lens barrel—a rare bit of inelegant design from Leica. Making up for that with a bit of panache is the fact that the focusing distance scale switches from normal to macro with its own slide forward when you enter Macro mode.
Ever mindful of the company's loyal following of rangefinder fans, Leica includes a nod to them with the Q's digital zoom modes. While we don't typically advocate using digital zoom, since it wantonly discards pixels, the Q's method is at least worth mentioning. First, if you shoot in RAW + JPG, your RAW files will not be cropped, allowing you leeway to preserve pixels and second-guess yourself after shooting. Second, it really does mimic the rangefinder feel well. When you select the 35mm or 50mm options, the camera overlays bright lines to show the crop that will occur. So you can see the entire field of view, including the areas that will end up out of frame, just as you would with a rangefinder.
The Q can capture 1080p (Full HD) video at up to 60 frames per second, and the footage we captured showed plenty of detail, nice looking colors, and only a mild Jello effect on very fast-moving subjects. Burst shooters will appreciate the top speed of 10 fps, complete with continuous metering.
The Bottom Line
Despite a camera heritage that stretches back to the dawn of 35mm film, Leica continues to remain quite relevant, whether it's with the advances of the M series, venturing into new territory with its medium-format S line, or this new fixed-lens gem. Sure, the Q has its quirks, such as the nearly unnoticeable little button on the focusing tab that you must press to enable or disable autofocus. But at the same time, it has its charm, such as the elegance of that solution for focus point selection (once you figure it out).
Plus, while the Leica badge commands more money than Sony asks for its comparable camera, the differential is below one thousand dollars. If you're OK with limiting yourself to a 28mm lens, the Q could be one of the more affordable ways of becoming a Leica owner, if trawling eBay for a IIIf and shooting film isn't your thing.

Specifications
IMAGING: 24.2MP effective, full-frame (35mm) CMOS sensor captures images at 6000×4000 pixels with 14 bits/color in RAW mode
STORAGE: SD, SDHC, and SDXC store JPEG, DNG RAW, and RAW + JPEG files
BURST RATE: Full-sized JPEGs (Fine mode), up to 22 shots at 10 fps; RAW, up to 12 shots at 10 fps
AF SYSTEM: TTL contrast detection with 49 zones; single-shot and continuous AF with focus tracking and face detection
SHUTTER SPEEDS: Mechanical: 1/2000 to 30 sec, plus B (1/3-EV increments). Electronic: 1/16,000 to 1/2500 sec; X-sync speed: 1/500 sec, shutter life not rated
METERING: TTL metering with evaluative, centerweighted, and spot (size of spot unspecified)
ISO RANGE: 100–50,000 in 1/3-EV increments
FINDER: 3,680,000-dot LCOS with 100% accuracy
VIDEO: Records at up to 1920x1080p 60 in MP4 format; built-in stereo microphone, no microphone input lens: Leica Summilux 28mm f/1.7 ASPH; 9 aperture blades; f/1.7–16 in 1/3-stop increments; 11 elements in 9 groups, 3 aspherical elements
LCD: Fixed 3-in. TFT touchscreen with 1,040,000-dot resolution; five-step brightness adjustment
OUTPUT: Micro USB, micro HDMI video, Wi-Fi, NFC
BATTERY: Rechargeable BP-DC12 Li-ion
SIZE/WEIGHT: 5.1×3.1×3.7 in.; 1.5 lbs with a card and battery
PRICE: $4,250, street
INFO: us.leica-camera.com