Camera Test: DxO One
The DxO One is a new compact to improve your iPhone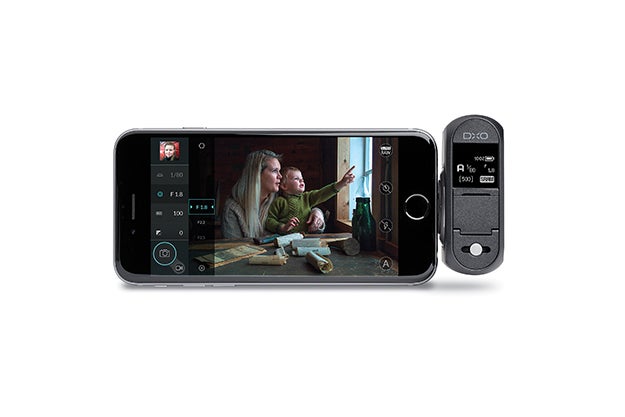 We may earn revenue from the products available on this page and participate in affiliate programs. Learn more ›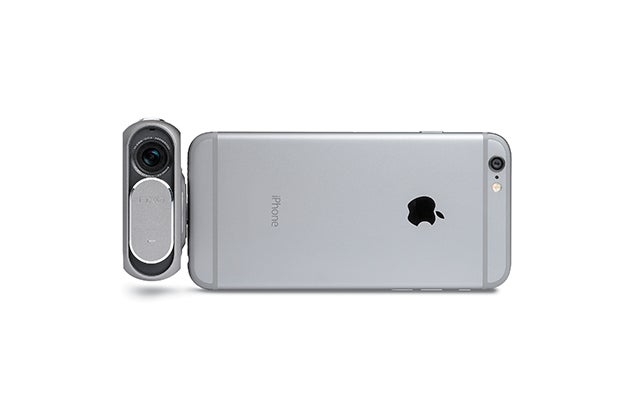 Until now, Wi-Fi has been the main way that camera makers suggest you move images from your camera to your smartphone when you're not near a computer. But with the DxO One, users of the more recent iterations of Apple's iPhone or iPad have the option to let JPEGs push directly to the Camera Roll through the Lightning connector on their smartphone. The nearly instant process makes this add-on camera feel more like a natural extension of the phone or tablet.
With a 20.2MP 1-inch backside illuminated (BSI) CMOS sensor, a 32mm (equivalent) f/1.8 lens, shutter speeds as fast as 1/8000 sec, and sensitivity reaching up to ISO 51,200, the DxO One offers a more compelling camera platform than any smartphone we've seen. It allows real aperture control and, with a sensor that's much bigger than the one in any smartphone, you can actually limit depth of field to a pleasing degree. Combine that with the powerful DxO OpticsPro 10 RAW conversion software, included with the camera, and you'll get images with much less noise than you can capture from the built-in camera on a smartphone.
In addition to Optics Pro, the One comes with licenses for DxO Connect to manage and import images and, DxO FilmPack, which lets you apply filters to mimic the looks of different film emulsions. The cost of buying the software alone represents three-fifths of the $599 (street) price of the camera. With the big potential the DxO One has on paper, and its promise of a new kind of shooting experience, we became eager to see what images we'd end up with and wasted no time subjecting it to the rigors of the Popular Photography Test Lab and real-world field tests.
In the Test Lab Rather impressively for a camera with a 1-inch sensor, the DxO One managed to earn an Excellent overall image quality rating in our lab at ISO 100. Step up to ISO 200, though, and the resolving power falls just below our cutoff for top honors. Noise is well controlled when shooting DNG RAW images, so the resolution is the limiting factor here.
However, for really impressive noise control we should first address the file types the DxO One captures. It can shoot JPEGs, DNG RAW images, both at once, or a special file type that DxO calls SuperRAW. The latter is actually a combination of four exposures done in quick succession and with the same exposure settings. Since most image noise is random, each of the four images will have noise in different locations within the frame. When converting the SuperRAW file with Optics Pro, Connect, or FilmPack software, DxO's noise reduction process can gain information from one of the four captures to fill in for information that might be obscured by noise in another. DxO calls this temporal noise reduction.
The advantage of SuperRAW is mainly lower noise, so its effects show most prominently at higher ISOs. That said, you'll still get drastic benefits at lower sensitivity. We shot our noise test in both DNG RAW and SuperRAW and were surprised by what we saw: The DNG files earned a Low or better rating up to ISO 1600, while the SuperRAW files maintained a Low or better rating up to ISO 6400. For reference, Canon's EOS 5D Mark III kept to a Low rating up to ISO 12,800, just one stop higher, with significantly more resolving power at that setting—but it's a full-frame DSLR that costs nearly five times as much and certainly can't fit in your jeans pocket.
We didn't see any major fallout in our resolution test when shooting SuperRAW at lower ISOs, but we did see an increase of between 100 and 200 lines at the DxO One's highest ISOs compared with DNG RAW files converted with OpticsPro using its most advanced noise reduction method, PRIME. (We used this for all of our lab testing with the DxO One outside of SuperRAW mode.) The obvious limitation of SuperRAW is that you should use a tripod when shooting these files, since the camera is combining multiple images into one file. As mentioned, the DxO One aced our resolution test at ISO 100. It did so by capturing 2500 lines per picture height, exactly the lower limit for an Excellent rating. At ISO 400 it dropped a little to 2410 lines. By ISO 1600 resolution moved down to 2250 lines. But from there the resolving power drops faster to 1700 lines at ISO 6400 and 1660 at ISO 12,800, ending up at 1500 lines at ISO 51,200.
Compare that to the LG G4 smartphone, which we tested last month. It captured 2125 lines in our test of its JPEGs at ISO 50 or 2225 lines for RAW files. As sensitivity rose, though, the benefit of RAW over JPEG became negligible with the LG. And its resolution fell to 1960 lines by ISO 800 and 1750 at its highest sensitivity of ISO 2700. In our color accuracy test the DxO One earned an Excellent rating with an average Delta E of 7.6.
Obviously, this camera can outperform even one of the best smartphones on the market—and if you want to print, enlarge, or significantly crop your mobile photos, you'll really notice the difference.
In the Field The DxO One has only one button—the two-stage shutter button with the familiar half-press to focus and meter and full press to trip the shutter. You pull down on the sliding lens cover to turn the camera on and pull it down a bit further to pop out the Lightning connector. If you have a favorite case for your iDevice, you may run into some trouble plugging the DxO One into the Lightning port. Most cases seem to assume that you'll be plugging one of Apple's cables into your device. We had to remove Apple's own smart cover from our iPad mini 2 so that the DxO One would attach. Apple's silicone case for its iPhone 6 lets you connect the One without a problem.
When you first plug it into your iPhone or iPad, you'll be prompted to download and install the free DxO One app if you haven't already done so. If the app is installed and your phone isn't locked, the app will launch automatically when you plug in the camera. If the phone is locked when you plug the camera in, you'll have to unlock it and then manually open the app. So, if speed is key, remember the proper order of operations and unlock your phone before connecting the camera.
The app lets you use the iPhone's screen as the finder and has touchscreen controls for all the main camera settings you'd find in most point-and-shoot cameras. The main thing that is missing is burst shooting, but DxO says that this will be added in the not-too-distant future. You do have the option of either a 2- or 10-second timer. Program, aperture- and shutter-priority, and manual modes are supplemented by scene modes for sports, portraits, landscape, and night. There are options to add a Rule of Thirds grid, or to enable or disable flash (the DxO One uses the flash built-in to your iPhone).
Since this is a smartphone experience, it wouldn't be complete without a selfie mode. The unique Lightning connector on the DxO One lets you rotate the camera up or down by 60 degrees in either direction. Since that's not enough for a selfie, you can plug the camera in backwards—with your iDevice's screen facing you—and the DxO One will automatically enter this mode. It sets a 2-sec timer after you press the shutter button, and the screen lights up with a slightly warm tone to add pleasing illumination to your self-portrait. As in the other shooting modes, there's a soft shutter release button on the touchscreen interface.; In selfie mode, this ends up right where your right-hand thumb lands naturally; in other modes, it offers a convenient left-hand trigger option.
We found the DxO One very intuitive to use. We learned in advance how to close the Lightning connector, but the first time you shut down the camera, it shows a brief video that tells you to center the rotation of the connector before removing the camera and then pull all the way down on the lens cover and fold the connector into its home position before sliding the cover back up over the lens. This process feels a bit clunky at first, but in time we were able to do it one-handed.
As we indicated earlier, DxO plans to add functionality to the One through updates to the app and presumably to firmware. In the menu portion of the app, you can check for new firmware. You can also redeem the licenses for the software that comes with the device. As you might expect from the camera's size, its nonremovable rechargeable Li-ion battery can't match the number of shots that you'd get from most DSLRs or ILCs: it provides about 200 shots per charge. However, the DxO One charges through its micro USB port and you can power it with a portable USB charger while you shoot. Similarly convenient is that it has a microSD slot—something your iPhone sorely lacks. You won't find a card in the box, though, so remember to buy one when you get the camera.
We've talked mostly about still shooting, but the One can also shoot video at up to 1080p at 30 frames per second. The footage we captured looked nice, with only modest jello effect. The iPhone does a fine job of video, though, so you don't get as big an advantage here as with stills. Also, despite our focus on the hard connection, you can also use the DxO One when it's not connected to an iDevice. You'll be shooting blind when it comes to framing, but you can capture both stills and video, switching between the two by swiping the tiny touchscreen on the back of the camera.
The Bottom Line If you're looking for more control and better image quality than your iPhone can provide, the DxO One is a nice step up and should become better as more features are added.
You can definitely get more control and more advanced focusing and other features with an interchangeable-lens compact or DSLR, of course. But the DxO can much more easily come with you anywhere. Plus, its seamless integration with the iPhone means that you can use the JPEGs it produces exactly as you would the images captured by the iPhone itself. So, uploading images to the social media of your choice or using them with photo editing apps is simple.
It does have a few competitors as a camera add-on for smartphones: Sony's QX1 ($398, street) and Olympus's Air ($300, street). These are both less expensive than the DxO One, but they are actually bodies only and require interchangeable lenses, which brings the price up considerably. The Air is available as a kit that bundles Olympus's 14–42mm f/3.5–5.6 electric zoom for $500 (street), but the DxO One is even simpler to use and comes with great image editing software. Both the Olympus and the Sony trade the DxO's tight iPhone integration for the versatility of swapping out lenses. And, if you're an Android user, forget about the DxO.
Specifications: We can't decide what's best for you, but, obviously, if you don't want to get involved with changing lenses or if you appreciate a camera that is tiny in size and smooth in operation, then the DxO One might be just the camera for you.
IMAGING: 20.2MP effective, 1-inch BSI CMOS sensor captures images at 5540×3688 pixels with 12 bits/color in RAW mode
STORAGE: MicroSD UHS-I U3 stores JPEG, DNG RAW, RAW + JPEG, and SuperRAW (.DXO) files
AF SYSTEM: TTL contrast detection with face detection; single-shot and continuous
**SHUTTER SPEEDS: ** 1/8000 to 15 sec (1/3-EV increments)
METERING: TTL metering with multi-zone (evaluative), centerweighted, and spot (size of spot unspecified)
ISO RANGE: 100–12,800 in 1-EV increments, plus ISO 25,600 (Hi 1) and 51,200 (Hi 2)
VIDEO: Records at up to 1920x1080p 30 fps in H.264 (at up to 28Mbps)
FLASH: Uses the flash of the iDevice to which it is connected
LENS: 32mm (equivalent) f/1.8 lens
OUTPUT: Micro Hi-Speed USB 2.0, Lightning connector
BATTERY: Integrated Li-ion, CIPA rating 200 shots
COMPATIBILITY: iPhone 6s Plus, iPhone 6s, iPhone 6 Plus, iPhone 6, iPhone 5s, iPhone 5c, iPhone 5, iPad Pro, iPad Air 2, iPad Air, iPad mini 3, iPad mini 2, iPad (4th Gen); iOS 8 or later
SIZE/WEIGHT: 1.0×2.7×1.9 in., 0.24 lb with a card
PRICE: $599, street
INFO: dxo.com