Camera Review: Nikon D500 DSLR
Nikon sets a new standard for APS-C DSLRs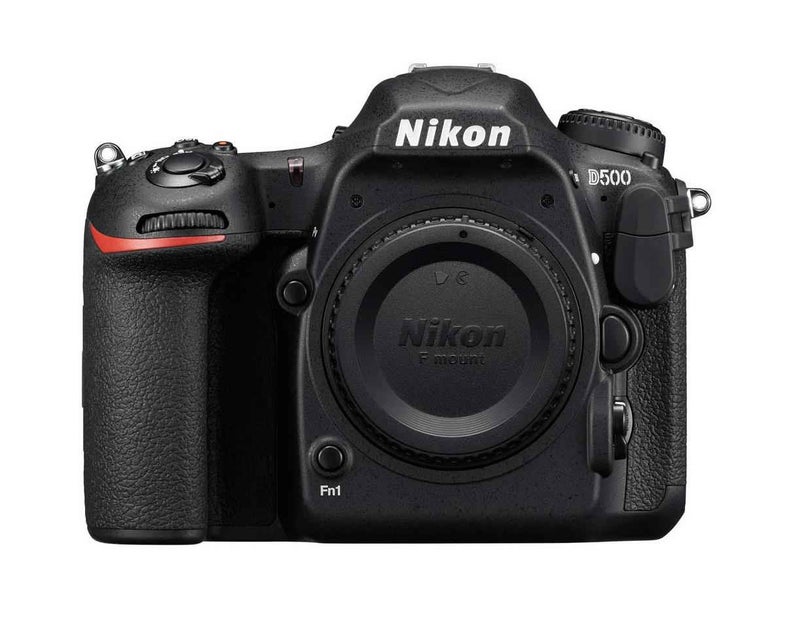 We may earn revenue from the products available on this page and participate in affiliate programs. Learn more ›
Think full-framers are the only professional-grade cameras out there? Nikon's new APS-C-format DSLR, the D500 ($1997, street, body only), challenges the notion that a crop-sensor camera can't deliver pro-level performance. This latest release follows in the footsteps of its heavy-duty predecessors in the high-end DX-format line, the last of which was 2009's 12MP D300S. In the intervening years, Nikon has made significant advances in autofocus, ISO range, burst speed, and of course sensor resolution.
Full-sized JPEG and RAW files now top out at 20.9MP, nearly doubling the output of the D300S. The standard sensitivity range has broadened to ISO 100–51,200 and can be expanded to ISO 50–1,640,000. High-speed continuous shooting has jumped to 10 frames per second, with an impressive buffer capacity of 79 uncompressed 14-bit RAW images. The D500 borrows the powerful 153-point autofocus sensor from Nikon's flagship D5, which it uses in tandem with its 180,000-pixel metering sensor to provide enhanced 3D subject tracking.
Also like the D5, the more affordable D500 incorporates the same 2,359,000-dot resolution touchscreen, and video capture, again on par with Nikon's highest-performing DSLR, now reaches 4K at up to 30 fps. Like its predecessor, the D500 has two card bays and, while it maintains an SD card slot, its second port has been updated from CompactFlash to XQD, which Nikon boasts has transfer speeds of 400 MB/s.
Since the last addition to this line debuted seven years ago, we began our tests in Popular Photography Test Lab with high expectations. We were not disappointed.
In The Test Lab
In our rating of overall image quality, the new Nikon nabbed an Excellent score from its lowest sensitivity of ISO 50 all the way up to ISO 3200. In context of comparable APS-C-format cameras—the Nikon D300S, Canon's 7D Mark II, Pentax K-3, and Sony Alpha 77 II—the newer Nikon was a significant improvement over its predecessor, though the Canon came in at a close second with an Excellent score that it retained through ISO 1600.
Tests for color accuracy revealed a Delta E of 5.3 for the D500, which leads the pack by more than a full point. Second best of the bunch was the long in the tooth D300S, followed closely by the Canon, Pentax, and Sony, which all garnered similar results.
The D500 came out about a year and half after its newest rival, the 7D Mark II. Given the rapid advancements in sensor manufacturing, it should come as little surprise that the new Nikon performed admirably compared with the other cameras in our resolution testing. At its lowest sensitivity of ISO 50, the D500 earned an Excellent score of 2650 lines per picture height. The Pentax also garnered an Excellent rating at its lowest sensitivity of ISO 100, but with a more impressive score of 2750. The Canon, which barely edged out the newer Nikon, snagged a 2660 lines per picture height, also at ISO 100. Sony's A77 II wasn't able to match the new Nikon, but still achieved an Excellent rating with 2620 lines at ISO 50.
Impressively, the D500 retained its Excellent resolution grade far beyond its lowest sensitivity settings, hanging onto the score all the way up to ISO 6400. At each progressively higher ISO setting we tested, the camera's resolving capacity dropped by small and predictable amounts until we hit ISO 51,200, where resolution dropped precipitously to 2175. By the top ISO of 1,638,400, resolution fizzled to a mere 775 lines, a level of quality degradation that renders the image effectively useless.
In our tests for noise at various sensitivities—as we did with the D5—we processed the RAW images with Adobe Camera Raw, this time applying 25 percent luminance noise reduction from ISO 50 through ISO 400, stepped up to 50 percent at ISO 800, and then moved up to 75 percent at ISO 1600 and above. At those settings we encountered Extremely Low noise at the D500's two lowest ISO settings. From there, noise vacillated between Very Low and Low up until ISO 3200. By ISO 6400, the new Nikon showed only Moderately Low noise, after which its noise rating dropped to Unacceptable.
Compared with the D300S, which reached an Unacceptable rating at ISO 3200 and above, the D500 shows significantly improved low-light performance. The older Nikon and the Pentax K-3 brought up the rear in this test, failing to produce images of acceptable noise at or above ISO 3200. The D500 and Sony's A77 II proved to be about equally matched, although the Sony held on to a better Moderate noise score up to ISO 12,800.
In the Field
A glance at the D500 will tell you a good deal about its capabilities. Its rugged and partially rubberized chassis incorporates a deep right-hand grip for a firm grasp, an improvement over previous models that is made possible by a slimmer body. The control configuration should be familiar to Nikon shooters, with the welcome addition of LED-backlighting on the buttons lining rear LCD screen on top of the mode dial.
Also new to the line is the incorporation of a small joystick located near where your thumb lands on the back of the body, allowing you to easily pinpoint your desired autofocus point. Instead of navigating through menu options, you'll find white balance, image quality, ISO, and drive settings all available at the touch of a button at the top of the camera, where they are easy to reach. Two programmable function buttons on the front and the back of the body add to the personalized interface possibilities. Front and rear command dials for easy exposure navigation in manual mode are customizable and move with satisfying clicks.
In line with its other professional-grade DSLRs, Nikon has equipped the D500 with a comfortable, round eyepiece fitted with an eyepiece shutter. Landscape photographers, long-exposure fanatics, and those using remote triggering systems should appreciate this feature, which helps ensure proper metering and keeps excess light from entering the camera through the viewfinder.
The sophisticated autofocus system allows you to choose from 55 points out of a grand total of 153 AF sites. Of these, 99 points are of the cross-type variety, but how many the camera actually engages varies depending on the focal length of the lens attached to body. A number of autofocus modes include the ability to utilize dynamic-area groups of 25, 72, or all 153 AF sites to track the movement of subjects around a pre-selected point. Using the 3D-tracking setting in tandem with continuous autofocus, the camera will even track a subject's movement across the whole frame. Because the AF sensor is the same one that's in the full-frame D5, it covers a much larger portion of the D500's APS-C-sized frame. This allows for better tracking around the edges of the frame and makes following along with subjects while focus tracking significantly easier. In our tests it performed as expected, maintaining a solid lock on a variety of different moving subjects.
Field testing the video capabilities of the new Nikon revealed minimal rolling shutter distortion from fast moving subjects and low-light capabilities to be expected with this class of camera. Our 4K footage looked [PLEASE DESCRIBE BRIEFLY HERE. Anything to say about dynamic range???]. Our only gripe, and it's minor, is that the frame rate tops out at 30 fps rather than 60 fps for smoother motion.
The Bottom Line
Nikonians with APS-C-sensor bodies who are looking to upgrade would do well to step up to the D500, especially if you've already amassed a selection of DX glass. The sophistication of the new camera and the many features Nikon has passed down to it from the D5 reaffirm the company's dedication to the crop-sensor system after the long wait since the D300S had some shooters wondering whether we'd ever see this camera.
Fine-art photographers and still-life shooters should be more than pleased with its top-of-the-line color rendition. Its overall image quality and resolution stand up to pixel-peeping, and the camera's 20.9MP sensor natively outputs files ready to print at the popular 13×19 size, perfect for high-end home photo printers.
The D500 has much to offer more active snappers, as well. Those enamored with photographing skateboarders, children, and other fast-moving subjects should appreciate its advanced AF system. Plus, relatively low noise at higher ISO settings allow for faster shutter speeds in more challenging lighting situations.
No matter what your preferred style of photography, the D500 is an excellent tool. It transcends the limitations some people associate with the APS-C format. It's a great back-up body for pros or a great choice for serious photographers looking to switch into a new system.