Bill Cunningham, Influential Street Fashion Photographer, Dies at 87
In nearly 40 years shooting for the New York Times, this modest journalist changed how we look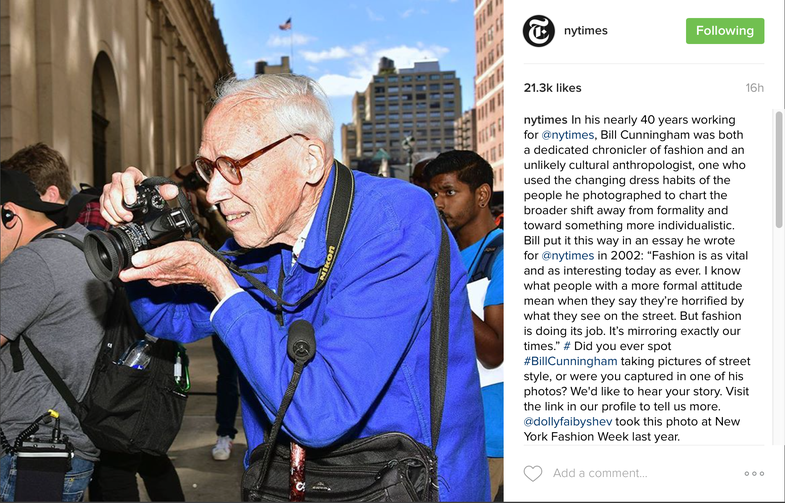 Photographer Bill Cunningham, probably the most influential street fashion photographer in the world, died yesterday in Manhattan, less than a week after suffering a stroke at the age of 87. Until the end, he was a ubiquitous presence on the streets of New York, as well as at society parties and fashion shows, shooting for the New York Times, where he worked for nearly 40 years. As a co-founder of Details in 1982, he spotted fashion trends—helped spark them—with his candid portraits of the most creative dressers he spotted out in the wilds of the city.
Naturally, the Times ran an appreciative obituary of its star photographer. It also reposted recollections of friends and colleagues from a profile first published in 2002, as well as a brief memoir by Cunningham himself. No detail escaped his notice
Although I never actually spoke to him, not wanting to interrupt him at work, I learned from Bill Cunningham by observation when I first started doing street photography in New York in the late 1980s. He always knew where and when to find the most beautiful light and the most interesting looking people to photograph. Street shooters would congregate at many of the same corners he favored, on 57th Street and Fifth Avenue or West Broadway and Spring Street, for instance. He provided a model not just in his published work but in his method, the frank and friendly way that he approached his subjects—strangers and aquaintances alike.
What will happen to his tremendous archive of photographs hasn't been reported yet. I hope that he left it to a museum or research archive where photographers, fashion designers, and cultural historians will benefit from his keen eye and visual storytelling for all time.