The Best Reader Photos of the Month: October 2016
Your best shots from the past month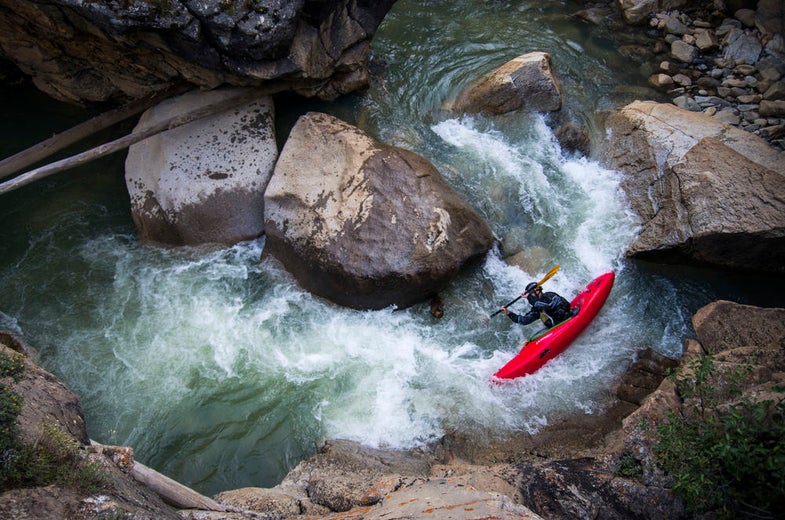 A Brooklyn Bride
Shot on a lovely late summer afternoon in Prospect Park, Brooklyn, New York.
It's amazing that we're already nearing the end of 2016. It's been quite a year, but one thing has remained consistent: The talent of our amazing readers. This month's gallery has the typically outstanding selection of images, from portraits to landscapes and everything in between. If you're feeling compelled to show off your work once you've gone through the gallery, click here to enter our biggest photo contest of the year, which runs until December 31st.

Just Around the River Bend
Avid whitewater kayaker, Nick Loffer, maneuvers his boat around the bend at the exit of the cauldron waterfall south of Leadville, CO.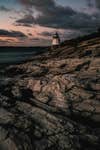 Divine
I often get up for sunrise to take photos before I go to school in the morning. On this particular day I was heading home as I wasnt too happy with the location I was shooting at, and the sunrise wasn't too great. On my way home I passed by this dock area that I found intriguing so I parked there and hopped out of my car. I decided to wait a little bit to see if the sunrise would get any better, and it did. The sun started peaking right above the clouds and this brilliant orange just filled the sky. I started snapping away and I got this image I really like. Im glad I never gave up that morning! Shot with Nikon D5300 with Nikkor 18-55 f/3.5-5.6GII at 18mm Exposure: 1/125 sec at F/9, iso 125 Edited in Adobe Lightroom CC

Pistils
I was visiting a sunflower field and was drawn to the curl on the back of the flowers. It was late in the season so the flowers were quite droopy. Shot with nikond800/ zeiss 35mm distagon.

Raining day
This photo was taken in Tokyo during a crazy storm. I like the simplicity of this minimalist photo and the pattern of the ground

Great egret tossing fish
After a great egret catches a fish it tosses it into the air and then catches it so that it goes down it's throat

The Deflection
This was a key defensive play late in the Shades Valley Vs Homewood football game in Homewood, AL, October 18, 2016.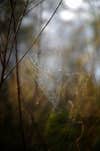 Early Morning Web
I have "a thing" for webs. They're simple, yet intricate and come in so many beautiful patterns. Who wouldn't love them! It was photographed in my backyard in North Georgia. Pentax K30 Sigma 17-50mm @ 50mm F 2.8 1/6000 sec -0.3 ev

Without Umbrella
I shot this butterfly when it was raining.

The Calm before the Storm
It's a beautiful Saturday evening along the western coast-line of the Big Island, Hawaii. On my left a storm was approaching from the south with heavy rain streaking below the thick, black clouds. At this time the sun was just setting above the ocean horizon and I can see the orange and yellow accents reflecting off of the storm clouds that were coming towards me. I set up my camera on my tri-pod with my wide-angle lense and a circular polarizer that I had attached. I took a long exposure to create a fuzzy-like look to the ocean as it crashed upon the shore. While I was taking the photo I was getting getting splashed on by the water and thankfully it didn't get my camera too wet. When I looked at the photo I saw the blue and orange from the clouds reflecting off the ocean to create a nice balance from the storm and the sunset on the right of me. About five minutes after I took the photo, it really started to downpour on me and I had to take shelter from the rain. All worth it to get this beautiful shot of the ocean on Hawaii.

Canoes at Sun-up
I was on my way to work in the morning when I noticed a spectacular sunrise. As I was continuing my drive I just couldn't pass up the opportunity to capture some pictures. I made a U-Turn and pulled into the campground frantically sprinting from spot to spot until the sun disappeared. I cam away with multiple good pictures, but this was by far my favorite one.

A boy bathing his buffalo
Shutter speed:1/1000 sec ISO:400 Aperture:f/6.3

Cold As Stone
Model: Andrea Aragon Creative Director: Kimberly Andert HMUA: Carlie Smith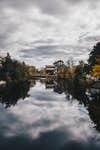 Cedar Creek Reflection
A mill and surrounding landscape reflected in the creek.

blueberries
fresh fruit
View from Clingman's Dome, Smoky Mountains 1
Some photos from recent trip to Smoky Mountains.

Fall Time
Taken in Colfax, California

A Perfect Strike
Stalking its prey methodically in shallow water, this heron makes a perfect strike with the help of its reflective partner. Captured with a Canon 5D, Mark III, 100-400mm lens, f/5.0, 1/2500, ISO 2500.

Kleinmond Wild Horses
The wild horses of Kleinmond, in South Africa, have roamed the wetlands for over 150 years. Some believe they swam to shore from a shipwreck, while others say they were abandoned by British soldiers after the Boer War. These days they consist of two separate herds that can often be spotted in the Rooi Sands Reserve at the mouth of the Bot River. I took this photo of two of them silhouetted against the setting sun. Camera: Canon 7dmkii; Lens: Canon 18-135mm; Aperture: 5.0; ISO: 200; Shutter: 1/1600

Working Class
In a society where finding employment is near impossible without a college degree, a man works honestly at the heights of an apartment building cleaning windows in a high-end neighborhood of Boston. Below him walk the citizens of this society commuting to their white collar jobs, but they do not look up and see him. They look ahead, and they are not captured. He is the subject because he is symbolically above them all. The people of the working class are the building blocks of the world, and without them, the upper class members of society are nothing. He is above them, unseen by them, because his work makes him more important than many realize, with or without a university education.

Sunrise on Mt. Tom
The sunrise didn't look like it was going to be that great from where I was, so I decided to drive up to the mountains. On the way there, the sun hit Mt. Tom just to the right of me. I spun a u-turn on the highway and shot this from the side of the road. It was too beautiful to pass up! Gear: Canon 5D MkIII, 24-105 mm lens, tripod, polarizer.

Morgan
A portrait of model Morgan Elizabeth.

Hideaways Beach
Sunset on the north shore of Kauai. I timed this shot so that the waves were splashing off of the lava rocks.

Hatter
A modern twist to the Mad Hatter.
Nikon 50mm lens F/ 1.6 Shutter Speed 1/250

Running Time
Waiting for the bus at the Gangnam bus stop in Seoul Korea.
Building in Building
This identical twin building is reflected in its sibling.

Peninsula
the winter is near, went to the Peninsula State Park to catch the last bit of fall color

Tunnel of Fog
An eerie fog blankets the downtown cityscape, creating an atmospheric scene at the east entrance of the much-photographed "Peace Bridge" in Calgary, AB.

Shelter Island Surf
A pounding surf from an offshore storm hits Shelter Island, NY.

Jassen Todorov
Footsteps (lower right part of the image), Great Sand Dunes National Park, Colorado. Aerial image (shot from a plane). The shadows make this image a very abstract photo.

The Watchmen
The Watchmen in Zion is so beautiful and iconic spot shot by so many. Now after visiting I can understand why it has been shot by so many. You basically can park your car and walk across to the bridge for this amazing shot. This was my first trip to Zion and I was blown away by all its beauty. Shot on a Canon 5DsR 1/50 @F11 ISO 200

Skogafoss at Night
Skogafoss, Iceland.

71 Years Later
The last time the Cubs made it to the world series was 1945. On Saturday October 22nd they realized a goal 71 years in the making. The last time the Cubs made it this far World War II had just ended and Harry S. Truman was president. I joined tens of thousands celebrating outside the stadium after the game and captured this photo a group of people that seem apathetic to the fact that a car is trying to work its way through their revelry.

Confetti
My friend asked me to photograph her skirt that she made for her portfolio. the outfit reminded me of more of a fun party type of outfit. I had a stockpile of confetti cannons so after a couple of tries we got this image. Also please note that one should not use a confetti cannon in their garage or else they will have pieces of confetti raining down for weeks.

Towering
Taken with my Nikon and 55mm-300mm lens at 140mm, f/4.8, ISO 1000 and 1/500 exposure time. The sun had just set behind this dry autumn foliage.

AirWalker
6D w. 16-35Mm f2.8ii at 16mm. Hand held flash. Process in LR resize in PS5 Taken during a visit to skate park in Portland OR. The skater is Isaiah and we had fun planning shots. I enjoyed getting shots with model's head eclipsing sun and. suspending action w. 1/1000 shutter. I wanted to capture as much of model so used setting f8.

Brdy, Czech Republic
Sony RX100 mk3 1/80s, f/2.8, ISO250, 25,7mm Adobe Lightroom

Flower market
This picture was taken sometime in early august at the floating flower markets in Amsterdam. One of the booths had flowers hanging from the ceiling and really pretty displays so I just snapped a picture.

Lava, Ocean, Stars
A recent photo trip to Hawai'i, to photograph lava entering the ocean. An added treat was the milky way above the ocean, melding together earth's natural elements.

Japanese Blood Grass
I admired this Japanese blood grass in a neighbor's yard and had fun with intentional camera movement, dragging the camera vertically.

Stargazer
Gazing out towards the brilliant Milky Way sitting under a cluster of Joshua Trees

Daily Life
Daily Life

Where the Warriors Go
This photograph is of the Burger Building, which is located at the Children's Hospital of Philadelphia. The lines of curves of this structure are different at almost every angle, it's such a unique and interesting building not to mention that it's where so many little warriors fight everyday. This photograph was taken using a Canon 5D Mark iii and a 16-35 L lens at 35mm. The movement in the clouds was created by attaching a LEE Big Stopper ND filter thus extending the shutter time during the daytime hours. (60 Sec, F10, ISO50)

Send Off of the Sinking Sun
Waves crash along the beach as a silhouetted ship sails along the horizon with the setting sun to its back.

Tiny Dancer
Capturing the hope, joy, and innocence of childhood.

Perfectly Pink
This is part of an 8 color bathtub series I recently shot with my girlfriend ( featured) in our master bathroom bathtub. We used a mixture of water, pink food coloring and milk to get the effect you see in the photo. Everything you see was in camera.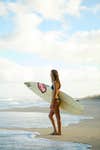 Early Morning Sessions at Chun's
Hawaii got an unexpected swell that brought double overhead waves to our north shores. Haley bought her surfboard with her and this photo of her observing and respecting the ocean just felt right. Ultimately she decided not to take the risk as conditions at Chun's Reef weren't ideal. The waves were closing out and most of it was white wash. I used the Fujifilm X-Pro2 + XF 56mm f/1.2 R to capture this photo. I love how the 85mm full-frame equivalent focal length narrows the background and almost isolates Haley from her surroundings. It's almost as if you can feel what she's thinking in that moment.