The best hidden Instagram tricks
Become a social media superstar.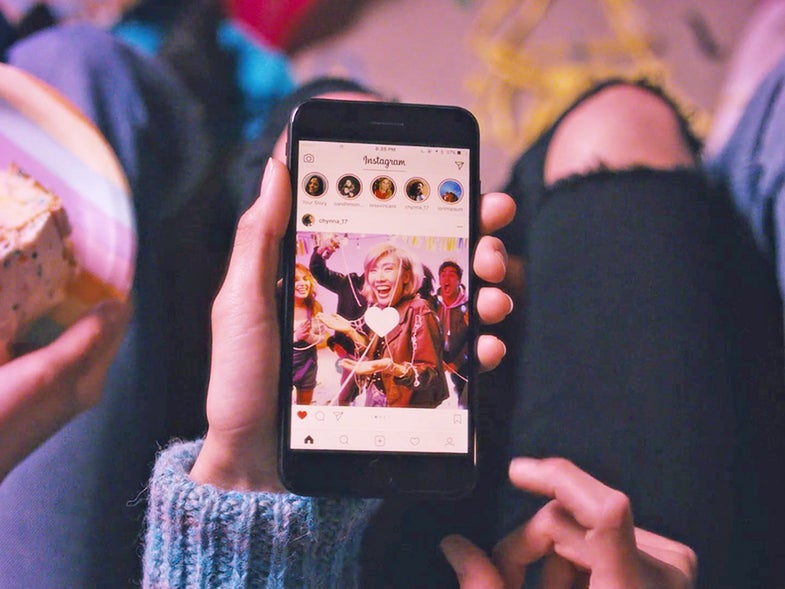 In 2010, Instagram burst onto the web scene with a simple mission: To improve the quality of all our smartphone snaps. Since then, the photo-centric service has grown into a fully-fledged message and social network—and along the way, Facebook bought it up.
Even if you've installed Instagram on your phone, you probably don't know everything it can do. Some of its best features may be hidden away, but we're here to bring them to light. Read on for Instagram tips and tricks within the app, which you can use on both Android and iOS.
Change filter strengths
Instagram filters
Change the filter strength for a lighter touch.
Instagram originally made its name through filters, which overlay your image and make it look great. Today, filters are still the first set of options you see after you snap a picture. What you might not know is that, once you've selected a filter, you can change its strength to get a more subtle effect.
To set how dramatic the alteration will be, choose a filter, and then tap on the thumbnail again. A slider will appear: Use it to adjust the filter strength and then tap Done. While you're toying with these settings, here's a related tip for hiding away the filters you don't often make use of: Scroll all the way to the end of the filters and tap Manage to add or remove options you like or dislike.
Get alerts from your favorite people
Instagram alerts
Make sure you don't miss posts from your favorite Instagrammers.
We're all fighting against notification overload from our smartphones. Luckily, you can adjust your notification settings so you'll only see alerts when the Instagrammers you're really interested in post something new. This option only works for users you're already following, and it's also pretty well hidden inside the app.
First, you need to navigate to the profile page of the relevant person inside Instagram. Tap the three dots in the top right-hand corner, then choose Turn on Post Notifications to get an alert for new updates.
See the world
Search & explore
Browse through public Instagram posts based on location.
You love your friends and family, of course, but they might not post the best photos. Tap on the Search & Explore tab (the magnifying glass icon) to see public photos and videos from users all around the world. You can also like and comment on these shared images.
One useful way to use the Search & Explore tab is to check out locations before you visit them. Just type the name of a city or place into the search box at the top of the screen, switch to the Places tab, and pick the correct result. You'll get a host of images and clips to browse through.
Save photos for later
Saving photos
Keep track of your favorite posts by saving them.
Instagram recently added the ability to bookmark photos you like so you can look them up later. No one else can see the posts and collections you've saved—not even the account you're saving photos from. So bookmark away as much as you like.
To save any photo or video, tap once on the nearby bookmark icon—it looks like the tail end of a ribbon. Or press and hold on that icon to put the post into a specific collection. If you'd like to see all of your saved posts, open the app, head to the Profile tab, and tap on the bookmark icon.
Use the app for instant messaging
Direct messages
Instagram can work as an instant messenger, and even lets you set up group chats.
Instagram has come a long way over the last seven years, adding more and more abilities to its roster. And one of those features is instant messaging. Your messages don't need to include a photo, although messaging can be a useful way of sharing pictures privately. You can also go through the photo posting process as normal and choose direct message at the end.
If you tap on the Send icon, in the top-right corner of the front screen, you can tap out a message to any of your contacts. If you'd like to send a message to multiple contacts, you're in luck—Instagram also supports group chats.
Make your Stories more private
Hide stories
Certain contacts can be blocked from viewing your Stories.
Instagram hasn't been shy about ripping off Snapchat's best features. For example, they recently added the option to create Stories—a carousel of photos and videos that appear at the top of the feed for 24 hours before vanishing. If you have some fleeting impressions to share, this is where to do it. But before you do, you can choose who can and can't see these temporary posts.
Stories don't appear on your Instagram profile, and you may not want them to be as publicly viewable as your main feed. So open your profile, go to the Instagram options page, and choose Story settings. From here, you can hide your Stories from specific contacts.
Keep your original files
Save originals
Make sure to preserve your original photos and videos.
When Instagram posts one of your pictures, it resizes the photo—partly to cut down on data usage and upload times, and partly to stop other people from stealing your images at their full resolution. But what if you want to keep the full-size copies? You can save them separately.
Go to your profile page and hit the top-right button to head to the Instagram settings screen. Then scroll down to Save Original Photos and Save Videos After Posting to ensure Instagram is storing copies of your media on your phone as well. You can then back them up to other places.
Share your pictures everywhere
Sharing options
Instagram comes with a number of built-in sharing options.
Instagram includes some helpful options for sharing your pictures on more social networks so all your friends can see them.
On the final sharing screen, tap Facebook, Twitter, or Tumblr to connect those networks to your Instagram account and seamlessly share your post across them all. For even more options, use the free service IFTTT, or If This Then That. Not only can you share your Instagram posts to more platforms, you can also do more with your photos and videos, such as automatically backing up your precious media to Dropbox or Google Drive.
See what your friends are up to
The Following tab
See what your friends are up to via the Following tab.
You might spend the least amount of time in Instagram's Activity tab (marked with a heart symbol), but it's worth checking out. The Activity tab, much like Facebook's News Feed, gives you a handy way of checking in on what your friends are up to, as well as finding interesting new people to follow.
Tap the heart icon at the bottom of the screen, then the Following tab at the top, and you'll get an edited highlights breakdown of what's been happening on your Instagram network. Tap on any photo, video, or user for more details. And to see your own activity, tap the You tab.