How To: Shoot the Perfect Railroad Photo
Ride the rails in search of great snaps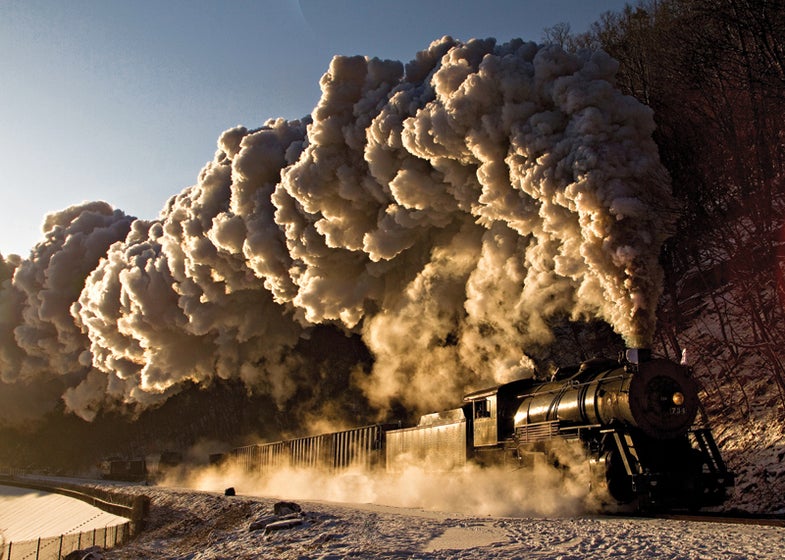 Not so long ago a puff of white smoke from a steam locomotive was a commonplace sight. Sadly, the days of the local whistle stop are long past, but myriad well preserved, antique trains keep railroad history chugging along. An excursion on one of these is a terrific way to step back in transportation time and then return with some super photos.
Get to the depot a few hours early and begin your day with shots of the crew filling up steam boilers or costumed conductors loading up passengers. They're used to being photographed, so don't be shy about asking for a pose. Most railroads also have static displays of antique locomotives or passenger cars that you're free to explore and photograph.
On crowded days, stake out a spot trackside to get shots of trains as they arrive at or leave the depot. Shoot with a wide-angle lens(28mm or wider) to get the entire train, or use a medium telephoto (135mm) to get a vertical shot of the engine billowing steam.
Train interiors range from battle-worn passenger cars to spectacular dining cars with crystal and linen settings, an elegant nod to yesteryear. Bring your widest lens for interiors, but don't bother with flash if daylight's available—instead use window light for a more authentic look.
On scenic runs, opt for an open car or window seat in a rear car to get shots of the locomotive as it slides into a turn up ahead.
Especially if you're in the area for a few days, don't miss the chance for environmental action shots of the line from nearby parks or roads.
Where To Go:
A quick Google search will lead you to historic trains and railroad museums in virtually every state. Most operate from early spring until late fall, though a few go year-round. Here's a sampling of these cool rail rides:
**Cape Cod Central Railroad: **Hyannis to Buzzards Bay, MA. Beautiful dining car has been featured by the Food Network. (www.capetrain.com)
Cumbres and Toltec Scenic Railroad: Antonito, CO, and Chama, NM. America's longest and highest coal-fired, steam-operated railroad. (www.cumbrestoltec.com)
Durango and Silverton Narrow Gauge Railroad: Durango, CO. In continuous service for more than 128 years. (www.durangotrain.com)
1880 Train: Black Hills Central Railroad: Black Hills area of SD. Located near Mt. Rushmore, a two-hour plus ride through the Black Hills on a vintage steam train. (www.1880train.com)
Mount Hood Railroad: Hood River, OR. Two- and four-hour scenic rides on century-old rail cars that travel through the Columbia River Gorge to the base of Mt. Hood. (www.mthoodrr.com)
Steamtown National Historic Site: Scranton, PA. More than 40 acres of steam-related displays, plus various excursions. Open daily except Thanksgiving Day, Christmas Day, and New Years Day. (www.nps.gov/stea)
Three Rivers Rambler: Knoxville, TN. Runs many Fridays and Saturdays from June through December and is named for the Three Rivers train trestle. (www.threeriversrambler.com)