My Project: Miguel Vallinas's Animal Instinct
Cross-species dressing in composite images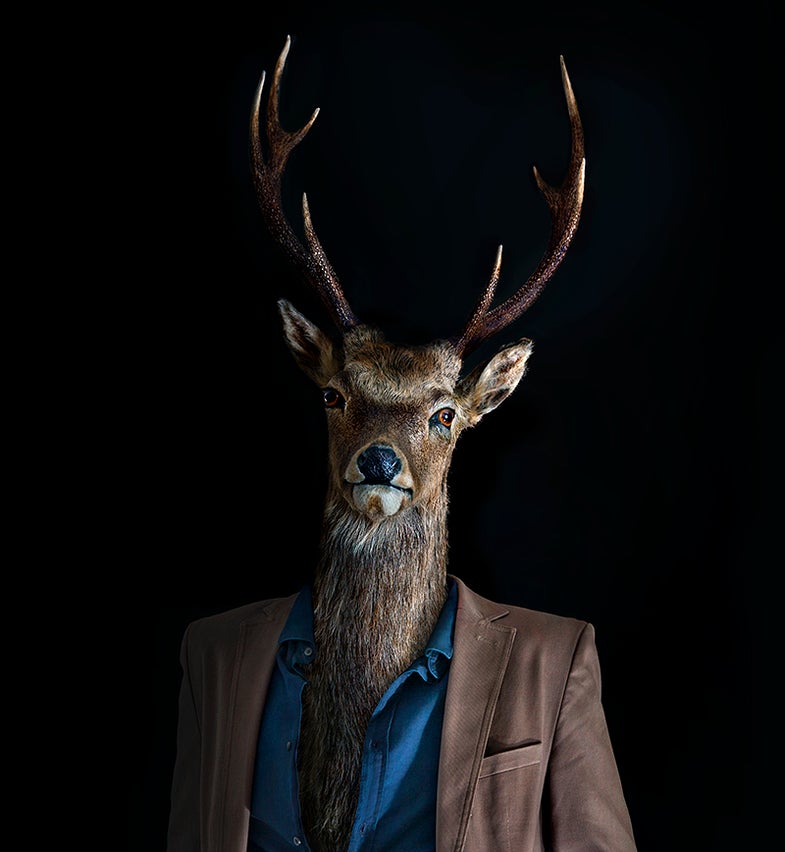 After completing Skins, a portrait series of people in their work attire, advertising and industrial photographer Miguel Vallinas pondered ways to capture the different sides of human nature. One day, hanging out with his dog Leo, Vallinas had the idea to capture his pet's human side by compositing it with a self-portrait, giving birth to his next series, Second Skins.
"The idea is, 'If you were a rabbit, what would you wear? How would you pose?'" posits Vallinas. Forty or so composites later, he had created personalities ranging from the average pigeon to exotic beasts.
The Spanish photographer's initial subjects included both live animals, scouted and photographed from farms in the local countryside, and taxidermied animal heads belonging to private owners or the University of Vallodalid's collection. After photographing these on location, Vallinas would go back to the studio and choose a suitable outfit for each animal. He photographed either his wife Leticia or a friend wearing the clothes, then composited the two images together.
To get an accurate composite, all of the technical details of the two photos had to match, which took a lot of trial-and-error. He photographed both the animals and the humans with a Canon EOS 5D and 24–105mm f/4L Canon EF lens. He used sunlight on farms and a single side light and reflector to soften shadows when shooting taxidermied subjects indoors.
Vallinas also kept the lighting simple in the studio, using only a single strobe and reflector. Positioning these and his tripod-mounted camera proved trickier, and he always had to refer to the initial animal photo. "Finding the angle and distance is the hardest part," he says. First he'd set the correct tripod height, then adjust placement of the equipment. The model's pose also needed to suit the angle of the animal's head.
The photographer also did a lot of finessing in Adobe Photoshop CS6, mainly to line up the animal and the neckline. "Reproducing the shadows between the clothing and the animal skin is the most delicate part," Vallinas says.
He is happy with the results: "It shows possible personalities not available to us humans."
Miguel Vallinas is based in Medina del Campo, Spain. See more work at www.miguelvallinas.com.