XCIA: Street Illegal
"I've always been fascinated by the way people attack things," says Hank O'Neal. That fascination first manifested in the 1960s...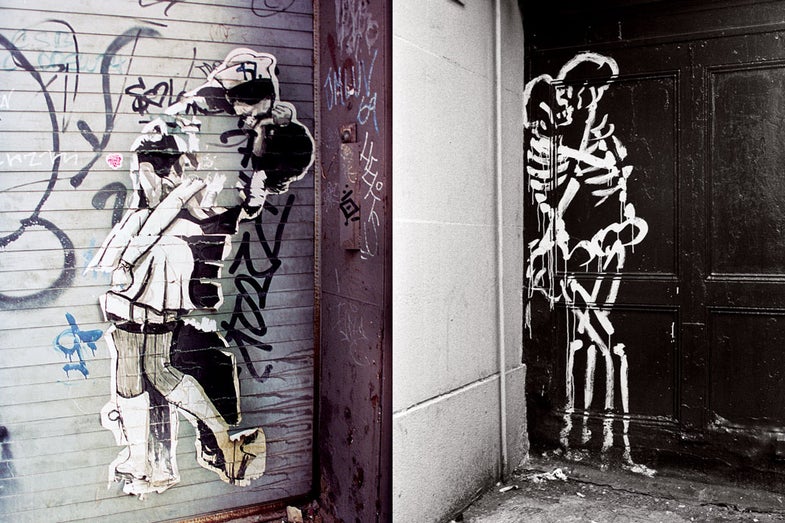 "I've always been fascinated by the way people attack things," says Hank O'Neal. That fascination first manifested in the 1960s and '70s, when he worked for the CIA doing research to foil attacks on the U.S. After leaving the agency in the mid-'70s, O'Neal channeled his obsession into street art.
"The first pictures I did on the graffiti project were in 1976," he explains. "There was a Tareyton cigarette ad all over the subway and for some reason it made everyone angry. There'd be 20 ads up for soap suds or beer, but the only ones that would be defaced would be these cigarette ads. I went from station to station and took three or four hundred photographs of the ways people had attacked this one ad. That's when I started paying attention to things on walls."
Over the next 35 years, the 71-year old photographer (whose street moniker is XCIA) snapped more than 20,000 pictures of New York City's vibrant street art, capturing luminaries from Haring and Basquiat to Banksy and J.R. along with thousands of other talented artists.
O'Neal, who also produces jazz records and has edited numerous photo books, attributes his street aesthetics and diligence to principles instilled in him by photographic legend Berenice Abbott during their 19-year working relationship. O'Neal met Abbott serendipitously in 1972, through Genevieve Naylor.
"I met Genevieve because of a book I was working on," O'Neal says. "One day I called her and she mentioned that she was staying with Berenice at her house in Maine. I was a fan, and asked if Berenice would sell me some photos. We hit it off. The next time I visited, I brought a Polaroid SX-70 camera with me. Berenice said, 'If you ever get a real camera, come back and I'll show you how to use it.' So I did. She set me up with this big Deardorff and told me to take a picture of the doorknocker of her house. When she saw what I did she said, 'You'll have to do a darn sight better than that, buster!'"
Those words became something of a mantra to O'Neal, pushing him to constantly improve his work. "One of the most important things she said to me was 'Hank, the worst thing in the world is to go out and take photos willy-nilly. You have to have a project.' So I started projects."
Though he's had many over the years, his most enduring is the street art project. Graffiti's ephemeral nature attracted him immediately. "99.9% of the stuff I've shot doesn't exist anymore," he says. "It's no different from recording Dizzy Gillespie playing. If you don't make a picture of it, it's gone forever." He continues, "But that's what's exciting about street art—it's endlessly reinventing itself. I can go to the same spot every week and see completely different things."
O'Neal sees in street art the collaborative elements of a jam session. "I love to see that interplay. People just add things on top of things and create these layers and it's always changing."
His enthusiasm for this art form (which is, in most cases, flatly illegal), seems incongruous for someone of his generation, yet his enthusiasm is electric, and highly infectious. "Some of these kids are vandals, sure, but the energy that so many of them have is incredible," he says. "I believe that some of the things that these kids are putting up on walls is more exciting and intellectually interesting on a thousand different levels than what's up on the walls in most museums and galleries. Because it's not over-conceptualized, they're acts of pure artistry, and often made under really tough conditions. And there's always an element of risk and danger because some people don't want it to be done."
XCIA's Street Art Project, a book featuring his work from the '80s through today (Siman Media Works, $40 in print, $13 for iPad). If you're ever in New York City, you might see him shooting. But given his CIA roots, he tends to blend. In fact, you might not notice even if he's right in front of you. "I am mister whitebread," he says, "so nobody pays any attention to me. It's a wonderful asset." AP
CLOSE-UP: Hank O'Neal (aka XCIA)
hankoneal.com
Lives In New York, NY
Other Projects In the 40-odd years since Berenice Abbott taught him to "always have a project," O'Neal has done 68 different ones, ranging from photos of jazz concerts to studies of an auto graveyard in Maine to 170 formal medium-format portraits of people with whom O'Neal has collaborated.
In the Bag For graffiti work, O'Neal carries a Canon PowerShot S95 and a Canon T3i. For other material he uses a Leica. a Rolleiflex and a Deardorff.
Publisher Siman will be releasing an image per day of the book this month. Check them out on Facebook and Twitter.