See the Winners of World Press Photo 2017
This year's selection is already at the center of a controversy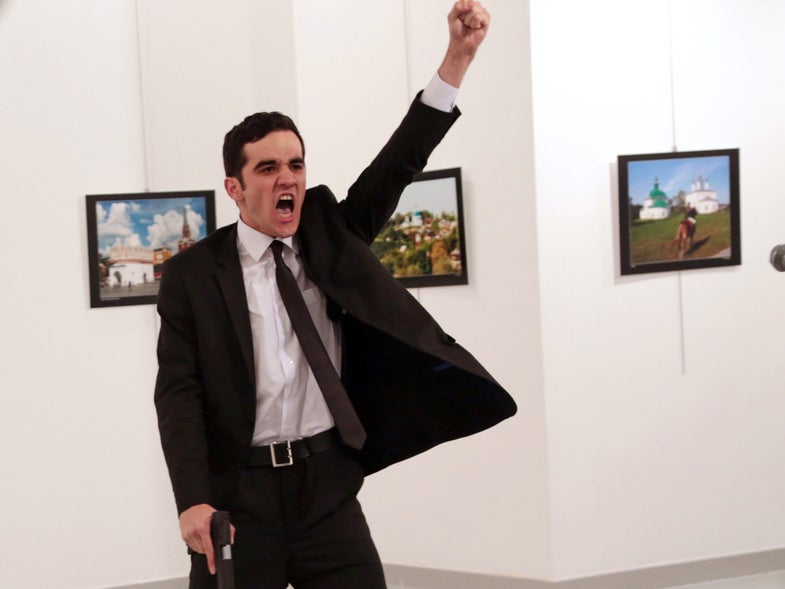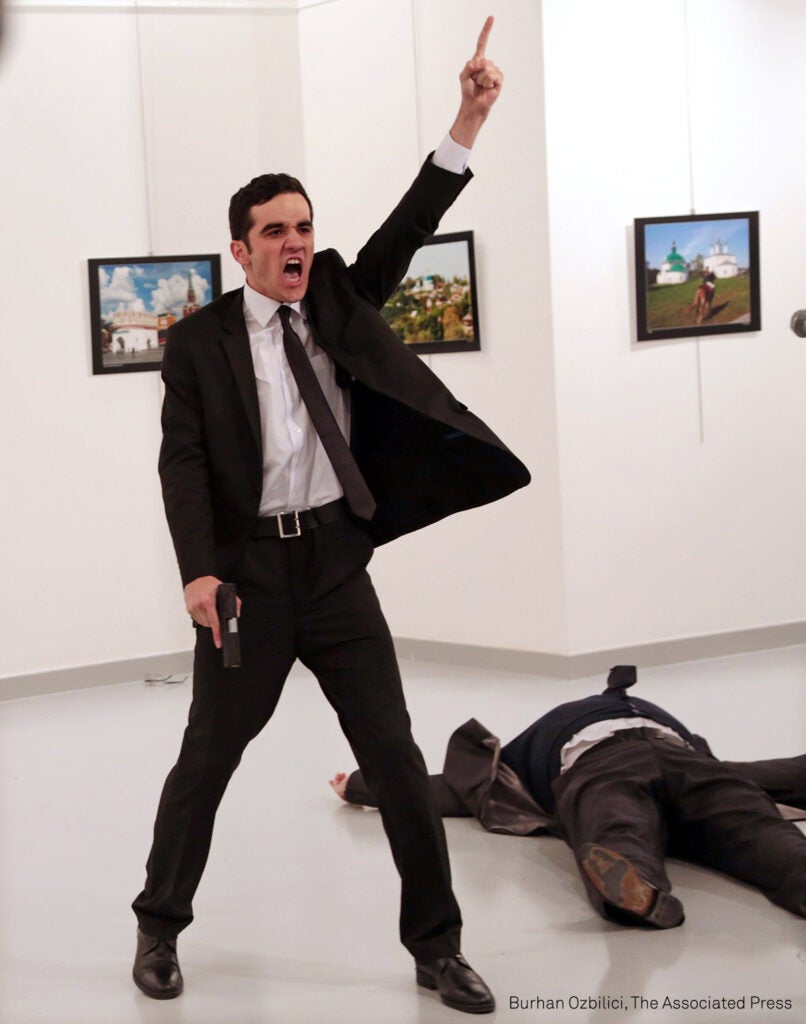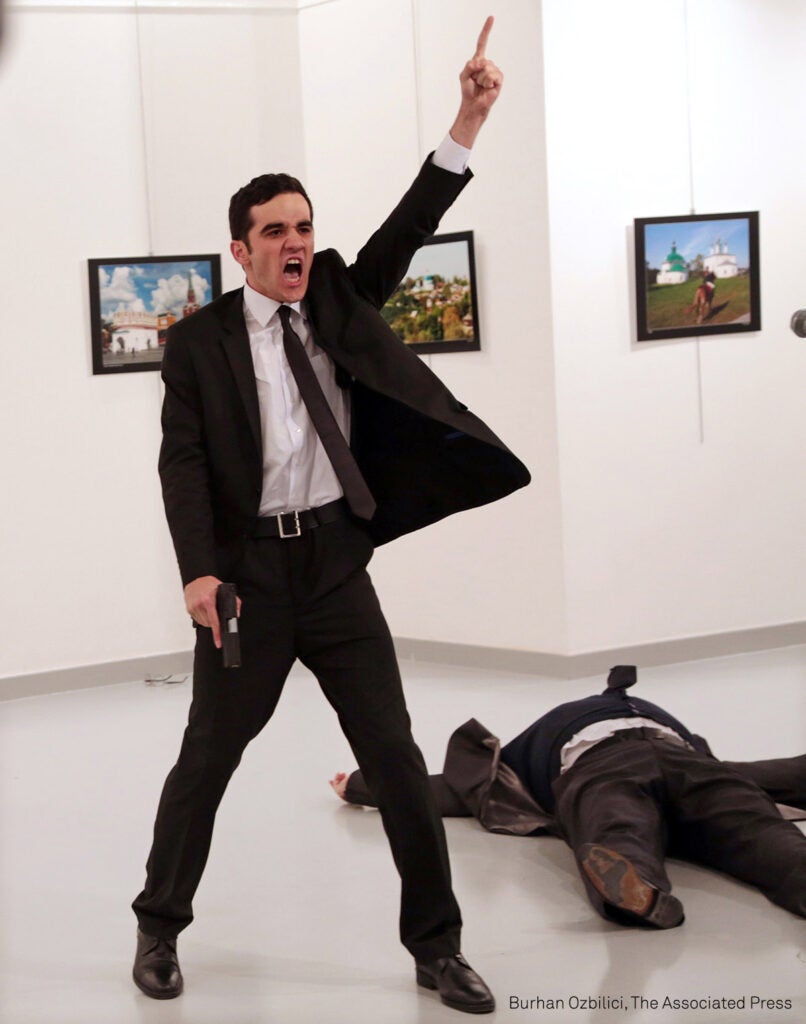 An Assassination in Turkey
World Press Photo of the Year Mevlüt Mert Altıntaş shouts after shooting Andrey Karlov, the Russian ambassador to Turkey, at an art gallery in Ankara, Turkey. Ozbilici captured the image by chance, stopping at the event on his way home.
The World Press Photo Foundation announced the winners to its 60th annual photo contest, recognizing the work of photographers and photojournalists whose work captures or represents an event of great journalistic importance in the past year.
While ethical dilemmas often weave their way through photojournalism, this year's jurors found themselves in difficult discussions when awarding 2017's Photo of the Year.
Taken by Turkish photographer Burhan Ozbilici, the winning image depicts the very seconds after the assassination of Russian ambassador Andrey G. Karlov during a press conference at an Ankara art gallery last December. The photo depicts 22-year-old off-duty police officer Mevlut Mert Altintas as he stands over Karlov's dead body, aggressively pointing his hand in the air and clutching his gun, shouting.
The explosive photo shocked viewers when it went viral last year and its focus caused jurors to weigh the ramifications of awarding it such a top honor, balancing the line between recognizing good work while not amplifying the message of a murderer and granting him the martyrdom he desired.
Contest chairman Stuart Franklin noted in an op-ed with The Guardian, "Placing the photograph on this high pedestal is an invitation to those contemplating such staged spectaculars: it reaffirms the compact between martyrdom and publicity." Franklin argues that awarding this particular photograph of being the best of the year is as "morally problematic as publishing a terrorist beheading."
However, fellow juror Mary Calvin, in a news release on the World Press Photo site, felt the image "really spoke to the hatred of our times. Every time it came on the screen you almost had to move back because it such an explosive image and we really felt that it epitomizes the definition of what the World Press Photo of the Year is and means."
Of the 80,000 images by 5,034 photographers who entered the contest, only 45 were awarded with prizes. Last year's top photo was a haunting photo by Warren Richardson, documenting as refugees passed an infant through razor-wire on the Hungarian-Serbian border. Check out the rest of this year's winners below.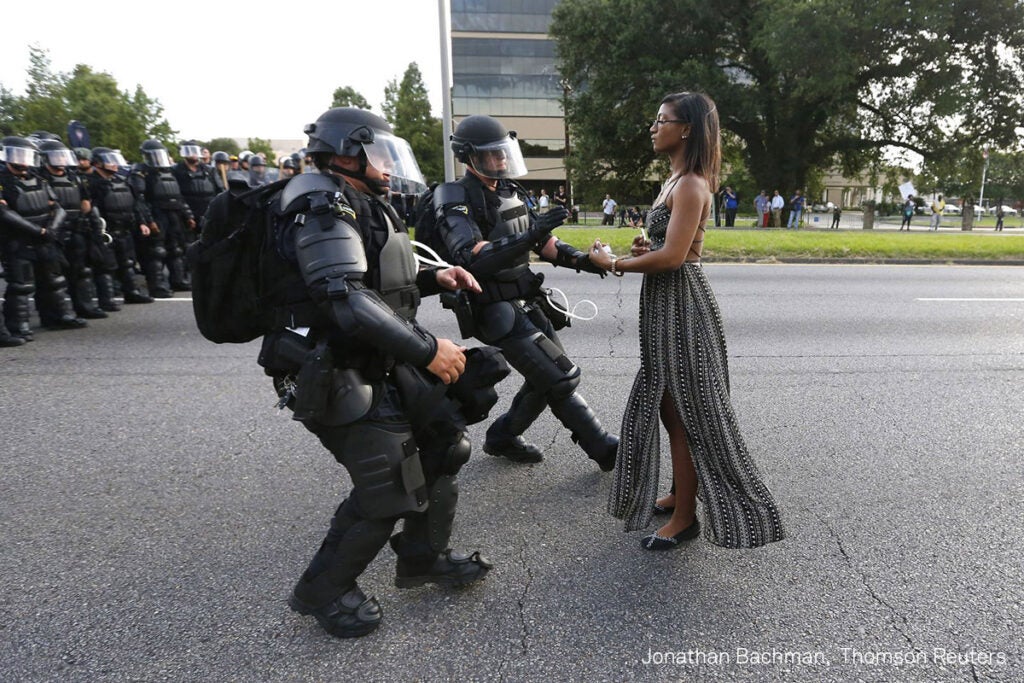 Taking A Stand In Baton Rouge
Contemporary Issues – First Prize, Singles Lone activist Ieshia Evans stands her ground while offering her hands for arrest as she is charged by riot police during a protest against police brutality outside the Baton Rouge Police Department in Louisiana. Evans, a 28-year-old Pennsylvania nurse and mother of one, traveled to Baton Rouge to protest against the shooting of Alton Sterling.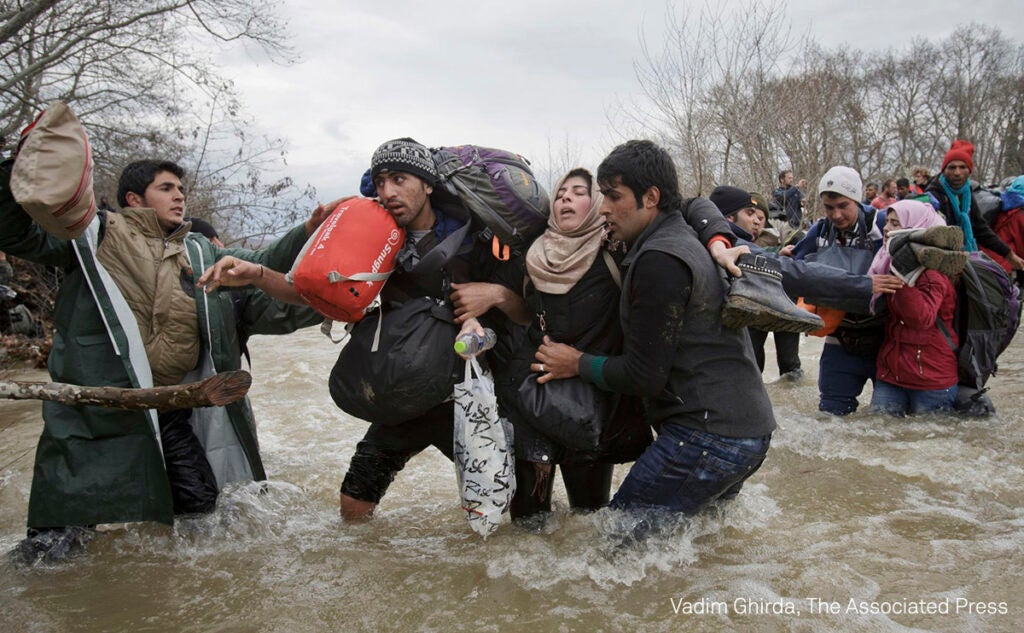 Migrant Crossing
Contemporary Issues – Second Prize, Singles A woman is supported by two men while crossing a river, as refugees attempt to reach Macedonia on a route that would bypass the border fence.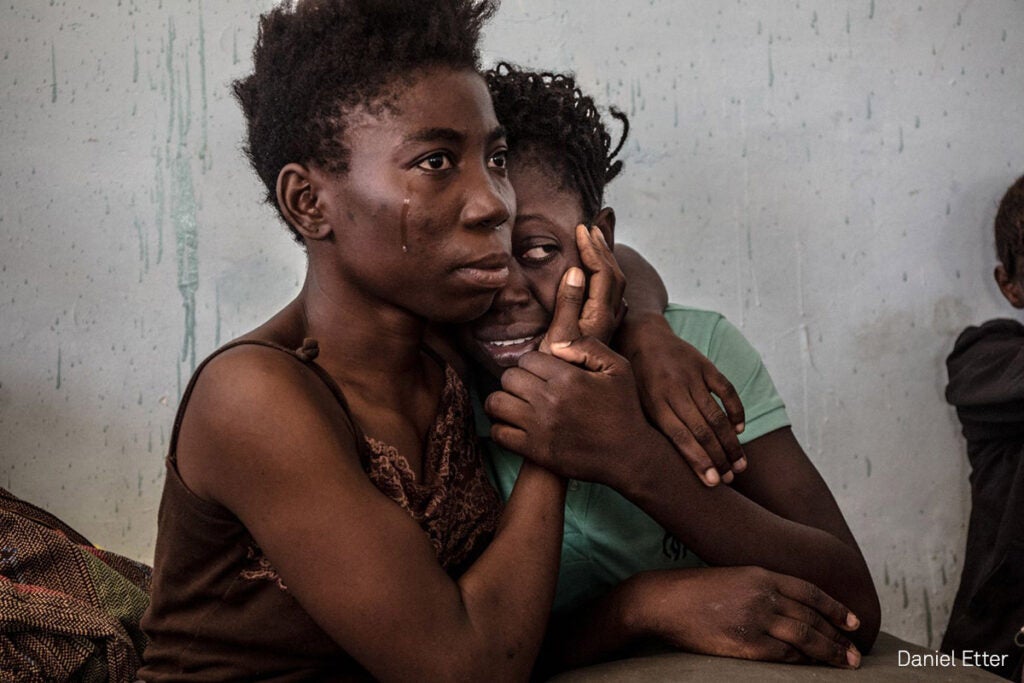 The Libyan Migrant Trap
Contemporary Issues – Third Prize, Singles Two Nigerian refugees cry and embrace in a detention center for refugees in Surman, Libya. The detention center houses hundreds of women escaping precarious conditions. Many claim they are regularly beaten or sexually assaulted, and receive insufficient amounts of food and water at the center. Most of these women were attempting to reach Europe by being smuggled across the Mediterranean in boats setting sail from neighboring Sabratah.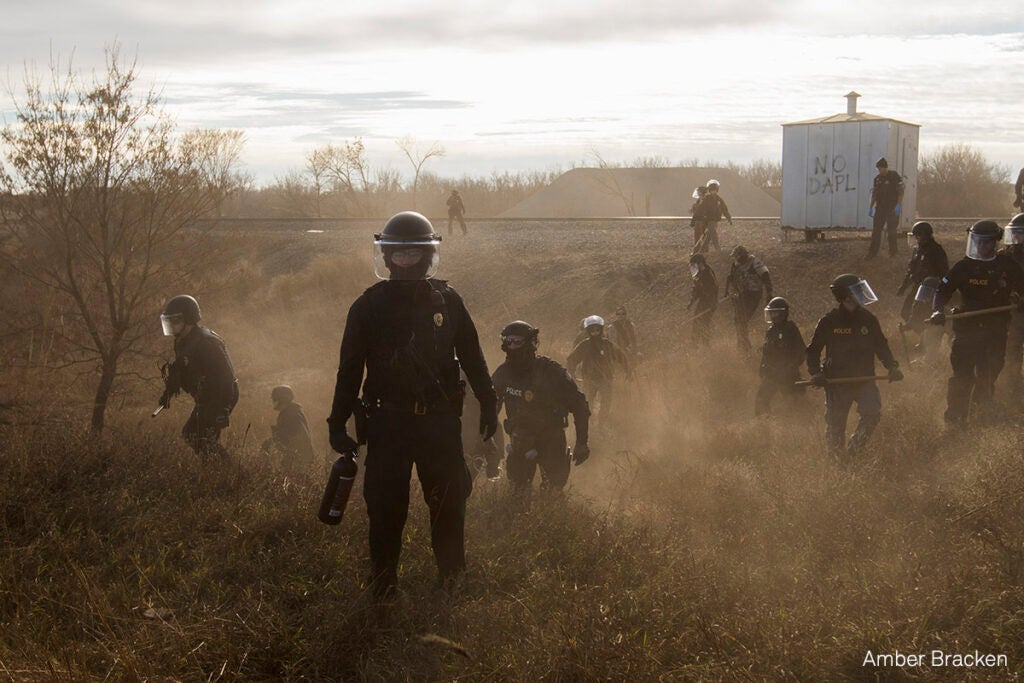 Standing Rock
Contemporary Issues – First Prize, Stories Riot police clear marchers from a secondary road outside a Dakota Access Pipeline worker camp using rubber bullets, pepper spray, tasers and arrests. In other incidents they've employed militarized vehicles, water canons, tear gas and have been accused of using percussion grenades.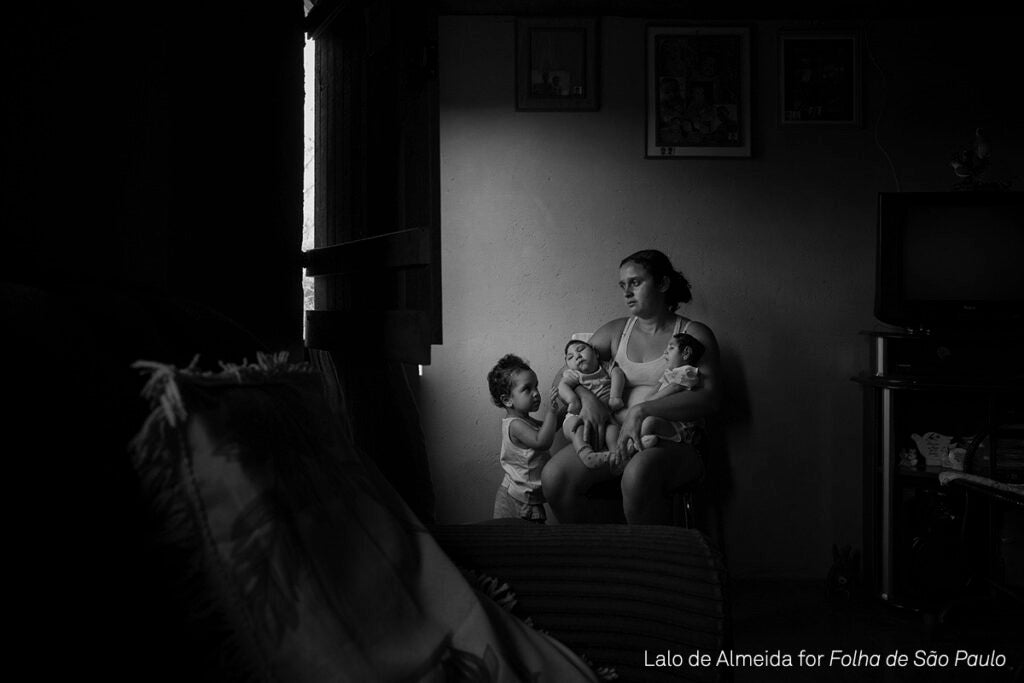 Victims Of The Zika Virus
Contemporary Issues – Second Prize, Stories In September 2015, babies in Brazil began to be born with microcephaly and other malformations, and in April 2016 the link between the Zika virus and these malformations was confirmed. Marcela (2) observes her sisters in her mother's lap at the family's home in the rural area of Areia. Twin sisters Heloisa (left) and Heloá (right) were born seven months prior with microcephaly caused by the Zika virus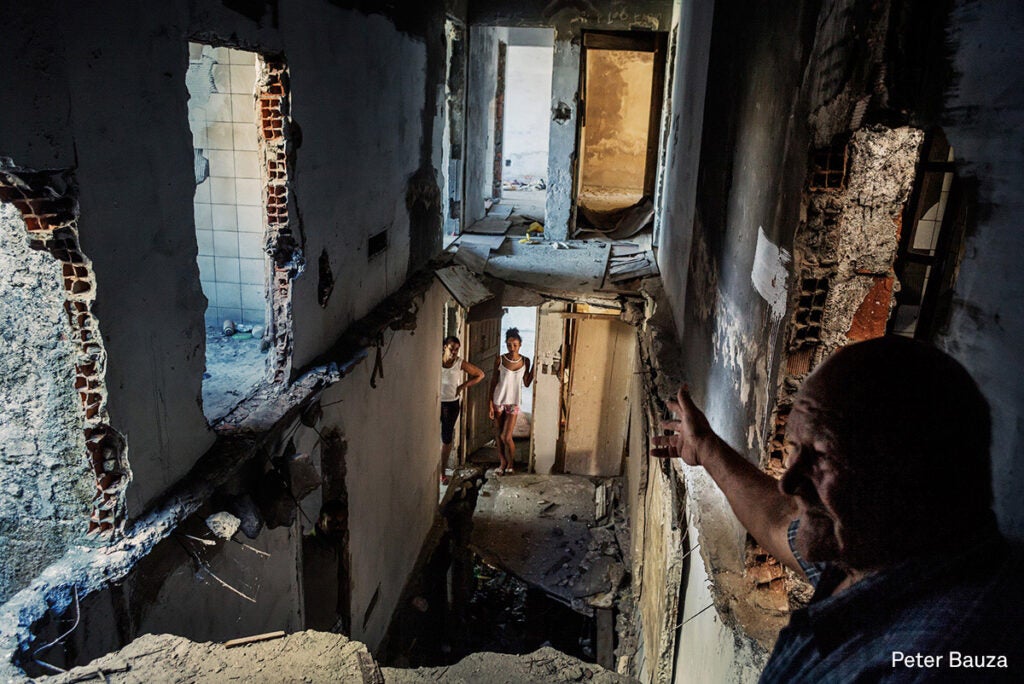 Copacabana Palace
Contemporary Issues – Third Prize, Stories "Copacabana Palace," an ironically named series of condominiums in Brazil, houses more than 300 homeless families. Built more than 30 years ago, construction on this complex was never finished and has since become squatted. A pastor, who also lives in the occupied buildings, explains all the construction problems. A couple of weeks ago, the hall floors from a building crashed down at night.
The Silent Victims Of A Forgotten War
Daily Life – First Prize, Singles Afghanistan has endured armed conflict since 1979, when the Soviet Union invaded. Afghan civilians are at greater risk today than at any time since Taliban rule, which ended in 2001. According to UN statistics, in the first half of 2016 at least 1,600 people died, and more than 3,500 people were injured. At the hospital, Najiba holds her two-year-old nephew Shabir who was injured from a bomb blast in Kabul on 29 March 2016.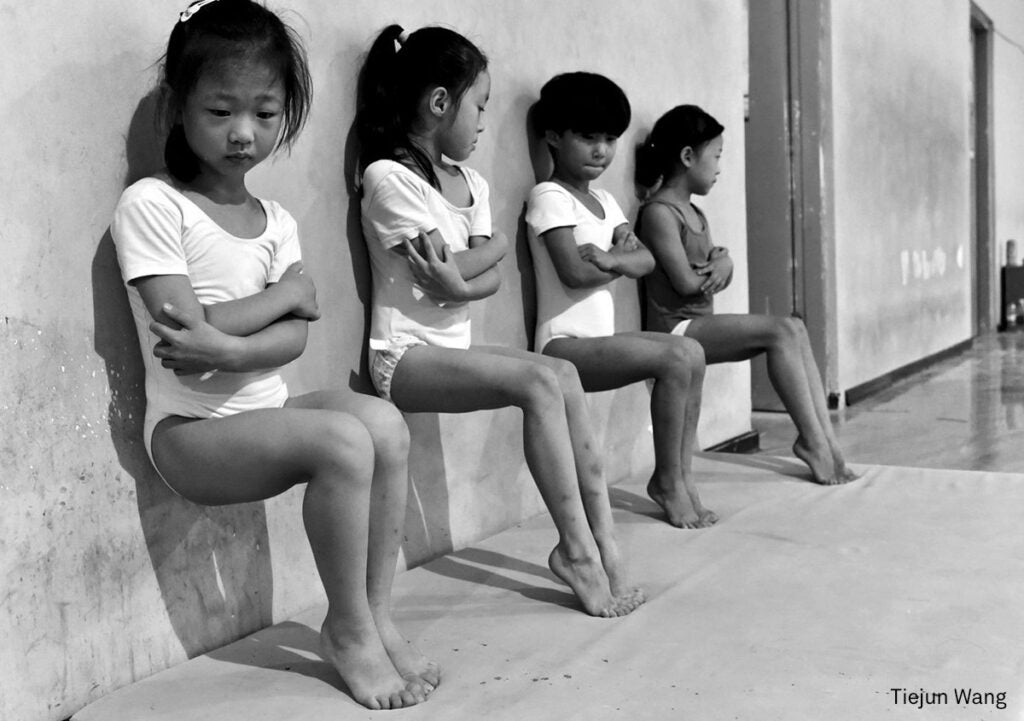 Sweat Makes Champions
Daily Life – Second Prize, Singles Four students of a gymnastics school in Xuzhou, China, do toe-pressure training for 30 minutes in the afternoon.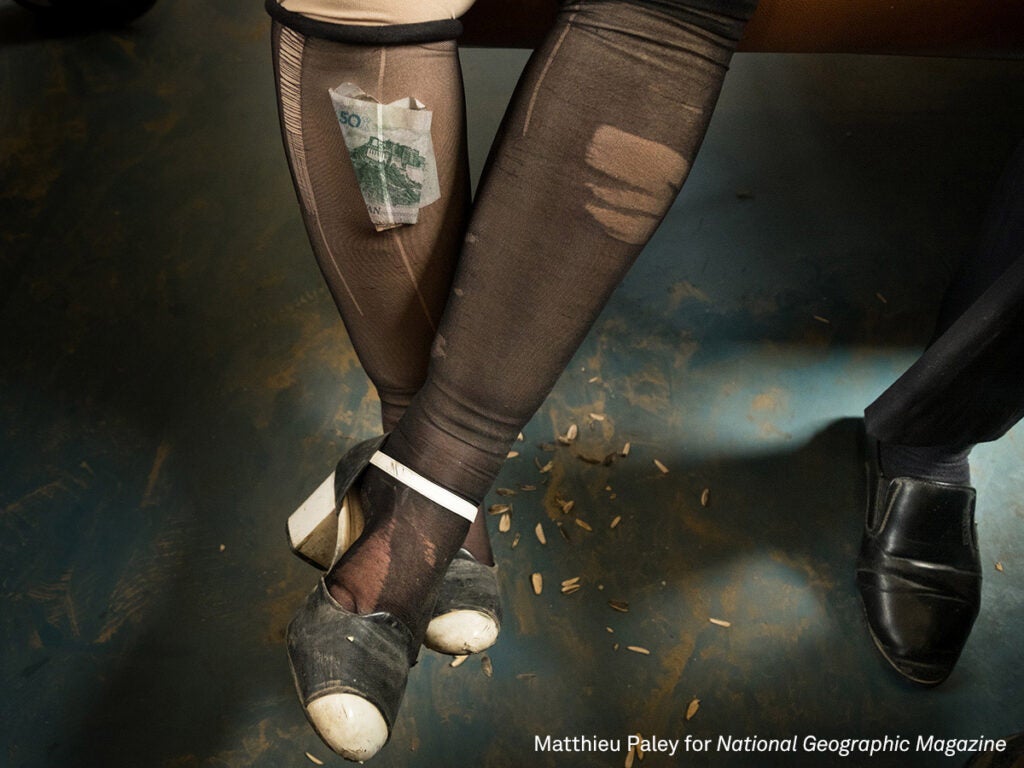 China's Wild West
Daily Life – Third Prize, Singles An Uyghur woman carries money in her stockings, a common practice. Uygur women, while Muslim, typically do not adhere to the conservative dress code that women in neighboring countries follow.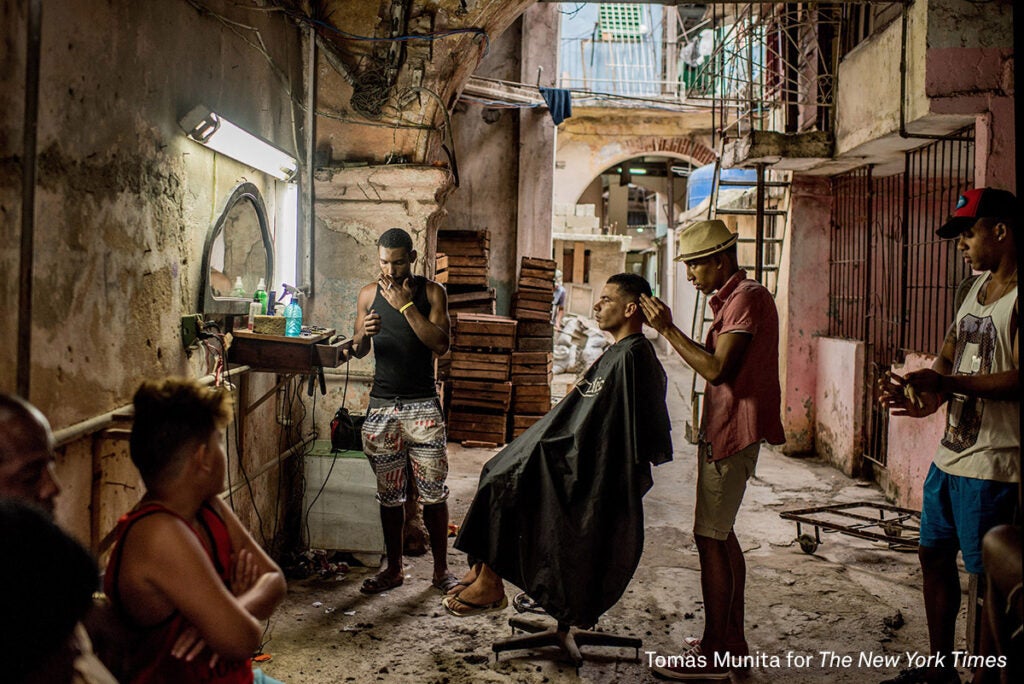 Cuba On The Edge Of Change
Daily Life – First Prize, Stories In December, days after Fidel Castro's death, his ashes were taken into the countryside, on a route that retraced, in reverse, the steps of the revolution he led in 1959. Towns and villages along the route were emptied of residents as thousands tried to catch a glimpse of Castro's remains. For many, the death of Fidel Castro felt like that of a father.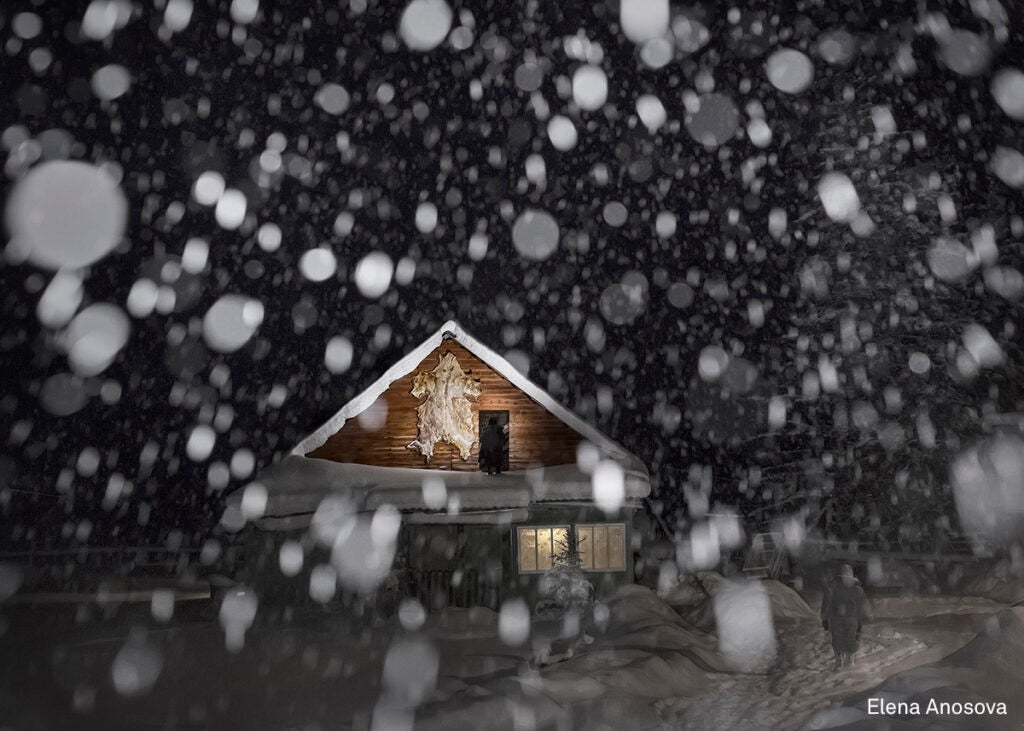 Out Of The Way
Daily Life – Second Prize, Stories In Russia's extreme north, century-long ways of life dominate the daily life of some of the most isolated parts of the desolate landscape. Modern civilization penetrates slowly and fragmentarily. There are no roads, and only one helicopter shuttle twice monthly. The residents' ancestors can be traced back to hereditary hunters in a small settlement near Nizhnyaya Tunguska River, Russia, more than 300 years ago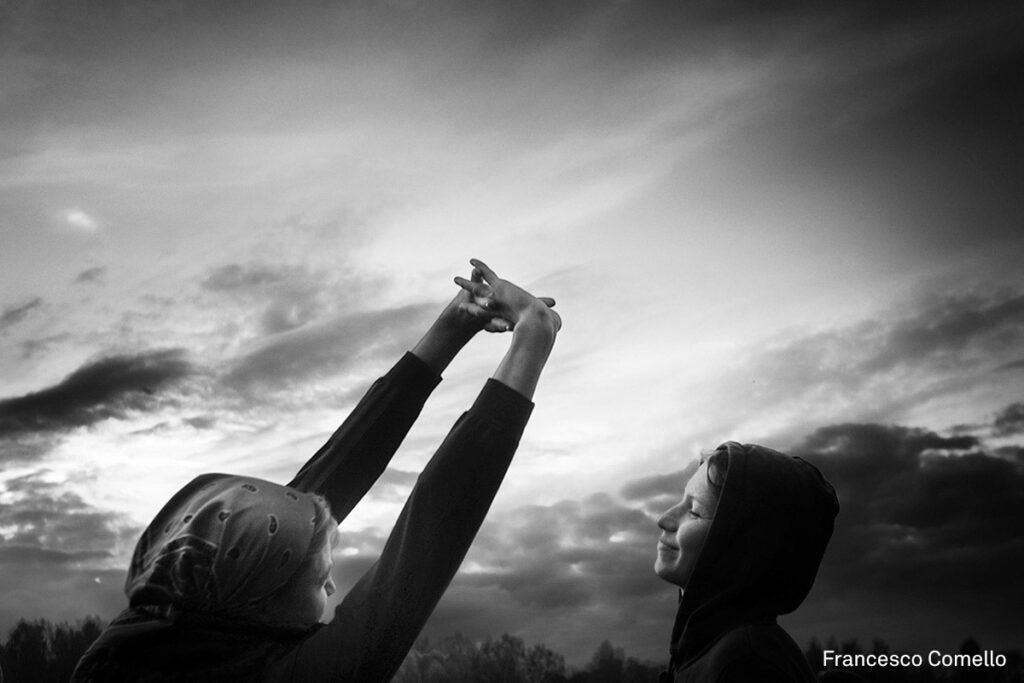 Isle Of Salvation
Daily Life – Third Prize, Stories The inhabitants of this secluded and silent community call it the "Isle of Salvation," hidden near a busy road that leads from Moscow to Yaroslavl, Russia. The lessons at school stop for the whole harvest time of the potatoes, to which all children should attend. Maria and Alexandra in a moment of pause.
Offensive On Mosul
General News – First Prize, Singles The Iraqi Special Operations Forces search houses of Gogjali, an eastern district of Mosul, looking for Daesh members, equipment, and evidence on 2 November 2016.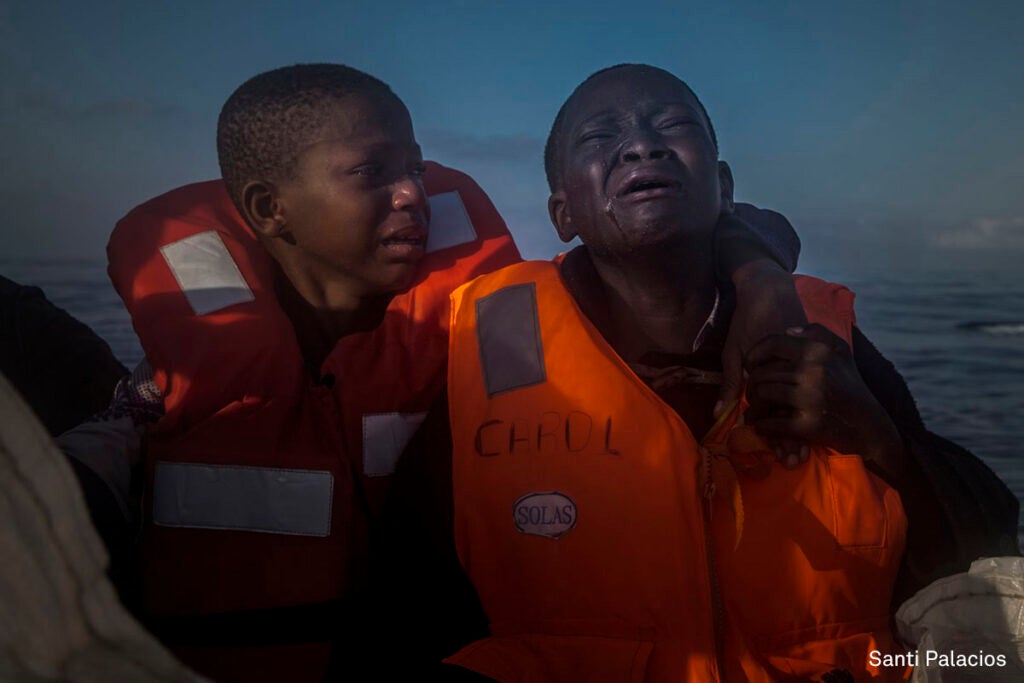 Left Alone
General News – Second Prize, Singles An 11-year-old girl from Nigeria (left), who said her mother died in Libya, cries next to her 10-year-old brother aboard an NGO rescue boat. The children had sailed for hours in an overcrowded rubber boat with other refugees during a rescue operation on the Mediterranean Sea, about 23 kilometers north of Sabratha, Libya.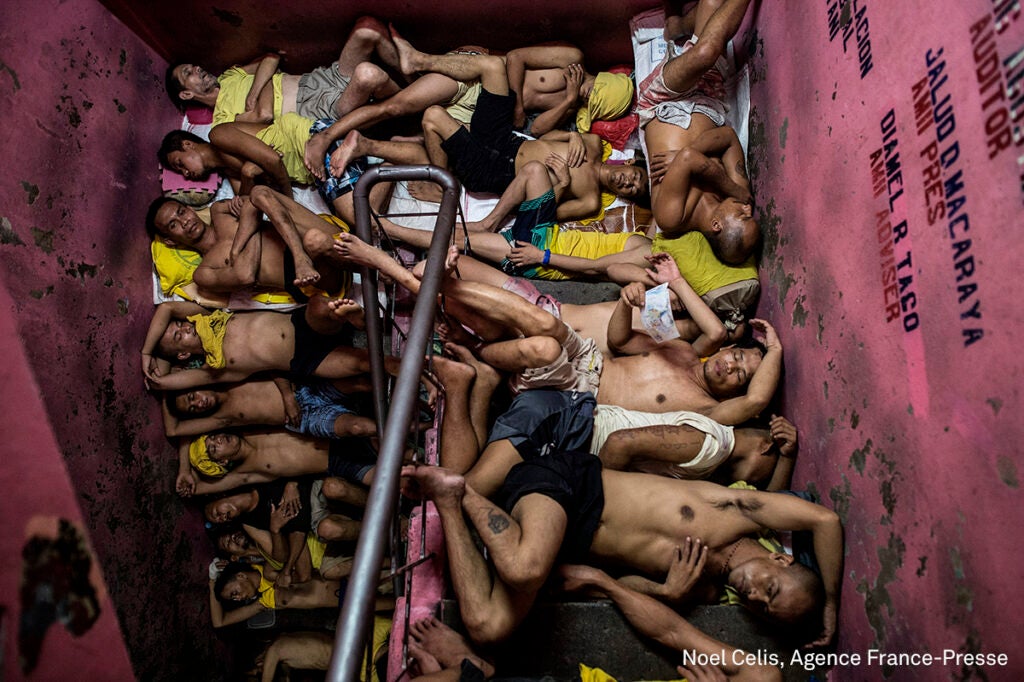 Life Inside The Philippines' Most Overcrowded Jail
General News – Third Prize, Singles An image from Quezon City Jail, one of the Philippines' most overcrowded prisons. Conditions are getting worse as police wage an unprecedented war on crime. There are 3,800 inmates at the jail, which was built six decades ago to house 800, and they engage in a relentless contest for space. Men take turns to sleep on the cracked cement floor of an open-air basketball court, the steps of staircases, underneath beds and hammocks made out of old blankets.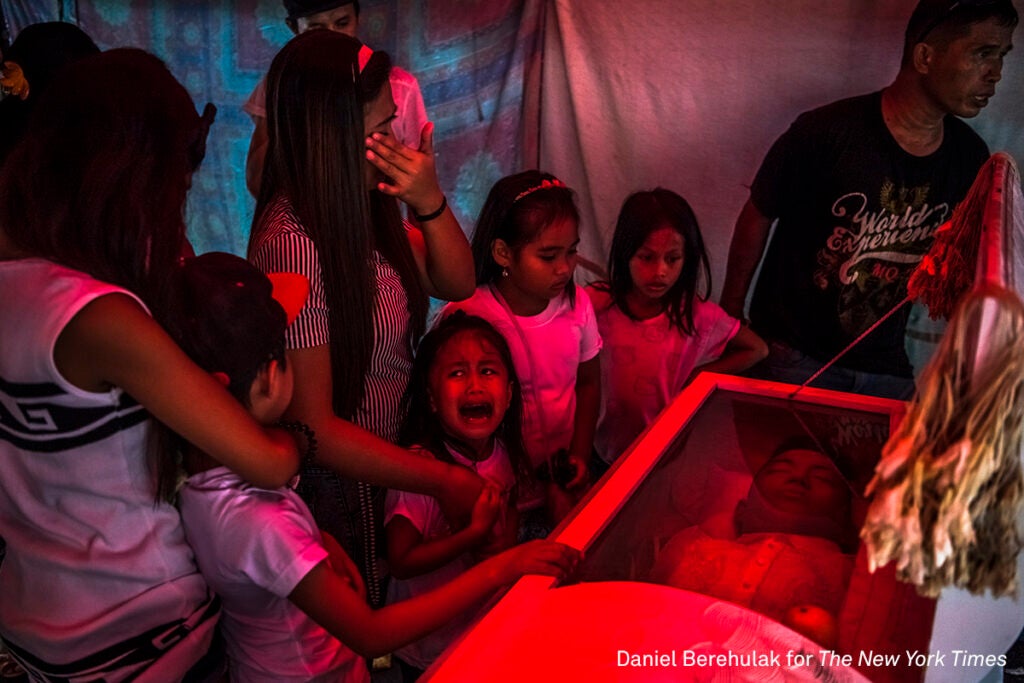 They Are Slaughtering Us Like Animals
General News – First Prize, Stories President Rodrigo Duterte of the Philippines began his anti-drug campaign when he took office on 30 June 2016. Since then, more than 2,000 people have been slain at the hands of the police alone. Six-year-old Jimji cries in anguish as she screams "papa" before funeral parlor workers move the body of her father, Jimboy Bolasa, from the wake at the start of the funeral to Navotas Cemetery in Manila, Philippines. Unidentified men abducted Mr. Bolasa and a neighborhood friend one night. Less than an hour later, their beaten bodies, with signs of torture and gunshot wounds, were dumped under a nearby bridge.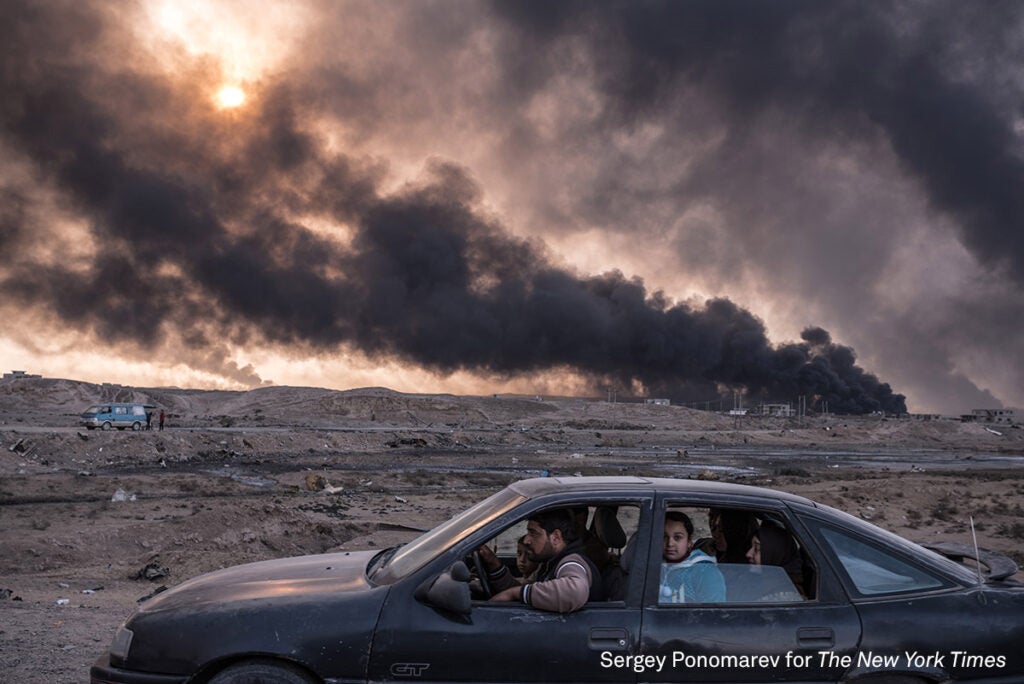 Iraq's Battle To Reclaim Its Cities
General News – Second Prize, Stories More than two years after the Islamic State first blitzed across Iraq in 2014, Iraqi security forces are scrambling to evict the militant group from Mosul, its last major stronghold in the country. The campaign has displaced nearly 70,000 Iraqis, and may uproot hundreds of thousands more. A family flees the fighting in Mosul, as oil fields burned in Qayyara, Iraq.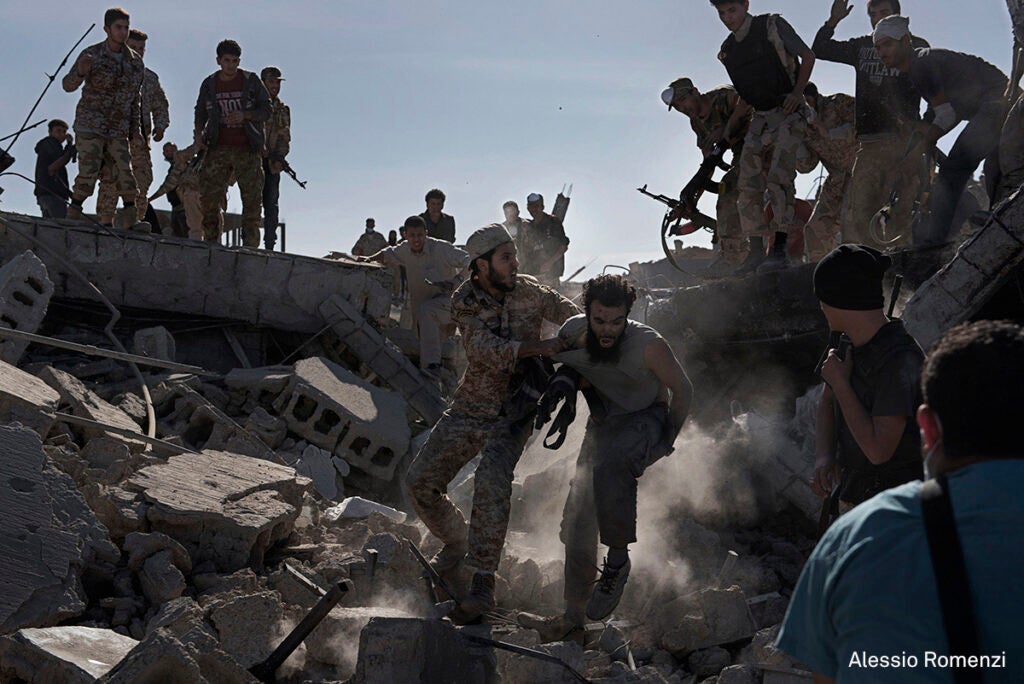 We Are Not Taking Any Prisoners
General News – Third Prize, Stories Sirte, Libya, is one of the three self-proclaimed capitals of the so-called Islamic State, along with Raqqa in Syria and Mosul in Iraq. It was the first of the three to fall, with an offensive launched by the Libyan government in May 2016. Soon after he surrendered, an ISIS fighter is violently dragged by Libyan fighters affiliated with the government in Tripoli while they shout and threaten to lynch him. A few minutes later he was found in the same place shot dead multiple times.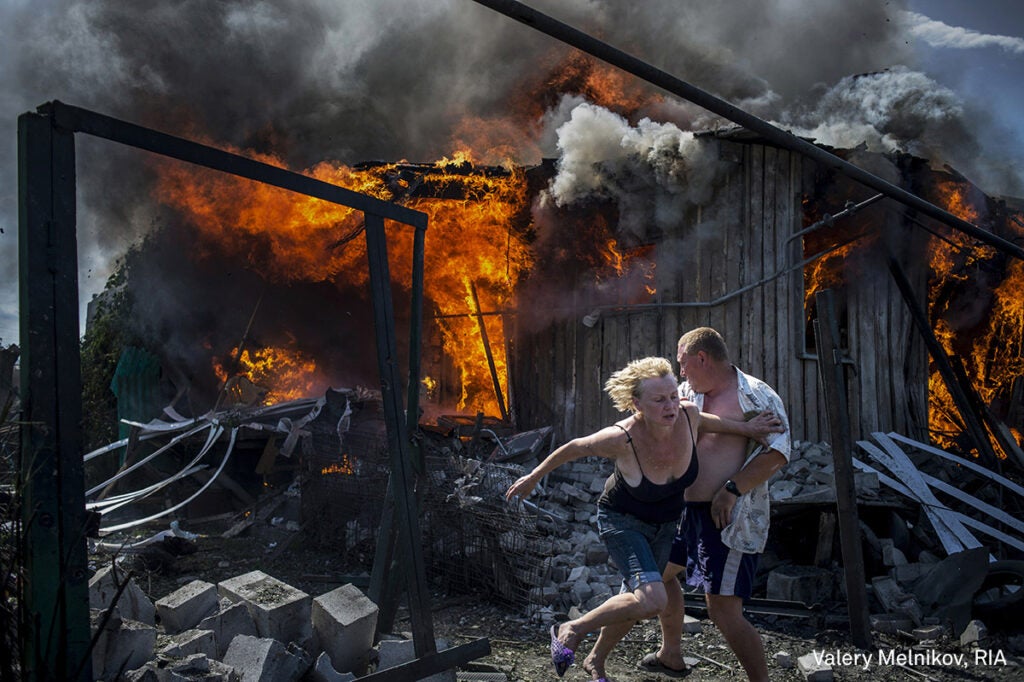 Black Days Of Ukraine
Long-Term Projects – First Prize Ordinary people became victims of the conflict between self-proclaimed republics and the official Ukrainian authorities from 2014 onwards in the region of Donbass. Civilians escape from a fire at a house destroyed by an air attack in the Luhanskaya village.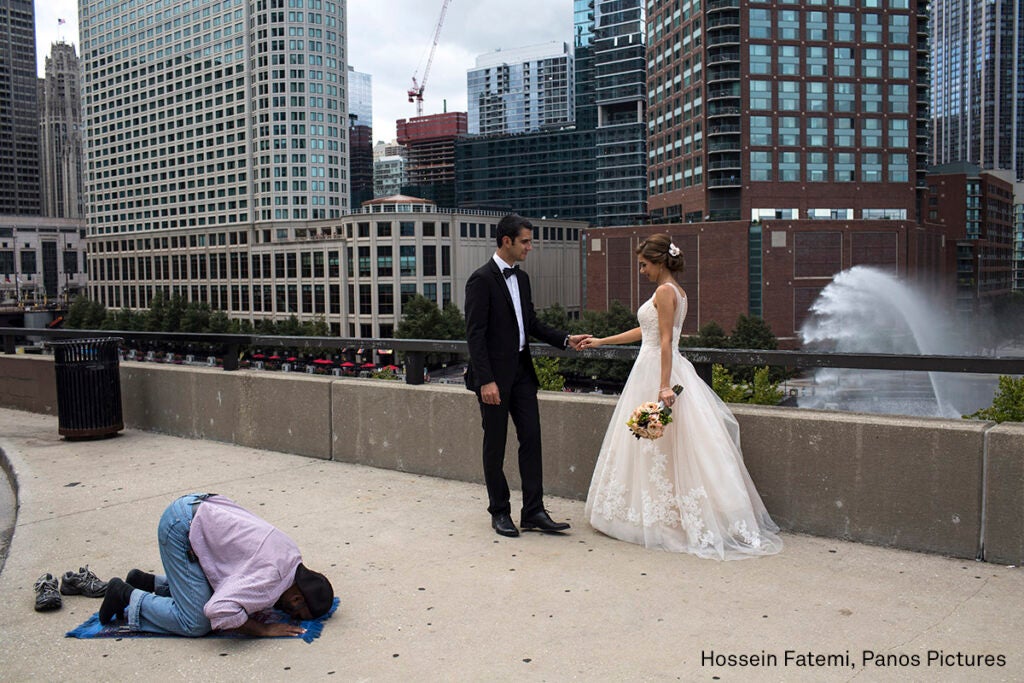 An Iranian Journey
Long-Term Projects – Second Prize A Muslim taxi driver prays on the sidewalk while Tara and Soroush, two Iranian students who live downtown, celebrate their wedding day. More than 60 percent of Iran's people are under the age of 30 and have little knowledge of their country before its transformation into a theocratic state.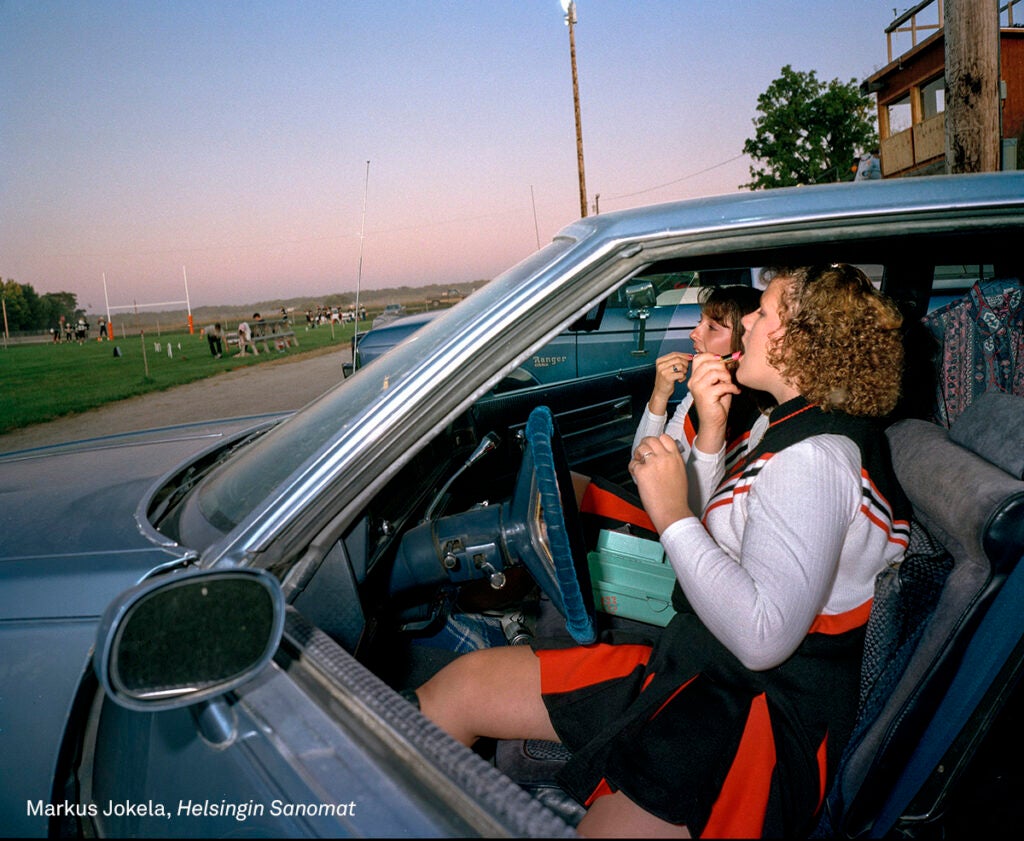 Table Rock Nebraska
Long-Term Projects – Third Prize Table Rock is a small rural community in Nebraska, USA, which is shown from 1992 until March 2016. Most people living in Table Rock spend their whole lives there. Some try living in bigger towns, but often return to raise their children in their hometown, where they feel safe and secure.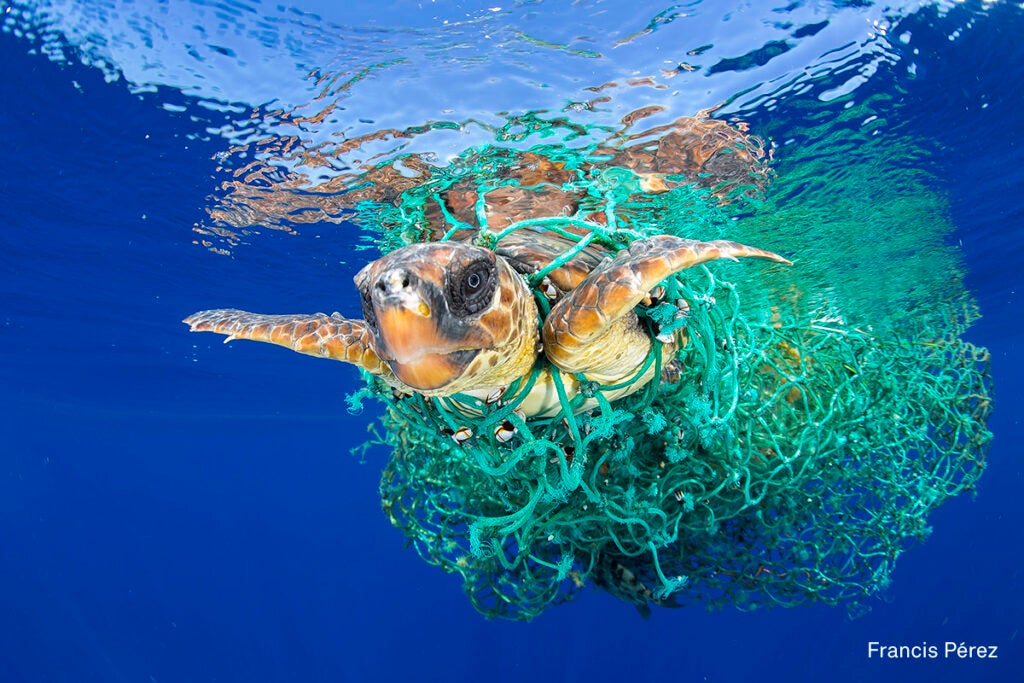 Caretta Caretta Trapped
Nature – First Prize, Singles A sea turtle entangled in a fishing net swims off the coast of Tenerife, Canary Islands, Spain.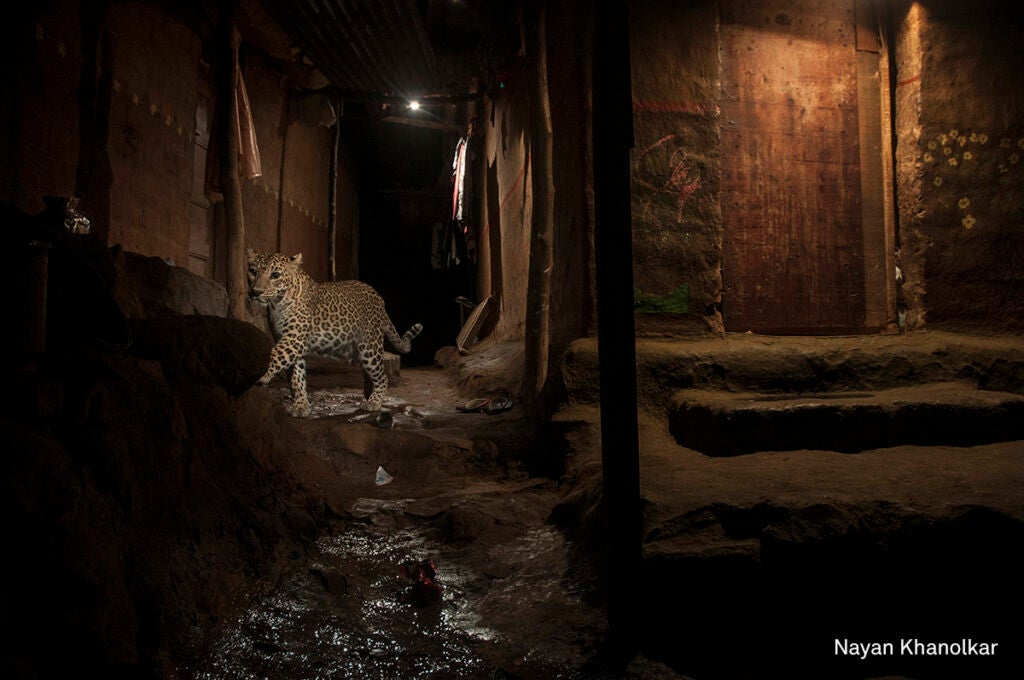 Big Cat In My Backyard!
Nature – Second Prize, Singles A wild leopard strolls through Sanjay Gandhi National Park, a protected area in the northern part of Mumbai city, India. The leopard is on its nocturnal prowl in the adjacent human settlements in search of food, which in these areas is typically dogs or pigs.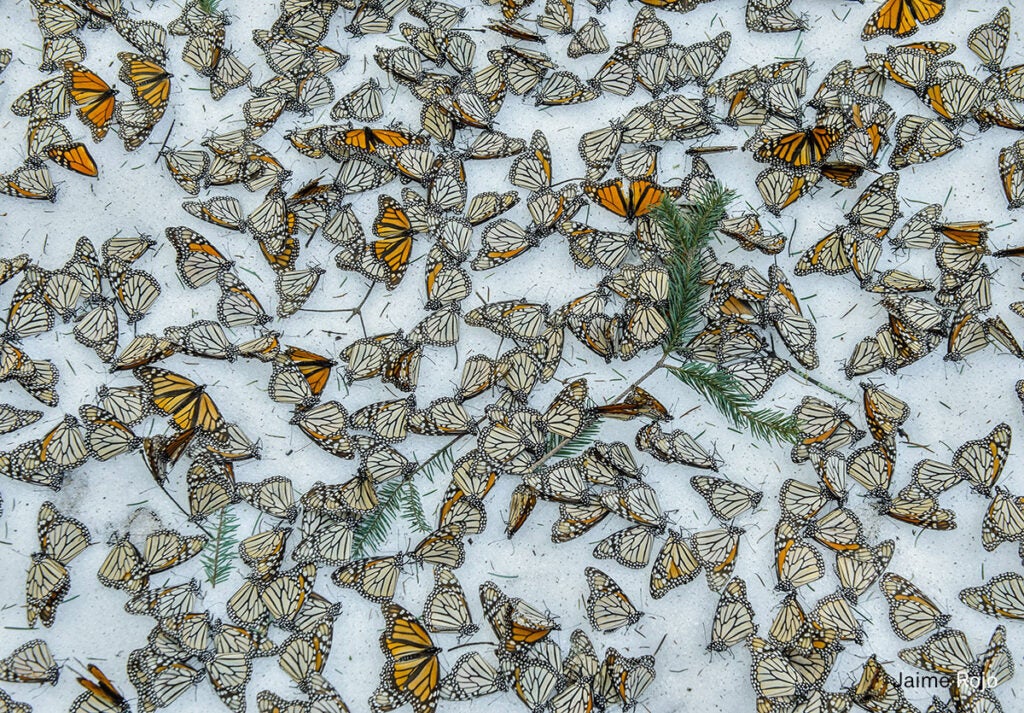 Monarchs In The Snow
Nature – Third Prize, Singles A carpet of monarch butterflies covers the forest floor of El Rosario Butterfly Sanctuary, in Michoacán, Mexico. The storm hit the mountains of Central Mexico, creating havoc in the wintering colonies of monarch butterflies just as they were starting their migration back north to the USA and Canada.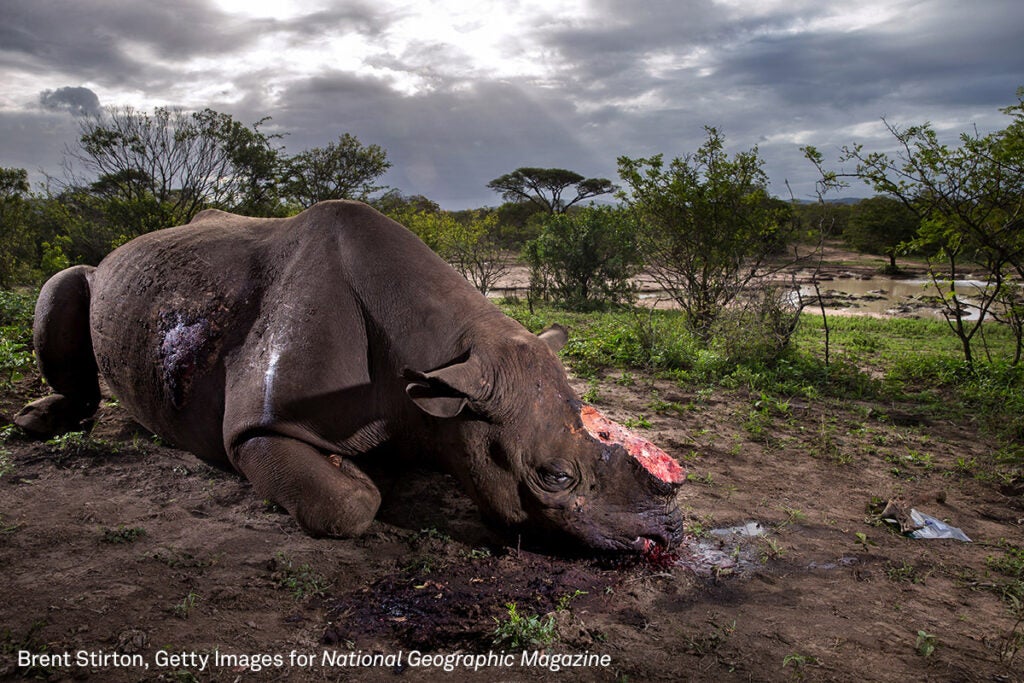 Rhino Wars
Nature – First Prize, Stories A black rhino bull is seen dead, poached for its horns less than 8 hours earlier at Hluhluwe Umfolozi Game Reserve, South Africa. Inside Kruger National Park, the largest rhinoceros reserve in the world, along the border of Mozambique and South Africa, there exists a battle between poachers and small NGOs trying to protect this rare species.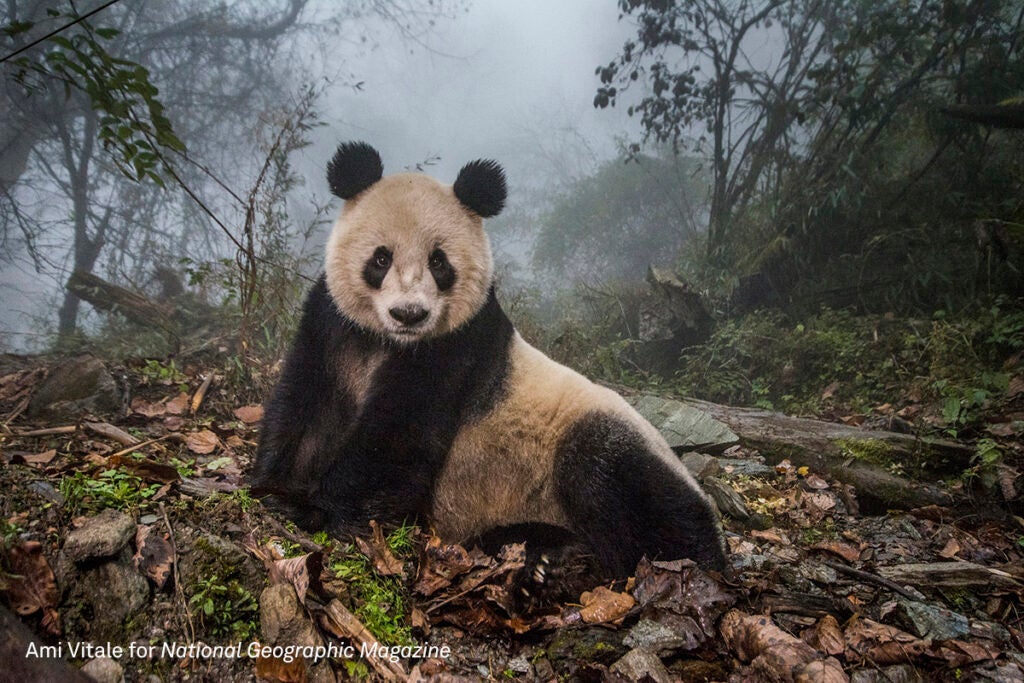 Pandas Gone Wild
Nature – Second Prize, Stories Ye Ye, a 16-year-old giant panda, lounges in a massive wild enclosure at a conservation center in Wolong Nature Reserve.
Now You See Me
Nature – Third Prize, Stories Buffalos at the drinking station. These photos combine a well-known natural phenomenon: the starry sky and portraits of wild animals not visible to the naked eye. The series needed very accurate planning, research, and preparation as the photos were made with remote control, and no modification was possible while capturing the photos.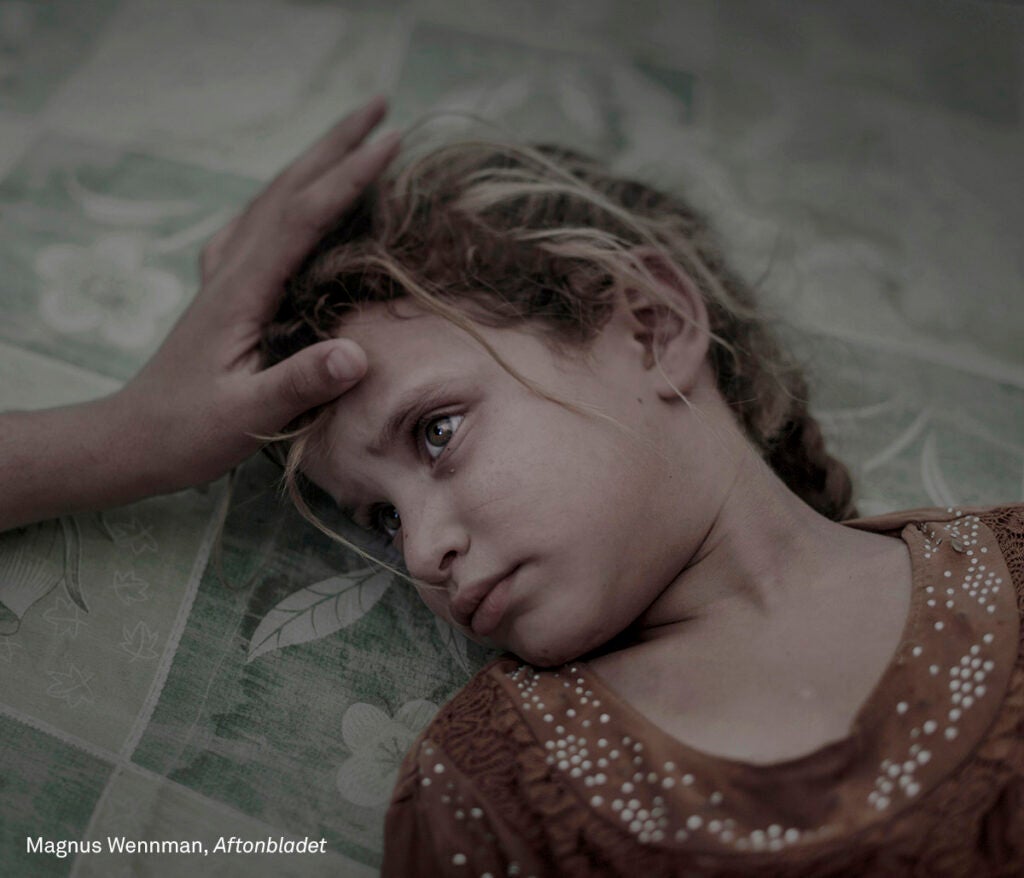 What ISIS Left Behind
People – First Prize, Singles Five-year-old Maha and her family fled from the village Hawija outside Mosul, Iraq, seven days ago. The fear of so-called Islamic State and the lack of food forced them to leave their home, her mother says. Now Maha lays on a dirty mattress in the overcrowded transit center in Debaga's refugee camp.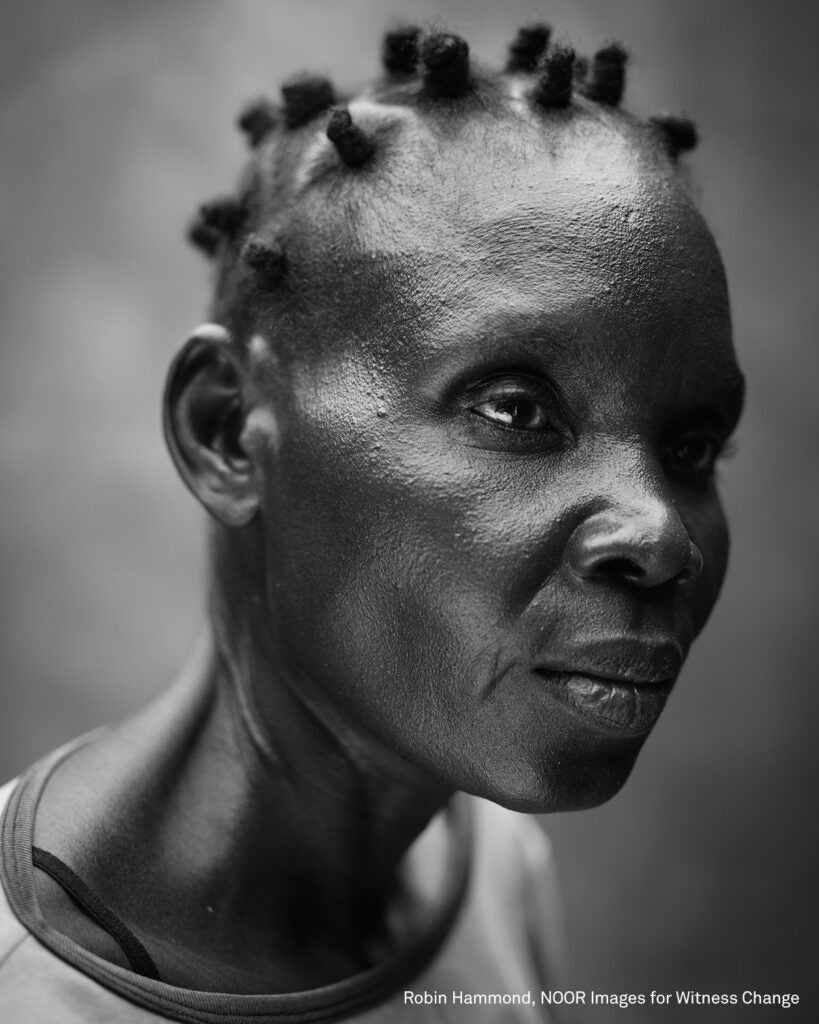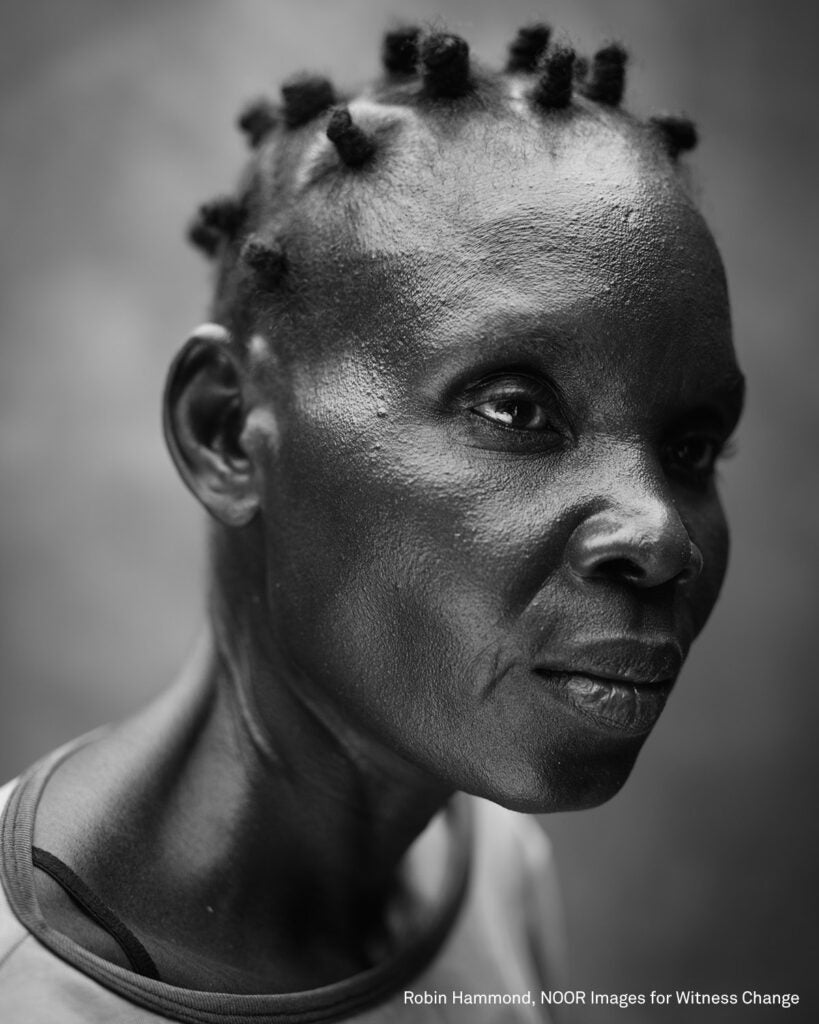 Praying for a miracle – mental health problems in disabling environments in Africa
People – Second Prize, Singles Hellen (41) lives with a mental health problem. Her illness developed later in life. In developing countries, over 80 percent of people living with mental health problems do not receive any treatment. In African countries, treatment often comes in the form of prayer from a pastor or traditional healer. Modern medicine is available to very few.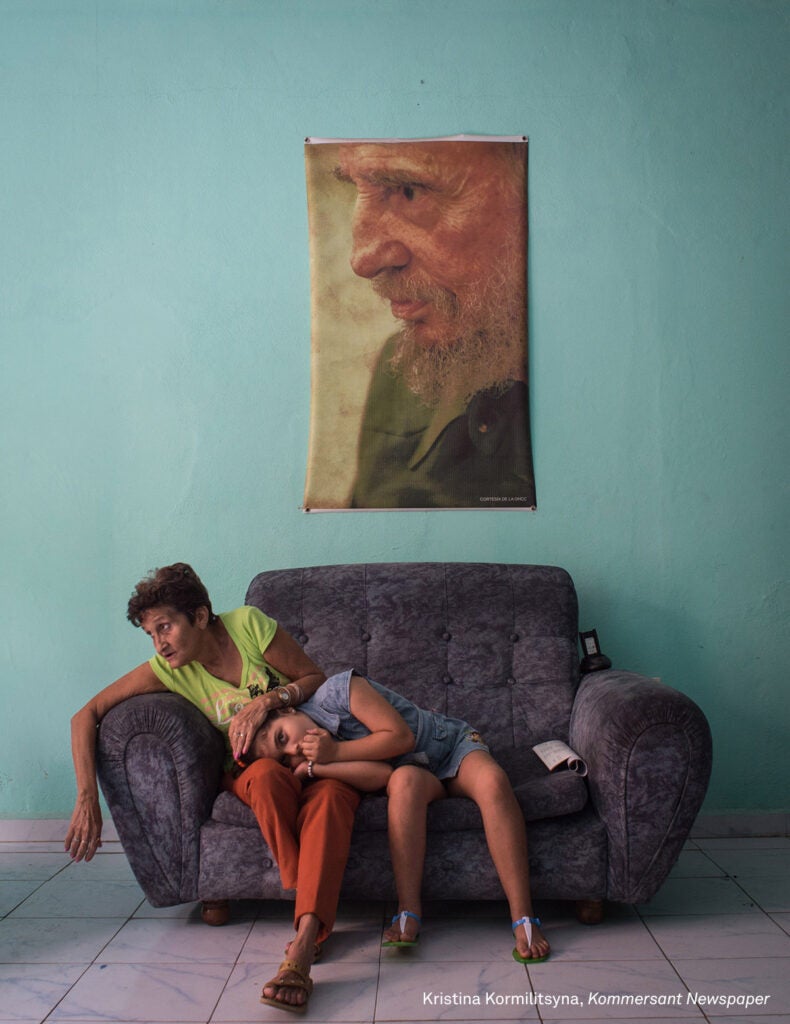 Fidelity
People – Third Prize, Singles A woman strokes a girl's head as she rests on her lap whilst sitting on a sofa in a police station in Camaguey, Cuba, on 12 February 2016, with a portrait of Fidel Castro hanging above them.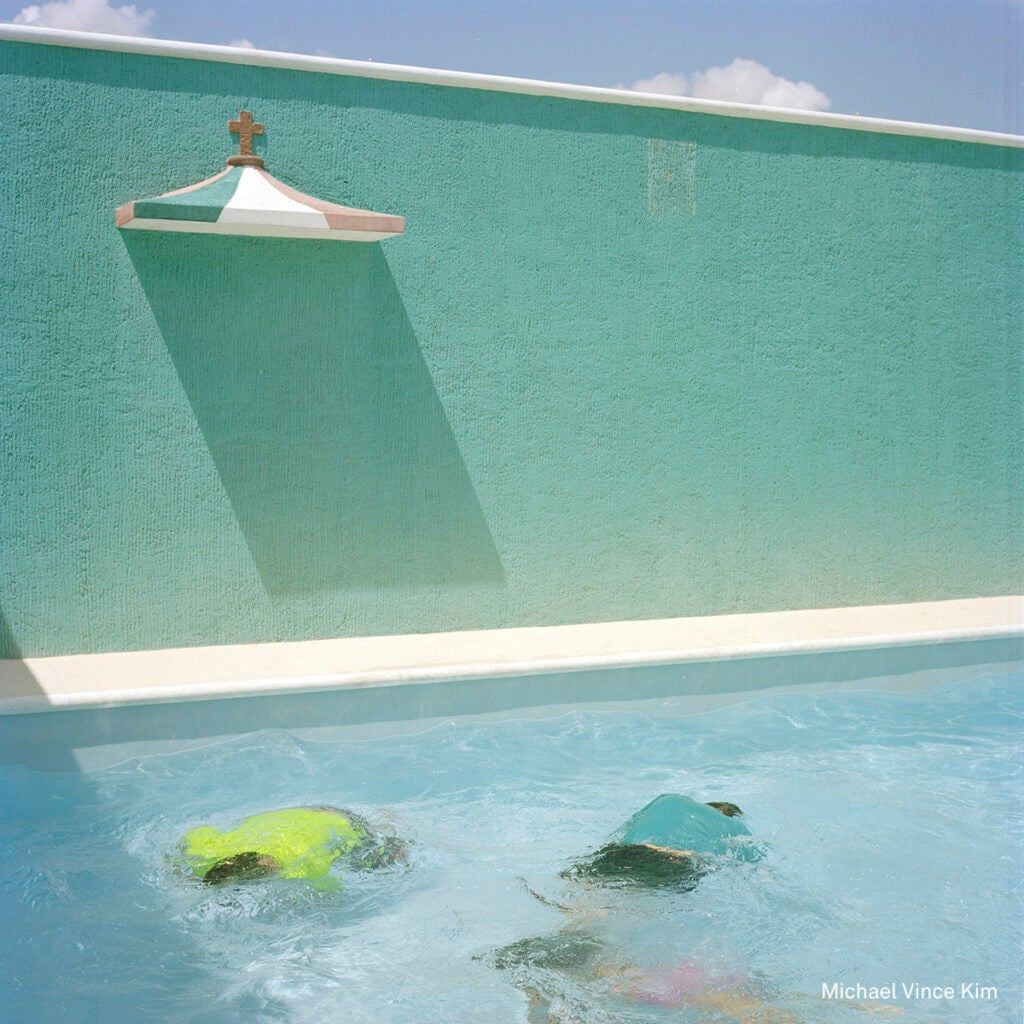 Aenikkaeng
People – First Prize, Stories Taken from stories told by the descendants of Korean henequen workers in Mexico and Cuba, this project aims to provide a poetic account of their memories. Young Korean-Mayan descendants during the 90th birthday party of Joaquin Poot Lee, a second generation Korean-Mayan.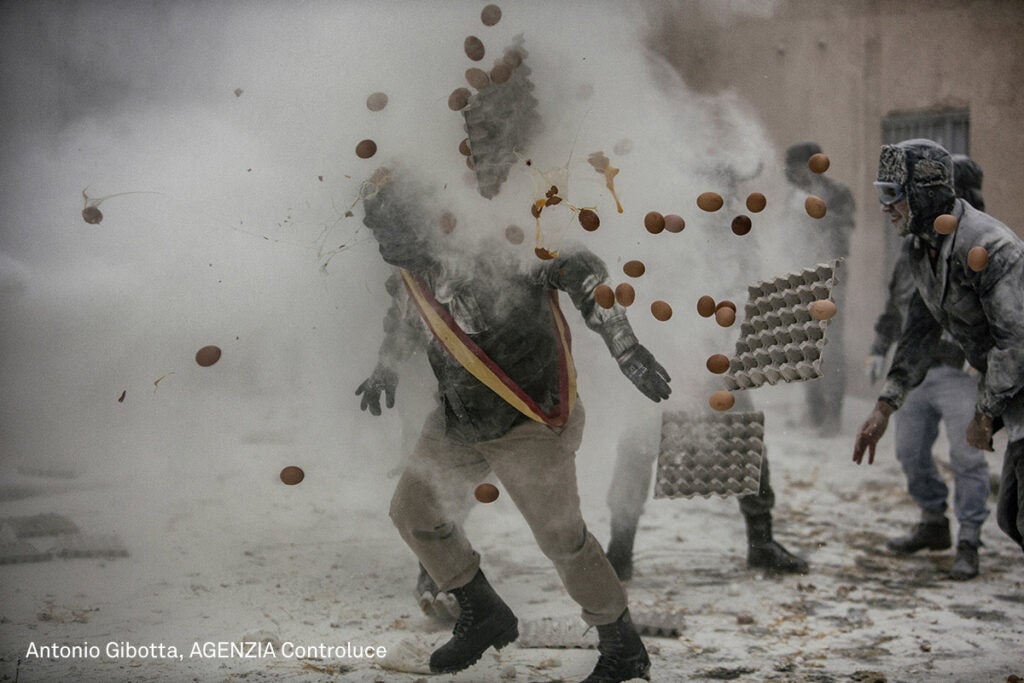 Enfarinat
People – Second Prize, Stories On 28 December each year, the "Floured War," a 200-year-old tradition, takes place in Ibi in the province of Alicante, Spain. During the festival, the citizens are divided into two groups: the 'Enfarinat' (the floured) group simulates a coup d'etat and a second group tries to calm the rebellion. The teams play with flour, water, eggs, and colored smoke bombs.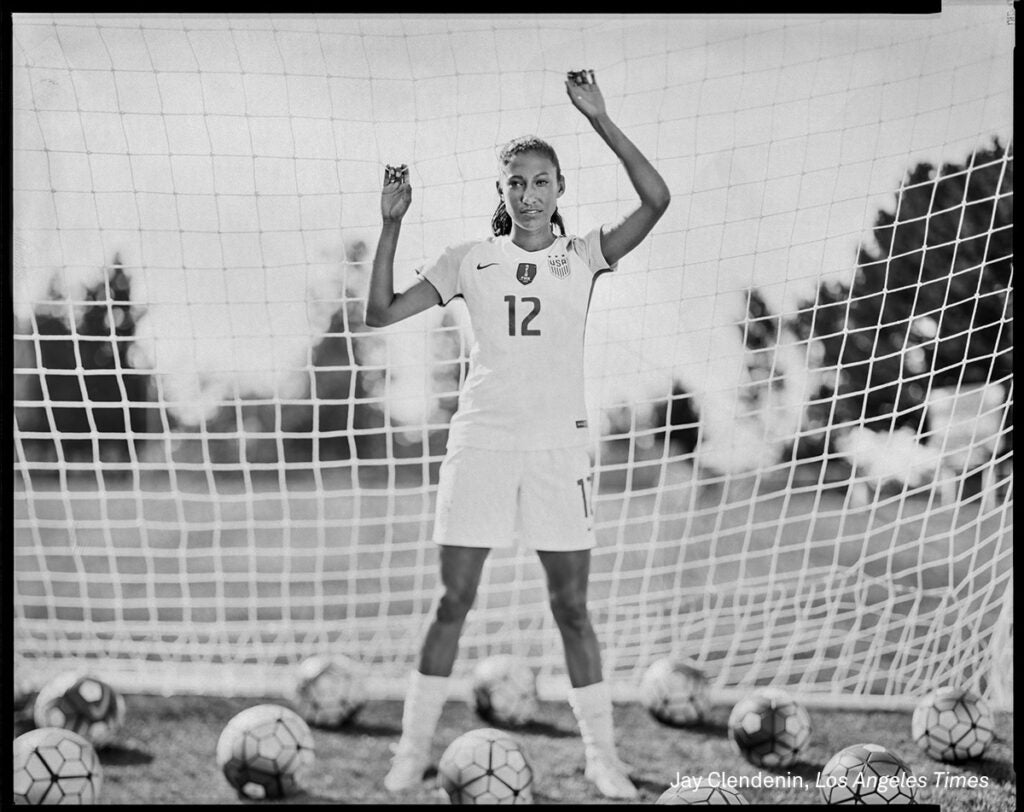 Olympians
People – Third Prize, Stories A series of portraits of Olympic athletes from California headed to the 2016 Olympics in Rio de Janeiro, Brazil. The USA took more than 550 athletes to compete in 20 sports of the Summer Games. Christen Press, a forward with the Women's National Team, who competed at the 2016 Rio Olympics and is photographed at Chadwick School, where she is an alumna, in Palos Verdes, California.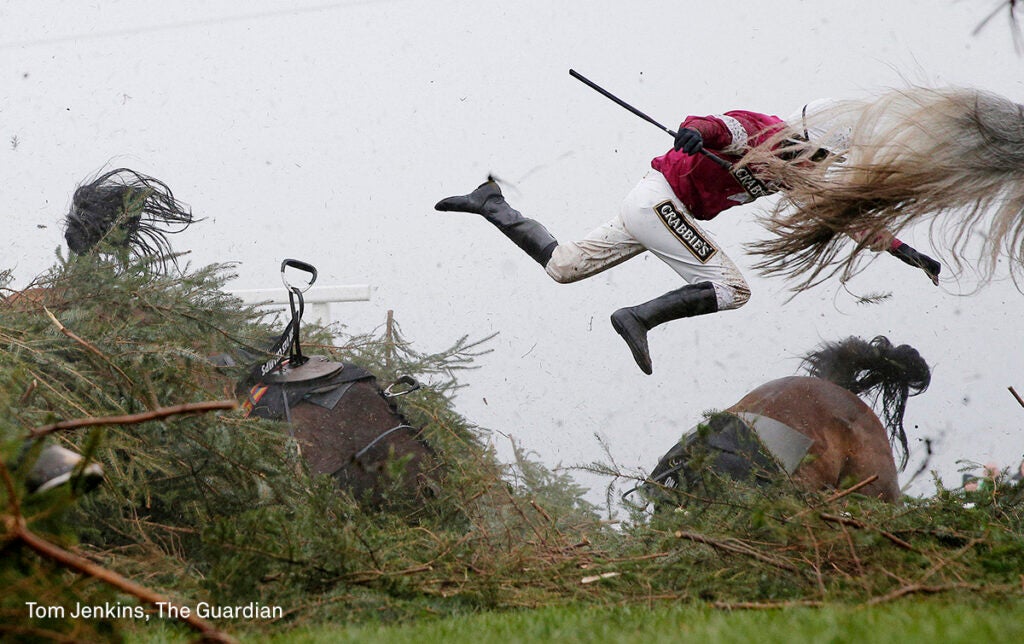 Grand National Steeplechase
Sports – First Prize, Singles Jockey Nina Carberry flies off her horse, Sir Des Champs, as they fall at The Chair fence during the Grand National steeplechase, during day three of the Grand National Meeting at Aintree Racecourse.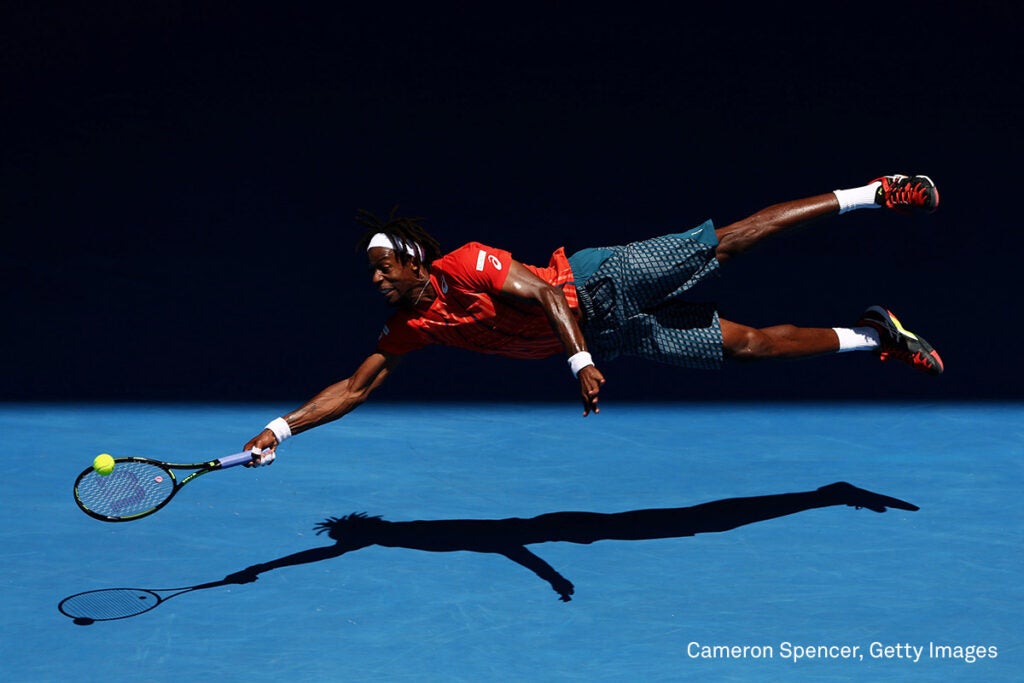 The Dive
Sports – Second Prize, Singles Gaël Monfils of France dives for a forehand in his fourth round match against Andrey Kuznetsov of Russia during the 2016 Australian Open at Melbourne Park, Australia. The Australian Open holds the record for the highest attendance at a Grand Slam event.
Rio's Golden Smile
Sports – Third Prize, Singles Usain Bolt of Jamaica smiles as he looks back at his competition while winning the 100-meter semi-final sprint at the 2016 Olympics in Rio de Janeiro, Brazil.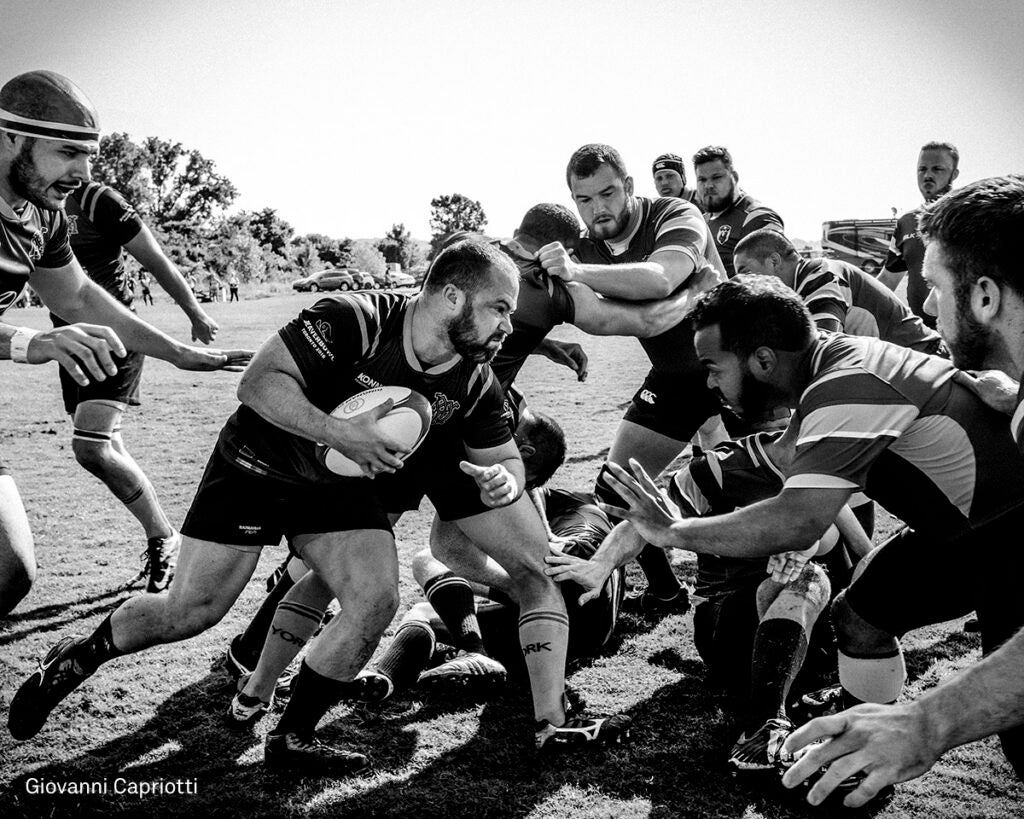 Boys Will be Boys
Sports – First Prize, Stories Gay athletes have somehow nearly always encountered resistance, controversy, discrimination, and often humiliation from the sports community. Discomfort in the locker room pushed a few of Toronto's gay rugby players to form the city's first gay-friendly rugby team. Established in 2003, Muddy York RFC primarily competes against "straight" teams in the Toronto Rugby Union. The Muddy York team unconsciously started the process of describing and deconstructing the idea of performance within masculinity.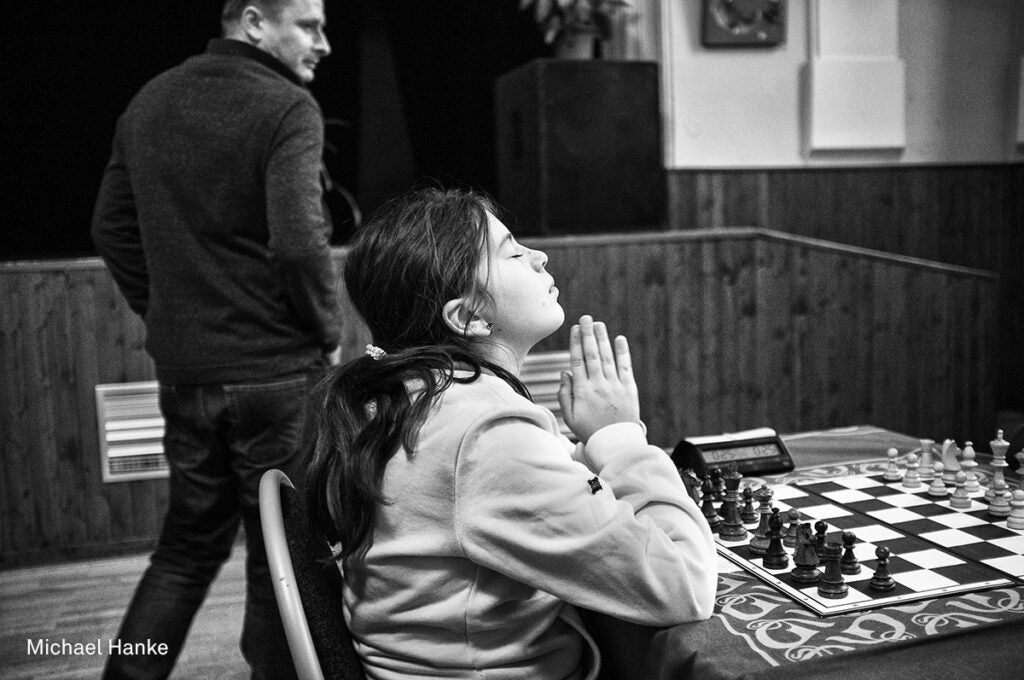 Youth Chess Tournaments
Sports – Second Prize, Stories Chess, for some, represents a world full of strong emotions, adrenaline and stress. This series focuses especially on the youth tournaments held across several cities in the Czech Republic in 2016. The youth tournaments aim to motivate young people, replacing electronic devices with real-world interpersonal communication and entertainment.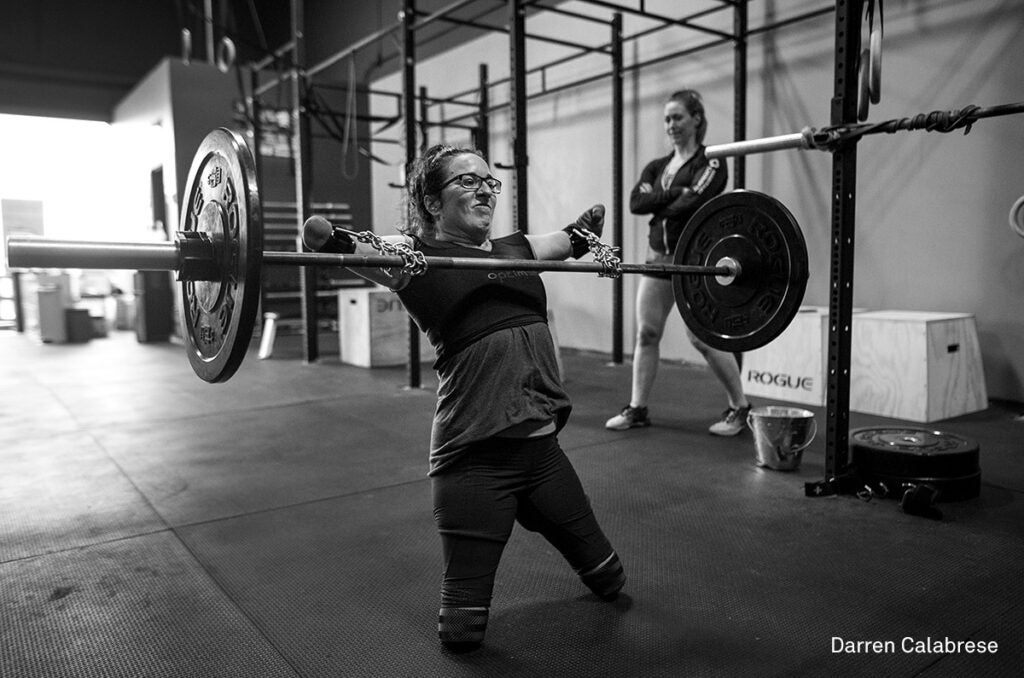 Adaptive Athlete
Sports – Third Prize, Stories Lindsay Hilton, from Halifax, Nova Scotia, Canada, can lift 100 pounds. Lindsay was born without arms and legs. With the aid of chains purchased at the hardware store and deadlift straps, Lindsay performs cleans under the watchful eye of her coach Jenny Jeffries.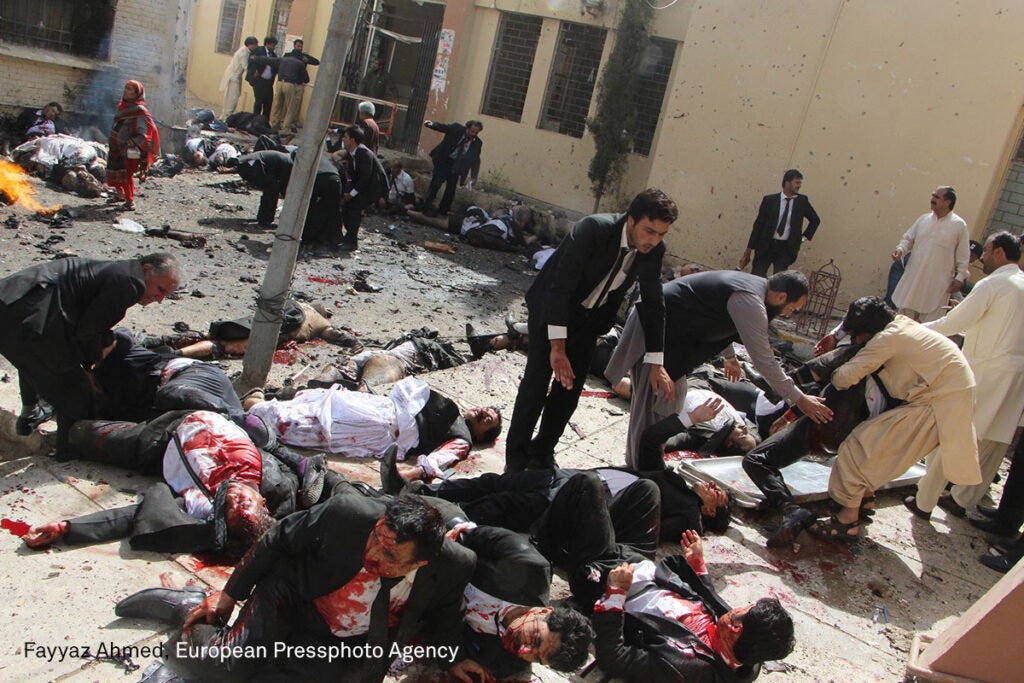 Pakistan Bomb Blast
Spot News – First Prize, Singles Lawyers help their injured colleagues after a bomb explosion in Quetta, Pakistan, on 8 August 2016. Seventy people were killed when a bomb exploded outside a civil hospital where a crowd of lawyers and journalists had gathered to mourn Bilal Anwar Kasi, a senior lawyer who had been assassinated hours earlier.
Medics Assist a Wounded Girl
Spot News – Second Prize, Singles A Syrian girl cries out as a wounded child lies next to her at a makeshift hospital on 12 September 2016. She had been injured in reported government airstrikes on the rebel-held town of Douma, east of Damascus, Syria.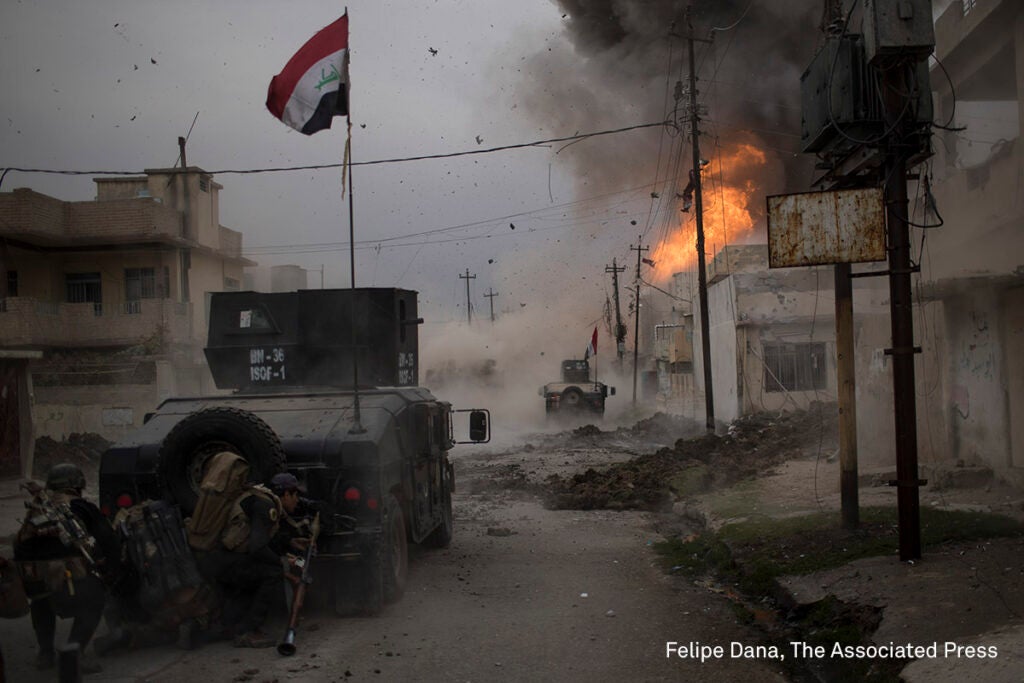 Battle For Mosul
Spot News – Third Prize, Singles A car bomb explodes next to Iraqi special forces armored vehicles as they advance towards Islamic State-held territory in Mosul, Iraq, on 16 November 2016.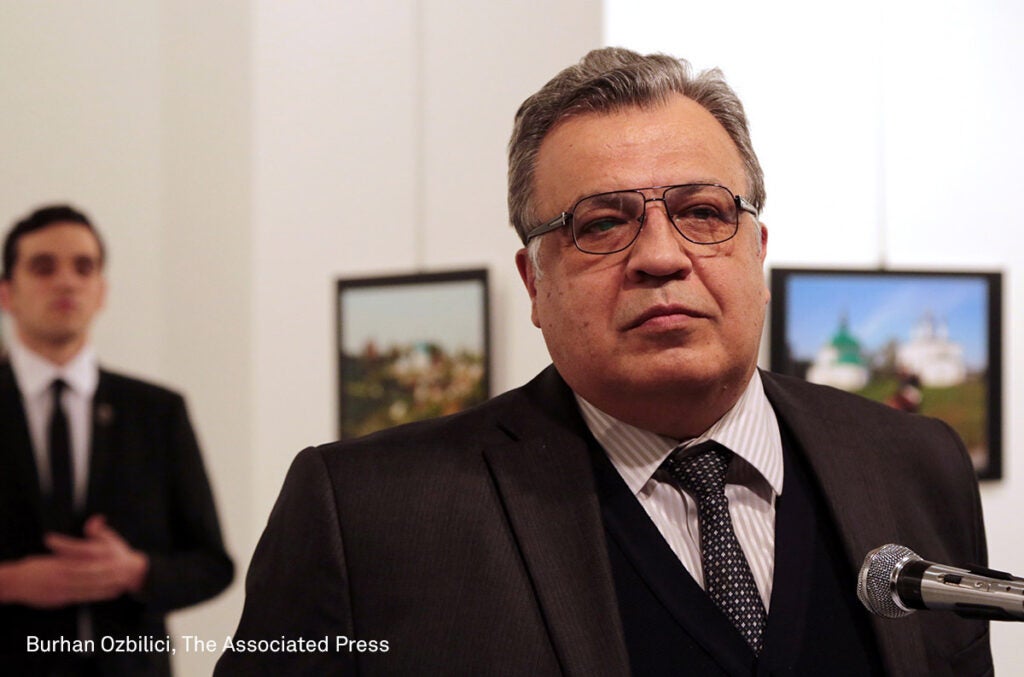 An Assassination in Turkey
Spot News – First Prize, Stories Andrey Karlov, the Russian ambassador to Turkey, speaks at an art gallery before being shot by Mevlüt Mert Altıntaş, left, in Ankara, Turkey.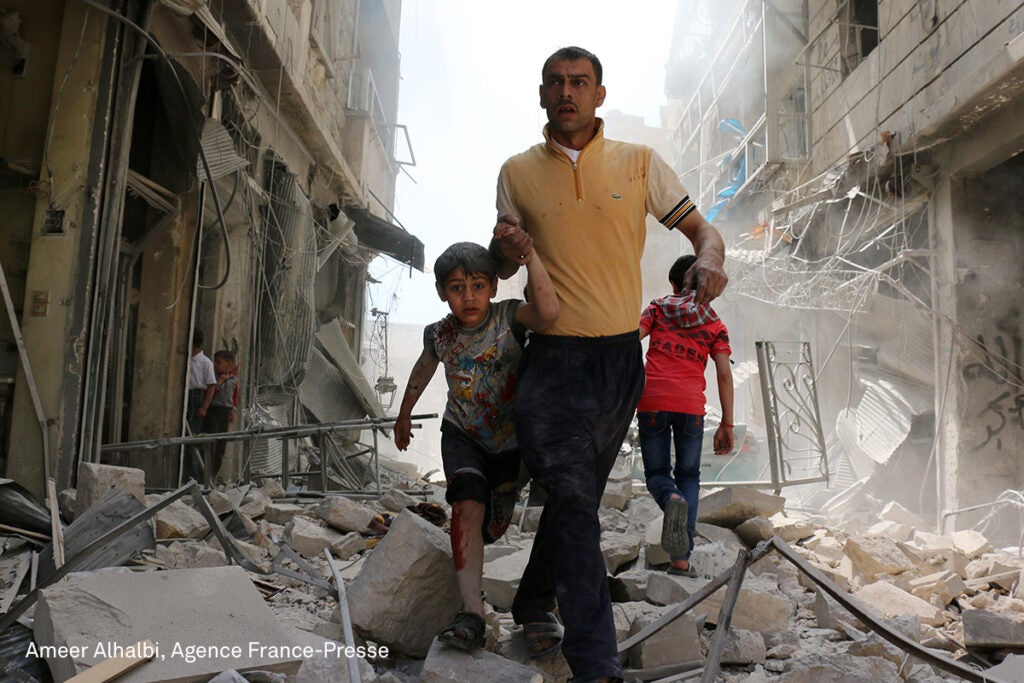 Rescued From the Rubble
Spot News – Second Prize, Stories A Syrian man evacuates an area following a reported airstrike in the rebel-held neighborhood of Hayy Aqyul in Syria's northernmost city, Aleppo. Since 2012, Aleppo has been divided between rebel and regime-held districts, but a devastating regime offensive launched in mid-October saw the rebels ousted from their iconic former stronghold.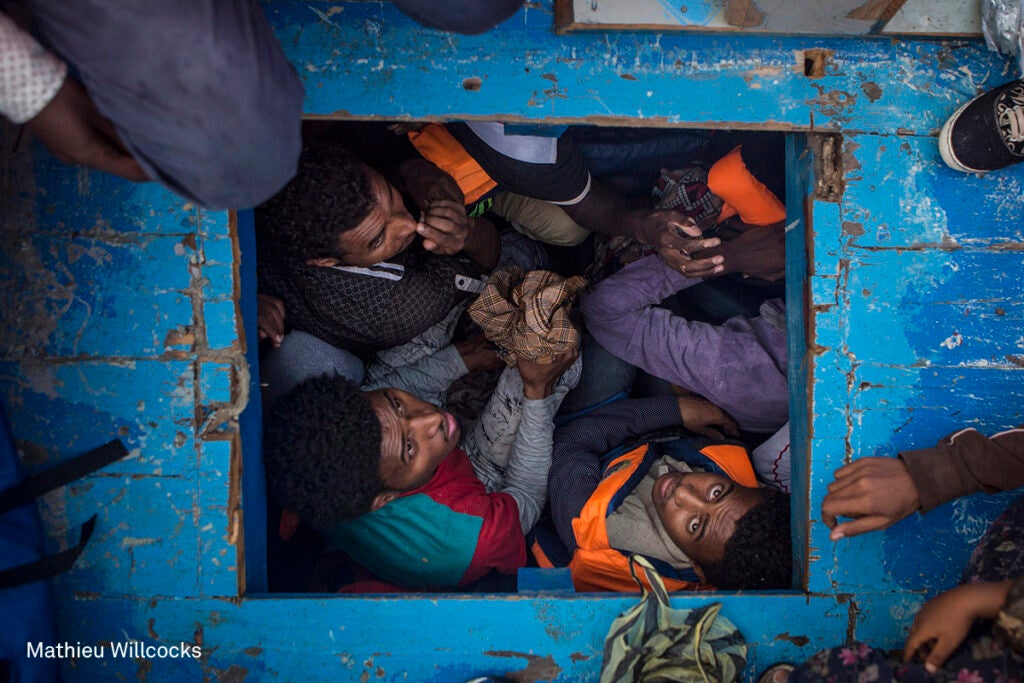 Mediterranean Migration
Spot News – Third Prize, Stories Eritrean migrants seen cramped in the hold of a large wooden boat which carried approximately 540 men, women, and children. The central Mediterranean migration route, between the coasts of Libya and Italy, remains busy. According to reports by the UNHCR, 5,000 people died while attempting to cross the Mediterranean in 2016.