While You Were Out: Andrea Modica's Horse Sense
"I've never been a documentarian," says Andrea Modica. Anyone familiar with Modica's pensive images would agree. Yet one of her … Continued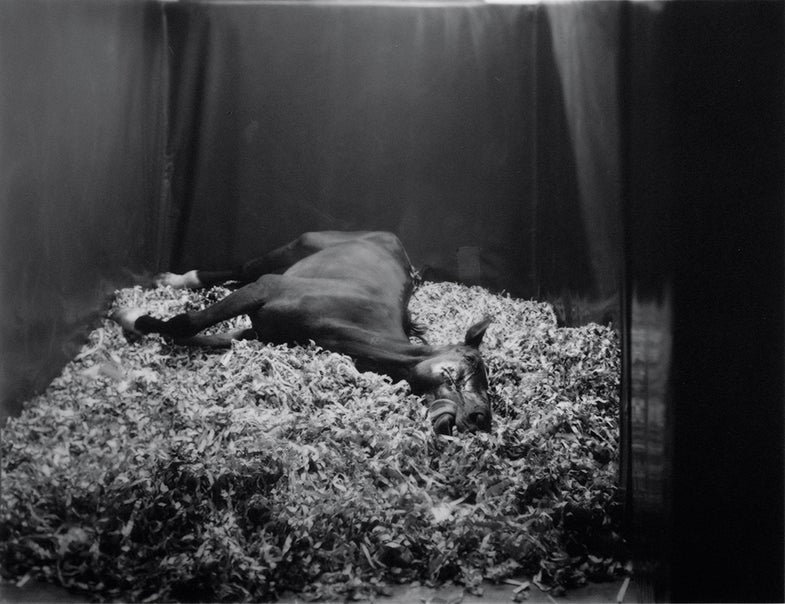 "I've never been a documentarian," says Andrea Modica. Anyone familiar with Modica's pensive images would agree. Yet one of her summer projects seems, on its surface, to be documentary: a study of horses recovering from surgical anesthesia in Bagnarolo di Budrio near Bologna, Italy.
Modica has been to Italy many times since a 1990 Fulbright Scholarship in Sicily. This summer she connected with a veterinarian who specializes in horses, a man who also happened to be an artist. Sympathetic to Modica's fascination with his day job, the vet invited her to set up her 8×10 view camera where she pleased. "I was primarily drawn to the post-operative recovery rooms," says the photographer. "They were simple padded stalls with overhead windows that created beautiful, soft light, with floors covered in the doctor's shredded junk mail, medical journals, and art publications."
Modica's horses are at odds with our usual notions of equine beauty and grandness. Rather than standing tall they languish on the floor, mouths open, as likely to be dead as alive. That uncertainty makes the images disturbing and poignant. "I'm deeply interested in ambiguity," says Modica. "The images are printed in platinum, by contact, so they have a beauty that may seem in opposition to the horses' vulnerable state."
Photographing this subject with a view camera seems counter to the demands of its environment, in which low light creates a risk of blur. "I required a minimum one-second exposure," Modica recalls. "The horses were still enough for that. But I got that adrenaline rush from having to get it done before the horse woke up and bolted. An attending vet would quickly close the doors to the stall at the first flicker of an eyelid."
When asked about the impact on viewers of her unorthodox representation of an animal that has such sentimental meaning for humans, Modica demurs. "Though shooting is often emotionally charged for me, my method of working is to tackle the problem of physically making the photograph," she says. "So I give little conscious attention to what the outcome might mean for a viewer. Of course, this changes after I live with the image and think about putting it out into the world."
Andrea Modica is a professor at Drexel University.