When Subjects of Documentary Photography Tell Their Side of the Story
How does it feel to see your life through the lens of a someone else's project?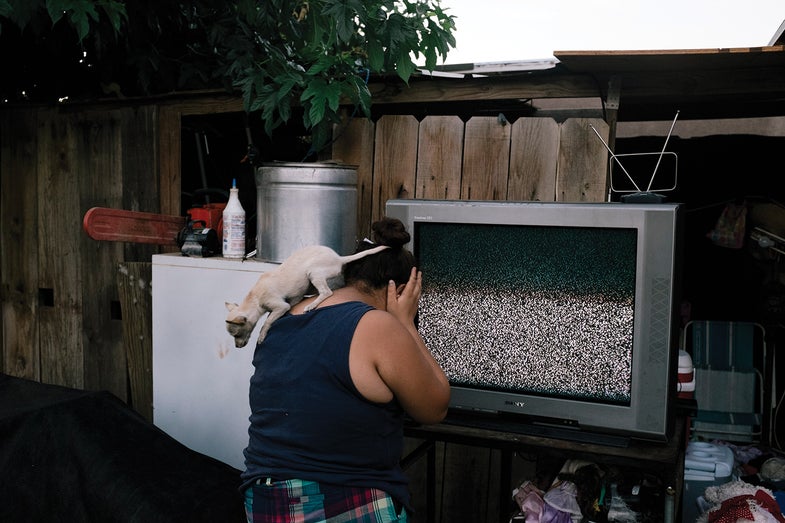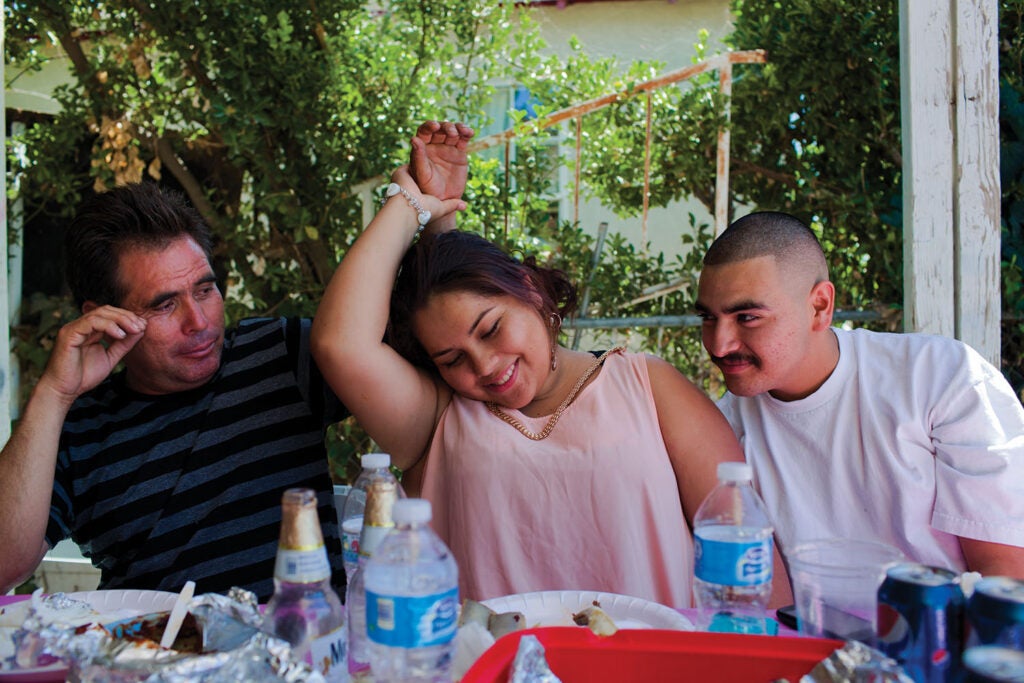 In 2010, New York City–based documentary photographer Mark Abramson began work on a photo essay about the civil disobedience and political theater in Washington, D.C., initiated by young activists lobbying for the Dream Act. The legislation would grant permanent residency to undocumented immigrants who were brought to the U.S. when they were very young.
Three years later, Abramson wanted to get away from the politics and debates to focus on an undocumented family living day to day—folks just trying to get by. He contacted the Undocumented Students Program (USP) at the University of California at Berkeley, and it referred him to an academically strong UC student whose family had brought her with them from Mexico and who, like her parents, was undocumented.
Blanca agreed to a one-hour interview with Abramson. This led to his meeting her parents, who invited Abramson to visit their home in Bakersfield, California. He went, cameras in tow—again and again, for a year and a half. Along the way, he coproduced a documentary about Blanca and her family with film director Gabriela Bortolamedi. Called Ni Aqui Ni Alla (Neither Here Nor There), it premiered at the Margaret Mead Film Festival in October 2014.
Even today, the family's status is complicated. As a pre-med student at Berkeley, Blanca benefitted from the Obama Administration's Deferred Action for Childhood Arrivals (DACA) in 2012 and the California Dream Act, which allowed her to tap into public scholarship funds. Blanca's sister, Sonia, was born in California and is a U.S. citizen; the rest of the family remains in legal limbo. While President Obama's 2014 executive order on immigration allows Sonia and Blanca's parents to avoid deportation, nothing is a sure bet. And Blanca faces possible deportation herself, with a new Congress eager to reverse the order. Here Abramson and Blanca discuss their photographic collaboration in telling this story. [The family asked that their surname not be used.]
How did you get involved in this particular project?
I didn't get involved in the project—I got tricked into it [laughs]. The Undocumented Students Program asked me to talk to you about how the Education Opportunity Program helped me. They said it was only going to take an hour. Then I met you and it wasn't an hour thing!
No, it wasn't. It turned into a year and a half. What did your family think of it?
When my dad invited you to our home, he didn't know this would be a photo project. Then the trips continued, and the project grew more and more.
At one point you said it's one thing to do an interview and be photographed, but to include your family was a step further. You said, "When I see my family in it, it takes my fear to a new level." What did you mean by that?
With my situation, my family always comes first. Because of DACA [Deferred Action for Childhood Arrivals], I don't fear for myself when it comes to immigration, but my parents don't have anything at the moment. They don't have support. Being part of the community of the school system, and being a part of the Undocumented Student Program at Berkeley, is something big that's backing me up. My parents don't have that. I think that's why I hesitated with the project—because more people know about them, more people know about their situation. I think it's a great photo project, but it just scares me from time to time.
Were there specific moments or situations that made you feel uncomfortable?
Some of the pictures were too intimate for us, and we just didn't know how to say, "I don't think it's OK for you to take pictures of that." At first it was hard telling you. Then throughout the process we got comfortable enough with each other to let each other know, maybe this is not right.
As the subject of the project, how would you characterize your contributions to it?
The biggest contribution I've made is introducing you to my family. The second would just be putting the time into it. Even though we could have pretended you weren't there, you were, and we had to make certain arrangements for that.
Were you surprised when you saw yourself in the photos?
I wasn't surprised because I knew what you were doing. I don't think "surprised" would be the right word. But it gives me a warm feeling to be able to see how excited my parents got when they knew I was visiting or how they waited for me.
The first time your parents saw the pictures, they said, "We know what our lives are like, but seeing it this way makes it more real, and more rough." When you go through difficulties every day, they're just daily routine. But in photographs, you see them back like a mirror.
I try to be more aware of what I'm doing, but it was very hard-hitting to see my parents and what they're doing. I was able to see more of their struggles and more of what they do for me.
What pictures do you like best?
My favorite picture doesn't have my dad's or my face in it. It's of his hand and my hand and I'm putting the rocks in his hand and he's putting rocks in my hand [opposite]. I've seen so many, but that's the one that has stuck with me. I think I have a clear image of that one because I really like it.
Why do you like it so much?
I always have really good moments with my dad, but that picture just captures our relationship. The next one would be Sonia in the pool. For me, that just captures Sonia.
Were there any moments during the creation of the project that made you feel hopeful?
The relationship that grew between you and us makes me feel hopeful. The project itself does, too. It excites me when you tell me, "This is going on," or "We want to do this and that with it." It scares me but it excites me at the same time, and I don't know how to balance both out. We've always talked about the purpose of the project, hoping that it helps everyone see how things are and how we are not just a bunch of immigrants—we have families and lives.
Do you think a project like this can have an impact or bring awareness?
I think it could have an impact and I think it should raise awareness. Everything starts with the way people see things, right?
What about on a more personal level? How has it impacted you and your family? Has it changed anything in your relationships?
I don't think it's changed much between the family. The main change has been how we see you. Now I see you as a friend. You make us feel comfortable. I Snapchatted a picture of you taking a nap to one of my friends. She said, "Who's that?" I told her, "Just a friend. We're doing a project together." That's how I see you: like a friend, and we're doing a project together.
Did you ever imagine being part of something like this? We talked about this with your parents. It was like we picked each other.
When I was in high school, my counselor and a few of the other students were collaborating on a book for the same purpose. I never imagined something this big, but I always hoped that one day I could help in one way or another.
What does the DACA and the California Dream Act mean for you and your family?
The DACA allowed me to apply for a Social Security number and a driver's license. The California Dream Act gave me stability and the opportunity to have an education, things I couldn't have dreamed of before. Both of them gave my parents hope for a better future for all of us. It's as if it were for my dad and everything he's fighting for. It's as if it were a Social Security number and a driver's license for all of us.
President Obama announced a big executive order at the end of 2014. How does it make you feel?
It excites me. It gives me more hope. I really hope that's just one step. Now there won't be one Social Security number or one driver's license in the family—there will be two more. Whenever my dad goes somewhere, he jokes, "I can't go without you. You're the driver's license."