This Weekend: Reporting From Paris Photo
We're incredibly excited to be attending Paris Photo. I'll be posting stories through the weekend, and you can browse them...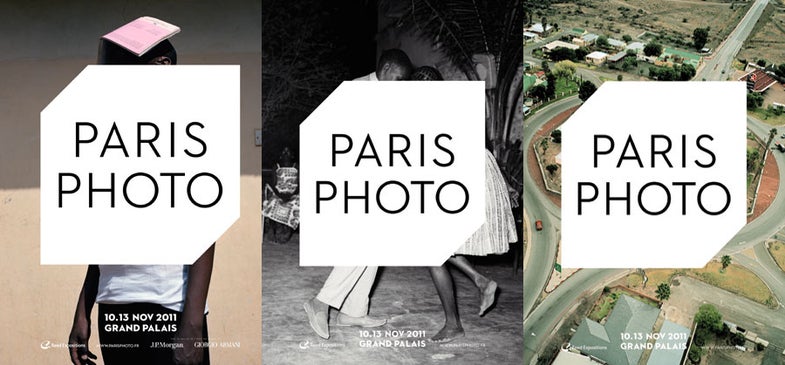 We're incredibly excited to be attending Paris Photo. I'll be posting stories through the weekend, and you can browse them all on our Paris Photo tag page. Also, keep an eye on our Tumblr, where I'll also be posting some quick photos and notes. Keep it locked! –John
_Now here's Dan with a rundown of some notable events in and around the fair: _
This week, the photography world will converge on Paris' Grand Palais, for the annual Paris Photo fair. Galleries and publishers from around the world will be exhibiting over the course of four days, from November 10th to 13th. That's not all that's happening, though: there are a couple of spin-off events which would be more than worth a visit. Here's a quick rundown of some recommended things to see, if you're lucky enough to be around Paris yourself.
There are a whole host of incredible galleries, publishers and booksellers invited to this year's jamboree, and they include the cream of the crop of photography galleries. While all the huge names like Gagosian and Magnum will be in attendance, some lesser known names also merit attention. Tokyo's AKAAKA is an innovative photography book publisher and sometimes gallery, while The Third Gallery Aya, from Osaka, represents a strong range of Japanese photographers. If you're interested in rare books, New York's Harper's Books is a must-see stop. This year's "place of honor" at Paris Photo is Africa, and I would be extremely interested to see some of the events related to African photography: there will be a special area inside the hall showing work from 12 selected African photographers. The blog Another Africa has a great post detailing some of the featured artists; we're thrilled to see Pieter Hugo's name, whose book Permanent Error documenting the electronics waste dumps of Accra is one of our photo books of the year (the full list will be hitting the web soon).
There are two other noteworthy events outside the doors of Paris Photo itself. Offprint is a fair dedicated to photobooks only. It's bringing in a crowd of mostly small photobook publishers, like English zine experts Preston Is My Paris, one-man show 4478ZINE, and Paris' own independent photobook lover, Lozen Up. Some medium-sized outfits, like The Ice Plant–publishers of Ed Panar's "Animals That Saw Me"–will also be there. This interview with Yannick Bouillis, the founder of the event, is a great read.
If Paris Photo's large-scale galleries and conservative punctuation aren't to your taste, nofound_photofair might be more to your liking. , This is the first year that nofound is bringing its network of contemporary galleries and aversion to capital letters to Paris. Some of the interesting exhibitors include Galerija Duplex from Sarajevo, and Sophie Boursat from Paris.
If you manage to be in town for the show, let us know in the comments or on Twitter if anything caught your eye.
Dan Abbe is a writer and photographer working in Tokyo. He writes a blog about Japanese photography, Street Level Japan. On Twitter he's @d_abbe.