Watch Nick Ut Revisit the Site of His Iconic Napalm Girl Photo With His iPhone
For the 43rd anniversary of the most enduring image from Vietnam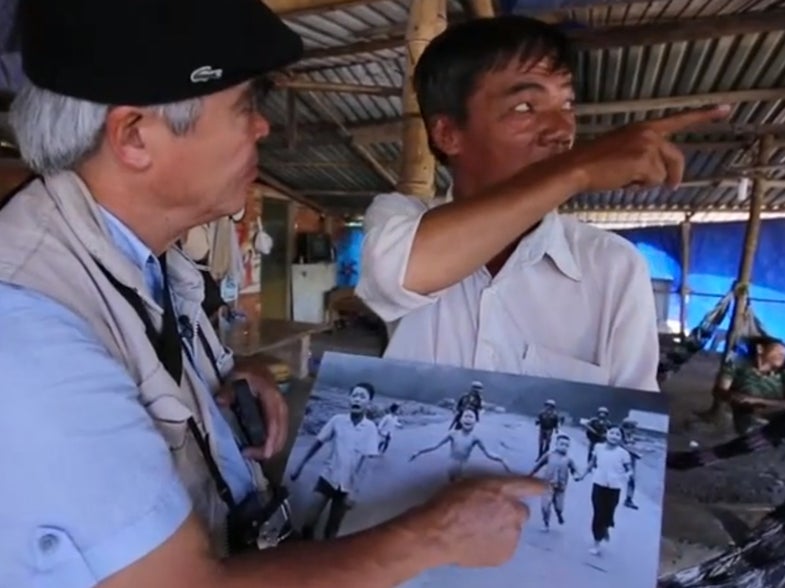 On Monday, Associated Press photographer Nick Ut returned to the site of his Pulitzer Prize-winning 'Napalm Girl' photo, 43 years to the day of making the Vietnam War image that became seared in the American consciousness. Ut, born in Vietnam, was only 21 at the time and part of a network of regional stringers for the AP, an early instance of a western news agency enlisting local talent for conflict coverage. Collectively, with images like Eddie Adams' Saigon execution photo, 'Napalm Girl' helped foment public opinion to end the war. Such literal power of imagery had not been seen before or in the time since for reasons including the mass volume of photos that are shared today and the unprecedented control authorities now exert over the representation of conflict.
Equipped with his iPhone this time for a takeover of the AP's two-month-old Instagram feed, Ut was able to reconnect with Ho Van Bon, the cousin of 'Napalm Girl' Kim Phuc, pictured running on her far right in the iconic image. [Further on the right, beyond the widely published crop, was photojournalist David Burnett, who, unfortunately for him, was busy reloading his camera.]
"In the old days you had to go back to Saigon and develop film," Ut says in the video above. "Way too long for a story."
Ut is currently based in Los Angeles and continues filing photos on the AP wire—we featured one of his recent images in our Best Photojournalism of the Year 2014 gallery.