Watch: Live and Direct From Andy Warhol's Grave
There is something slightly unnerving about watching a single unwavering view on a famous person's grave while you eat breakfast … Continued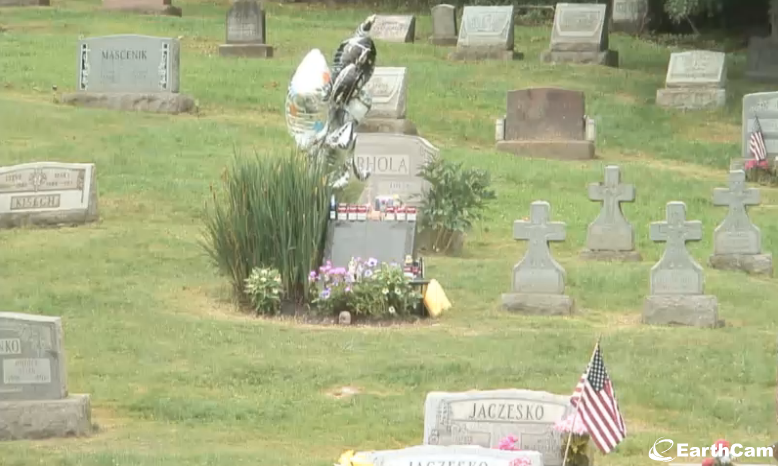 There is something slightly unnerving about watching a single unwavering view on a famous person's grave while you eat breakfast at home. And yet that is now an option for your morning viewing.
The fact that the gravesite belongs to Andy Warhol adds something to the equation, of course. No artist before him and few since explored the concept of fame and celebrity as deeply. So it's fitting that, on the 26th anniversary of Warhol's death, the museum devoted to his life's work pointed a webcam toward the Warhol plot at St. John the Baptist church in Pittsburgh, calling the project "Figment" (Warhol: "I always thought I'd like my own tombstone to be blank. No epitaph and no name. Well, actually, I'd like it to say 'figment'"). Where he can continue to explore celebrity in the internet age from beyond the grave, as it were.
The project acknowledges a similar ongoing work by the artist Madelyn Roehrig called "Conversations With Andy." Roehrig has created a Facebook page on which she has documented five years of interactions she and others have had at Warhol's grave site.
As I finish up my french toast, I've yet to see one of the daily visitors to the plot, which Warhol shares with his parents, Andrej and Julia Warhola. The shiny mylar balloons left by a previous visitor are still slowly turning in the breeze.