Starting tomorrow, Boston's Museum of Fine Arts will present a photography exhibit that's the first of its kind in America: a survey of women photographers from the Middle East. "She Who Tells a Story," which has a particular focus on photographers from Iran, will be up until January 12, 2014. This show looks to be something of a revelation: "She Who Tells a Story" and its catalog represent an excellent opportunity for American audiences to learn about a tradition of photography that (to my knowledge, at least) has had little exposure up until now.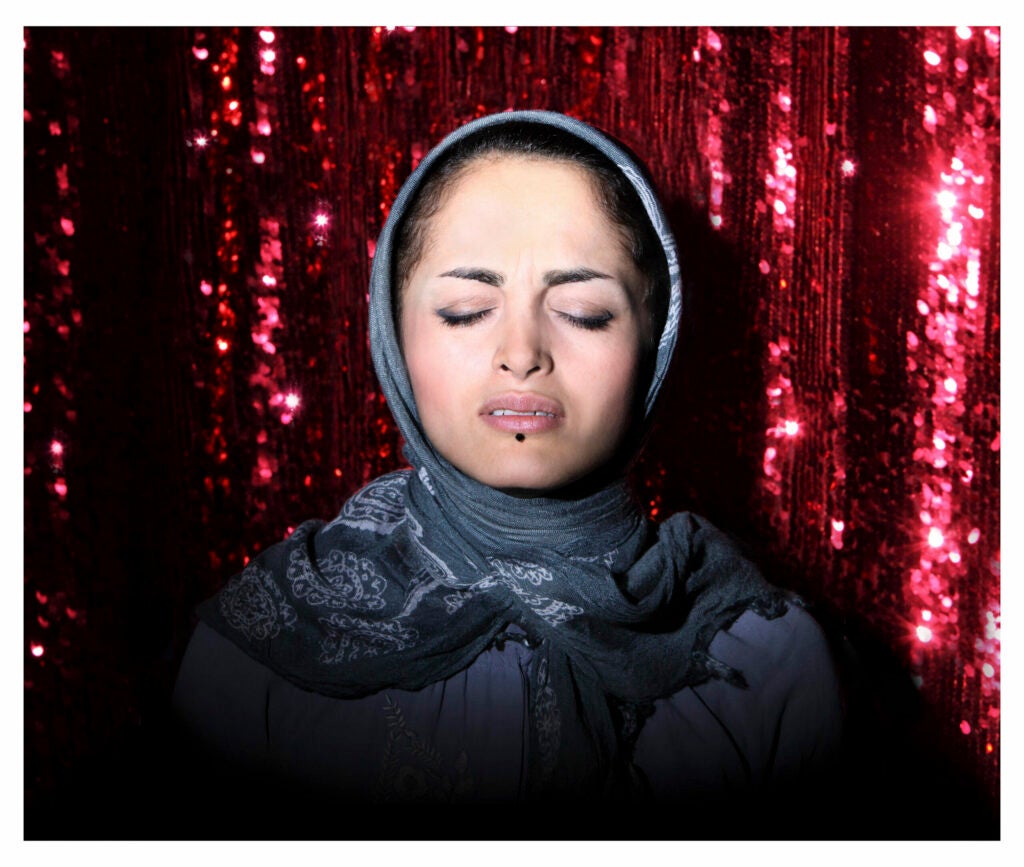 I could hardly call myself an expert on the activity of women photographers from the Middle East, and one of the goals of this exhibit is to offer some context for how to look at these photographs. Some Western audiences have seen this work in a reductive way. In a foreword to the catalog, curator and critic Michket Krifa discusses how culturally-charged objects, and the veil in particular, have been used to draw overly simplified conclusions about the situation of women in Muslim countries. In discussing the work of Iranian photographer Shirin Neshat, she writes: "very quickly, her photographs prompted Western art critics to search for an aesthetics of the veil, often with a desire to see her works solely as a critique of the Iranian regime and, more broadly, of Islam." In short, Krifa says, "they distorted her artistic singularity into an anthropological curiosity." Clearly, one challenge of the exhibit is avoid producing this sort of reading.
This means that the curator of the exhibit has the somewhat difficult task of showing the broader community or tradition of female photographers in the region, while also showing how these photographers stand on their own. Yet this is not just a task for the curator: the audience must also meet the exhibit halfway, by looking at the works included here as individual expressions, rather than as the necessary result of a certain political or cultural situation. Keeping all that in mind, I'd like to look at a few of the works featured in the show.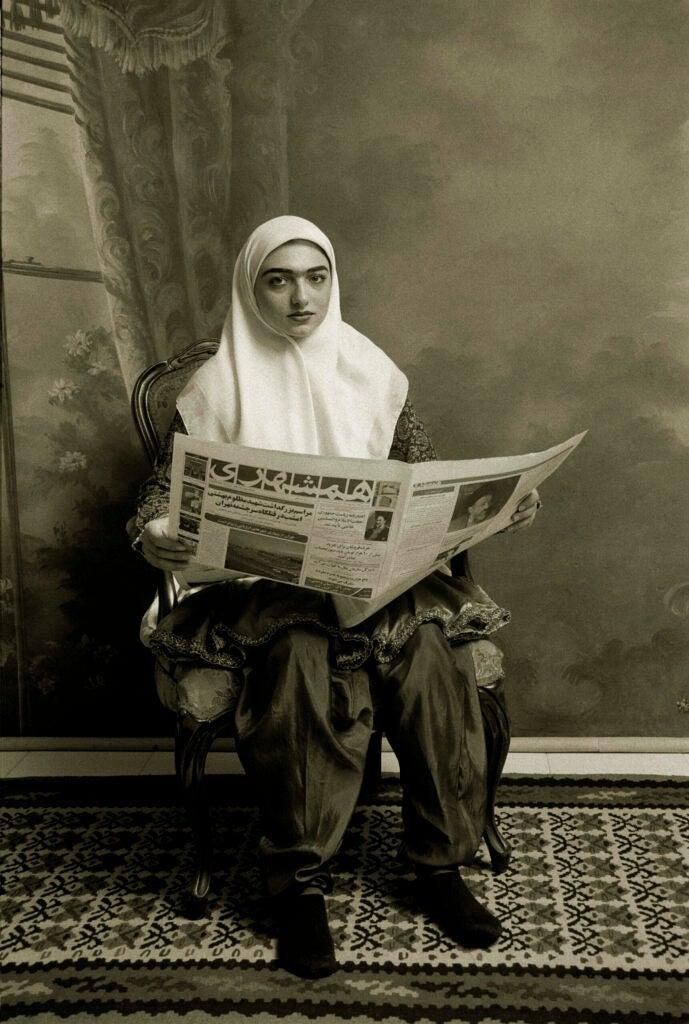 I'm drawn to "Qajar," a series from 1998 by Iranian photographer Shadi Ghadirian. She's taken sepia-toned photographs of young women in a traditional studio setting, but in each image they are holding something that breaks up the otherwise stately feeling: a can of Pepsi, a boombox, dark sunglasses. Each object was officially banned under the Iranian government, and in one image, the subject is holding an issue of a newspaper (also banned) to which Ghadirian and her husband contributed. Perhaps these images are well-suited to a Western audience, given the humorous disconnect between, say, a can of Pepsi and the luxurious backdrop. Still, the work raises more serious questions about private and public life in Iran–and given that the name "Qajar" refers to a fruitful period of Persian culture, it also puts itself in dialogue with the larger tradition of Iranian photography.
Newsha Tavakolian's series "Listen" also addresses the restrictions of life in Iran. Tavakolian started photographing at a young age, and she eventually became one of the few women working at the top of the Iranian photojournalism world. Her photographs had been published in news outlets all over the world (there's a short interview with her on the New York Times Lens blog) but her press card was revoked in the run-up to the 2009 Iranian elections. Without this public forum, she turned to a more artistic photographic practice. To produce "Listen," she invited six female Iranian singers to perform in a studio. Under the restrictions of the Iranian Revolution, these singers are unable to perform or record on their own, and so the soundless nature of photographs reflects their own situation as performers. When the work is exhibited, Tavakolian also shows videos of the women as they sing, but these videos play in silence. For a photographer who was forced to leave her main profession, it seems like Tavakolian has made an extremely smooth transition to the art world.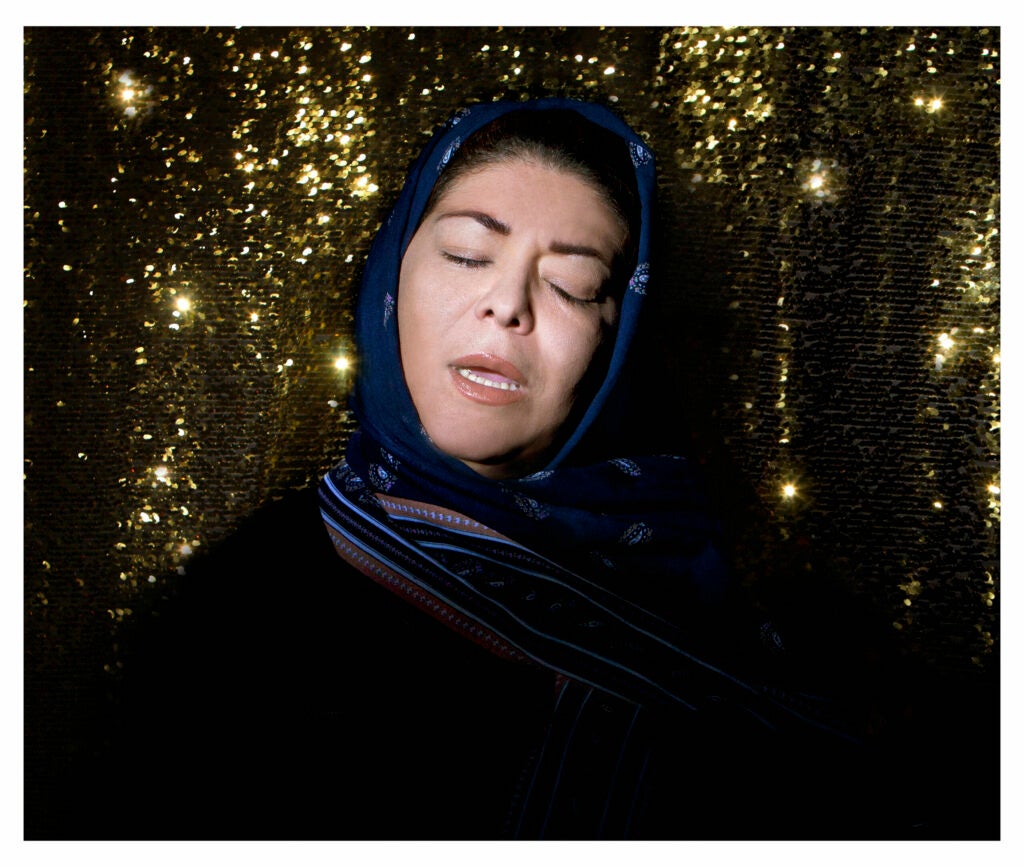 While the works of Ghadirian and Tavakolian are quite personal, Rania Matar's series "A Girl and Her Room" is closer to traditional documentary photography. Matar is a Lebanese-born photographer who currently lives in Boston. Her work depicts teenage girls both in America and in the Middle East. Matar says that she wants her subject to "pose herself as she wishes," so in some sense, these photographs could be seen as self-portraits. At the same time, the objects that surround these young women are revealing: the difference between the conditions of Alia (Beirut, Lebanon) and Mariam (a Palestinian refugee camp in Tyre, Lebanon) are quite stark. This project might recall the work of JeongMee Yoon, who photographed boys and girls in Korea and America with their gender-coded objects. Yoon's work is surprising for the sheer volume of objects she documented, yet it seems clear that the goal of Matar's project is not to draw out material differences between various regions of the world. Instead, the photographs explore questions of identity without trying to push for a pan-regionalism (let alone a globalism).
Much like the subjects of Matar's series, there are no sweeping statements to be made about "female photographers in the Middle East"–the individuality of each artist bears this out. Perhaps the lack of an easy explanation for "She Who Tells a Story" is what will make it a valuable contribution to the American (if not Western) understanding of photography from the Middle East in general.