On the Wall: Ori Gersht's Haunting Lives, Still and Otherwise
Israeli-born photographer and video artist Ori Gersht is a painter with his lens. His romantic images of natural environments are … Continued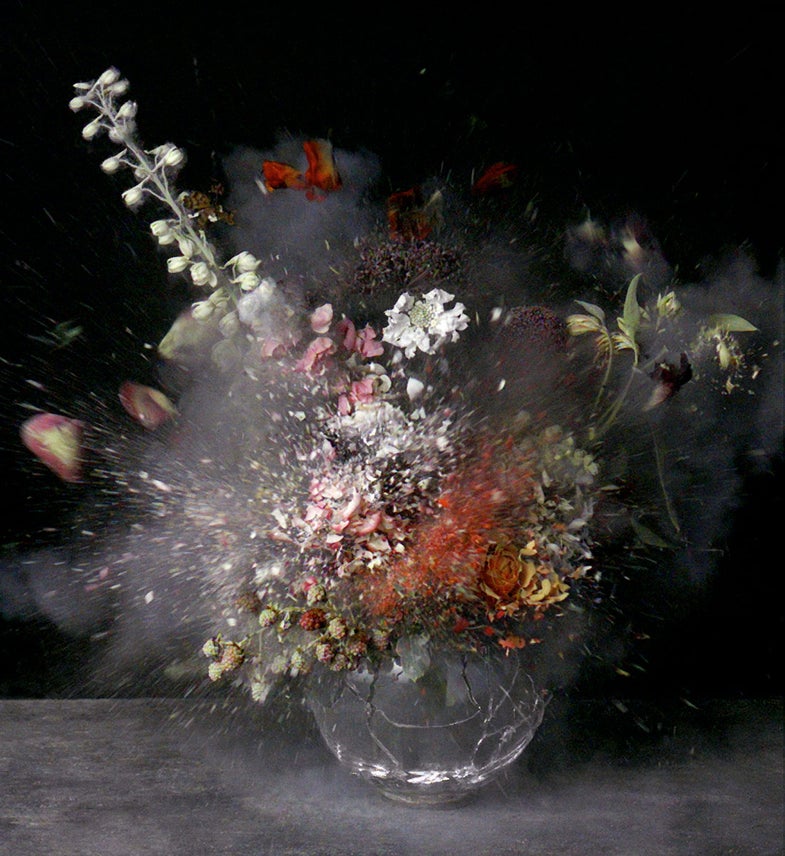 Israeli-born photographer and video artist Ori Gersht is a painter with his lens. His romantic images of natural environments are filled with sweeping monochromatic fields of color, the subjects of his portraits are hauntingly illuminated, and his interior still lifes are brimming with lighting and composition reminiscent of old-world European tableaux.
His serene, yet melancholy landscapes seem to betray their violent history in their silence. Many of his images investigate cultures (and landscapes) still healing from the underlying scars of war and consequential human suffering: images taken on a train ride to Auschwitz, photographs of war-torn buildings in Sarajevo, or of the lingering resonance of the bombing of Hiroshima during World War II. His human subjects present living histories of triumph and suffering: the video Will You Dance For Me? (2011), is a portrait of the aging Czech-born dancer, Yehudith Arnon, who was imprisoned in Auschwitz when she was 19 years old and forced to stand in the snow after refusing to dance at an SS Christmas party. She committed the rest of her life to dance, and though frail, rocks back-and-forth in her rocking chair in the video.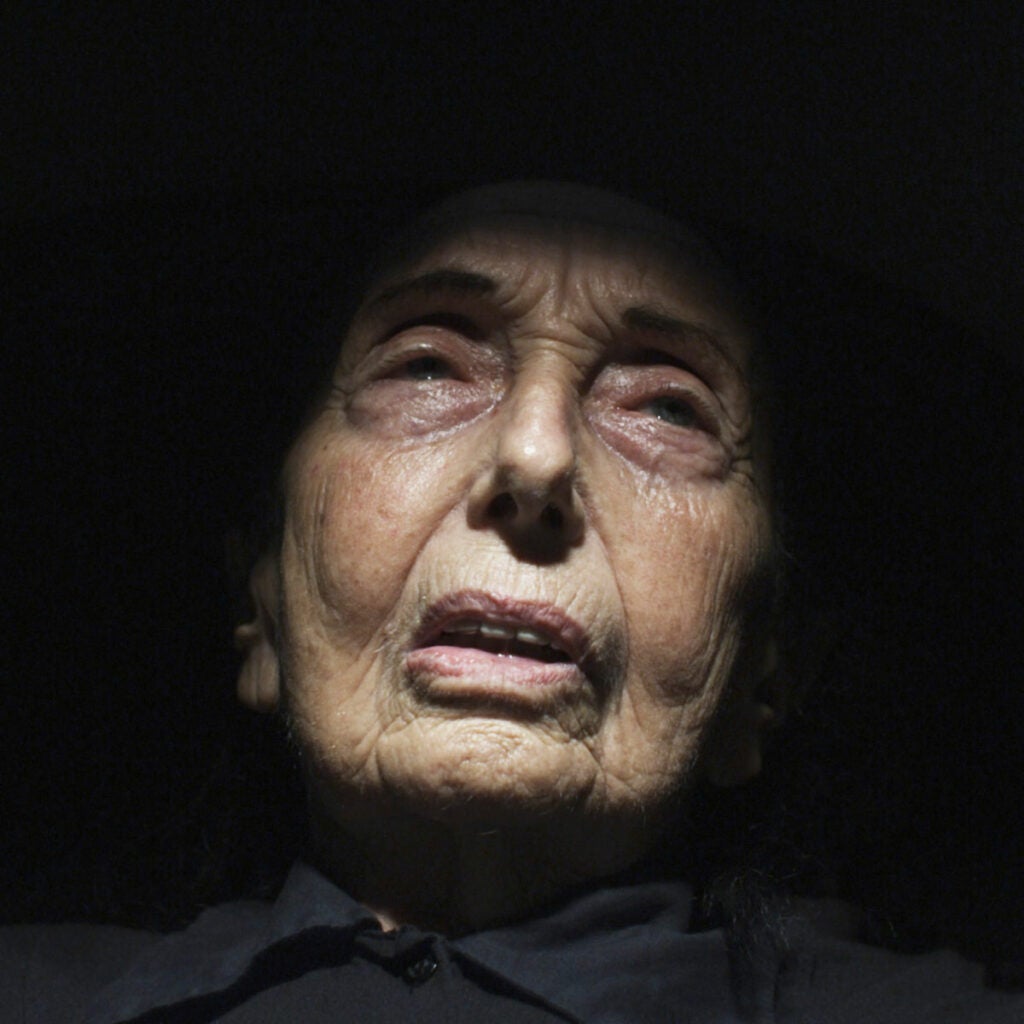 Will You Dance For Me?, 2011
If his landscapes and portraits lead to a feeling of mounting tension, his still lifes give us some relief: his video studies of flowering bouquets (such as Big Bang, 2006) and objects such as fruits (Pomegranate, 2006) and ducks (Falling Bird, 2008) literally explode. In these disparate subjects, Gersht has the uncanny ability to capture an unsettling beauty in the moment when creation and destruction meet.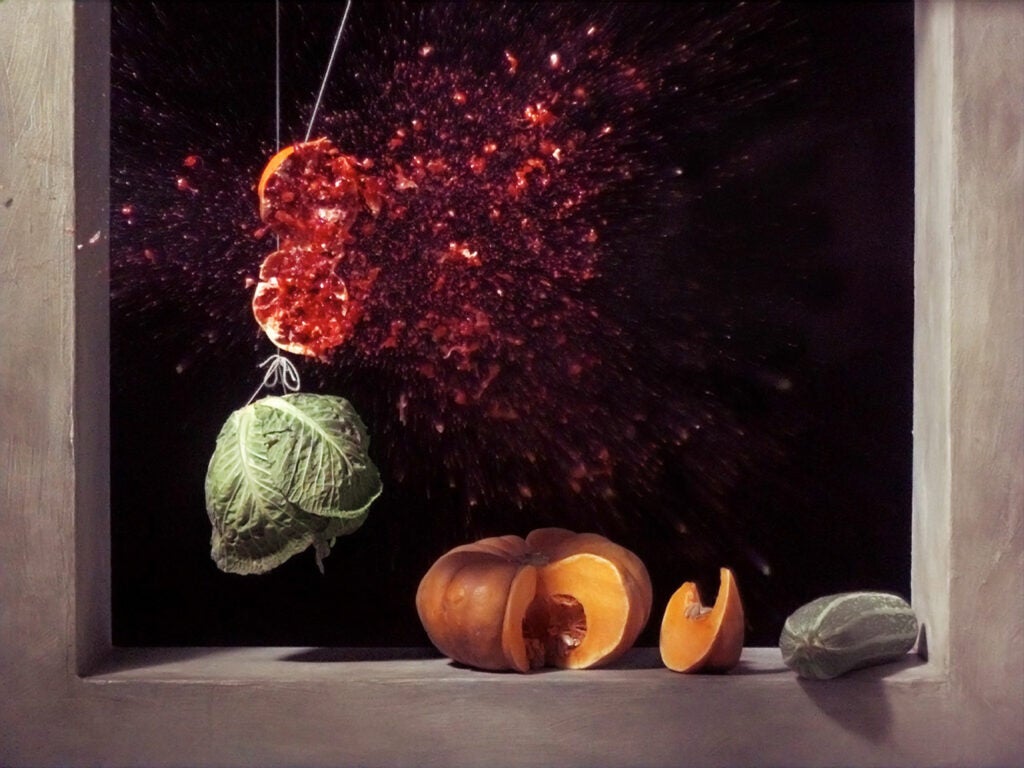 Pomegranate, 2006
Gersht's interest in history and his contextually haunting narratives makes one question the existence of the locations in space and time. We are left to contemplate how our own histories and collective memories inform our present existence.
"Ori Gersht: History Repeating," the first comprehensive survey of the artist's work, is on view at the Museum of Fine Arts, Boston through January 6. Malcolm Rogers, Ann and Graham Gund Director of the MFA says of his work, "his inspired films and photographs bring history to life and affirm that the art of our time has a prominent place in the context of our encyclopedic collection." The museum exhibition includes 25 works by the artist — 17 photographs and eight moving-image pieces. The artist has also selected six works from the museum's collection to complement his pieces. A stunning monograph of the artist's work, released under the same title, was published in conjunction with the exhibition.