On the Wall: New Photography 2011 at MoMA
Since 1985, the Museum of Modern Art in New York has presented its annual "New Photography" show—a group exhibition of...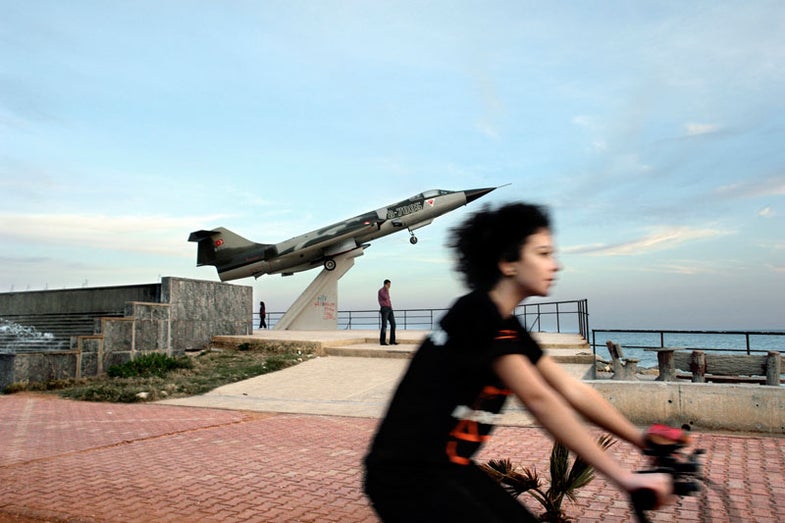 Since 1985, the Museum of Modern Art in New York has presented its annual "New Photography" show—a group exhibition of new work that is "committed to showing significant achievements in the medium of photography," as this year's curator Dan Leers puts it. I've always looked forward to it as an interesting chance to see what sorts of work, themes and trends in photography MoMA chooses to back with its significant institutional weight in the art world.
In recent years' shows, "New Photography" seemed focused on articulating all the diverse ways the photographic image finds itself woven into conceptual art. The result were often interesting, but under the banner of "New Photography," to me the show tended to shy away from a certain directness with the photographic medium. That's not to say there was a lack of great, "straight" work in years' past—Mikhael Subotzky's excellent documentary in South Africa (2008) and Alex Prager's pulpy take on Cindy Sherman-esque film stills (2010) were two recent standouts. But the balance certainly seemed to tip toward the conceptual.
This year's show, up through January 16, 2012, feels like a shift to me. Its six artists present an exceptionally well-balanced spectrum of new work, which is split nicely down the middle with three projects that represent a more conceptual approach to the photographic image, especially the role of archives in photography, and three that operate within the well-established realms of portraiture and documentary work.
"New Photography serves as a cross section of today's photography world," says Leers. "And today, that cross section is best represented by the varying styles we see in the show—whether that's people working more conceptually, or people working in a more straightforward manner. And I don't think one is better than another, but I do think it's important to show that both kinds are happening today."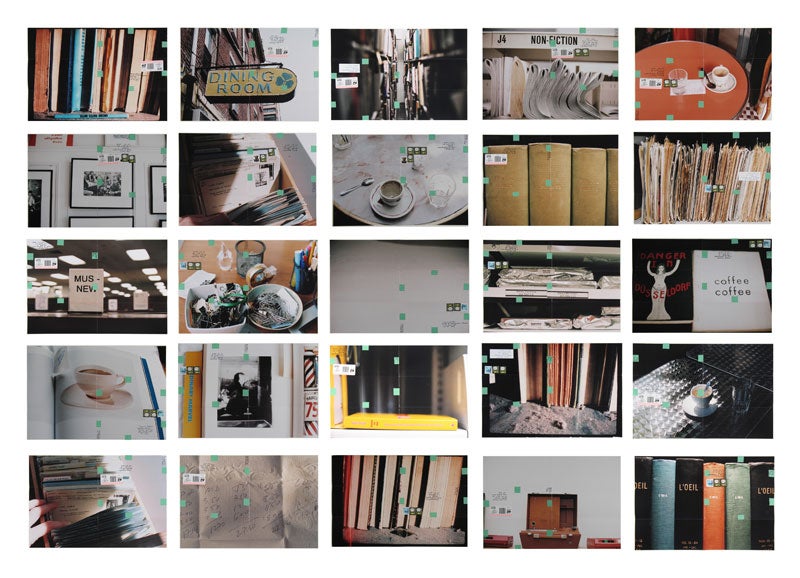 The Coffee Shop, The Library, 2011
Moyra Davey
Davey presents an interesting mix of the two camps, even though traditional analog photographs (11 x 17 prints made from 35mm negatives) are at the core of her work. Inspired by a few words she jotted years before in her notebook ("the coffee shop, the library") one of Davey's two image grids on display is composed of photos shot specifically in those two places, including some taken within MoMA's own archive. To compose the grids, Davey first folds and seals the photographs into the shape of an envelope and mails them to friends. They are then recollected and displayed bearing the creases and labels they accumulate along the way (her own mail-order lending library, perhaps).
"She's interested in these places that are a meeting between public and private, and they're also places where creativity and thought happen, and she loves the mirroring that happens with the work itself and what is actually depicted in the work," Leers says. "There's a subtleness and quietness about them that allows for contemplations of these places where contemplation happens. I like that echoing very much."
George Georgiou
Georgiou is an English photographer who lives in Istanbul, and Turkey's culture-in-transition is the subject of his Fault Lines series (see top image) on display here. Georgiou works in a traditional documentary style, and I really responded to the role of color in this work. In a bright red illuminated sign rising from dun desert sands, or a burst of green, blue and pink plastic bags tucked under the arm of a woman returning from her shopping, you see how color directly signifies the presence of modernity amid the traditional landscape of Turkey.
Leers agrees: "I think these real punches of color best highlight what was the main focus of that series, which is that Turkey as I understand it has very much a foot in two different worlds," says Leers. "The world of the old and traditional, the world of the new and modern, the world of the secular and religious. All of these different dualities are what contribute to making Turkey such an interesting place as it is today, and I think the color certainly heightens that."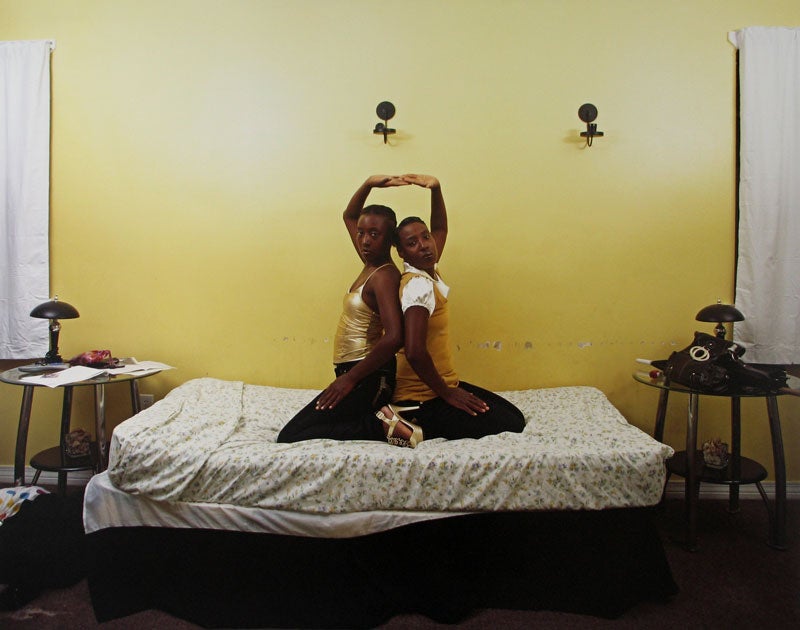 Roxie and Raquel , 2010
Deana Lawson
Color is also centrally important to Deana Lawson's portraits of strangers she refers to as "her family." She's interested in the multitudes of physical variation in the human body, and how a person's physical shape and appearance can "channel personal and social histories."
"With Deana, she's posing her figures in a way where she really wants to draw attention to color, and specifically she has said that she really wants to document what black skin looks like on film," says Leers. "When she was growing up, she's said, race was either black or white, and what she realized when she got older war that there was a whole plethora of tonalities within the black race, and so she tries to use color to heighten or accentuate those different levels of tonality."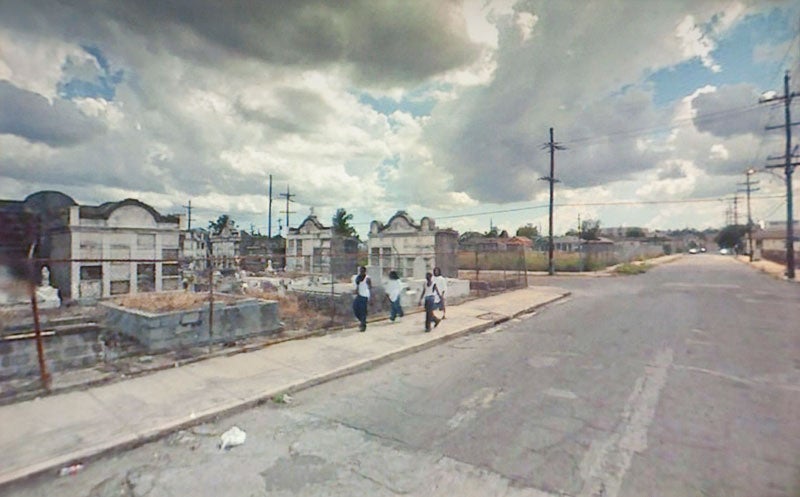 29.942566, New Orleans, LA. 2008, 2009
Doug Rickard
Rickard's work fits within an emerging genre of projects that employ Google Street View imagery as their primary photographic content. Through research, Rickard identifies specific neighborhoods in America where poverty, crime, unemployment and other social ills are particularly prevalent, then photographs the screen of a computer showing Google's Street View of the area.
I've been skeptical of Street View's role in photography, and the issue has sparked lots of conversations online. It's impossible to deny that Google's camera cars are capturing some truly staggering visuals, on a level of scope that's equally undeniable in what it says about privacy, the internet, and our current ability to visually record our world. But would the pain and human experience of the people in these places be better expressed by traditional documentary photography, rather than images captured in computer-automated fashion from a passing car? That remains the question for me.
"If Doug's work only worked on that one level [appropriating Street View images] I would be less interested in it," says Leers.
"Another aspect to the work is that there is this sort of Google perspective in these photographs. There tends to be this warping of the horizon point, and the other thing is—and Doug himself pointed this out to me—the camera is something like nine feet off the ground on a pole on the back of this car. And automatically what that means is that you have this elevated perspective looking down on the subjects, and that's important to remember when you're talking about these classes of people that are already downtrodden.
"I think it sparks a really important discussion about who these people are, and whether we should be comfortable with images of ourselves on the internet for anyone to see," says Leers.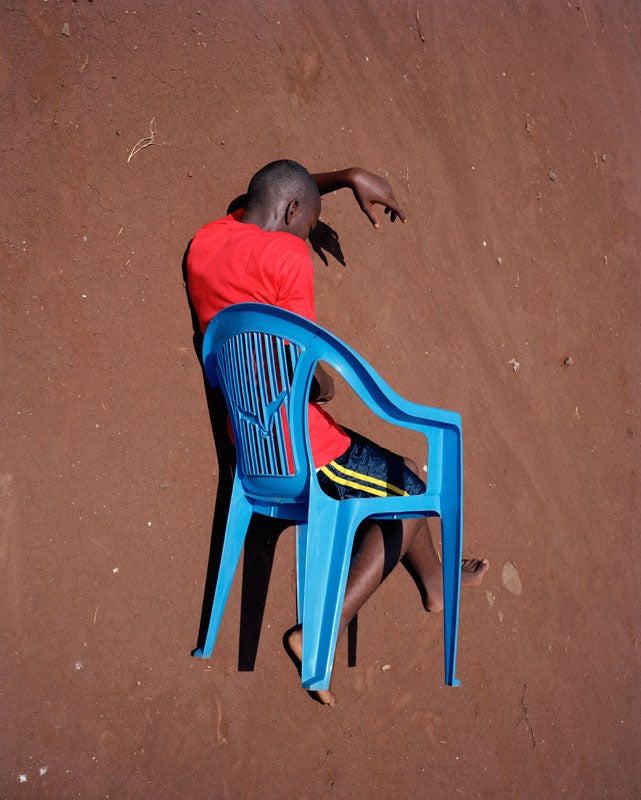 Parasomnia , 2010
Viviane Sassen
If I had to pick a favorite set of images from the show, it would be Parasomnia, Viviane Sassen's gently surreal images taken in Africa (she doesn't name the countries). Sassen, who is Dutch, grew up in Kenya, but upon returning to the Netherlands later in her childhood she didn't feel quite at home, while at the same time knowing she was an outsider in Africa as well. The images, with their rich color, obscure figures and at times oddly deadpan focus (a bottle of orange liquid being poured into a hole fascinates), succeed in rendering a feeling of dèja vu, even though the dreams and memories being pulled from the murk are Sassen's, not yours.
_Parasomnia _also provides a fairly atypical portrayal of Africa, where the vibrant setting is secondary to the works' main focus. "Viviane's work is not really about the people and places of Africa, it's about her," says Leers. "It's about her trying to capture and recreate some of the vivid dreams and memories from those places."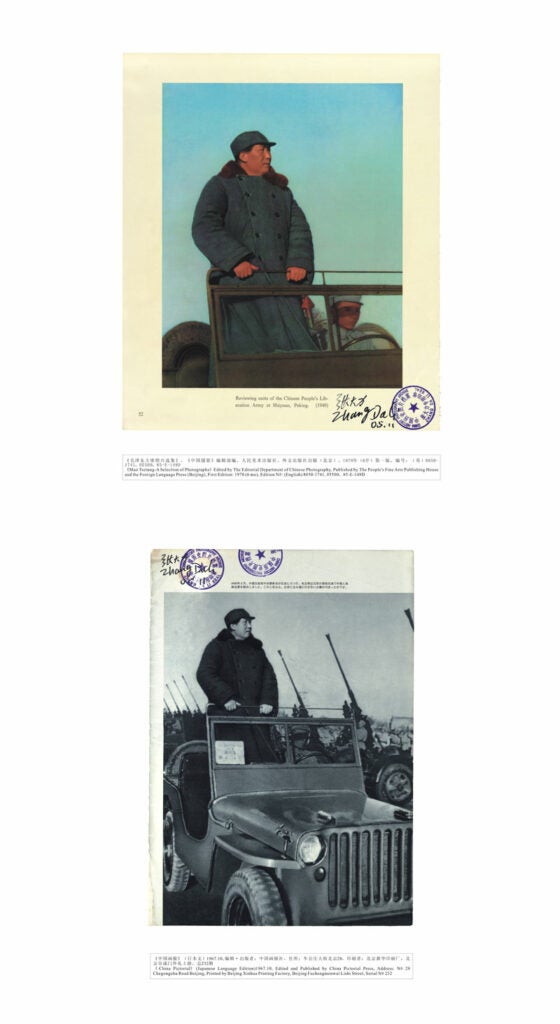 Chairman Mao at Xiyuan Airport, Beijing, March 1949, 2003-2011
Zhang Dali
Rounding out nicely the more conceptual end of the spectrum, Zhang's work actually contains no original images. Appropriating the historical archives of Maoist China, Zhang traces propaganda photos through their varying stages of manipulation, displaying the different variations side-by-side. Some are shown passing through different stages of coloration, which again emphasizes the role of color in an image's perceived believability.
"Our tendency might be to believe that a black & white image from a newspaper is somehow more credible than anything else, and he's very much setting out to break that down," says Leers. "Especially under the Maoist regime, seemingly every single official image that the public saw was touched by the regime and their censors, and all of it was changed in some way."