On the Wall: Naked Before the Camera
I was naked this morning. A creepy way to start this article, perhaps (I was in the shower!), but think...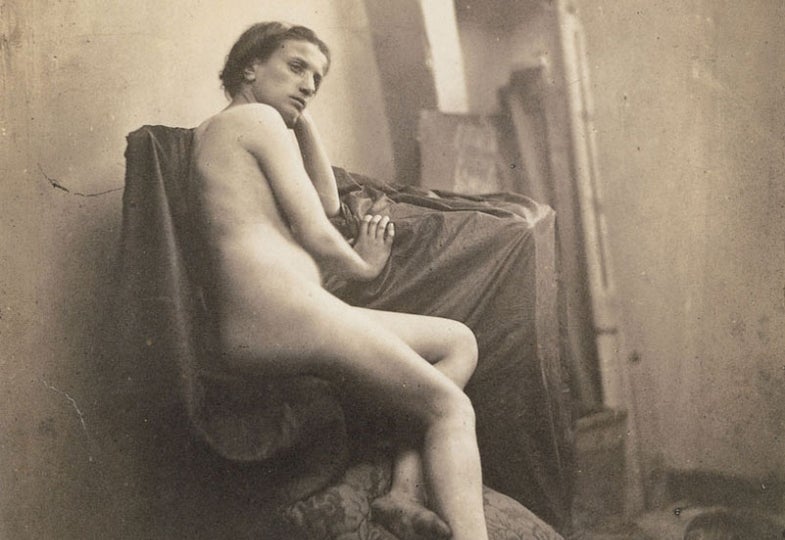 I was naked this morning. A creepy way to start this article, perhaps (I was in the shower!), but think about the statement as a plain fact. There's a good chance that you too were naked this morning, along with millions of other humans. Life is experienced via our bodies and nothing else, which places the human form at the very top of the most primordial ideas and concepts in art.
Pulled from the New York Metropolitan Museum of Art's permanent collection and opening today is "Naked Before the Camera"—a tight, brief primer of the history of the nude in photography that looks at art's most ancient theme expressed in one of its youngest mediums.
If this sounds a little racy for the Met, you might right. But, as curator Malcolm Daniel points out, the museum is chock full of nakedness (just this week, a Tumblr blog surfaced promising to document every nipple in the place). Photography, though, in all of its detail and "accuracy," frames human nudity much more directly than the idealized, classical forms in painting and sculpture. In its specificity, nudity in photography is a different beast. Yet, as "Naked Before the Camera" shows, the same art-historical tropes and historical developments found in more traditional mediums also apply to the nude in photography—it just got a late start.
Taking a roughly chronological approach, Daniel defines the 60-odd photos on view into five "motivations" for their nakedness. We begin in the prim times of the mid-19th century, when photographs used as figure studies for painting and drawing provided an imprimatur of practicality for nudity. Despite their utilitarian nature (Nothing to see here! Just a model for art students!), a feeling of humanity and eroticism still manages to find its way into these photos, as in Frank-François-Genès Chauvassaignes's "Female Nude in Studio," an uncharacteristically direct portrait for the time that feels much more contemporary as a result.
Worth noting in this time period are two interesting recent acquisitions that Daniel says served as a partial impetus for the show (see images #1 and #2 in the gallery above). Produced by an unknown French photographer around 1856, the large salted paper prints (much larger than the surrounding photos from the same time period) depict a male and female form, pleasantly obscured by what appears to be a silky veil. In fact, this effect is created by a printing mistake from dirty glass negatives, which the photographer elected to keep rather than fix. This is one of the earliest instances of technical defects being valued for what they add to a photo's aesthetics—a very modern idea, as any Instagrammer today should recognize immediately.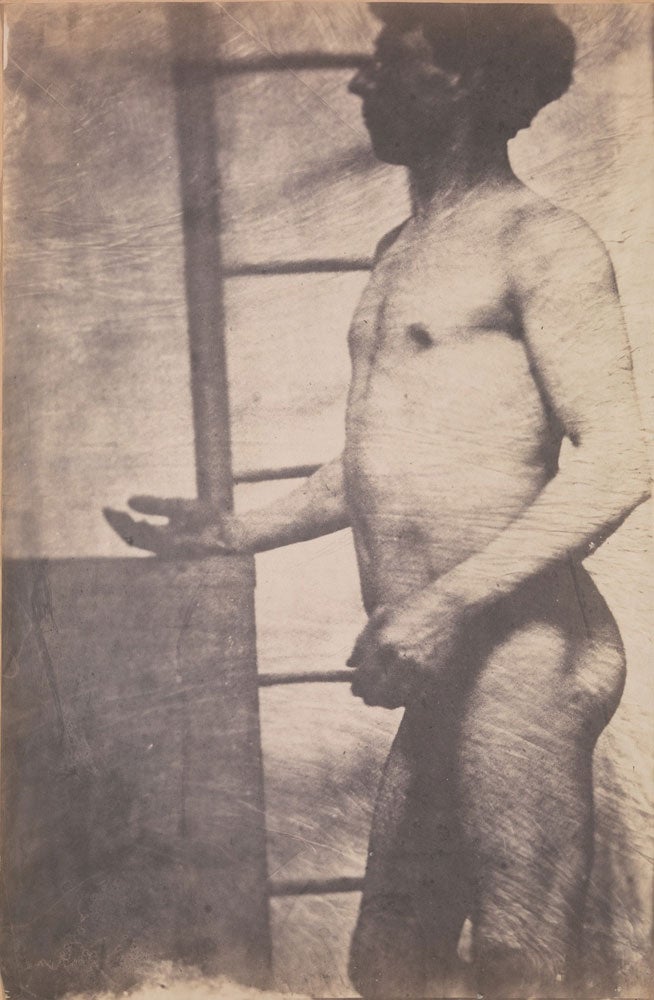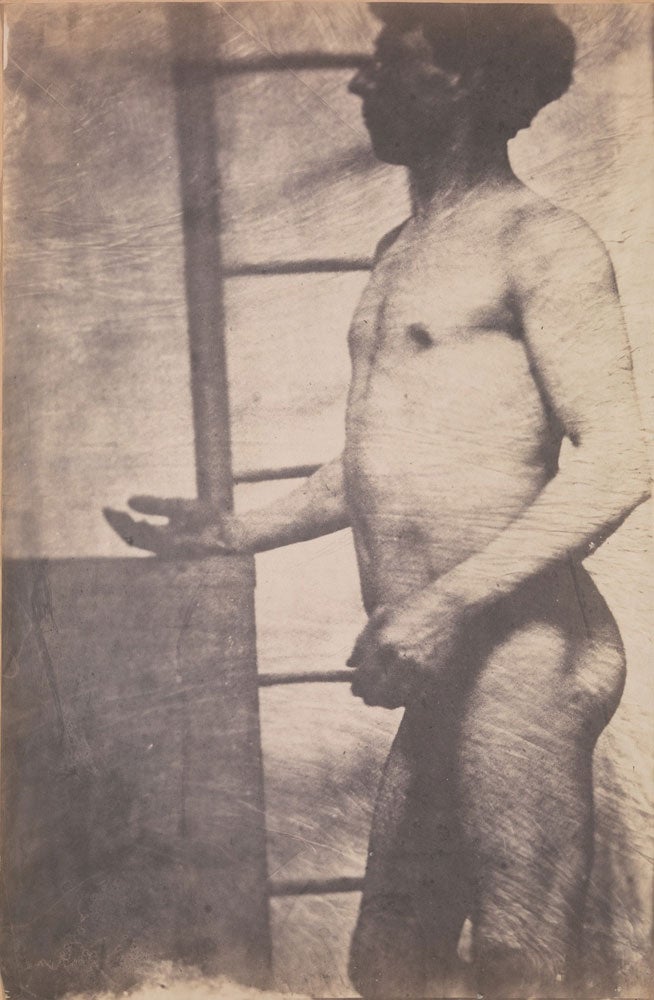 Unknown French Photographer, 1856
As we move into the late-19th century, we see the motivation for nudes in photography turns toward science and ethnography. As France and England expanded their colonial holdings, photographic depictions of the exoticness of life abroad captivated artists and audiences back home. Here we also see nude photos valued for pure information, used for crime-scene forensics, medicine, and as scientific studies of human locomotion (most famously in Eadweard Muybridge's frame-by-frame sequences).
In the 20th century, we see the photographic nude playing an important role in the modernist, avante-garde and surrealist work of artists like Man Ray, Brassaï, Franz Roh. Here the body is often abstracted, emphasizing the artists' new ideas toward sexuality and psychology. The next section focuses on photographers documenting intimate relationships between artist and subject, when nude series of friends and spouses defined the work of Edward Weston, Harry Callahan and others. And the final "motivation" is one of politics, as naked bodies bore new ideas of gender, identity and sexuality from the revolutionary 1960s to the arrival of AIDS in the 1980s.
"Would my previous director let me get away with spelling out 'naked' in flashbulbs on a sign out front? Maybe not," said Daniel. "Yes, we could have framed it as 'Treasures of 19th Century Photography'…" Daniel said, as he trailed off with an exaggerated yawn. "But people will come and realize this is not a polemical show."
"We do have a sense of humor here," Daniel continued. "We can have fun with the signage, at least!"
"Naked Before the Camera" opens today and runs through September 9.