On the Wall: Francesca Woodman at The Guggenheim
The buzz surrounding the work of Francesca Woodman tends to be so glowing as to garner the artist with cult-like...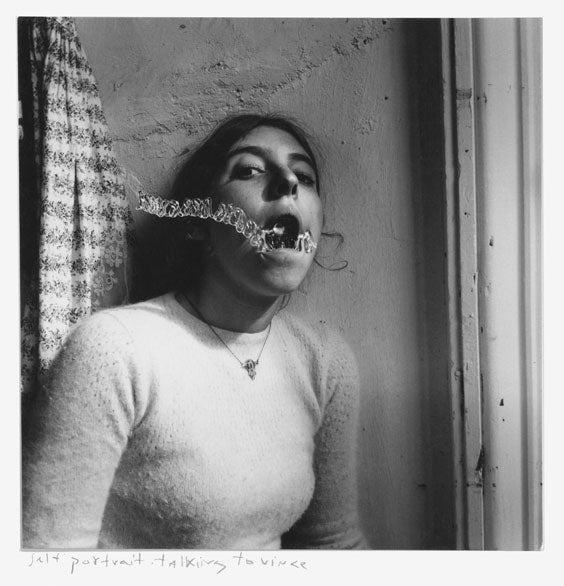 The buzz surrounding the work of Francesca Woodman tends to be so glowing as to garner the artist with cult-like status. So, when I entered the Guggenheim to see the exhibition on a gray March day, I choose to surrender myself to the work—relinquishing any preconceptions so as not to color my first in-person experience.
At 125 images — most of which are black-and-white — it's a smaller adaptation of the recent presentation of the work at the San Francisco Museum of Modern Art. My initial glance takes me aback. I am amazed by how the artist conceived of such a compelling and focused body of work in such a short period of time (1975-1981) and at such a tender age (22).
Amazed by her uncanny ability to create timeless works that speak to our contemporary longing for analog photography.
In her short life, ended in 1981 by suicide, the artist completed a BFA at Rhode Island School of Design, studied abroad in Rome, participated in a residency at the prestigious MacDowell Colony and aspired to gain artistic prominence in New York City.
The chronological and geographically-driven exhibition is the most comprehensive exhibition of the artist's work thus far. It first posits the viewer in abandoned buildings in Providence, Rhode Island. The gallery walls reveal small, intimate silver gelatin images that are expertly printed powerhouses of artistic excellence.
The haunting photographs, mostly self-portraits, draw you in without reserve to a poignant and focused visual vocabulary. They are a raw portrayal in which Woodman recalled her knowledge of art history to execute process-oriented, emotionally-wrought explorations of her body and the photographic process. She does so at a level seldom displayed in artists who are just developing their careers.
Perhaps the most striking in this gallery are four remarkable images taken from her BFA thesis show at RISD's Woodsgerry Gallery. In this series, entitled "Swan Song", Woodman departed from her small-scale images and began to enlarge her work. She further explored notions of site-specific installation by playing with presentation: tacked to a wall and displayed at varying heights uncommon to classic installation practice. Under the guidance of the exhibition's curator, Corey Keller, who replicated the installation, we are witness to the ways in which Woodman attempted to engage her audience.
And engage she does.
Woodman's experimentation with media evolved in this period of time to include videos which portray a similar sensibility to her still works—during several minutes of raw footage, we see her strategically tearing a white piece of craft paper to eventually reveal her naked body.
Her otherworldly images, sometimes resembling late nineteenth century spirit photography, begin to display a linguistic identity matching their aesthetic. In an image from 1977, she scribbled "on being an angel #1" at the bottom of the print.
I am drawn in by her vulnerability and her intense desire to understand what it means to be a woman in a society that has just begun to think of photography as not just a technical craft but a fine art.
The Woodman we are introduced to did not use a light meter and shot with a no-frills twin-lens reflex camera. She was a young woman who understood what it meant to be an artist: her parents, both artists, exposed her to the fine art world from a young age. Her studies of the human form, feminism, movement, and the placement of the body within an architectural space pay homage to surrealism, performance, and the contrapposto Renaissance figure.
She spent some of her childhood in Italy, learning fluent Italian, so it was natural that her artistic progression would include a year abroad in Rome where according to the curator of the Guggenheim's iteration, Jennifer Blessing, her "visual language is maintained, but language inflected locally".
Excited by the possibilities to explore her fascination with fashion on a commercial level, Woodman moved to New York upon graduating from RISD and pushed her ideas of the figure further yet.
She produced a series of awe-striking images titled "Caryatid" in 1980 as part of her Temple project using the diazotype process—used most commonly for creating architectural blueprints—in which she projected images or negatives made from transparent tissue paper and acetate onto large sheets of light-sensitive paper and exposed (sometimes as long as overnight) to create cyan and sepia-toned figurative photographs.
But while pounding the pavement with her portfolio, according to exhibition curator Kelley, she became disenchanted by some of the misogynist reactions by males to her and her work.
Her work begins to intimate a tone of increasing melancholy and loneliness as she makes studies of artist books and begins to clothe herself in many of her images. One such image taken in Stanwood, Washington in 1979 states: "yet another day alone I wake up in these white chairs".
As I become more deeply entwined in Woodman's visual layers, I can't help but acknowledge a haunting feeling that perhaps her images are a study for her eventual self-inflicted surrender to the ether.
Perhaps it was just the gray day.
The retrospective of Francesca Woodman will be on view at the Guggenheim in New York City through June 13. www.guggenheim.org