On the Wall: Cindy Sherman at MoMA
From her first Untitled Film Stills and throughout her sensational career, Cindy Sherman has always assumed a multitude of roles...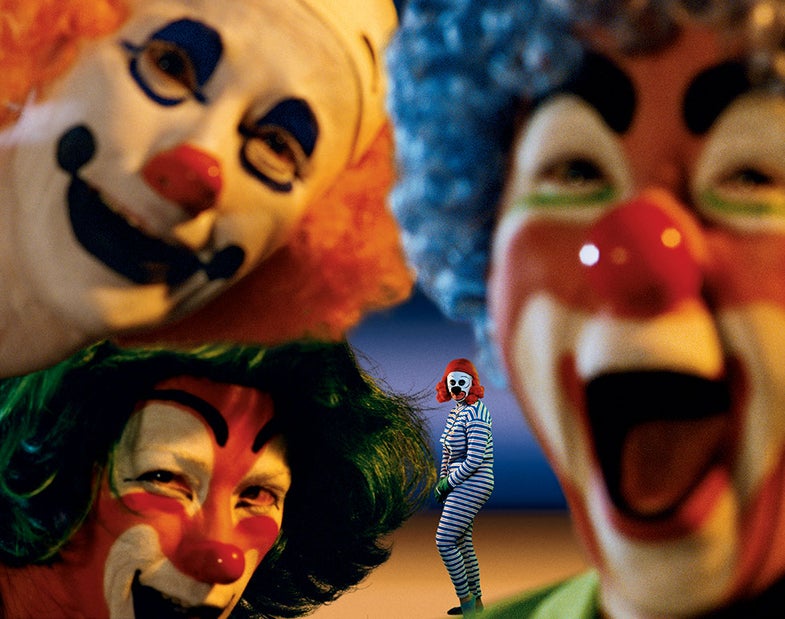 From her first Untitled Film Stills and throughout her sensational career, Cindy Sherman has always assumed a multitude of roles in her work, both in front of the camera—as movie star, aristocrat or clown—and behind it—as photographer, stylist, and art director. It's only natural, then, that critics and historians have often sought to peel back the layers for a look at the "real" Sherman.
This week (on February 26), New York's Museum of Modern Art opens its major retrospective of Sherman's photographs, chronicling 35 years of work. We recently spoke with exhibition curator Eva Respini on her collaboration with Sherman, and the challenge of packaging such a large (and critically well-documented) body of work.
Lindsay Comstock: With Sherman being such a star of the art world, did you approach this exhibition any differently than usual?
Eva Respini: I certainly haven't worked with an artist as influential as Sherman. She stands out as an artist who is a sort of giant in contemporary art. I did a lot of research before approaching her and her gallery to decide what it was exactly that I wanted to do. Once I did, it became a very open conversation and collaboration with Cindy; she has been a delight and a pleasure to work with. It was fun to have an open dialogue about her work over the past two-and-a-half years and how we imagined [the exhibition] for the context of MoMA. When you do a whole-career retrospective you are given the opportunity live and breathe the work for a number of years, which has been really fun for me.
What were the challenges you faced in deciding how to present such a huge body of work?
My biggest challenge was how does one present an artist like Sherman, who is so influential and well known, and make an exciting and new exhibition? How do I climb the mountain of literature that exists and add to it? I wanted to look at the career in not just a chronological way. We've taken a different approach to this retrospective. One of the first things you see is the most recent work, putting her up front as an artist who is doing new and experimental things. We have individual rooms within the exhibition that are devoted to themes within her work. Within those galleries there may be a work from 2003 hanging next to a piece from 1985. For me, creating these surprising juxtapositions was really exciting.
We have one room devoted to the ideas of the grotesque and the abstract. There is another room dedicated to myth and fairytales. One room features work she made for fashion clients—some of which became a critique of the fashion and beauty industry. In addition, we have galleries interspersed between the thematic ones, acting as the exhibition backbone, dedicated to one body of work such as the Untitled Film Stills. I wanted to acknowledge her working style in the layout of the exhibition, as much of her work is completed in a serial manner.
How involved was Sherman with the curatorial process? Did she have any specific opinions about her work?
I don't know of anything she did not want in the show, but she definitely had preferences and her own favorite pictures, as did I. Once we settled on the exhibition structure, which I proposed to her, we talked about the choices of individual pictures and discussed their merits within the context of the exhibition. She introduced me to a few works that were lesser known that she wanted in the exhibition, and she was interested in having a broader view of her work, which I really appreciated. I was also interested in showing her recent work and thinking about her as an artist with continued artistic vigor. So there is a real emphasis on new work. When you first walk in, you will be confronted with murals she made in 2010 [see image #2 in gallery above]. This is the U.S. premiere of that work, and it's site-specific.
What role do you see Sherman playing in the swiftly evolving field of photography? Has she been affected by changes in technology? And how does she view these changes according to her new photographic murals?
The murals are new for Cindy in a couple of different ways. First of all, they are murals. They are like photographic wallpaper. They are literally adhered to the wall from floor to ceiling; they wrap around the wall and they respond to the site in which they are installed. This is new for Cindy. She's ventured into the territory of installation and [with it] the consideration of architecture.
For the making of these works she used Photoshop on a new level, as a way to transform her face. In the murals she is barefaced, and not made up. She is wearing costumes and wigs, but no prosthetics. Whereas previously she had used makeup and prosthetics as a way to alter her features, she is now using Photoshop as a way to create a face that looks different in each character by narrowing her nose or widening a gap between her eyes or exaggerating the bags under her eyes. These are subtle manipulations that create a face that looks much different in each character. She is using the new technology available to her to make alterations. Certainly it is a reflection on how photography functions today. How retouching is the norm now. And how we all take for granted that photographs are manipulated in some way.
Are these works more or less authentic?
I think none of her characters are authentic, or the "real" Cindy Sherman, so to speak. There is an irony within her work. The works where she is barefaced and vulnerable and not hiding behind makeup and prosthetics tend to be works that are obscured; she's barefaced, yet completely transformed as well. And it's a comment on aging. Several of her last series have been exploring the process of aging in an age-obsessed society. I don't think she would say that any of these characters are closer to her than any of her other characters.
What do you think Sherman's selection of film screenings in conjunction with the exhibition reveal about her as an artist?
Cindy doesn't publicly speak often about her work or process. And film has been a huge influence on her work. She is really a film buff, and we have a huge film collection at MoMA. So, when I invited her to select films from the collection, I thought it could be a window into her artistic process to see what influences her. And she has come up with a great list of films: everything from Texas Chainsaw Massacre to Le Jetée to cult classics, to kitsch, to art house films. I just watched a film she selected called Seconds starring Rock Hudson and directed by John Frankenheimer. It's about a suburban guy who lives a typical life in the 60s—very Mad Men—and he becomes a bohemian artist after a series of physical transformations. While watching it I saw many links with Cindy's work, through the storyline and visual storytelling. It made me appreciate her work in a new way.