On the Wall: Andy Freeberg's Art For Art's Sake
It doesn't get much more multi-layered than this. An "On the Wall" post suggesting you go look at photographs hung...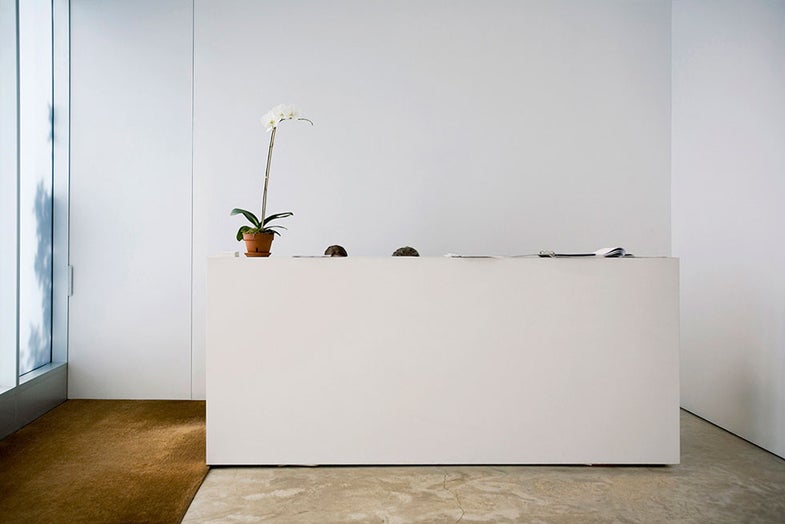 It doesn't get much more multi-layered than this. An "On the Wall" post suggesting you go look at photographs hung in museums and galleries that were themselves made in museums and galleries.
That's not to say that Andy Freeberg's work exists only for this somewhat frustrating meta-trick. Quite the contrary. In his three projects on the subject, "Art Fare," "Guardians," and "Sentry," the many facets of the art world are backdrops for more interesting visual stories.
First came "Sentry" in 2006, a series depicting the monolithic entry desks at art galleries, and the slivers of human heads sticking up above them. While looking to start a new project that said something about our increasingly connected and tuned-in (or, as it were, tuned out) lives, Freeberg stumbled on to something while browsing Chelsea art galleries in New York that said it all.
"It was a Tuesday [at Pace Gallery], and I was the only one in this large room except for the woman behind a very high white desk," Freeberg said in an email. "She was looking at her computer screen and didn't notice that the only other person in the room was taking her picture. I went into Metro Pictures and had the same experience. At Cheim & Read, there were two heads poking up with an orchid on the counter.
"I had lunch with an old friend that was a photo editor and showed him the pictures on my camera and he said 'it's a show, you have to do it.'"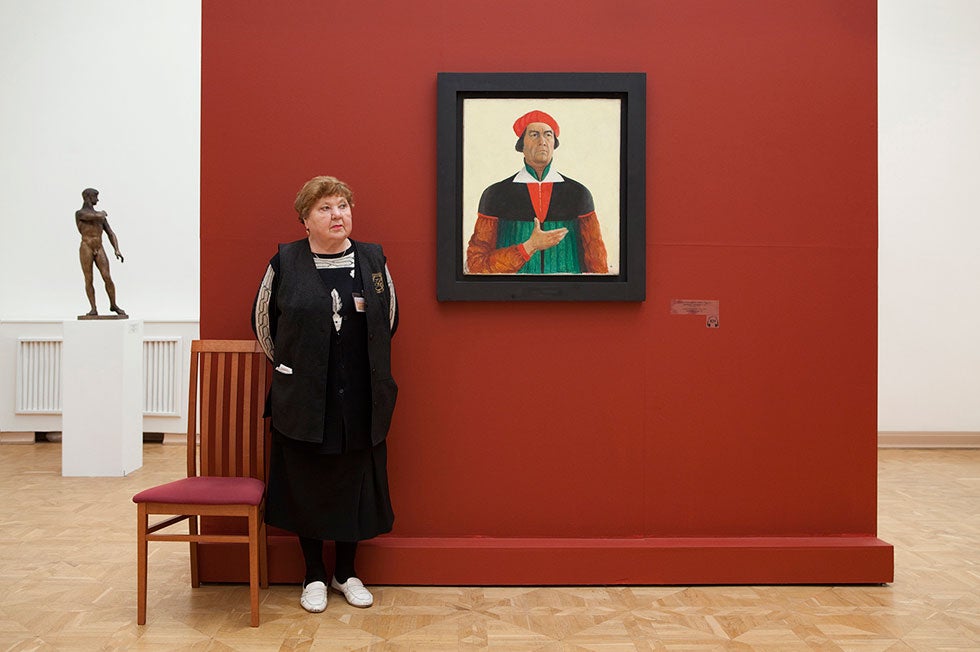 From "Guardians"
Next came "Guardians," which came about in a similarly roundabout way during a trip to St. Petersburg, Russia. With the intended Russian project not quite working out, Freeberg took a break at the Hermitage museum, where he was struck by the museum's staff of older women employed to sit for hours, silently guarding the former palace's seemingly endless expanse of small galleries. These women—many of them retired ex-professionals who very much enjoyed their new, quieter jobs—become the primary subjects of "Guardians," even while flanked by the Hermitage's masterpieces of European painting and sculpture.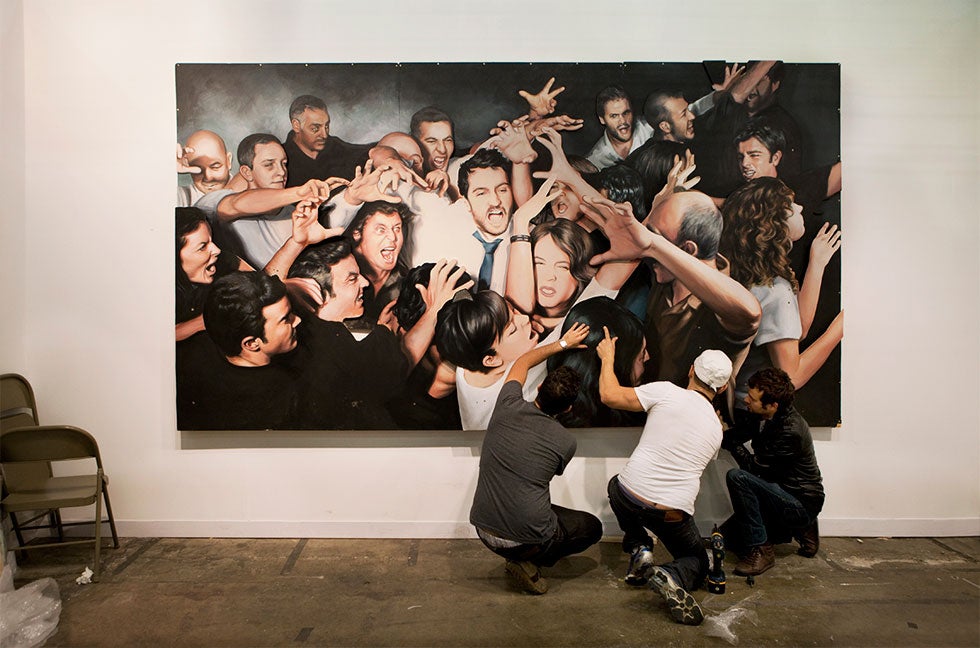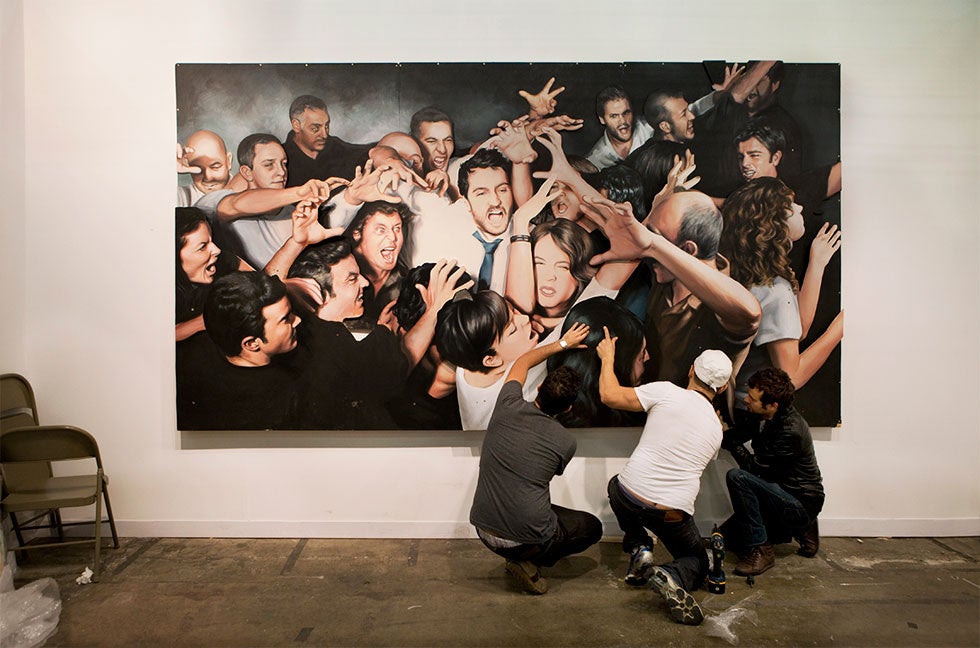 From "Art Fare"
And most recently, "Art Fare," perhaps the series most directly "about" the art world. Here the large collectors' fair Art Basel Miami served as a backdrop for the story of buying and selling. Without massive desks to hide behind, gallery staff and collectors are thrust onto the stage, in full view of Freeberg's camera, producing some entertaining adjacencies. An image from "Art Fare" was recently published in the New Yorker illustrating a story on the prominence and power of large art fairs.
Freeberg says that a broader comment on the commerciality of the art world was only a small part of his intent in these series. But he does see it as a "strange world…which I'm now apparently a part of."
"People seem to project their own views of the art world on to these pictures and I'm grateful for that. I'm always fascinated to see what interpretations people come up with," he says.
Freeberg's projects are currently on view in a variety of places in the photographer's home state of California. At Kopeikin gallery in Culver City, "Art Fare" is on view through October 27. At Stanford University's Cantor Arts Center, "Guardians" is on view through January 6, 2013, with an artist talk w/ Freeberg coming up on October 3. And one of Freeberg's projects not centered around the art world, a series of portairs of Golden Gate Bridge workers entitled "Gatekeepers" is part of a show celebrating the bridge's 75th birthday at International Orange in San Francisco, up through October 28.